Feature Stories
---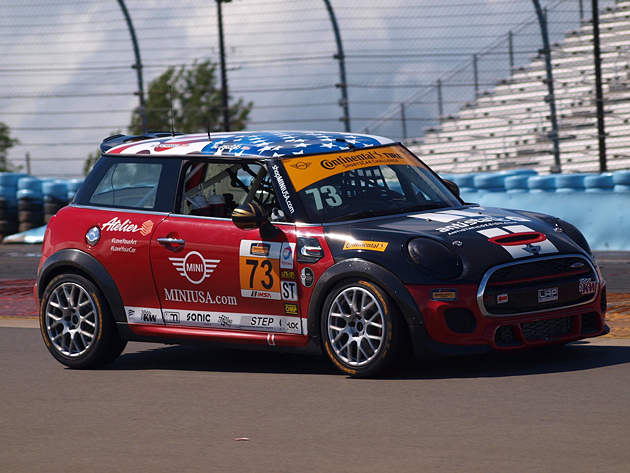 August 2017

Plenty for British car fans to root for in the Conti, including the MINI JCW Team car that won its class.
Photo by Jon Gardner

Brilliant at the Glen

by Bruce Vild


WATKINS GLEN, N.Y., June 29-July 2 — IMSA returned to the Glen this weekend, once again bringing something for everyone. Like Lamborghinis? There's the Trofeo. Porsches? The GT3 Cup. MINIs, McLarens and Astons? That would be the Continental Tire SportsCar Challenge. Racing by spec? The Mazda Prototype Challenge is just your thing.

And the main event, Sahlen's Six Hours of the Glen? How about fully half of the ten Prototype-class cars being powered by British engines?

Derbyshire-based Gibson Technology, back from a sterling result at Le Mans (namely having powered two of the cars on the podium), provided its Le Mans-spec V8 to three of the Prototype teams: PR1/Mathiasen Motorsports, JDC-Miller Motorsports, and Visit Florida Racing. These teams are running Le Mans P2 chassis as manufactured by Ligier, Oreca and Multimatic/Riley respectively.

Mazda Motorsports' two cars had the two other British engines, manufactured by their long-time collaborator AER. They achieved a podium step in Detroit with car #70 and the same result with car#55 in Long Beach. As readers of British Marque well know, Mazda is running two of the new-generation Daytona Prototypes, the "DPis," similar to those of the remaining contestants in the Prototype class, Nissan and Cadillac.

If GT cars are more your speed, the Six Hours would disappoint because, unlike previous years, there were no British cars to be found in either GT class (though you could find British drivers, such as Katherine Legge, behind the wheel of an Acura, and Richard Westbrook piloting a Ford GT).

But the racing was brilliant in both the Conti and the Six Hours, keeping fans literally on the edges of their seats until the very moment the checkered flags waved. Really!

Continental Tire 120 at the Glen

McLaren, Porsche, McLaren, Porsche, McLaren, Porsche. That's how the first practice session shook out Thursday afternoon, with the top five positions taken (as expected) by Grand Sport cars. Automatic Racing's #99 Aston Martin, sporting a smart new silver-over-blue paintjob, came 11th.

In the same session, the #73 MINI JCW was 15th, but 1st in the Street Tuner class. Sister cars #37 and #52 came 21st (7th in class) and 32nd (18th in class) respectively. A Canadian outfit called Team Octane ran another MINI, car #47, with a slew of sponsors. Practice #1 found it coming in 35th (20th in class).

There were two more practice sessions for the Conti, and then two separate qualifying sessions for the GS and ST classes. McLarens occupied two of the top three positions at qualifying, with driver Paul Holton taking C360R's #76 car to the pole and Jesse Lazare from Motorsports in Action grabbing 3rd. Derek Jones qualified the #73 MINI 15th, 2nd in class to a Porsche Cayman.

The very popular open grid fan walk preceding Saturday afternoon's race offered opportunities to talk to two of the teams we're following. First up was Al Isman of Montreal-based Team Octane, who was asked about joining the Challenge in the middle of the season. "We're just starting, concentrating on races near home," the young Canadian told me. "We'll be at Mosport next week, and then Lime Rock." Right now the team is trying to get more sponsors. Most of the companies with decals on the #47 MINI supply their parts, every bit as important as donors willing to write checks.

I also caught up with Steve Phillips, who was driving in place of Rob Ecklin who had a conflict this weekend and couldn't make the race. Steve smiled and said that he and Ron are great friends going way back, and he was delighted to be here at Watkins Glen to stand in for him.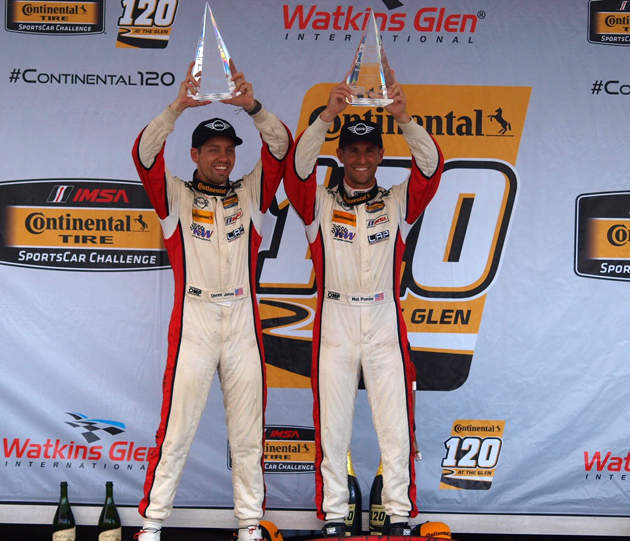 Derek Jones (left) and Mat Pombo in Victory Lane.
Photo by Jon Gardner
Then came the race. After two formation laps, the green flag waved with no immediate problem, as we've seen on occasion with so crowded a field.
Within minutes the #37 MINI came to a complete stop, but was able to restart and resume the race. A brake sensor had malfunctioned, causing the car's computer to slow the car down to a crawl, but coming to a stop and rebooting solved the problem. Less fortunate was the #84 BMW, which limped back to the pits with the front left tire completely off the wheel. (Amazingly, there was no damage to the car as the Bimmer continued riding on the bare wheel.) There was an electrical problem with the #68 McLaren, which pitted.
Then came the rain. It had been raining on and off all day, beginning with a riotous thunderstorm in the early morning before track activities began, sunshine and sprinkles, more rain, more sun, and then, during the Conti, a lot more rain. The yellows came out as cars began spinning on the track, and teams were deliberating whether to stick with slicks (the storm would pass) or take the time to go to wets. Urban legend has it wet track conditions favor front-wheel-drive cars, and everyone would be watching the MINIs for this.
The MINIs decided to stick with their dry tires, a strategy that saved a stop in the pits. As to having an advantage on a wet track, driver Derek Jones would quip later, "When you're hydroplaning along with everybody else, it really doesn't matter!"
Of course, like most sporting events, the last ten minutes are the ones to watch. The #76 McLaren and a Porsche briefly traded the lead, then the McLaren grabbed it back. But with less than ten minutes to go the McLaren wound up five positions down, and the #99 Aston, which at that point had been running 2nd, was suddenly in the lead, being dogged by a Mustang. The #77 McLaren was 3rd. Then the #17 Porsche limped to the side of the track with fuel issues, prompting a full course caution with less than five minutes to go.
In ST, Mat Pombo had the lead in #73. Mark Pombo in #52 was 2nd! This was a story to follow, for so many reasons: Mat and Mark are brothers Mark is back racing full-time after recovering from a horrific accident years ago while racing for Kia and, of course, they were driving MINIs.
The race proceeded under yellow. With the clock running out, the Aston got the white flag. Then, disaster. Suddenly #99 left the track after having contact with the Mustang when its driver, Dean Martin, set himself up for a pass. The race would go to the Mustang, with the Aston finishing 7th after correcting its course and rejoining the race.
(Track officials determined later that no action was warranted against Martin for the incident, and #99's driver, Al Carter, congratulated him on the win.)
The C360R McLarens followed Martin, with Rondet, in the white #77 2nd, and Plumb, in the black #76 3rd. The other two McLarens, fielded by Motorsports in Action, did not have nearly as good a day, with #69 finishing 21st (10th in class), and #68 31st (13th in class).
And the top two MINIs finished 10th and 11th overall, but also 1-2 in class, with their cohorts in #37 14th overall and 5th in class. With all their cars in the top five, the MINI JCW Team was reported to be "going wild."
Wild is a good description for this Conti race.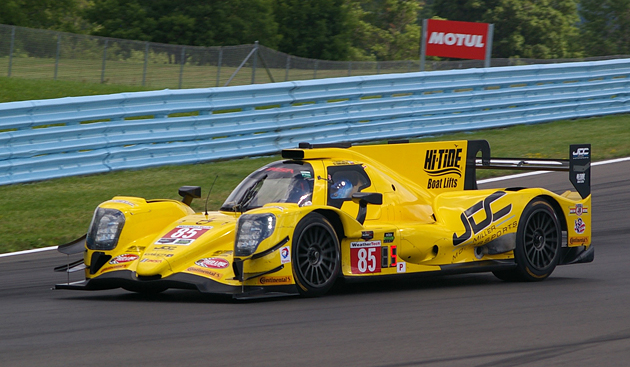 One of the prototypes to watch in the WeatherTech series is (JDC-Miller Motorsports' Oreca LMP2, which nearly took the win at the Glen.
Photo by Bruce Vild
Sahlen's Six Hours of the Glen
The "big race" had its practice sessions, too, and the Brit-engined prototypes took three of the top five positions in the first. Stephen Simpson topped everyone in the #85 Oreca LMP2, with Jonathan Bomarito #55 Mazda DPi in 4th and Olivier Pla's Ligier LMP2 in 5th. Pla moved up two positions in the second session (with the two Nissan DPis in 1st and 2nd).
Qualifying put Luis Felipe Derani in the #2 Nissan DPi on pole, Pla in the #52 Ligier in 2nd, and Christian Fittipaldi in the #5 Cadillac in 3rd.
On Sunday, the green flag waved at 10:10 a.m. The drama started immediately. Car #10 (the Championship leaders' Cadillac) broke its steering within the first lap and limped back to the pits. It had gone sideways after contact, corrected and did not hit anything else, but slowed and took the shortcut back to pit lane. This is the Ricky Taylor-Jordan Taylor car, the car of the points leaders. They qualified 4th. Ricky re-entered the race in 38th position, six laps down.
While a podium finish is nice, top five works, too. An intense battle for 5th place was shaping up between Johannes van Overbeek in the #22 Nissan DPi and Misha Goikhberg in the #85 Oreca LMP2, with van Overbeek having the upper hand after a spectacular pass about 15 minutes into the race.
Battling for the top spot were Derani and Pla, and Pla passed pole-sitter Derani before the first 25 minutes were over. Pla pitted about 12 minutes later, still in the lead, following Derani's Nissan, which was exiting as Pla was entering. A driver change to Jose Gutierrez re-entered the car in 2nd place.
With various pit stops and reversals of fortune, the standings got jumbled, but with less than 2 hours and 20 minutes left in the race, four of the top five positions were occupied by British-engined cars. The lead flipped from Van Der Zande in the #90 Riley LMP2 to Filipe Albuquerque in the #5 Cadillac DPi, but following were Chris Miller in the #85 Oreca, Jose Gutierrez in the #52 Ligier, and Spencer Pigot in the #55 Mazda. These standings were jumbled in turn, with Pigot running as high as 2nd. Sadly, the #70 Mazda retired earlier.
And the beat went on, but even as late as 5 1/2 hours into it, four of the top five were Gibson- or AER-engined. On top was Albuquerque's co-driver, Joao Barbosa, in the #5 Cadillac in 2nd was Pla's #52 Ligier 3rd was Simpson's #85 Oreca 4th was Bomarito's #55 Mazda and 5th was Goossens' #90 Multimatic Riley.
After a yellow, the Oreca took the lead from the Cadillac and Pla fell to 4th, the Mazda-AER was in 3rd and the Riley in 5th. Then Pla truly started driving "in anger," setting fastest laps. Barbosa took the lead back with less than eight minutes to go by taking advantage of GT traffic, passing Simpson on the outside. Simpson had another opportunity to pass the Cadillac, but GT traffic again worked against him, blocking the pass. He finished 2nd. Third was Bomarito's Mazda, 4th Pla's Ligier, and 5th Goossens' Riley.
That's four for the Brits out of five. Not a win, but it couldn't have been better under the circumstances. Pla and Bomarito consistently were turning their fastest laps at the end, proving the engines unburstable.
Said one commentator about the runners-up, "Not a scratch on that car… that's how it is with the #85 crew." Stephen Simpson commented, looking to the next showdown at Mosport, "We'll catch them next week!"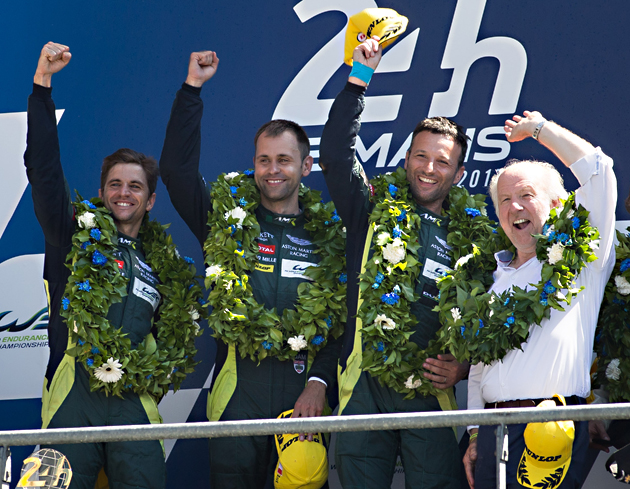 July 2017

Claiming class victory in their #97 Aston Martin Vantage were drivers Daniel Serra, Jonny Adam and Darren Turner.
Photo courtesy Aston Martin Racing

Aston on Top at Le Mans

Marque Combined Services


LE MANS, France, 18 June — Aston Martin Racing took victory at the 85th 24 Hours of Le Mans in dramatic style, after driver Jonny Adam snatched the GTE Pro lead on the final lap of the iconic endurance race.

The trio of Adam, Darren Turner and Daniel Serra and their #97 Aston Martin V8 Vantage GTE performed "faultlessly," according to team reports, and ensured they remained in the hunt for victory till the very end.

While Turner was able to claim his third Le Mans class win today, it was Serra's first time at Le Mans.

It wasn't exactly easy. With just over 45 minutes left on the clock, Adam found himself pitting at the same time as the #63 Corvette for a final fuel stop. With both cars exiting the pit lane together — with Adam in 2nd — it was inevitable that he would have to make the pass and hold it.

After trading places with his rival for much of the final stint, Adam prevailed and overtook the Corvette as he crossed the start/finish line on the penultimate lap. Running wide at the second Mulsanne Corner under pressure from the Scot, the Corvette would eventually fall two positions due to a slow puncture.

Adam commented after the race, "For Daniel and Darren to put me in that mix to battle for the front was testament to how good the car has been all weekend. We did our best to keep the car out of the pits as often as we could and just try and run a consistent pace throughout."

He recalled the Corvette at one point led by six to eight car lengths, "but our goal was not to give up.  He looked weak in a few corners and I knew when I got on to his bumper it was now or never if I wanted to win Le Mans. We got [the pass] just before the finish line, and it was then just time to bring it home."

Darren Turner, who earlier this week also set a new qualifying GTE lap, added, "It was always looking like it was going to be an epic battle, and it was right from the start. The lead ebbed and flowed from every manufacturer in the GTE Pro class at some point in the race, but the Vantage was always there or thereabouts.

"I have to say Jonny's last stint was exceptional, and Daniel's pace was great. I couldn't ask for two better teammates. For me personally this was my hardest Le Mans and my sweetest victory."

Serra set the fastest-ever GTE racing lap by a Le Mans rookie and simply said, "I am just so happy. I don't have words to explain it properly. I just won the biggest race in motorsport, and it's awesome!"

The AMR sister car in GTE Pro, #95, finished 9th in class. Three Astons also campaigned in GTE Am, with the best result coming from car #99, just missing the podium with a 4th in class.

Aston Martin Racing will return to the FIA World Endurance Championship for the 6 Hours of Nürburgring on Sunday, 16 July.

[From a press release courtesy of David Adams, Aston Martin Racing. A more thorough review of the 24 Hours is coming in our next issue.]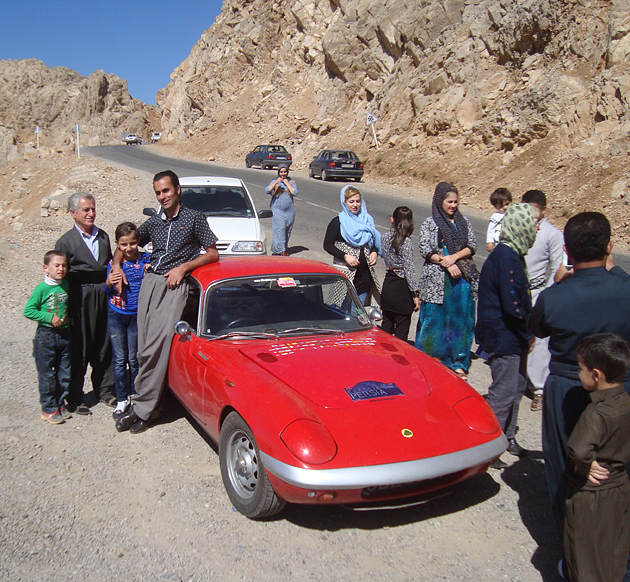 June 2017

'Star quality' shown by the Cotes Elan — whole families loved to pose with it!
Photo by Peter & Allison Cotes
Persian Elan

by Peter & Allison Cotes
Special to the Marque

They called it 'Classic Persia'. The title says it all: first stop Istanbul, where the rally starts, then through Turkey to Iran, through Iran to the Persian Gulf. It turned out to be a hot trip with many long days.
After taking our Lotus Elan on the Arctic Highway rally, which we reported in the January/February 2017 British Marque, the main things to resolve upon our return were heating (or cooling, as it was 39°C in the Persian Gulf), steering, ignition and a noisy engine. So…
A pair of high performance "pull" fans came from Cliveyboy.com, suppliers of Lotus Elan and Hillman Imp specialist parts. The steering rack was overhauled after being found full of grit and dirt, with every moving part needing to be changed. We bought a Boyer-Bransden unit to address the ignition problem, negative earth as we now have an alternator. And the engine noise? Caused by the cam lobes and cups disintegrating. The surface hardening had given up, the lobes were rounded, and the flat base of each cup was nicely hollowed out with lots of swarf round the valves.
We allowed ourselves 4 1/2 days for the 1700 miles from home to Istanbul, including border crossings and sightseeing in Serbia. It didn't quite work out like that. Starting was sluggish before we left, but the car had been in the workshop so maybe they left the doors open…? After a meal in Harwich before the overnight crossing, starting was even more sluggish. The two-hour drive in darkness had not helped.
So, as is always the case, in the sleepless moments before getting up I decided to return home from where we were at that point to collect a spare starter motor. This involved a 500-mile, 24-hour detour, Eurotunnel, and a 5.40 a.m. ferry crossing. Needless to say after that, battery, starter and starting were trouble-free — they call it insurance!
We blasted through France, Belgium and Germany, finding a delightful hotel in a twee village near Regensburg. Next day there were four border crossings — Austria, Slovenia, Croatia and Serbia, where we found a huge Soviet-style hotel, complete with cockroaches and very cheap! Then through Serbia and Bulgaria and we were back on track, allowing a day for the last 200 miles, one border crossing — and Istanbul traffic.
We lost time at the Turkish border as the computers were down and we could not buy the required third party insurance. We also met the first of the other participants, who arrived in a 1979 Bentley just as the computers came back to life. (We should not complain. At the Turkey/Iran border, trucks have a two-deep, 13-kilometre queue to join and it takes them four days.)
After a little sightseeing it was off to Istanbul, and the last 30 miles took forever. The Elan was very forgiving, no overheating, no stalling. Not only that, it was experiencing the first day of real star attraction that it would enjoy for the next three weeks. People there had never seen anything like it before — small, red, two seats, wrong-side steering wheel. We'd be multimillionaires if we charged for each photo taken!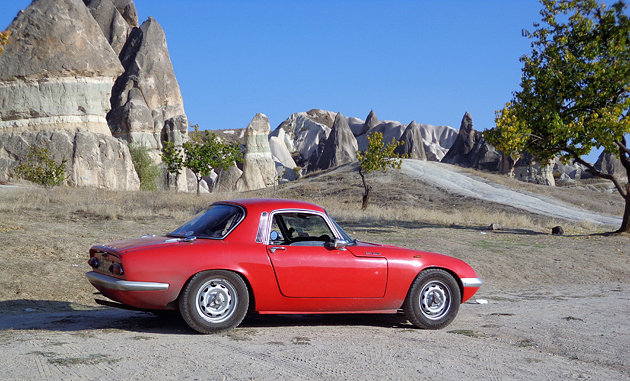 Elan among the rocks in Cappadocia.
Photo by Peter & Allison Cotes
There were another five cars in the rally, a Porsche 912, two Mercedes SLs, a Land Rover and a Lagonda. Next day we queued up outside the hotel for a photo shoot and it was off to Ankara, Turkey's capital.
We had done this same route in 1977 on our way to my new job in Tehran. Then it was winter, snow, and Bulgarian lorries on the potholed single-carriageway road. Now it was hot, dual-carriageway, and either high-quality surface or roadworks. Navigation using the organisers' Garmin tracks would be a headache throughout the rally. The open road was fine — you were either on the right road or lost — but in towns, working out the junctions was nearly impossible, and we spent a lot of time getting back onto our purple line.
Next day, Cappadocia. We took the short-cut, main-road route. This area is amazing — irregular rocks with weird shapes, hollowed out for churches, houses, fortresses, underground cities. We didn't see this last time. (And get there if you can. They were moaning about the lack of tourists and would love to see you!)
Our hotel was partly built in the rocks on the edge of a cliff, and our tour included the 40,000-bottle cellar, the start of a five-mile tunnel, and an old monastery, all cut out of rock, next to Mt. Nemrut. The area had a drought and our hotel was shut, so we ended up at a hotel in Kahta instead — under a tree, and what do birds do in trees? Yup, the Elan required a good bath before we could get away next morning!
On the rally proceeded, east to Lake Van. Our route was over a fabulous new bridge — with no traffic and no tolls. Not so fabulous was that on the far side the road looked like a lake of tar, it smelt like tar, and it was tar. Wet tar. I figured that if I drove slowly I might stick in it, so I drove at normal road speed wondering how the tyres would expand as they picked up tar and gravel. The answer is the tyres were fine but the sides of the car were black and sticky, the brakes squealed, and when we stopped to look at them, pools of tar formed underneath. What a mess! The answer is diesel, so in Van we had a diesel bath scrub followed by a high-pressure hose, and the visible bodywork was fine. Just the underside and suspension were untouchable!
Friday brought the first challenge, over 350 miles and a long border crossing into Iran. The first hurdle was that the army had closed the road to the border. This required another detour as we decided against the potential side road, which bypassed the closed road but was completely un-signposted. Turned out it included loads of rocks and would have exacted an unnecessary toll on the car. We got to the border at lunchtime, and three hours later were in the first group of three cars allowed into Iran.
A lot has changed in Iran. The driving is more disciplined — though all Iranian drivers would face a dangerous driving charge in UK! — and the road surface has improved almost beyond recognition, but some things don't change and the avoidance of using lights at night is one such. As dusk turned to darkness we progressed to Tabriz, trying to work out which shapes might be cars or lorries. We joined the fast-moving ring road system and amazingly arrived at the hotel only a couple of hours after dark. Others didn't arrive till after midnight. One of my objectives on this rally was not to drive after dark, and this was the only time we failed.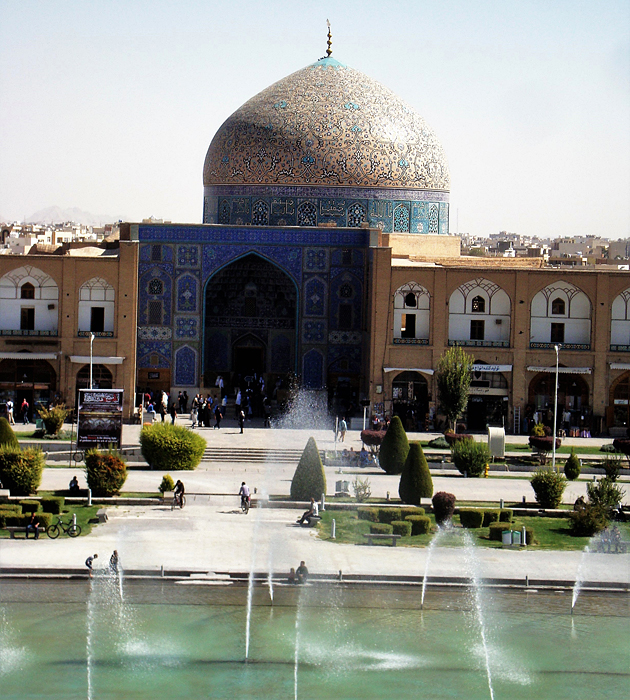 Sheik Lotfallah Mosque, Isfahan.
Photo by Peter & Allison Cotes
It was shortly before Tabriz that we had the major "car issue" of the rally. A pulley came off the passenger window. The rally mechanic had no drill to replace the stud and circlip with a bolt, so we tied it up with cable ties.
We took the main road option to Astara and the Caspian Sea. (The organisers had proposed a scenic route via the border with Azerbaijan, but that was a 9 1/2-hour driving day.) The approach to the Caspian is down twisty roads from the high and dry plateau to the damp greenery of sea level. Lorries take it slowly and there are the other hazards of Iran's roads to handle, namely speed bumps and police or army checkpoints. The hotel was on a ring road, so in the evening we took a taxi to the city. This trip grew from a taxi ride to a city tour, with translation provided by the driver's sister over his mobile phone. He took us to a restaurant — 'local specialities', etc., which turned out to be a tourist venue — and shortly afterwards the rest of the rally arrived!
Three days of short drives took us to Zanjan, Sanandaj and Kermanshah. This was to the far west of Iran, the hills of the Kurds, overlooking Iraq. We did a detour to Takht-e-Soleyman, the remains of a 2,000-year-old Zoroastrian Fire Temple and a place the kings had to visit to complete their coronation. At one photo-stop (us of the hills and scenery, the locals of the Elan), we met a family who invited us back to Grandma's for lunch on the hillside terracing.
Two cars were off the road and on trucks by now, the Bentley and the Lagonda — the first to the Persian Gulf, and the second to Isfahan, where parts would be flown out from the UK. Both Mercedes were struggling, one with ignition electrics and the other with a dirty fuel tank that was blocking up their filters.
Isfahan came next, the tourist centre of Iran, but first we had to negotiate the parades that characterise Ashura. There was a religious festival commemorating the martyrdom of Husain, and, effectively, the split between Sunni and Shia. It was a public holiday, the roads were largely empty of traffic, but in the towns and cities people were parading, banging drums, going through the rituals of self-flagellation, and covering their hair and clothes with 'mud'. Two tourist days were allowed in Isfahan, time to get out of the cars and see the Maidan, mosques and churches. Our tour included a carpet shop as this is also the centre of Iran's carpet trade.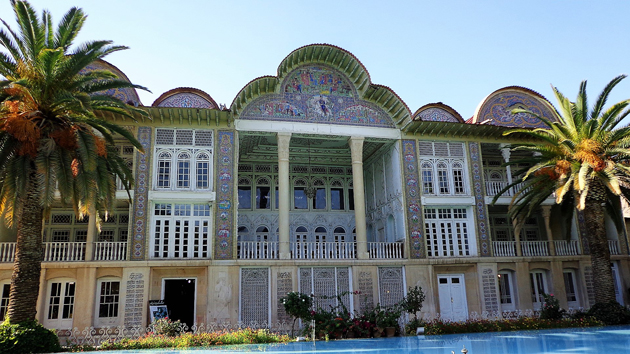 Barg-e-Eram.
Photo by Peter & Allison Cotes
Shiraz was another 8 1/2-hour driving day. We again took a shortcut, reducing it to 6 1/2 hours. On the way we had a close encounter with a white car (only about 80% of Iran's cars are white!). It was on the main road with no traffic. He was so busy looking at us and taking photos that he drove into us! It was a glancing blow. The Elan jumped three feet sideways we gained some of his white paint and rubber strip, and he our red paint. Fortunately no damage was done to either car and we carried on, shaken, not stirred.
On arrival we visited the gardens of Barg-e-Eram — greenery, quiet, cool and a tea house — a welcome contrast to the highway. Two rest days allowed us to wander round town and go to the ancient sites of Persepolis and Pasagarde. Forty years ago, we had Persepolis to ourselves and could wander where we pleased. It's been sanitised. There is an entry kiosk, visitor centre, timber stairs to protect the original, fencing, and scaffolding to protect the structures. But whatever they do to it, it's an amazing place, and no-one really knows whether Alexander of Greece deliberately burnt it down or if it was an accident.
The cars were booked on a ferry from Bandar Abbas to the UAE, from where they were to be shipped home in containers. The route was fast once we had escaped Shiraz (and the Garmin's repeated instructions to revisit one particular roundabout in the City Centre), but it was hot and dry, as effectively we were going through a desert. Oh, and there were flies. The car did not like this, and we had the familiar stuttering that means points. Only this time it was the gap, and not burn-out. The Boyer-Bransden unit did its job perfectly, and after adjusting the gap (at 6 a.m. next morning, when it was 'cool'), the engine again ran sweetly.
We had done about 6,500 miles in 17 driving days — that's an average of 380 miles per day, much on main roads but also towns and hills, all in the heat — and the Elan did it all. We adjusted the fan belt and the points gap, replaced one bolt and tightened up many more on routine nut/bolt checks, we had one puncture, and used 1 1/2 litres of oil. Visit www.rallyelan.com for the full report and many more pictures.
[Stay tuned to British Marque for the further adventures of Peter, Allison and the Elan!]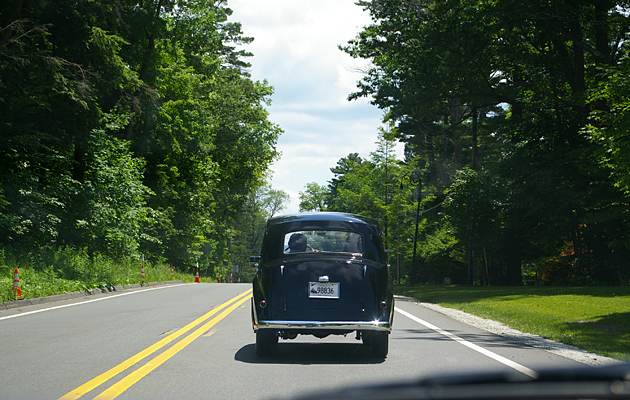 May 2017

Share your British car with the world during British Car Week!
Photo by Bruce Vild

Paying It Forward

by Scott Helms
Special to the Marque


The tradition of driving classic British cars to increase public awareness continues! British Car Week 2017 begins as usual on the very last Saturday of the month of May and ends on Sunday the following weekend. This year, those dates are Saturday, May 27th, through Sunday, June 4th.

But even though British Car Week has a beginning and an ending date, the driving season doesn't necessarily start or abruptly end then. For those of us coming out of cold and sloppy weather during the winter months, it is just the beginning of an exhilarating, seat-of-your-pants driving adventure for many weeks to come.

During winter up North, many owners put their cars into storage. They make good use of that time making improvements to their cars and performing important scheduled maintenance to have them ready for the driving season. British Car Week is both a wake-up call and a target date for these enthusiasts.

If you live in warmer climes, you probably have enjoyed your British car throughout winter and spring. For you, British Car Week is a great time to hook up with your Northern counterparts in full force to show off your classic cars to townspeople in communities far and wide.

From reports I receive every year, some people feel they're the only British car driver in their city or town. But I tell them that even though they may seem to be alone on the roads, there is a huge population of onlookers who can't help but take notice of their unique cars. If not for this experience, many of them would never know about these vehicles, or have the chance to become enthusiasts themselves.

The British car hobby can't afford to be forgotten. For this reason, I like to think of our efforts to promote the hobby as "paying it forward." What better way to do so, while also having fun!

Most people have had the experience of having someone perform an act of kindness towards them, and they appreciate it so much that they pass it on to another person. The feeling is often as good for the giver as it is for the recipient.

Seeing you with a smile on your face, having fun with your British car — whether it's on a drive around town or just rolling it out on the driveway for a wash and a polish — just might spark enough interest in other people to want to learn more about these vehicles, and even to become owners themselves someday. By spreading your enthusiasm, you are doing them a favor!

Many of the original people who were instrumental in the design and development of our beloved British classics, as well as those who helped make them well known throughout the world, are no longer with us. Original owners are becoming few and far between, and their cars may well find new owners to care for them and enjoy them. But there is also the risk that they may be abandoned in a dark and gloomy place to be forgotten about, or, worse yet, parked at an undesirable place outdoors to wither away.

Let's not let that happen. This year, during the week of May 27th through June 4th, "pay it forward" to the next generation of British car owners. Take the time and spend it with your favorite British car, doing what you enjoy most. Plant the seed that will give people in your neighborhood a yearning to return to a time when driving was not only pure and simple, but entertaining — and you will help keep our hobby flourishing for years to come.

So grab your goggles and driving gloves, and top off your dashpots! It's time to have some fun! See you on the road.