Feature Stories
---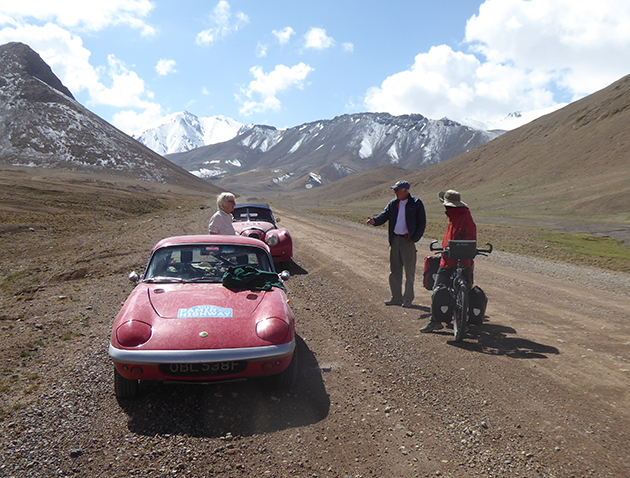 January/February 2020

The Cotes Elan on the Pamir Highway with a fellow rallyist in a Jaguar XK120 — and a cyclist on his way to its highest pass(4655m).
Photo by Allison & Peter Cotes

Elan in the Stans
Our Lotus Travels on the Ancient Silk Road

by Allison & Peter Cotes



Constructed in the 19th century during the "Great Game" when Russia and Britain competed for supremacy in Central Asia, the Pamir Highway is the second highest highway in the world at 4655 metres. The road was improved by the Soviets in the 1930s, but since then has deteriorated due to erosion, earthquakes, avalanches and landslides.

All of which suggests it's not the best place for a Lotus Elan. True! But that's where we went last summer on a rally to the fabled city of Samarkand, Uzbekistan, and points beyond, travelling on part of the famous Silk Road between China and the Mediterranean.

The Pamir Mountains that the Highway crosses lie mostly in Tajikistan and border Afghanistan to the south and China to the east. We did an anti-clockwise loop through four "Stans," starting in Kazakhstan's one-time capital, Almaty.

Our first day was over 400 miles and gave the first worries — oil pressure. It was 40°C and my normal 40psi was down to 30, whilst at tick-over the gauge scarcely registered. We changed the oil at the first stop in Tashkent (Uzbekistan) with similar readings. We shouldn't have worried, however. On cool days pressure was normal and for the remaining 3000-odd miles we used just one litre.

Next stop was Samarkand with its famous Registan, a public square framed by three madrassas (Islamic colleges) built in 1420, 1636 and 1660. At night there's a son et lumière show played out on the walls, and its free!

But getting to Samarkand had its own hazards as the rally route involved a climb of over 2000 metres on tracks. The organiser meant it when he said it would be a rough route, though highways were available and we used them from time to time. Despite our twin electric fans, the combination of heat and climbing meant a number of enforced pauses to avoid splashing the contents of the radiator on the ground!

We entered our third Stan, Tajikistan, on the way to Dushanbe via the 5km "Death Tunnel" at an altitude of 2700 metres — so called because it was originally unlit and was opened prematurely with only one track for two lines of traffic. Now it has occasional lights (though no ventilation) and a passable surface. We glued ourselves to the rear of one of the support vehicles — they had lights!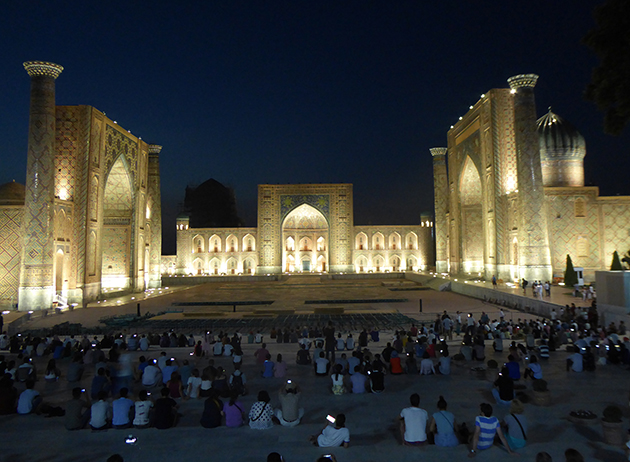 Registan sound-and-light show.
Photo by Allison & Peter Cotes
After a rest day in Dushanbe our route was largely eastwards and to our first view of Afghanistan. Difficult to believe that the land the other side of a narrow, rushing river was the source of so much trouble — it looked just the same as our side.
We spent two days following that river boundary, sharing the road with Jeeps and large Chinese lorries towing trailers. The lorries usually came in small convoys of up to eight, and we made sure we had a convenient passing point as the track was only wide enough for one.
Rocks, gullies, cyclists... and mosquitoes!
We were picking our way over rocks and gullies, and for the whole day our average speed was less than 20mph. What were our worries? The sump guard and the clutch.
The sump guard was doing a heroic job, but it was quite apparent that, in its now deformed state, if we had taken it off to straighten it there was a real risk it would not go back on. The clutch was consuming a little fluid, so we prayed it would hold out and we would not need to remove the sump guard to replace the slave cylinder. Thankfully, it did!
Less important but more immediate were the niggly things that rattled loose — hand brake springs, bonnet catches, window motors and door handles, all of which required attention.
We had a rest day in Khorog. Not that anyone would have heard of the town, but it hosts a weekly Afghan market when traders cross into Tajikistan — but today was not that day. We relaxed in the appropriately named Serena Inn, in the shade by the river, writing postcards. It was still very hot, and if not 40°C, not far off.
Leaving this oasis we took the highway in an attempt to avoid a long, hot and difficult journey to our first wild camp. That's not the way it worked out!
First our accompanying sweep vehicle, a VW SUV, broke down with a failed CV joint. We helped as best we could, delighting in both the irony and the juicy melon that a passing Tajik driver of a large Chinese lorry shared with us.
Then the route became track and probably the worst surface we covered on the rally — 50km that we had to do in both directions. The sump guard and the exhaust were both hammered, the rear exhaust mounting and a chunk of fibreglass were wrenched off and the pipe rested on the "catch chains" — designed for just such a situation.
Not only was the track rocky, it was steep, rutted and corrugated so any attempt at second gear driving was impossible as the car felt it would shake apart. At one stage we stalled on an incline so had to roll back, remove the worst rocks and with Allison out of the car, take it at a run, ignore the pinking of the engine with low-grade fuel, and hope that the car would survive.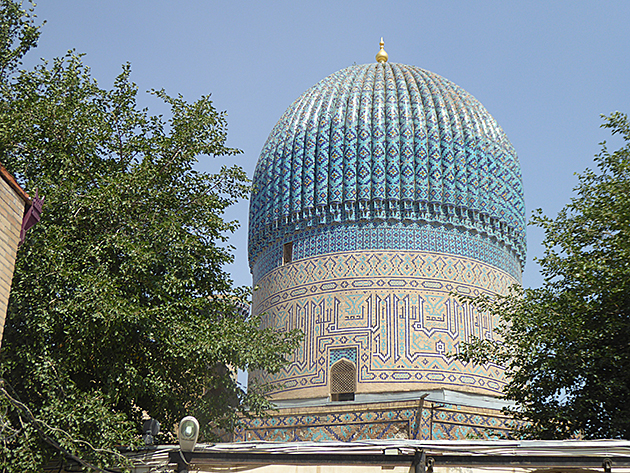 Guri Amir mausoleum, final resting place of Asian emperor Tamerlane (1336-1405).
Photo by Allison & Peter Cotes
Camping was just what we needed after that lot! The organiser said he had to have his truck welded back together after his survey of this part of the route.
We were late leaving the campsite after jacking up the adjustable spring platforms to increase ride height. The return journey was easier, so we headed straight for the next night's campsite.
As we approached we encountered mosquitoes and began to worry about our comfort overnight. At the campsite there was nothing, no-one, but lots of mosquitoes. We set out for the last town we had passed through and met fellow rallyists Phil and Kieron. They told us the camping had been cancelled and we were all booked in the local hotel. The organiser had failed to place any notice or warning of his change of plans and said the batteries on the tracker he had placed in our car had gone flat and he had no idea where we were. Thanks!
The highest pass of the rally greeted us next day at 4655 metres. As we approached 4500 we saw three cyclists, two of them on a tandem — and we thought we were struggling with the height, temperatures and surface! At the top there were two more and they had camped overnight at this bleak, inhospitable and cold spot. At least there were no mosquitoes!
We descended, stopping to photograph a passing marmot when two more cyclists rolled up. It seems cycling the Pamir Highway is a popular pastime — but we're not recommending it. The border crossing from Tajikistan to Kyrgyzstan is spread out over 20km of no man's land at an altitude of around 4000 metres as the two countries cannot agree where the border should be. This means the track is not maintained, so it is rough and resembles more a riverbed than a road. The roads either side are not much better and are occupied as much by military as civilian encampments.
At the first town we stopped to refuel, and our Kyrgy guide bought us lunch of manty — a meat-and-vegetable filling inside a light dumpling case — and tea, which he never stopped drinking. We spent two nights in Osh — and rather pointlessly had the car cleaned inside and out before it got covered in dust on the next day!
Our longest day lay ahead. It was advertised as nine hours but we took a detour, saving a couple of hours of rough roads, and still took ten hours but at least we had a hotel and a shower! Those who did the full route had a yurt in an old caravanserai.
The day's dust was fine and blew in from every direction. Instead of leaving our dust cloud behind, we turned tight corners and drove into it again. We were filthy, the car was filthy — why had I bothered having it cleaned? The track was more gentle than some but one never knew when the good surface would end and a pothole or rock would threaten us.
The climb was from 1000 to 3000 metres and we had a number of "overheating stops" — in the company of cyclists and beehives.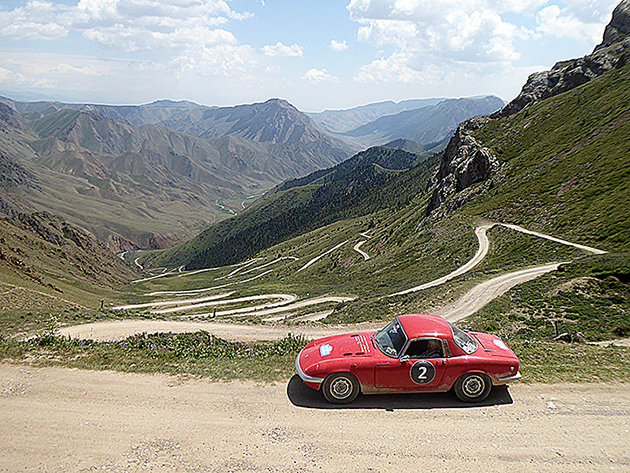 Elan at 33 Parrots Pass.
Photo by Allison & Peter Cotes
Around the lakes and back to Almaty
A short next day took us up the oddly-named 33 Parrots Pass (that being the number of hairpins) to a luxury yurt camp by Song Kul lake (no mosquitoes!). The problem was finding the place as we had no name to distinguish our camp from the many others, and the GPS co-ordinates given to us were wrong. Fortunately our guardian angel, the Kyrgy guide, came along on cue and led us in — first in, this time!
The following day it rained so we had to fix the wipers. Normal service (hot) resumed as we neared Bishkek, where we had a lengthy stop over before continuing to Karakol and the 100-plus-mile-long Lake Issy Kul. We were stopped twice by police, once so they could look at us and the second time to try to fine us for "speeding." I talked myself out of that as the "fine." It was reduced from $100 to $40 to $25 when he gave up!
From Karakol we returned to Almaty via Charyn Canyon and another failed wild camp, as a strong wind was blowing sand everywhere. We finished gently via the highway — avoiding the worst stretch of track on the entire rally, where one car had to be towed up the inclines and another had the exhaust ripped off. Apparently this was a 4x4 route and had not been surveyed.
Our last sighting of the Elan was in a convoy of trucks taking the cars off to the container port and home — hopefully, we thought, we'll see it again in six weeks' time in the U.K.!
[As this paper did not receive reports to the contrary, we assume all is well and the well-travelled Lotus did arrive home safely, concluding the latest in its many adventures literally around the world with Allison and Peter. To see more photos, visit their website, www.rallyelan.com.]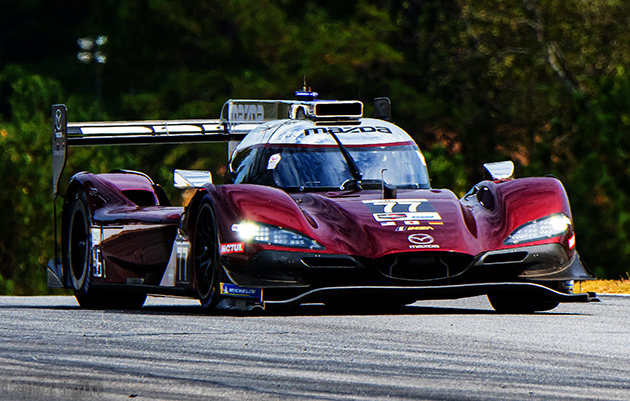 December 2019

Mechanical problems bedeviled both Mazda-AERs at Petit. After trading the lead several times with a Cadillac, #77 (above) slowed considerably after its last pit stop and had to settle for 6th place.
Photo by Colin Sword

Petit Closes Bittersweet Year for Mazda Team

by Bruce Vild



BRASELTON, Ga. — Both IMSA and the team have called this "the breakthrough season" for Mazda Team Joest, and that description is just fine with this writer. From Watkins Glen on, their story this year is a compelling one — and, as with any good novel or play, there's a denouement bound to drop a jaw or two.

In our August issue we chronicled the team's first outright victory in IMSA's WeatherTech SportsCar Championship. It took place at the Glen. The #55 Mazda RT24-P topped the podium and sister car #77 finished right behind. Since then they claimed two more victories, right in a row, at Mosport with the 1-2 positions reversed, and Road America with #55 back on top.

The team slipped a bit at their next race at Laguna Seca. Number 55 was forced to retire due to a component failure, while driver Oliver Jarvis got hung up in lapped traffic and brought #77 home in 6th.

The season closer, the Motul Petit Le Mans at Road Atlanta, saw #55 again retire with mechanical issues, and #77's lead slip away after Jarvis pitted during the race's fourth yellow in the final half hour. The car seemed to lose its pace after the restart and finished 6th.

While the outcome at Petit was a disappointment, the team was left with the distinction of having led laps in every race of the 2019 season — plus their three victories, eight total podium finishes, three pole positions, and track records set at Daytona, the Glen, and Mid-Ohio.

Mazda Motorsports Director John Doonan would later salute "the attitude and work ethic of everyone in the program and our technical partners, [chassis constructor] Multimatic and [engine fabricator] AER."

AER, also known as Advanced Engine Research, Ltd., is based in Basildon, Essex, England, and has provided their racing engines over the years not only to Mazda, but also Ford, Hyundai, Nissan, Toyota, and MG/Rover. The U.K. connection, of course, is why this publication has paid so much attention to Mazda Team Joest.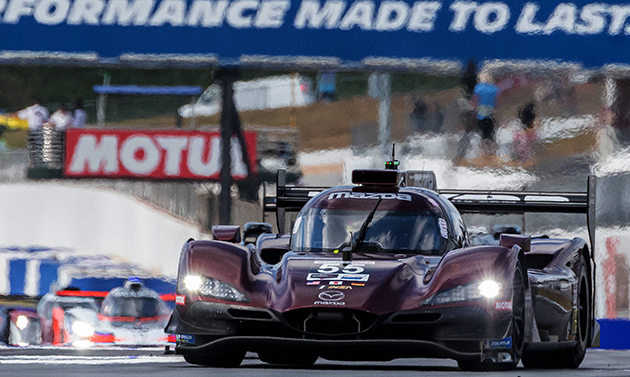 Mazda #55, the victor at the Glen and at Road America, only made it halfway through Petit.
Photo by Colin Sword
The outcome at Laguna Seca and Petit naturally affected driver and team championship standings. Acura pilots Dane Cameron and Juan Pablo Montoya tied for top place with 302 points each, while Mazda's drivers in car #77, Jarvis and Tristan Nunez, came 5th with 268 each, and #55's Jonathan Bomarito was 6th with 263. Bomarito's partner, Harry Tincknell, placed 9th with 233.
With these results the team is neither resting on their laurels nor moping about what might have been. IMSA reports that the team is already turning laps around Daytona International Speedway and Sebring in preparation for the 2020 season.
Said Tincknell, "I feel like we have the team, we have the car, we have the engine, we have the drivers." We'll see soon enough. The Rolex 24 at Daytona, the first race of next year, will take place on Saturday, January 25th.
The denouement to this year's story? They will do it with John Doonan presiding over, and not managing Mazda Team Joest.
Doonan has accepted a new role that, after a career with Mazda and its motorsports program reaching back to 2003, has him taking over from Scott Atherton as IMSA president.
"Clearly, this summer was a breakout for us [at Mazda Team Joest]," Doonan commented. "I feel very confident we're going to continue to be a strong participant long term as well as, hopefully, championship winners. But I'm needing to step back a little bit now and wear a different hat, wear a different shirt."
The announcement caught many of us by surprise (yes, jaws dropped). Doonan now has big shoes to fill given his predecessor's long tenure as IMSA president, but fill them he will. Under his management, Mazda Team Joest worked their way through a tough season with some sweet results. IMSA should benefit accordingly.
Good luck to both going forward.
[Prepared from team and IMSA reports, and Lee Driggers' Pit Notes. Thanks to all.]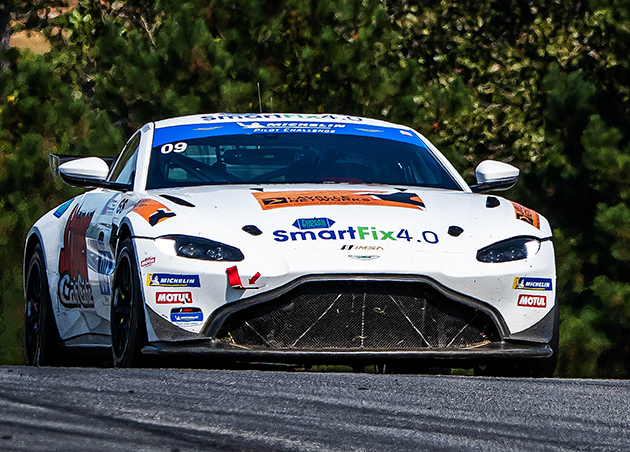 The #09 Aston stormed from behind to finish 2nd, but...
Photo by Colin Sword

Aston Team Bounced to Bottom with Post-race Penalty

by Druha Nahoda



BRASELTON, Ga. — In the final race of the 2019 Michelin Pilot Challenge season, it looked as though Automatic Racing was about to repeat what happened at Daytona — a 2nd-place finish, with a McLaren right behind it.

Unfortunately, this was not to be. The team would be hit by a technicality that denied them their podium step and placed them at the very end of the field.

No one, however, could deny that the team had finally dialed in car #09, a brand-new Aston Martin Vantage GT4.

After some middling results in previous races, #09 grabbed pole position at Road Atlanta at the hands of driver Akhil Rabinda, and when the race began it seemed the real contest would be between the Aston and the #15 Multimatic Ford Mustang, which started 2nd. No one else could match their pace.

There were four full-course yellows during the two-hour race, so it all came down to the pit stops. As all the cars cycled through for tires, fuel and driver changes, #09's sister car, the team's soon-to-be-retired, seven-year-old #99 Aston, took and briefly held the lead.

Rabinda turned #09 over to Tom Long to finish, but a long pit stop dropped Long down to 15th in class. Long still had time to move up through the field, getting the Aston as far as 2nd place and ready to charge the Mustang.

When the dust cleared, the Mustang emerged victorious, with the Aston three seconds behind and Motorsports in Action's #69 McLaren 570S, piloted by Jesse Lazare and Corey Forgus, in 3rd.

But not quite. With the cautions and pit cycles, there was a small window for refueling and the Astons' options were limited when it came time to call for a pit stop. Complicating things was that Automatic Racing shared a pit box with another squad in the race, and the overlapping pit sequences forced #09 to stay out on the track longer than anticipated until the pit box cleared.

This unhappily prevented Long from reaching the drive-time minimum for the race and, under series rules, the team lost their 2nd-place standing post-race.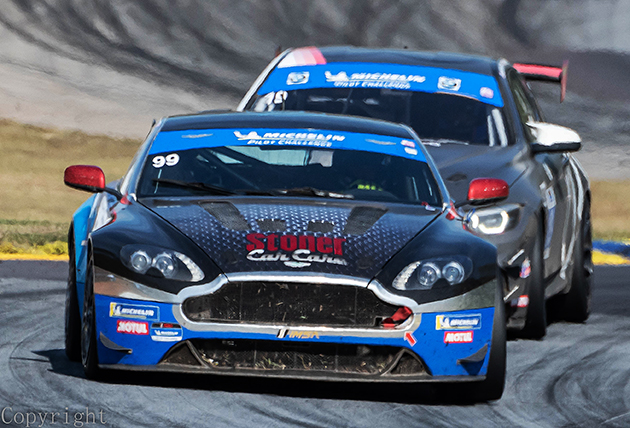 Aston #99, now retired after seven years of racing, had its turn at the front of the pack this one last time.
Photo by Colin Sword
There really was no room for protest. As Long explained after the race, "Unfortunately, each driver has to have a minimum of 40 minutes, but our first opportunity to get into pit lane [for the driver change] was with 38 minutes left."
But Long remained upbeat, calling it "a fun drive."
"The Aston Martin just pulled through the field," he said. "It was an incredible day for a lot of reasons."
The earlier-generation #99 car did its swan song at Road Atlanta. Driver Ben Widdell made his Pilot Challenge debut in the race, and he was the one who took the car to the front of the field — "a privilege," he said, "even a bit surreal."
Widdell and co-driver Ramin Abdolvahabi finished 16th after one final pit stop for fuel. The third Automatic Racing Aston, #97 — another new GT4 — was brought home in 14th by veterans Gary Ferrera and Kris Wilson, who incidentally took #99 to the podium at Daytona.
Anyone looking for a used Aston, seven years old, 62K miles, ran (very well) when parked?
[From IMSA and team reports.]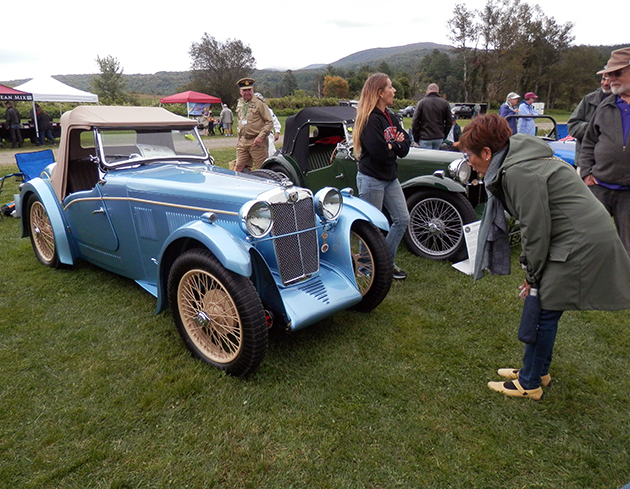 November 2019

MG was the Featured Marque at this year's British Invasion, and there were some fine examples in the Concours. Malcolm and Barbara Appleton's 1932 F1 Magna, shown here attracting some attention, was one of them.
Photo by Bruce Vild
Stowe XXIX

by Michael Gaetano, Event Organizer


STOWE, Vt., Sept. 13-15 — Year twenty-nine of the British Invasion was marked by a schedule change, perfect weather for arrival and for the Friday Street Party, some brief moisture on Saturday morning, and a sunny Sunday for the last field events and the trips home.
A conflict with nearby Norwich University's 200th anniversary celebration on the third Saturday in September left us with no choice but to move the Invasion from its usual weekend to the second weekend to ensure the availability of accommodations for Invasion attendees. At least one of our food vendors had a conflict with the schedule change, which left us without coffee and breakfast sandwiches.
But, these issues aside and even with showers on the show field, British Invasion 2019 was a success.
With MG as our Featured Marque, we enjoyed an impressive turnout in the judged Concours d'Elegance, the people's-choice British Classic Motorcar Show and the Car Corral, where vehicles were displayed for purchase. Enthusiasts drove in from Utah, Tennessee, New York, Pennsylvania, Virginia, Ontario, Québec, Nova Scotia, and of course New England, and we had many visitors from other points on the compass.
We were most pleased to enjoy the active participation of the Jaguar Land Rover Performance Center in Manchester, Vt., who have already pledged to return in 2020. Vehicles and staff from the "Land Rover Experience" were on display to tempt British Invaders to look into that hands-on program and come out to play.
The modern Land Rovers were complemented by a display of vintage examples belonging to Jim Macri of High Meadow Farm in Saxtons River, Vt., including his famous re-creation of the 1947 prototype Centre-Steer Land Rover — the product of many years of research and painstaking construction. Jim also entered a dazzling 1947 Rover convertible in the Concours that had just finished a complete restoration.
Stowe XXIX maintained its position as the largest all-British car show in the eastern USA as we managed to field over 550 British vehicles on Saturday, including roadsters, coupes, saloons, military vehicles and motorcycles.
As the Invasion is advertised as "pre-registration only," if you waited to register until Friday afternoon you had to pay a premium and be lumped together on the show field with other late registrants instead of joining the proper class for your car. Several did, which bolstered the overall turnout in the people's-choice show. The Friday option was not available for the Concours.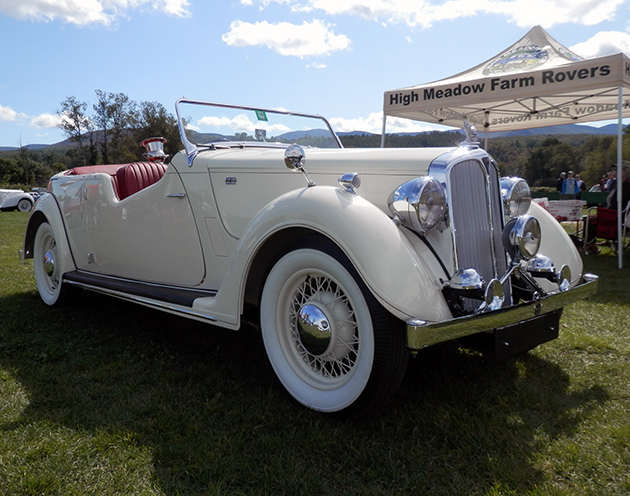 Best in Concours, Jim Macri's 1947 Rover P2 Sport.
Photo by Bruce Vild
The British Classic Motorcar Show was where the vast majority of our entrants were located. We had 66 separate classes and we awarded 125 awards to class winners. Best of Show in the British Classic went to Foster and Phebe Whitworth of West Lebanon, N.H., and their 1948 MG TC. The MG was in delightfully original, "as found" form, which obviously made it the people's favorite.
The Concours d'Elegance, our judged competition, challenged owners not only to compete against other entrants, but also against a Code of Excellence that sets the minimum score required to be awarded a 3rd, a 2nd, or a 1st place award. The Best of Show in the Concours d'Elegance went to the aforementioned Jim Macri and his 1947 Rover P2 Sport.
A complete roster of all the winners at Stowe XXIX is available for your viewing pleasure on the British Invasion website, www.britishinvasion.com, and on page 3 of the November issue of British Marque Car Club News. This includes not only the Concours and the British Classic, but the Tailgate Picnic Competition, Ladies' Hat Competition, and British Attire Competition, which are all important features of the British Invasion.
Sunday started with our largest following ever of British motorcars for the morning Notch Run. I believe we attracted over 40 vehicles and drivers, who followed my 1947 Bentley as we climbed over Smuggler's Notch and managed a 70-minute morning run.
Meanwhile, back at the show field, entrants regrouped for the "Competition of Colors" and for the Tailgate Picnic Competition.
The American Cancer Society, which managed General Admission Parking, raised a respectable amount of money for the cause during the Invasion weekend. Habitat for Humanity was also on hand, and ran a couple of very successful raffles that raised needed funding for their latest building project in nearby Morrisville, Vt.
We owe a special debt of gratitude to the more than 30 volunteers who made this year's British Invasion the success it was as they helped with field layout, show car parking, registration, regalia sales, general admission, Concours judging, ballot counting, the awards program, the Queen's Court (where the Ladies' Hat Competition took place), and then the breaking-down of the field and packing up for the next show.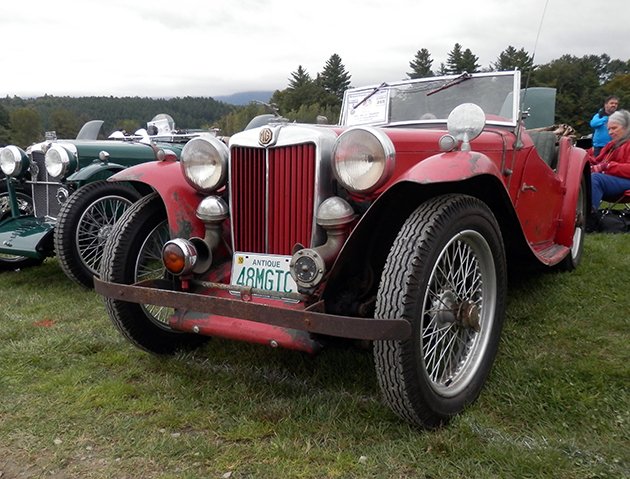 Best in British Classic (the people's choice competition), Foster and Phebe Whitworth's 1948 MG TC.
Photo by Bruce Vild
As you mark your calendar for British Invasion XXX — yes, that's 30! — please note that in 2020, in order to help ensure room availability, we have once again moved the event to one week earlier than normal, and will again be the weekend of the second, not third, Saturday in September. That will be September 11-13. We encourage you to make your plans and book early.
The Featured Marques next year with be Rolls-Royce, Bentley, Austin-Healey, and Singer. The Singer Motorcar Club, known for their often humorous club displays at the Invasion, will mark their 20th year of active participation with a special display and challenge other British car clubs to do the same.
Also for 2020, the Rolls-Royce Owners' Club/Bentley Drivers' Club will join us creating what they refer to as an "RROC Mini Meet" that will be a separate event from their annual National RROC Meet.
Jaguar Cars will be present in 2020, as will McLaren.
We are exploring the possibility of hosting a one-week, point-to-point tour culminating in Stowe for British Invasion XXX. The itinerary might run something like this: Start in Sturbridge, Mass., on Sunday, travel to Manchester, Vt., on Monday, then on to Lake Placid on Tuesday and Wednesday, off on Thursday over Lake Champlain to Shelburne and Burlington, Vt., then to the stone quarries of Barre, Vt., and points north, concluding with a drive over Smuggler's Notch, and ending in Stowe on Friday. This tour would be open to show registrants. Stay tuned.
To all who attended and helped to make the British Invasion a memorable weekend in scenic Stowe, Vt., over the past 29 years we say, thank you! And, as always, we wish you many miles of carefree and enjoyable touring in your British classic.
[Michael has been the principal organizer of the British Invasion from its inception in 1991. He is also chiefly responsible for the British Motorcar Festival in Bristol, R.I., ably assisted in both endeavors by his wife Paula and a dedicated team of volunteers that includes family and friends.]