Feature Stories
---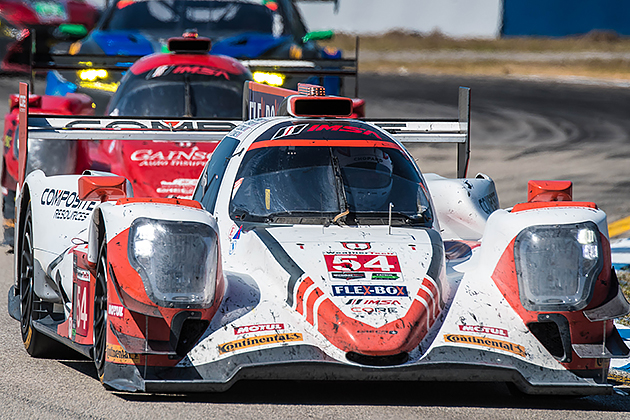 December 2018

Finishing just shy of the championship this year, CORE Autosports' ORECA-Gibson will be back — just in a new class.
Photo by Colin Sword

Looking Back, Looking Ahead
IMSA's Shaking Things Up Next Year with Race Series, Classes, Regulations

by Bruce Vild


BRASELTON, Ga. — Shortly after 9 p.m. on Saturday, October 13th, it was the end of the world as we knew it. IMSA-wise, that is.

That is when the checkered flag waved at Road Atlanta in the WeatherTech SportsCar Championship race, signaling not only the end of the Motul Petit Le Mans weekend but the end of the 2018 season — and major changes in the WTSCC and the Continental Tire SportsCar Challenge.

One of the series, the Conti, would even cease to be, replaced by something new, different, and with another lead sponsor in 2019. They're calling it the Michelin Pilot Challenge, and it will be running with one less class than the Conti. The "Street Tuner" class, home to the champion MINI JCW Team, has been discontinued.

All those cool ORECA- and Ligier-tubbed LMP2 cars with their Gibson V8s will be running in their own class in the WTSCC races, separately from the Daytona Prototypes. Readers will remember that late this season the Balance of Performance numbers were adjusted across the board in the LMP2 cars because their wins were starting to embarrass the DPis.

In some ways, the new class structure in WTSCC has relegated the LMP2 cars to junior varsity status. The LMP2s will be racing in a "Pro-Am" category that requires at least one driver on the team to be rated Silver or Bronze, meaning they have less experience on the track than those rated Platinum or Gold. (It's an FIA-Le Mans thing.) In addition, Silver- or Bronze-rated drivers will be required to qualify and start the race, which should put them at a disadvantage for overall pole and maybe for overall victory against more seasoned drivers in the DPis.

This writer would hate to see teams that ran LMP2s in the "premier" Prototype class in WTSCC this year feeling slighted and opting out of IMSA in 2019. The LMP2s have proven themselves very competitive with the DPis, and quite capable of wresting an overall victory from them or at least securing a place on the podium.

One team that did that has already announced plans to participate next year in their ORECA-Gibson — CORE Autosport. In fact, CORE did so well this year they came within three points of taking the WTSCC championship away from Cadillac, 274 points to Caddy's 277. That was a remarkable outcome given this was the team's rookie season.

All told, CORE earned five podium finishes with their #54 car, including victories at Canadian Tire Motorsport Park (Mosport, as I think it will always be called) and Road America. Said Jon Bennett, owner and driver, "We gave them a run for their money and I think we will continue to. I couldn't be prouder of my team and my co-drivers."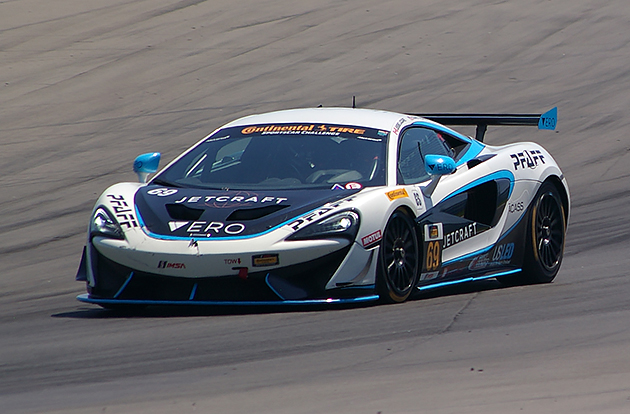 Motorsports in Action qualified 2nd in the Conti but finished 9th. They too are looking forward to next year.
Photo by Bruce Vild
The LMP2 cars are, as Bennett has pointed out, built for endurance and should do well in a ten-hour race like Petit Le Mans. However, #54 found itself at a distinct disadvantage at Petit because it couldn't go the same distance on fuel as the Cadillac it was chasing (a consequence of the BoP adjustment?) and had to pit for a splash of fuel in the last few minutes of the race. This resulted in a 7th place finish for Bennett's co-driver, Colin Braun, who till then had been running as high as 4th.
And CORE is not discouraged by the new driver rules. The team recognizes that it was up against factory teams with decades more experience this year, and achieved what it did with a driver line-up that is already "Pro-Am."
With the LMP2s now in their own class, I'm wondering whether their BoP will again be adjusted — reversed to early-season spec, as most of the teams will be focusing on the top position in the new class rather than prevailing over the DPis. And if it is not adjusted, what will happen when an IMSA team is called to Le Mans? The LMP2 category is a spec class there, too, and European and Asian teams that do not participate in IMSA will be racing at a different standard.
The Michelin series
And in the Conti… er, Michelin ("Mich"? "Lin"? Neither seems quite right), the Marque's hero, Luis Perocarpi, will be running a team in the "Touring Car" (TCR) class — for Honda. Corporate support apparently was not to be for one of the larger MINI models in TCR next year, in spite of the terrific fan support Perocarpi and his drivers generated in 2018.
Motorsports in Action, whose #69 McLaren GT4 had a disappointing finish at Petit in the Conti race due to a wheel nut issue that resulted in what team owner Eric Kerub called "an immediate catastrophic failure," also plans to come back, but with the same car as in 2018.
In Kerub's view, the McLaren is an ideal racecar — he claims a 40-year relationship with the manufacturer — and his drivers have also been ideal, namely Chris Green and Jesse Lazare and this year's addition, Corey Fergus.
Green, Lazare and Fergus all figured prominently in the Porsche GT3 Cup Challenge, another IMSA series, the first two being Cup champions and Fergus the runner-up, before Kerub tapped them for the Motorsports team. Fergus proved his worth at Petit, qualifying 2nd, while Lazare started the race and led for the first 22 laps before the wheel nut failed and #69 wound up in the gravel. They would eventually place 9th.
Kerub, in typical "hey, that's racing" fashion, remains confident that Motorsports can live up to its potential with outstanding machinery, driver talent and teamwork. "If we didn't have the right ingredients, I wouldn't be trying. We have all the right ingredients, and now we just need a bit of luck."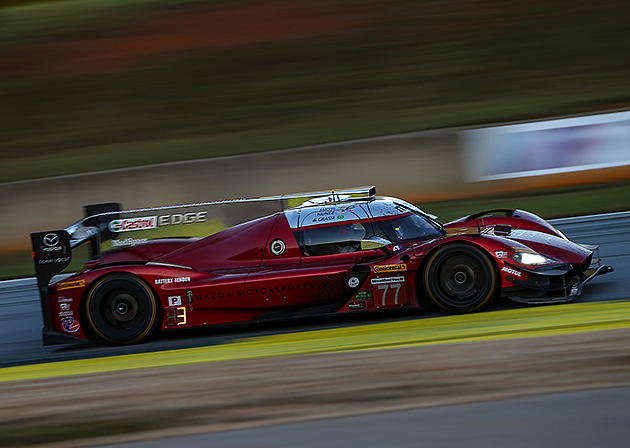 The #77 Mazda-AER, here running 3rd, finished 2nd at Petit.
Photo by Jake Galstad, IMSA Photo
This paper is watching for announcements from Compass Racing, who also ran a McLaren GT4 in the Conti, and from Automatic Racing, who fielded Aston Martins, telling what their plans are for next year. Like Motorsports' McLaren, these cars would be racing in the "Grand Sport" (GS) class in the Michelin.
Compass Racing, incidentally, had better luck than Motorsports at Petit. After taking pole with their #76 McLaren, drivers Paul Holton and Matt Plumb finished 2nd, their best result in the series.
Compass Racing also campaigned three Audi RS3s in TCR.
And the Mazdas?
We still haven't heard from Mazda Team Joest, but if their finish at Petit is any indication, their AER-powered DPis will be back, too.
The two cars qualified 2nd (Oliver Jarvis in #77) and 3rd (Jonathan Bomarito in #55) and went on to place in exactly that order in the race. Number 77, with co-drivers Lucas di Grassi and Tristan Nunez, ran virtually with no problems and led several times during the race, and #55, though suffering contact that forced a lengthy pit stop to replace body panels, managed to regain the lead lap and also make a run for the win.
There was some drama as the race entered its final stages when the team opted to give up track position to make sure they had enough fuel to finish the race. (Another DPi, the #5 Cadillac that was leading the race, did not.) Re-entering from the pits in 6th and 7th position, they made it up to 3rd and 4th and then both passed the 2nd-placed car on the final corner.
Readers will remember that their BoP was adjusted, too — to their advantage. And LMP2s should do better than DPis in endurance races, because that's what they're designed for. But this was an endurance race. Go figure.
I'll watch for and root for them next year, if they're around. John Doonan, Director of Mazda Motorsports, has talked about having "a lot of positive momentum going into 2019," so chances are they will be.
I also liked the shout-out he gave to AER after the race for "a season of great reliability." We all know where AER engines are made.
[Developed from team and IMSA reports. Thanks, everyone, and good luck next year.]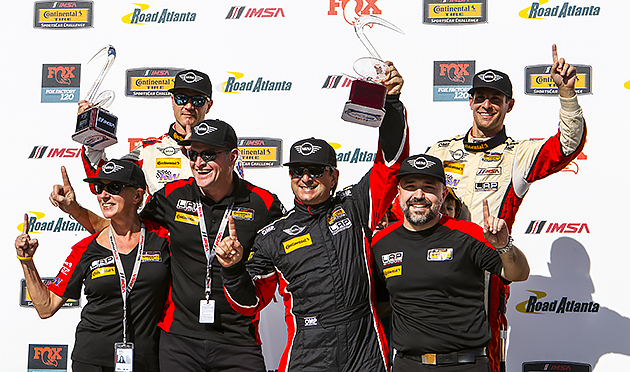 November 2018

The MINI JCW Team celebrates their victory in the Fox Factory 120 at Road Atlanta, part of the Petit Le Mans weekend. Front row, left to right: Tonine McGarvie, MINI USA Randy Clements, MINI USA Luis Perocarpi, owner, LAP Motorsports Zdravko Miric, MINI USA. Back row, left to right: Drivers Mike LaMarra and Mat Pombo.
Photo by Halston Pitman, courtesy MINI USA

MINI Does It!
Perocarpi's JCW Team Clinches Hard-fought Championship at Road Atlanta

by David Newman


BRASELTON, Ga., Oct. 12 — The weather was perfect for racing that day at Road Atlanta, a 2.54-mile course known for its huge changes in elevation and challenging corners. And the sun was shining brightly on the MINI JCW Team, operated by LAP Motorsports owner Luis Perocarpi.

The team was competing in the IMSA Continental Tire Sportscar Challenge Series in the Street Tuner (ST) class against Porsches, BMWs and a Mazda, sporting three MINI Cooper JCW cars, and six drivers per race. They raced on the circuit with two other classes in the series, Grand Sport (GS) and Touring Car (TCR), both with machines much faster than the ST cars.

The stakes were high going into the Conti at Road Atlanta — dubbed "the Fox Factory 120," as it was a two-hour (120-minute) race. All through the season, the lead in the Manufacturers Championship in ST had gone back and forth between MINI, BMW and Porsche. Road Atlanta would be their last contest, and just a few points separated the leader, BMW, and MINI. It was going to be flat-out racing for the title.

The day would be bittersweet for the winners, however, because this race would be not only the last this year, but the last in history of ST. Earlier this year IMSA announced it was dropping the class in 2019 — and there would be no opportunity for a rematch among the teams, and this type of racecar, next year.

Driver (and engine) switch

The day before the race, the #52 MINI lost an engine during practice. The car had already lost one of its drivers — the up-and-coming Colin Mullan, who usually drives the first segment of a race in #52, had to miss Road Atlanta as he was in Europe for a driver development scholarship program. Team owner Perocarpi, an experienced racing driver himself, took over the slot.

For Perocarpi, it had to be very special to be one of the drivers in the last race for the team in the four years that MINI has been participating in the series. Unfortunately, he got in only about 20 laps of practice before engine damage brought him into the pits, and #52 back to the paddock.

This might not have been a great start to the weekend, but the techs rallied to the cause. As Luis commented later, "The crew from LAP worked alongside MINI dealer technicians and did an outstanding job late into the night to have #52 ready for the race," meaning an entire engine swap.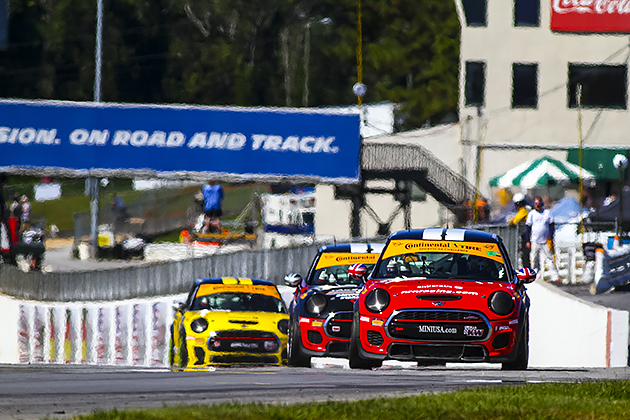 All three MINI JCW Team cars on the track.
Photo by Halston Pitman, courtesy MINI USA
The day of the race saw Luis back in #52 with co-driver Mark Pombo, and, in the other two team cars, Nate Norenberg and Derek Jones in #37 and Mike LaMarra and Mat Pombo in #73.
They faced the #81 BMW 328i of Bimmer World Racing, driven by Nick Galante and Devin Jones, out in front in so many of the races this season. And then there was the #21 Porsche Cayman of Bodymotion Racing, driven by Max Faulkner and Jason Rabe, one very fast and competitive car that was always a contender, too.
Qualifying the day before had set the stage for an exciting race. Gallante took pole in the #81 BMW at 1:37.191, about 94.1mph. Runner-up Norenberg's #37 MINI was barely a quarter of a second behind him, and Faulkner's #21 Porsche was a tenth of a second behind Norenberg in 3rd.
In 4th place was Mike LaMarra in the #73 MINI, a half a second behind Faulkner. The Perocarpi-Mark Pombo #52 MINI was still under repair and did not post a time.
Race day
At 1:25 p.m. on Friday, October 12th, the Fox Factory 120 was underway.
The leader for most of the first 75 minutes was the #81 BMW. With about 45 minutes left, Mat Pombo in the #73 MINI passed the #21 Porsche for 2nd place, with the BMW still in the lead. All the competitors had made their scheduled pit stops and driver changes. It was literally "drive your tires off the car" racing.
Only a win for MINI could change the standings. The points were that close, and it appeared that the Bimmer World BMW would be the winner if all stayed the same. All three MINI drivers were using ten-tenths of their MINIs' performance. All of them were on two wheels in most tight corners. It was win or nothing.
With about 15 minutes to go in the race, Pombo's #73 MINI was still in 2nd place, about six seconds behind the #81 BMW and perfectly positioned to catch it — and then the BMW made an unexpected second pit stop for a splash of fuel. Pombo jumped into the lead, held it, and #73 grabbed the checkered flag.
Pombo did drive the tires off his car — one of them, anyway. On the cool-down lap, the front right tire showed it had given its all and shredded itself right off.
Finishing behind #73 were the #21 Porsche, the #81 BMW, the #52 MINI and the #37 MINI.
What a race and what a finish, a fairy tale ending to four years in IMSA — and it clinched the Manufacturers Championship for MINI by just three points. The final standings were MINI with 331 points, BMW with 328, Porsche with 311, and Mazda with 56.
Yes, on two wheels.
Photo by Halston Pitman, courtesy MINI USA
Much champagne was sprayed on the podium, the team exploding with joy on bringing home the win for MINI USA. As Perocarpi told this reporter, "It's been an incredible four seasons of racing at the highest level of professional racing. We ended this chapter with an exclamation!"
Mat Pombo and MINI USA's Tonine McGarvie were quick to acknowledge the support of the team's many fans. In a Facebook post Pombo called them "the best in the country," and said, "Every MINI fan and owner had a part of this."
McGarvie, who organized many of the trackside fan events, including MINI corrals, meet-and-greets in the paddock, prize drawings, and hot lap rides, added, "What an amazing ride it has been! You were all with us in spirit today!"
What's next?
So what is in store for the MINI JCW Team next year? Rumors abound. Maybe the Pirelli World Challenge series with the current F56 MINI Cooper JCW cars — or maybe MINI USA will support the team in IMSA's TCR class with a MINI Countryman JCW? Only Headquarters knows.
After following the team to many races in the past four years, this reporter can only say this: In the paddock, in the stands and in the viewing hillsides, I have never seen such dedicated fans and in such large numbers as the fans of the MINI JCW Team. Every team member has taken the time to speak to fans — every driver, manager, technician, and, of course, Tonine McGarvie's people.
I think those fans would tell them now, "Please come back to racing next year. We need a team in 2019."
[Dave, a frequent contributor to this publication, counts himself among the MINI JCW Team's biggest fans.]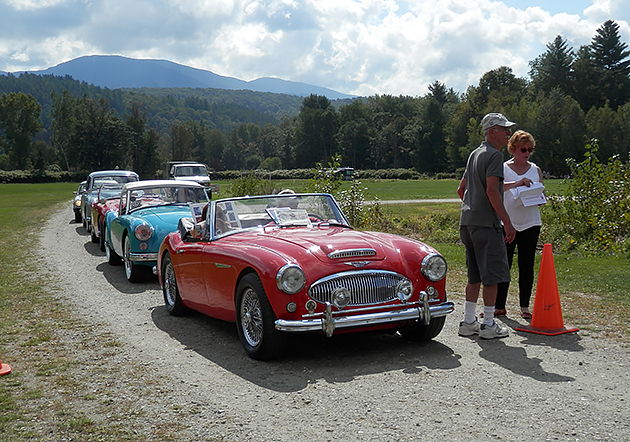 Awaiting the signal for the drive-by of first-place winners in the Saturday popular vote show, the British Classic.
Photo by Bruce Vild
Warmest Wishes from Stowe!
by Michael Gaetano, Event Organizer

STOWE, Vt., Sept. 14-16 — Year 28, and "the tradition continues!" In all those years of producing the British Invasion, 2018 brought the warmest September on record. Our ice cream vendor had a busy weekend.
The turnout of British motorcars was also hot, as drivers arrived from Canada and points in the USA north, south, east and west of Stowe. Motorcars came from Florida, Ohio, Pennsylvania and Nova Scotia, to name just a few departure points.
We were most pleased to enjoy the active participation of Jaguar Land Rover North America (JLR), whose local representatives displayed an XK180 carbon fiber concept car — as presented at the Paris Motor Show in 1999, and one of only two in the world — with 450bhp and 445 ft-lb of torque, plus a Camel Trophy-winning Land Rover 110 and a couple of electric cars, including Jaguar's first all-electric vehicle, the 2019 I-PACE.
JLR's Land Rover side was complemented by a collection of Land Rovers belonging to Jim Macri of High Meadows Farms in Vermont, which featured the replica prototype 1947 Centre Steer Land Rover Jim constructed after many years of painstaking research. Jim's replica has also been displayed at the British Motorcar Festival in Bristol, R.I.
As the largest all-British motorcar show in the eastern United States, this year's British Invasion managed to field over 550 British vehicles on Saturday, of which several even paid a premium to register on Friday afternoon for either the British Classic Motorcar Show (our people's choice competition) or to place a British vehicle in the Car Corral for sale.
The British Classic Motorcar Show was where the vast majority of cars were entered. We had 65 separate classes and we awarded 125 awards to class winners.
As always there was a Best of Show Award, and this year it went to Peter Nicoll of Rigaud, Québec, for his 1935 Rolls-Royce 20/25 Limousine.
Others participated in the Invasion's Concours d'Elegance, a competition judged by a team of experts rather than by people's choice. The Concours challenged entrants not only to compete against other vehicles in the Concours but against a "Code of Excellence" that set the minimum score required to be awarded 3rd, 2nd, or 1st place.
This year, the Best of Show Award in the Concours went to John and Laura Scott of Middlebury, Vt., and their 1937 MG VA Tourer.
A very popular feature of the British Invasion, the Queen's Court and the Ladies' Hat Competition, attracted some of the cleverest designs of headgear to date. Ladies took their inspiration from Mary Poppins, Wallace & Gromit, life on the farm, Minis, and even a jar of Marmite!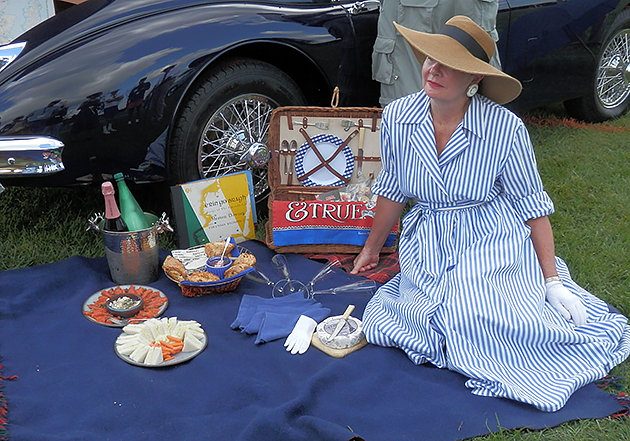 Elizabeth Tayler relaxes beside her Jaguar with her tailgate picnic on Sunday.
Photo by Bruce Vild
Sunday started with our largest following of British motorcars yet for the annual Notch Run. I believe we attracted over 30 vehicles that followed along behind my '47 Bentley as we climbed over Smuggler's Notch and managed a 70-minute rural Vermont morning tour.
Meanwhile, back at the show field, entrants were setting up for the annual Competition of Colors, where the color of the motorcar determines its class, and the Tailgate Picnic Competition, with categories such as "Most British" and "Most Humorous."
The American Cancer Society, who managed General Admission Parking, raised a respectable amount of money for their cause during the Invasion weekend.
We owe a special debt of gratitude to the more than 30 volunteers who made the British Invasion the success it was. They helped with field layout, show car parking, registration, regalia sales, general admission, Concours judging, ballot counting, the awards program, the Queen's Court, breaking down the show field and packing up, and then, once home, unpacking everything to be unpacked, inventoried and re-prepped for the next show.
As you mark your calendar for British Invasion XXIX, please note that for 2019 we have moved one week earlier than normal — to the weekend of the second Saturday in the month of September (the 13th to the 15th) — to avoid a conflict with the 200th anniversary of Norwich University, a celebration expected to fill every room available in Stowe the following weekend.
To all who attended and helped to make British Invasion XXVIII another memorable weekend, we say, "Thank you!" We wish you many miles of carefree and enjoyable touring to come in your British classic.
[Michael founded the British Invasion in 1991, and with the help of family and friends has been its principal organizer ever since.]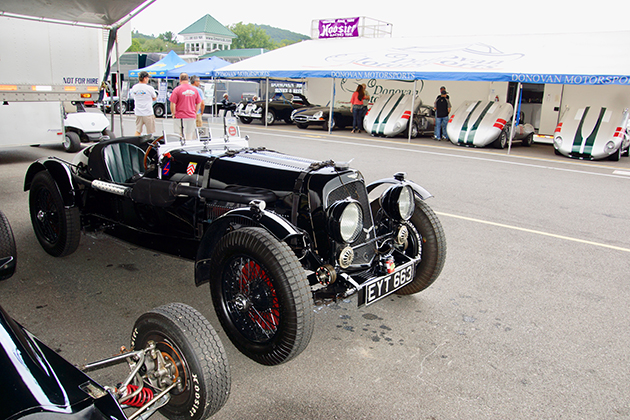 October 2018

Prewar meets mid-century at LRP. Rob Burt's 1938 Aston Martin (left foreground) was stationed right across from Donovan Motorsports' three racing E-types, the former doing battle with MG T Series and early Alfa and Maserati racecars, and the latter prevailing over Porsches, Vettes and Mustangs.
Photos by John Morris & Bruce Vild

Historically, It's #36

The Marque Returns to Lime Rock to See Old Friends Race — and Lots and Lots of Bugattis

by Bruce Vild


LAKEVILLE, Conn., Aug. 30-Sept. 3 — It was near the end of a sweltering but all-too-short summer in New England, which meant it was Labor Day weekend, which also meant it was time to return to Lime Rock Park for the annual Historic Weekend. This one would be LRP's 36th.

The Historics has (have?) always been a must on the British Marque schedule simply because of all the British cars that show up — and many of our friends as well. This year was something close to a once-in-a-lifetime event (as one of those friends expressed it) as Bugattis were featured in a very big way: dozens of them came, from all over the world, to drive around the countryside, park in the paddock for all to admire, and even run in special all-Bugatti races as a group separate from the usual Triumphs, Healeys, MGs, Alfas and Porsches that populate this weekend.

Even the most hardened British car fan like yours truly had to appreciate this. The Bugattis at Lime Rock numbered in the dozens (I heard as high as 70), providing a neat survey of the incredible variety of automobiles produced by the company since the 1920s (prewar, that is — no Veyrons were in sight, either under a tent or in the parking lot). One saw the runabouts from the '20s that show up regularly at VSCCA events, right up to all the variations on the theme that was the Type 57.

Much of the Bugatti presence was due to this year's Honored Guest and Collector, Peter Mullin, who has built two automotive museums and is planning a third. The Type 57SC Atlantic that was arguably the most beautiful Bugatti — no, make that most beautiful car — here at Lime Rock this weekend was his, along with several other prime examples parked under a tent in the paddock.

Otherwise, British cars were all over the place, represented in every one of the eight groups running except for the Bugatti races. Many of them gathered, along with quite a few of the Bugattis, for the vintage racecar parade on Thursday afternoon. The parade left the track from the Sam Posey Straight and wound its way around the back roads of Lakeville and Salisbury to the usual destination, Falls Village, and the block party around the green.

I caught up with Al Chicote and his Elva Courier there, with several people (including at least one former Elva owner/racer) surrounding them and asking questions about the car. With Al and the Elva, that's par for the course, as fans of his articles on the Berkshire British Motoring Club page well know.

Also on hand were Foster Cooperstein and Lois Maisel — who must have been attracted by all the Lotus racing going on, the marque represented in four of the eight groups that took to the track. Foster and Lois, it will be remembered, won the British Marque Favourite Award at British Car Day at the Larz Anderson Auto Museum back in June, and they did indeed bring the Elan Sprint with them to Lime Rock.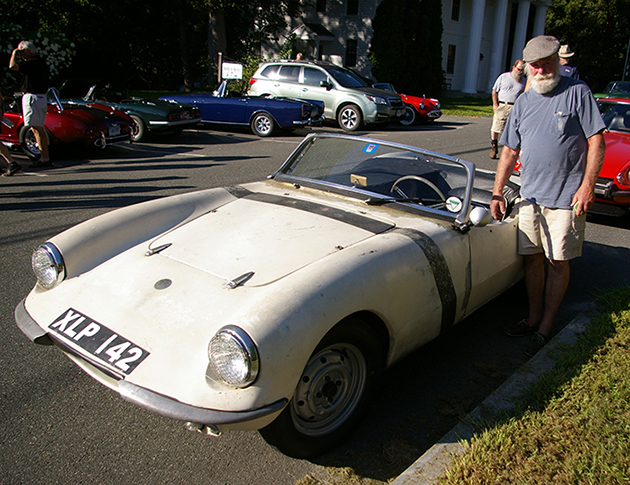 Al Chicote and his Elva Courier, parked in Falls Village after the parade.
Covering the races too were Susan and Dave Blackwell from the MG Car Club-Long Island Centre, Michael DiPleco, a professional photographer who belongs to Brits of The Hudson, and Dow Smith from the VSCCA.
Among the racers were LRP stalwarts Ernie Steubesand and Stu Forer, both competing against each other in Group 4. Ernie brought his familiar Lotus Super 7, #110, and Stu his Turner 950S, #48. Their group was well-populated with other small-bore sports cars, such as Jackie Amarosa's Triumph TR3, Jim Juhas' MGA and Michael Richmond's Bugeye Sprite, and a slew of Formula Junior cars that were mostly of British manufacture (Lotus 18s).
There were eight groups racing, each with entrants with a common characteristic such as vintage, engine displacement, body style, etc. Each group ran four races, with practice and qualifying in a combined session on Friday, and two races on Saturday and two on Monday. As mentioned in previous articles, there is no Sunday racing at Lime Rock.
The oldest cars, not counting the racing Bugattis, were in Group 1, assembled as a salute to the 60th anniversary of the VSCCA. The vintages ranged from a 1913 Hudson Indy to a 1955 Lotus MkIX, with prewar Alfas and a Stutz campaigning against a lot of MG T Series cars (13 of them on the original entry list, counting a Lester MG) and Chris Towner's well-known Morgan F-type trike. Standing out in the mix were a Nash-Healey Le Mans and a Cunningham Vignale C-3 from the 1950s, arguably two of the heaviest cars on the track but with plenty of grunt.
Included in Group 1 was Franck Ceklarz, driving an MG TC, #137. As the photos show, Franck not only took part in the racecar parade on Thursday, but made all four of his races over the weekend. His best lap time, 1:22.450, was in the third race, Monday morning. This translated to about 65.5mph.
Figuring in the top three in Group 1 in the first three races were a prewar Alfa (Peter Greenfield, #41), Lotus Mk IX (Carl Whitney, #215) and MG TD (Frank Filangeri, #928), but Filangeri was out by the fourth race Monday afternoon. Whitney bested the Alfa in only one race, the third, posting a best lap time of 1:08.203, or 79.2mph. Late in that race the Alfa spun and almost collected the Lotus, prompting a yellow flag, a tow truck and the race's end. Greenfield came back for the win in race 4.
British cars totally dominated Group 2. Of the 29 entrants who qualified, 20 of them drove Brits. Triumph Spitfires, MGBs, Austin-Healeys and Ginettas were out in force, along with a brace of Elva Couriers, a Marcos, a Morgan Plus 4, a Lotus 11, a Sunbeam Alpine and a Lola Mk1. With the exception of Richard Kresch's Fiat-engined Beach Mk4 B2, all of the top 10 qualifiers were British.
That was pretty much the story for all of the Group 2 races, with an occasional incursion into the top 10 by a Porsche 914 and an Alfa Giulietta Spider. Among the cars to watch were Dave Gussack's #88 Spitfire, finishing 1st, 3rd, 1st, and 3rd in races 1 through 4 Rich Maloumian's #347 Austin-Healey 100, 2nd, 2nd, 3rd, and 6th and Harvey Parke's #11 Ginetta G4, which after completing only four laps in the first race and placing last, moved up to 10th place in race 2, 7th in race 3, and 1st in race 4.
In their respective wins, Gussack posted a best lap time of 1:03.171 in race 3, or about 85.3mph, while Parke's best time was 1:02.815 in race 4, or about 86.0mph.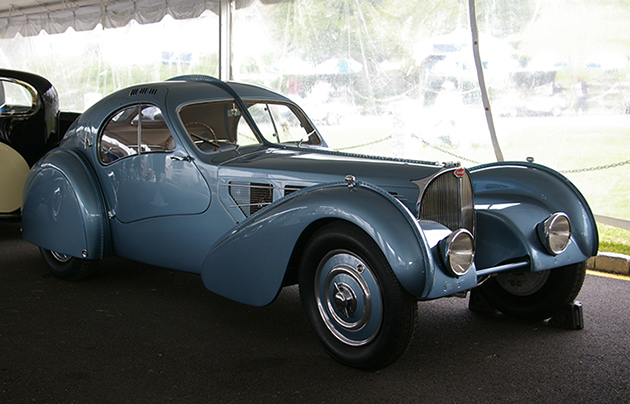 Bugatti Type 57 Atlantic coupe was only one of dozens of stunning examples of the marque seen this weekend.
It wouldn't be a vintage race without Minis, and they were to be found in Group 3 along with other tin-tops, including David Porter's Lotus Cortina, Simon Kirkby's Hillman Imp, and non-Brits like a Volvo 122, Alfa GTV, Lancia Fulvia and Datsun 510.
Out of place in this group to this writer's thinking were the Datsun 240Zs that placed in the top two or three in all four races — with a two-cylinder and 1000cc advantage over the other cars. Maybe their specs don't quite qualify them for the "Big Bore" (as in engine) class, Group 7, but then again, there were Porsches running in that group with six-cylinders of similar displacement, and wouldn't it be interesting to see how well the Zs would do against Donovan Jaguar's E-types?
Donald and Dennis Racine's #61 and #177 Minis qualified mid-pack and pretty much stayed there in the three races they ran. Highest-placing of the pair was Donald, who took #61 to 6th place in race 3. The third Mini, John Gorsline's #3, qualified next to last, did not run in the second race, and only managed a third from last in races 3 and 4.
Best of the Brits in Group 3 was David Porter's #11 Lotus Cortina. He ran well and consistently, qualifying 6th, and then finishing 6th, 5th, 4th, and 5th in the four races. His best lap time was in race 1 — 1:04.109, about 84.2mph.
Simon Kirkby's Imp, #771, was the other Brit we were watching in Group 3. He qualified 7th and ran all four races, but dropped out of race 3 after completing only four laps. He came back for race 4, but again left the track early. His best finish was in race 1, where he placed right behind Porter's Cortina in 7th, posting a best lap time of 1:04.697, about 83.5mph.
Group 4, where Ernie and Stu raced, was another Brit-rich category. If you were a Lotus or MGA fan, it was definitely the place to be, with 10 of the qualifying cars being either Lotus 7s or 18 FJs. The Formula Junior versions were joined by three Stanguellinis, a Cooper, an OSCA and a Brabham. As to the MGAs, there were seven of those, with the aforementioned Bugeye Sprite and TR3, a Morgan Plus 4, an MG Midget, an AC Bristol and Stu's Turner rounding out the British field.
Turns out the Brits at Lime Rock staged their own "reliability run," at least in Group 4. In the very last race Monday afternoon, the field of 33 cars had dwindled to 17 — and all but one of them, Larry McKenna's #722 Stanguellini FJ, were British. Gone were the Porsche 356A, Alfa SZ, Maserati 300S, Ferrari 250GT, OSCA FJ and two other Stanguellinis. There was some attrition among the British cars too, of course, but...
Ernie and Stu both ran four smooth, solid races. Ernie qualified 6th, then posted 7th, 10th, 8th, and 7th place finishes. Stu qualified 15th, then finished 15th, 15th, 10th and 10th — not bad for a car with the smallest engine displacement (948cc) of all the cars running.
The day, however, belonged to Lotus. William Bartlett's #145 Lotus Super 7 took the group pole and went on to win all four races, his best lap time, 1:03.889, recorded in the first race and varying by less than 6/10 sec. subsequently. That equals about 84.5mph. Three Lotus 18 FJs with Dave Nicholas' MGA or Bill Greenman's MG Midget rounded out the top five.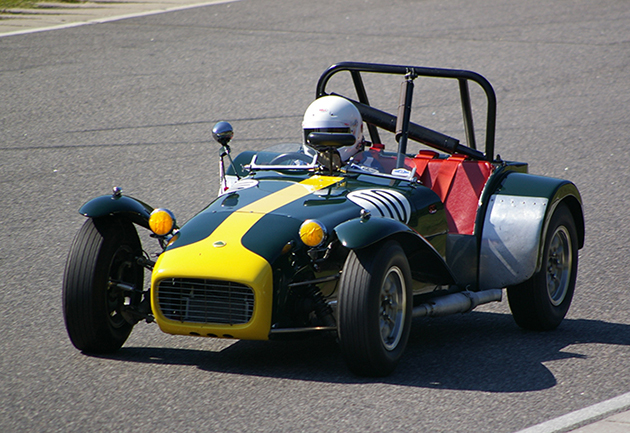 Ernie Steubesand comes out of West Bend with his Lotus 7.
As Group 5 was solely Bugattis, it won't be covered here, other than to say it was remarkable to witness a race-prepped Type 57SC and a 105-year-old Type 22 driven in anger around the Lime Rock track. You had to be there.
And you couldn't come up with a group more different from those Bugattis than Group 6, dubbed "Formula Very Libre" and featuring British cars you would never see on the street — such as David Porter's #79 March 79B FA, Jim Montana's #12 Lola T598 or Tony Carpanzano's #25 Argo JM-4. Rick Bell's Australian-built Ralt FA dominated the group, taking pole and all four races, but Porter was on his tail constantly to place 2nd.
And talk about speed: Bell's best lap time was 0:52.319 and Porter's 0:52.521 — about 103.2mph and 102.8mph respectively! That's fast.
Far closer to Planet Earth were the cars in Group 7, where Brits were a minority, though silent they weren't. Only six Brits qualified in a field of 27 cars, including three E-types run by Donovan Motorsports and a fourth fielded by Douglas Fraser, plus Bill Warner's Group 44-liveried Triumph TR8 and Robert Albino's Sunbeam Tiger.
The Fraser E-type, TR8 and Tiger bowed out early, but the Donovan Jags grabbed the top three spots in every race save the third, when Jason Rabe's #62 E-type spun and found itself pointed the wrong way as other Group 7 cars zipped past. Rabe would finish that race in 19th position instead of his usual 3rd or 2nd.
Rabe's teammates, pole-sitter Jack Busch in #61 and Art Hebert in #63, took their races in 1st, 1st, 1st, and 3rd and 2nd, 2nd, 2nd, and 1st respectively. It was a Jaguar rout against seven Corvettes, three Mustangs including a Shelby GT350, seven Porsche 911s and a Camaro.
Busch broke the one-minute mark in four of his five outings on the track — in qualifying, and in races 2, 3 and 4. His best lap time was 0:58.889 in race 2, about 91.7mph. A Porsche managed the same feat, but only once — in race 2, with a lap time of 0:59.817. The other cars did not come close.
Group 7 had more than its share of drama. While Rabe's spin was exciting, some real damage was done in the first race when Jim Glass' #11 Corvette left the course coming into the Downhill and hit the wall hard. The race was flagged early and Glass' car was written off for the rest of the weekend, but Glass escaped serious injury.
Another incident in race 3 involved Group 7's Bernie Chodosh, a driver from Britain, and his very-cool-looking '59 Corvette, aptly #59. The car also sustained damage, but was back for race 4, finishing 12th out of 17.
The eighth and final category of cars was quite a grab bag, with Lotus, Ginettas and a Chevron chasing Formula Fords (mostly British). Glenn Taylor's PRS FF always came out on top, but Kurt Uzbay's #42 Chevron B16, Alan Tosler's #701 Lotus Super 7, Sandy McNeil's #1 Lotus 23B and Tom Grudovich's #94 Ginetta G4 at least once held a strong top-five position, scrambling the Formula cars to do so.
This group was expected to be one of the speediest and that certainly happened. The top three cars qualified in under a minute, with Uzbay in 2nd between Taylor's car and Mark A. Malley's Works PRS FF. In race 1, the top five cars posted best lap times of under a minute. Taylor's best times were under a minute in all four races, the best of the best being 0:58.772 in race 1, about 91.9mph — with Uzbay's best that race 0:58.848, about 91.8mph, and Grudovich's 0:59.566, about 90.7mph.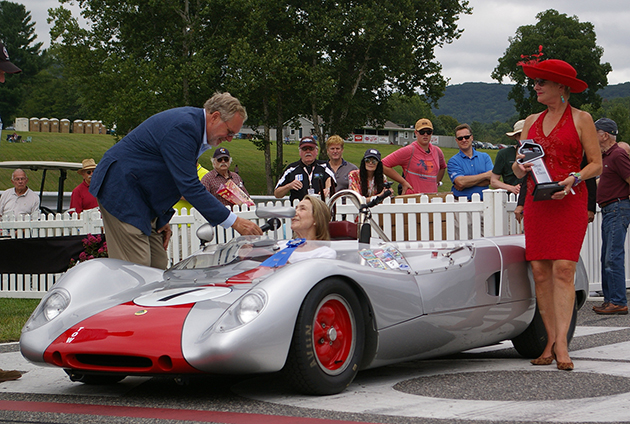 Kent Bain chats with Sandy McNeil, whose Lotus 23 was awarded 'Pick of the Paddock' at the Sunday Concours. In two of her four races she placed in the top five in this car.
Sure enough, the vintage racing had something for everyone, from truly ancient machines to zippy little racing tubs that were themselves antique. But there were other things happening this weekend that added enormously to a fan's pleasure.
All weekend long there was a swap meet going on in B Paddock catering to anyone looking for automobilia, vintage cars or car parts (again, mostly British). There was vendor and food truck activity along the midway, and the garages in A Paddock were always open for inspection. Author and raconteur BS Levy had his tent sent up as usual and was ready to autograph any fan's personal copy of his latest book — or maybe his first book, The Last Open Road.
Sunday was occupied with the Concours d'Elegance they call "Sunday in the Park," enhanced this year by all the Bugattis. The spread of Bugattis brought the Concours nearly all the way around Big Bend before the "Gathering of the Marques" club displays began — but even so, British cars were everywhere, as in the "Sports Cars to 1961" where you'd be hard-pressed to find something that wasn't British.
A number of them took home trophies. For example, there was M. S. Koly's 1935 Rolls-Royce 20/25, tops in the "Gatsby's Delights" class. Tom Jaycox's Jaguar XK120M took "Speed and Agility," Douglas Fraser's Lotus Elite "Businessman's Express," Frank Girratana's Bentley R-type "Life at the Top in Style and Grace," and Sandy McNeil's Lotus 23 "Pick of the Paddock."
Yes, that's the same Sandy McNeil and the same car, #1, that ran all four races that weekend, making the top five in races 2 and 4. I'd like to know the name of her detailer, because the car looked fabulous.
This writer also had an interesting conversation with Roger Allard, who was at the Concours and on the midway all weekend showing off the new Allard J2X MkIII, a "continuation" (and recognized as such by the Allard Registry, the official owners' club) of the original J2X and available with Cadillac, Corvette or Chrysler Hemi power. Strictly speaking the car isn't British, now being produced in California, but its embrace by owners of the British-made original — which was similarly powered by a huge American V8 — certainly makes it worthy of mention in these pages, along with best wishes for the future.
Mr. Allard, by the way, is no relation to Sydney Allard, founder of the marque back in 1945.
In addition to Sunday's festivities, there was a dinner Saturday night that featured motorsports legends David Hobbs, Geoff Brabham, Tommy Kendall, Lyn St. James, Mike Joy and Sam Posey talking about the GTP (Grand Touring Prototype) era of sports car racing, which spanned the years 1988-1991. You had to pony up some cash to attend, but part of the proceeds went to LRP's chosen charity, the Michael J. Fox Foundation for Parkinson's Research, so who could complain?
To say this was a full weekend would be an understatement. To say that it was a spot-on delight for fan and journalist alike would be to state the obvious. I'm already looking forward to Historic Festival 37.