Feature Stories
---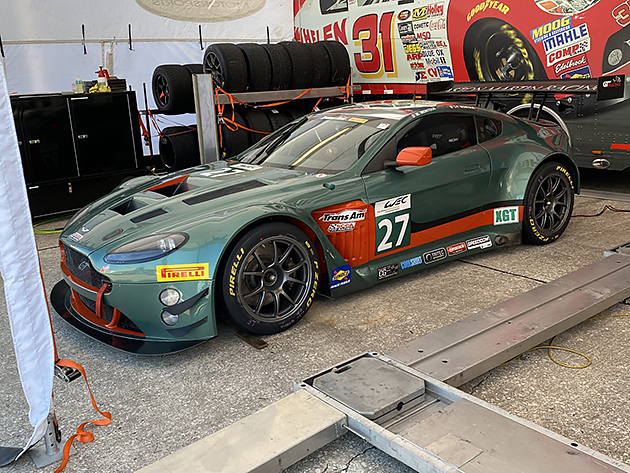 April 2020

Montour Racing from Québec competed at Sebring in the Trans-Am XGT class.
Photo by Louis-Philippe Montour
Trans-Am at Sebring
Today Astons Run among Mustangs and Camaros, but Yesterday...

by Reggie Smith


SEBRING, Fla. — The 2020 Trans-Am season started off with a "leap" on February 29th/March 1st —and although the weather was brisk, the racing was fast and clean.
If you are unfamiliar with Trans-Am, maybe a little "Trans-Am 101" is appropriate, starting with the two most obvious questions:
Where did Trans-Am start? (Answer: Sebring.)
When did Trans-Am start? (Answer: Um…)
The history of the Trans-Am championship officially began in 1966 when a key manager with the SCCA, Jim Kaser, and the Vice President and Race Secretary of Sebring envisioned and launched the first race of a series which has, with a few tweaks and adjustments, made it all the way to 2020.
But guess what? The actual inspiration for the series goes back to December 1959, when the season-ending Formula One race was going to decide the drivers' world championship. There was some thought that the single-seat, open-wheeled F1 cars, driven by people mostly familiar in Europe, might benefit from some additional "color" on the schedule. So, the program was enhanced with a Formula Junior race — and a "compact" sedan race as compacts were all the rage.
The sedan race was for American and "foreign" cars, and managed to draw some familiar names from sports car and even NASCAR events. It was a new format, but not difficult for the spectators to identify with because they could recognize any of the cars at a distance without having to stare at a name badge.
The front of the grid was the heart of the program because the cars were quite competitive and some of the drivers were pretty well known. The cars included models from Jaguar, Studebaker, Volvo, Volkswagen, Sunbeam, Rambler, Saab, Renault, Hillman, NSU, English Ford, Borgward and Fiat, along with the new compacts from Chevrolet, Ford and Plymouth (Corvair, Falcon and Valiant). Drivers included Walt Hansgen, Pedro Rodriguez, Glen "Fireball" Roberts, Denise McCluggage, Curtis Turner, Ed Crawford and Roger Ward, all of whom added credibility to the fledgling event. Hansgen and Turner provided an enthusiastic battle, and the stage was set for a future in racing for cars identifiable in a spectator car park.
Today, sponsored by Pirelli but still under the sanction of the SCCA, the Trans-Am format is refined and better organized from those early days, following years of competitive factory commitment and guest or seasonal appearances from the professional driving world. Safety regulations (roll cages, seatbelt systems, fuel cells and radio communication) and performance regulations (weight, engine displacement, wheel and tire restrictions and even aerodynamic guidelines) have refined the series tremendously, although, somehow, the cars' appearances have blended together to look quite similar to each other.
And the cars? They are spread over five classes and all based on street cars, from tuned production cars to highly-modified chassis turned out by specified builders. They include Camaros, Mustangs, Corvettes, Audi R8s, Porsches and Aston Martins.
Marque readers would love the appearance, specification and, mostly, the sound of one of them: the #27 Aston Martin from Québec belonging to the father-and-son team of Marc and Louis-Philippe Montour. Marc, the father, drove the Aston Martin and Louis-Philippe drove a Camaro. In Sunday's race the Camaro was in the front-running group overall, and the five-year-old Vantage finished 2nd in the XGT class, after placing in one of the top three positions over the course of two tests, the practice session and qualifying.
Even with your back to the track you would have enjoyed the fantastic sound of the Aston Martin V12 engine as it approached its shift point of 6500rpm, and to make matters equal, others would have appreciated the identical sound from a position from the opposite side of the road because the exhaust from each bank of cylinders was split to the left and right of both sides of the car. The sound was exceptional and it was like a symphony orchestra amongst a group of V8 garage bands!
Hopefully the Montours' plans to run the whole Trans-Am season will end in significant championship results.
Aston Martin's presence in Sebring dates back to the early days of the famous 12 Hours, when the team from Newport Pagnell first appeared. Reg Parnell, Peter Collins and team manager John Wyer were among the first factory entries. Later on, Wyer's style and experience guided team management for GT40 Fords and 917 Porsches in light-blue Gulf Oil colors, adding style and dignity along with an enviable history to the 12-hour race.
But that's another story for another time!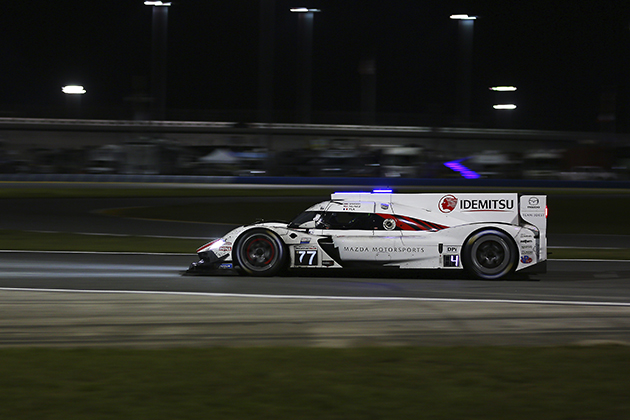 March 2020

Mazda Team Joest's #77 brakes into the West Horseshoe during the nighttime stint.
Photo by Tom Murray

'What a Car They Gave Me'
Jarvis & Crew Claim Pole, Finish 2nd at Daytona, and There Are Some New Astons in Town

by Bruce Vild



DAYTONA BEACH, Fla., Jan. 23-24 — Brit Oliver Jarvis was quite impressed with the car he brought to the top during qualifying for the Rolex 24 at Daytona. He did the same thing last year (and even broke a 36-year-old track record then), but this time, he said, it was different. Maybe it had as much to do with the team as with his AER-powered machine.

"What a car [the team] just gave me," he said right after earning pole position in car #77 for Mazda Team Joest. "I cannot say 'thank you' enough.

"This year feels different. This year feels business-like. Last year, there was a huge amount of emotion. It was the first time. This year, it feels like we came in to do a job, and this is just a small part of what we want to achieve this weekend."

The team most definitely got down to business. They fielded two cars once again, #55 in the familiar merlot-colored livery and #77 a striking Arctic white, and went on to record the company's best overall finish yet at Daytona during the 24-hour WTSCC race.

Jarvis and his teammates Tristan Nunez and Olivier Pla were constantly in contention for the win, even when they had to make up time for a penalty about halfway through the race. They led 190 total laps in the 833-lap race and ultimately finished 2nd, behind the Konica Minolta Cadillac DPi.

Their partners in car #55, Jonathan Bomarito, Ryan Hunter-Reay and Harry Tincknell, finished 6th after starting 3rd. There were incidents in traffic, damaged bodywork and a penalty to contend with, even a mechanical problem that slowed their performance in the final hours.

Said Hunter-Reay, "We weren't able to show the true potential of the #55 Mazda at the end of the race, which is unfortunate. The car was really hooked up — the best car I've driven at Daytona. But on the positive side, both Mazdas completed the 24 hours, which is great for the program and for the championship."

That reminds this writer of what a pit crew member once remarked after a less-than-ideal race result: "To finish first, you first have to finish." Unfortunately for the two Aston Martins that ran in the GT Daytona (GTD) class this weekend, such hopes were dashed early on.

Aston Martin Racing had announced that they would be fielding their #98 Vantage GT3 in the Rolex 24 along with a new partner team, Heart of Racing, whose #23 Vantage GT3 would run not only at Daytona but for the full WTSCC season. It would be good to see an Aston in the "big" race once again — and not only that, but there would be two teams other than Automatic Racing campaigning Astons in the Michelin Pilot Challenge race, too.

The works-run Aston was piloted by well-known factory drivers Pedro Lamy, Mathias Lauda and Ross Gunn, with Andrew Watson standing in for Paul Dalla Lana, who had been injured earlier in a skiing accident. Heart of Racing's drivers were Ian James, who also serves as team manager, Alex Riberas and Nicki Thiim, two AMR factory drivers, and newcomer Roman De Angelis, winner of last year's GT3 Cup Challenge.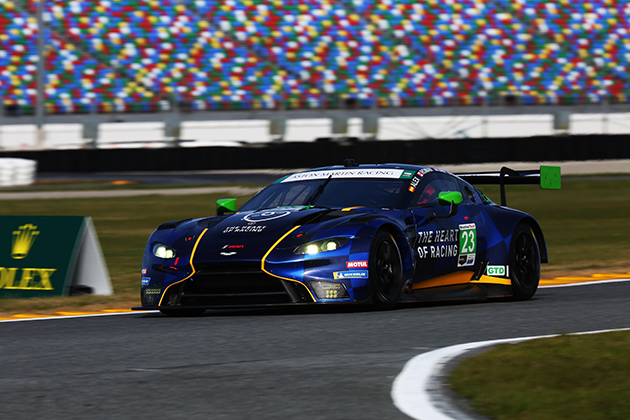 Heart of Racing's #23 Aston Martin is new this year to the GT Daytona class in WTSCC.
Photo by Tom Murray
At Daytona, the fastest GTD cars would complete 765 laps during the 24-hour race. The #98 Aston completed only 189, #23 only 151.
Watson was running #98 as high as 3rd in class about three and a half hours into the race, but, shortly after a pit stop for fuel, tires and a new front hood some four hours later, fellow driver Gunn returned the car to the pits and the crew took it behind the wall. Riberas meanwhile had had contact with a Lamborghini about an hour earlier, and that spelled the end of #23's race.
Both Mazdas, of course, will be back later this month for the 12 Hours of Sebring. Although the entry list has yet to be released, it is expected that the #23 Aston will be there as well. We'll be watching for it.
Michelin Pilot Challenge: two new Aston teams
The four-hour BMW Endurance Challenge, the first-in-the-season Michelin Pilot Challenge race, saw Aston stalwarts Automatic Racing returning with a new Vantage GT4 replacing venerable car #99, now formally retired, along with their GT4 that debuted last year, #09. They were joined by Stephen Cameron Racing and KohR Motorsports, also with GT4s, the latter having formerly campaigned Ford Mustangs with disappointing results.
McLarens also came back to Daytona, with two familiar names attached —Corey Lewis, now driving for M1 Racing LLC, and Kuno Wittmer, now with AWA. Their competitors included Mercedes-AMG GTs, BMW M4s, Audi R8s, Ford Mustang GT4s and Porsche Cayman Clubsports.
Automatic Racing's Gary Ferrera and Kris Wilson came to Daytona hoping to repeat last year's dramatic 2nd-place finish, but it was not to be — although it very well could have been. They started 28th, and Ferrara drove up through the ranks and set up Wilson well for his stint, in the lead lap with about two and a half hours to go. Wilson then began his own charge up the field, getting as high as 10th. And then the power steering failed.
Wilson persevered, however, and brought the car home in 15th position. Teammate Ferrera later said, "There wasn't much we could do once the power steering went out on Kris. If it had been anyone else besides someone with his many years of experience, we wouldn't have finished."
For the drivers of Automatic Racing's other car, #09, the race was like a dodgem ride on a state fair midway.
Rob Ecklin started 21st and gained five positions early in the race, but on Lap 5 he was struck on the driver's door by a Mercedes going into Turn 1. There was damage to the door and Ecklin had to endure the ensuing vibration until he pitted for tires and fuel, which, he reported, seemed to fix the problem.
But Ecklin was hit again on Lap 28, this time in the rear of the car going into the Bus Stop. He was still able to drive the car and completed his stint, handing it over to Ramin Abdolvahabi with two hours and 40 minutes remaining in the race.
Abdolvahabi had his own incident less than half an hour later, with a car attempting what the team would later charitably call "an optimistic move" going into Turn 1, running wide and sending #09 into the grass to avoid it. The Aston driver had to make two other evasive maneuvers during his stint before turning the car over to Brandon Kidd.
Kidd took the wheel with one hour and 17 minutes remaining, dealing with scuffed tires. He pitted for replacements with 34 minutes to go and was gaining positions on the field when a Mustang came across the front of his car entering the Bus Stop and went hard into the tire barrier. Debris on the track ended the race under caution, with #09 finishing 18th.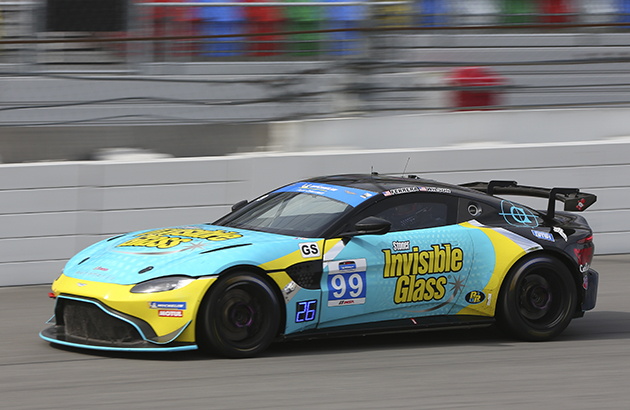 Automatic Racing's 'new' #99, which replaced the car retired after Petit last year.
Photo by Tom Murray
Kidd summed up the day: "Rob got hit a few times but did a great job to keep it going, and Ramin kept it clean and passed it on to me. We had a very close call at the end. It's disappointing to end the race that way, but the weekend was a blast. I love racing with these guys!"
Stephen Cameron Racing's #43 Aston and KohR Motorsport's #60 seemed to have a much better day, with Cameron finishing 7th and KohR 5th. In fact, leading to and after the race, the KohR team had nothing but praise for its car.
In a surprise announcement that even shocked the team — just a week before the season opener at Daytona — KohR, a longtime Ford competitor, made a switch to Aston Martin. Figuring strongly into that decision was Aston's "ladder system" of driver education and promotion, the company's Driver Academy, and the opportunities that seemed to go along with the AMR program.
KohR did not take delivery of its Vantage GT4 until January 9th. That would mean only a handful of days to test the car before the BMW Endurance Challenge, but as the team says, "It was enough." The car qualified in 4th position, and with Mike Stacy and Kyle Marcelli co-driving, finished 5th in the race.
"Switching to the Aston Martin has been amazing so far," Stacy said later. "I couldn't ask for much more support from the factory, and I have to thank the guys from KohR Motorsports for being so adaptable with all the new challenges.
"The Aston is a very user-friendly car. Finding the limit isn't too difficult. It's just a matter of maximizing its strong suits."
Hmm, sounds like a very British car to me.
[Developed from team reports and press releases.]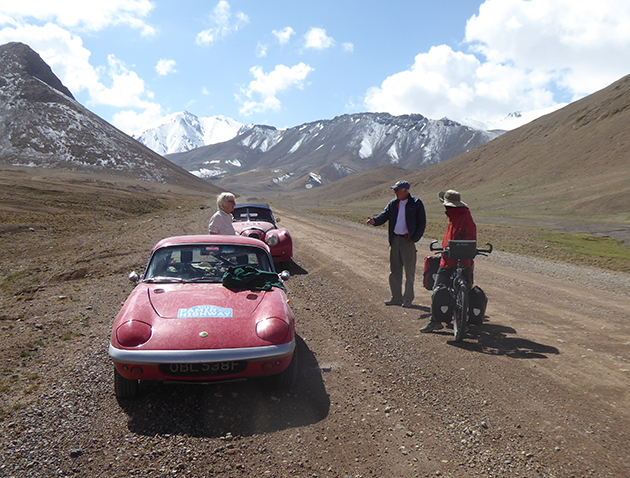 January/February 2020

The Cotes Elan on the Pamir Highway with a fellow rallyist in a Jaguar XK120 — and a cyclist on his way to its highest pass(4655m).
Photo by Allison & Peter Cotes

Elan in the Stans
Our Lotus Travels on the Ancient Silk Road

by Allison & Peter Cotes



Constructed in the 19th century during the "Great Game" when Russia and Britain competed for supremacy in Central Asia, the Pamir Highway is the second highest highway in the world at 4655 metres. The road was improved by the Soviets in the 1930s, but since then has deteriorated due to erosion, earthquakes, avalanches and landslides.

All of which suggests it's not the best place for a Lotus Elan. True! But that's where we went last summer on a rally to the fabled city of Samarkand, Uzbekistan, and points beyond, travelling on part of the famous Silk Road between China and the Mediterranean.

The Pamir Mountains that the Highway crosses lie mostly in Tajikistan and border Afghanistan to the south and China to the east. We did an anti-clockwise loop through four "Stans," starting in Kazakhstan's one-time capital, Almaty.

Our first day was over 400 miles and gave the first worries — oil pressure. It was 40°C and my normal 40psi was down to 30, whilst at tick-over the gauge scarcely registered. We changed the oil at the first stop in Tashkent (Uzbekistan) with similar readings. We shouldn't have worried, however. On cool days pressure was normal and for the remaining 3000-odd miles we used just one litre.

Next stop was Samarkand with its famous Registan, a public square framed by three madrassas (Islamic colleges) built in 1420, 1636 and 1660. At night there's a son et lumière show played out on the walls, and its free!

But getting to Samarkand had its own hazards as the rally route involved a climb of over 2000 metres on tracks. The organiser meant it when he said it would be a rough route, though highways were available and we used them from time to time. Despite our twin electric fans, the combination of heat and climbing meant a number of enforced pauses to avoid splashing the contents of the radiator on the ground!

We entered our third Stan, Tajikistan, on the way to Dushanbe via the 5km "Death Tunnel" at an altitude of 2700 metres — so called because it was originally unlit and was opened prematurely with only one track for two lines of traffic. Now it has occasional lights (though no ventilation) and a passable surface. We glued ourselves to the rear of one of the support vehicles — they had lights!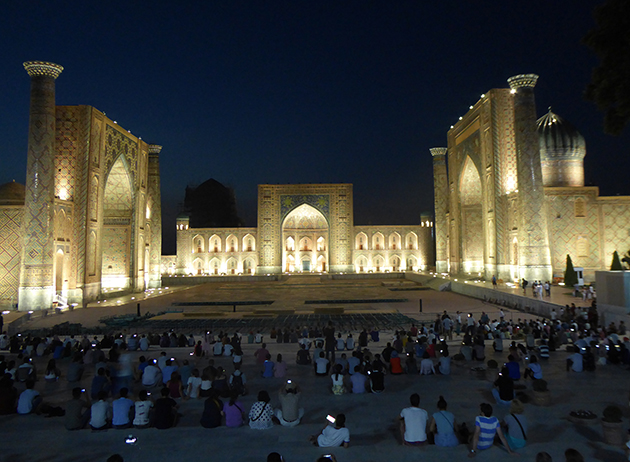 Registan sound-and-light show.
Photo by Allison & Peter Cotes
After a rest day in Dushanbe our route was largely eastwards and to our first view of Afghanistan. Difficult to believe that the land the other side of a narrow, rushing river was the source of so much trouble — it looked just the same as our side.
We spent two days following that river boundary, sharing the road with Jeeps and large Chinese lorries towing trailers. The lorries usually came in small convoys of up to eight, and we made sure we had a convenient passing point as the track was only wide enough for one.
Rocks, gullies, cyclists... and mosquitoes!
We were picking our way over rocks and gullies, and for the whole day our average speed was less than 20mph. What were our worries? The sump guard and the clutch.
The sump guard was doing a heroic job, but it was quite apparent that, in its now deformed state, if we had taken it off to straighten it there was a real risk it would not go back on. The clutch was consuming a little fluid, so we prayed it would hold out and we would not need to remove the sump guard to replace the slave cylinder. Thankfully, it did!
Less important but more immediate were the niggly things that rattled loose — hand brake springs, bonnet catches, window motors and door handles, all of which required attention.
We had a rest day in Khorog. Not that anyone would have heard of the town, but it hosts a weekly Afghan market when traders cross into Tajikistan — but today was not that day. We relaxed in the appropriately named Serena Inn, in the shade by the river, writing postcards. It was still very hot, and if not 40°C, not far off.
Leaving this oasis we took the highway in an attempt to avoid a long, hot and difficult journey to our first wild camp. That's not the way it worked out!
First our accompanying sweep vehicle, a VW SUV, broke down with a failed CV joint. We helped as best we could, delighting in both the irony and the juicy melon that a passing Tajik driver of a large Chinese lorry shared with us.
Then the route became track and probably the worst surface we covered on the rally — 50km that we had to do in both directions. The sump guard and the exhaust were both hammered, the rear exhaust mounting and a chunk of fibreglass were wrenched off and the pipe rested on the "catch chains" — designed for just such a situation.
Not only was the track rocky, it was steep, rutted and corrugated so any attempt at second gear driving was impossible as the car felt it would shake apart. At one stage we stalled on an incline so had to roll back, remove the worst rocks and with Allison out of the car, take it at a run, ignore the pinking of the engine with low-grade fuel, and hope that the car would survive.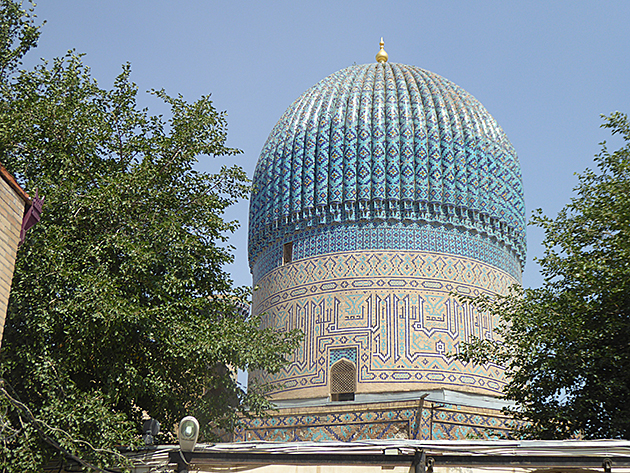 Guri Amir mausoleum, final resting place of Asian emperor Tamerlane (1336-1405).
Photo by Allison & Peter Cotes
Camping was just what we needed after that lot! The organiser said he had to have his truck welded back together after his survey of this part of the route.
We were late leaving the campsite after jacking up the adjustable spring platforms to increase ride height. The return journey was easier, so we headed straight for the next night's campsite.
As we approached we encountered mosquitoes and began to worry about our comfort overnight. At the campsite there was nothing, no-one, but lots of mosquitoes. We set out for the last town we had passed through and met fellow rallyists Phil and Kieron. They told us the camping had been cancelled and we were all booked in the local hotel. The organiser had failed to place any notice or warning of his change of plans and said the batteries on the tracker he had placed in our car had gone flat and he had no idea where we were. Thanks!
The highest pass of the rally greeted us next day at 4655 metres. As we approached 4500 we saw three cyclists, two of them on a tandem — and we thought we were struggling with the height, temperatures and surface! At the top there were two more and they had camped overnight at this bleak, inhospitable and cold spot. At least there were no mosquitoes!
We descended, stopping to photograph a passing marmot when two more cyclists rolled up. It seems cycling the Pamir Highway is a popular pastime — but we're not recommending it. The border crossing from Tajikistan to Kyrgyzstan is spread out over 20km of no man's land at an altitude of around 4000 metres as the two countries cannot agree where the border should be. This means the track is not maintained, so it is rough and resembles more a riverbed than a road. The roads either side are not much better and are occupied as much by military as civilian encampments.
At the first town we stopped to refuel, and our Kyrgy guide bought us lunch of manty — a meat-and-vegetable filling inside a light dumpling case — and tea, which he never stopped drinking. We spent two nights in Osh — and rather pointlessly had the car cleaned inside and out before it got covered in dust on the next day!
Our longest day lay ahead. It was advertised as nine hours but we took a detour, saving a couple of hours of rough roads, and still took ten hours but at least we had a hotel and a shower! Those who did the full route had a yurt in an old caravanserai.
The day's dust was fine and blew in from every direction. Instead of leaving our dust cloud behind, we turned tight corners and drove into it again. We were filthy, the car was filthy — why had I bothered having it cleaned? The track was more gentle than some but one never knew when the good surface would end and a pothole or rock would threaten us.
The climb was from 1000 to 3000 metres and we had a number of "overheating stops" — in the company of cyclists and beehives.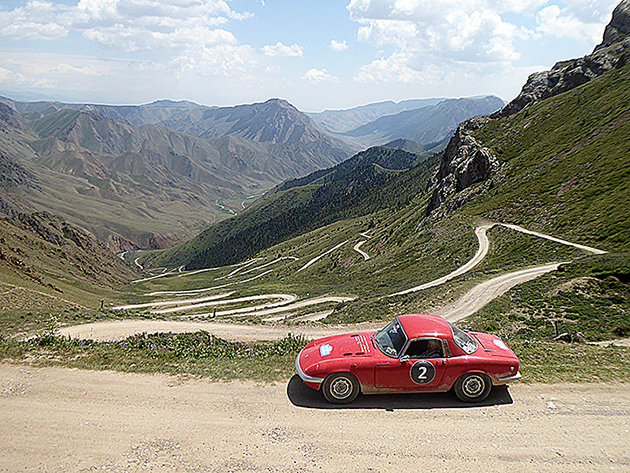 Elan at 33 Parrots Pass.
Photo by Allison & Peter Cotes
Around the lakes and back to Almaty
A short next day took us up the oddly-named 33 Parrots Pass (that being the number of hairpins) to a luxury yurt camp by Song Kul lake (no mosquitoes!). The problem was finding the place as we had no name to distinguish our camp from the many others, and the GPS co-ordinates given to us were wrong. Fortunately our guardian angel, the Kyrgy guide, came along on cue and led us in — first in, this time!
The following day it rained so we had to fix the wipers. Normal service (hot) resumed as we neared Bishkek, where we had a lengthy stop over before continuing to Karakol and the 100-plus-mile-long Lake Issy Kul. We were stopped twice by police, once so they could look at us and the second time to try to fine us for "speeding." I talked myself out of that as the "fine." It was reduced from $100 to $40 to $25 when he gave up!
From Karakol we returned to Almaty via Charyn Canyon and another failed wild camp, as a strong wind was blowing sand everywhere. We finished gently via the highway — avoiding the worst stretch of track on the entire rally, where one car had to be towed up the inclines and another had the exhaust ripped off. Apparently this was a 4x4 route and had not been surveyed.
Our last sighting of the Elan was in a convoy of trucks taking the cars off to the container port and home — hopefully, we thought, we'll see it again in six weeks' time in the U.K.!
[As this paper did not receive reports to the contrary, we assume all is well and the well-travelled Lotus did arrive home safely, concluding the latest in its many adventures literally around the world with Allison and Peter. To see more photos, visit their website, www.rallyelan.com.]