Feature Stories
---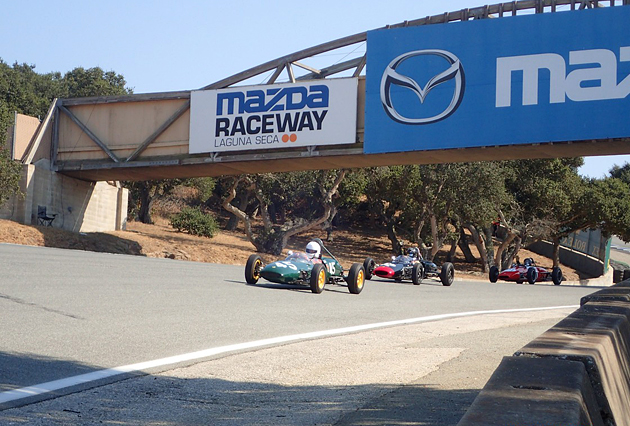 December 2017

Roger Sieling, #45 Lotus Type 22, as seen at the Monterey Motorsports Reunion.
Photo by Arielle Rosner

Junior at the Reunion
by Jon Rosner


SALINAS, Calif. — The 2017 Rolex Monterey Motorsports Reunion this past August promised to be a great one, honoring 60 years of racing at Laguna Seca, 60 years of Formula Junior and — by the way — the 70th anniversary of Ferrari. And while few of the people who raced at this track in its first decade were expected, many of their cars were there.

Amongst the most fiercely competitive groups during the weekend of vintage racing were the Formula Juniors. They are now divided into two classes, 1958-1960 front- engine/drum-braked cars and 1961-1963 rear-engine/disc-braked cars. And what a mighty swarm each group presented.

FJ cars from Australia, New Zealand, South Africa, England and from across United States and Canada made up the bulk. Challengers drove marques well-known to open-wheel racing fans, and perhaps some not so well-known: Alexis, Alfa, Bandini, BMC, Cooper, Elfin, Gemini, Huffaker, Jocko, Lola, Lotus, Kieft, Stanguellini and U2.

The cars were rather evenly matched, so it was fun to watch the cars tighten up into packs, and then catch someone breaking away and zooming out on sheer guts! There simply wasn't a spot on the track lacking something exciting happening, and that was consistent with all the groups racing that weekend.

The aroma of hot oil, unburned fuels and burnt rubber and the staccato beat of dozens of exhausts simply poured over the fans pasted to the fences. Intensity, determination and ear-to-ear grins all were in view as the racers entered the hot pits, zoomed off and poured their souls into it, careening from corner to corner in astounding harmony — compared to the dent, bash and bang days of when these cars were first competing.

Honors were given to those early days, including a tribute to the late Pete Lovely, who won the November 9, 1957 race at Laguna in a Ferrari. A brief closing ceremony highlighted what made this track in its 60-year history one of the most challenging and significant racing facilities in the world.

Also there were a lot of wonderful photos on display, recalling Laguna's past — such as Roger Penske and Walt Hansgen's bet to Augie Pabst that he wouldn't drive his Hertz rental car into the pool at the Mark Hopkins. He did it, and the next year the drivers were greeted with a sign floating in the pool that read, "No Parking."

There was a photo of a tail-out Jimmy Clark driving the Arciero Brothers Lotus 19 in 1963. A broken oil cooler stopped him after he'd completed 31 laps. Another photo had Emerson Fittipaldi chatting with one P. L. Newman, whose team would win the 1993 CART Championship. Then there were the tremendous photos of young racers in cars and on motorcycles flying through Laguna's infamous Corkscrew.

While taking this all in, this writer ran into a gentleman named Roger Sieling. The last time Roger was in Monterey was way back in 1995, when he was attending a Lotus convention that was part of the Historic Races that year. The temptation to race his Lotus Type 22 one day at Laguna must have proved irresistible, because he came out from his home in Columbus, Ohio, to be part of the 60th anniversary FJ race this year at the Reunion.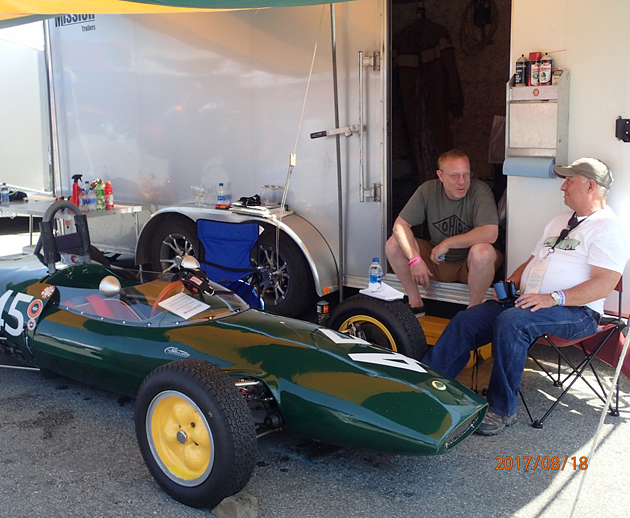 Roger (left) shares some stories with Jon.
Photo by Arielle Rosner
Roger and his son Brent did a marathon drive with stops in New Mexico through the Petrified Forest, out to California and the majestic Sequoias ("The first true 'old growth' forest that I have visited," he told me), and then over to Mazda Raceway Laguna Seca, four days of traveling at about 600 miles a day.
"I love seeing the people, reconnecting with people I haven't seen in years," Roger said, "but it is intimidating. I expect that most of the other cars will be faster than I am. It's a matter of experience [at the track.]"
After the requisite tuning and adjustments, Roger's Lotus 22 bucked to life at 3:23 p.m. on Friday afternoon. The engine whipped into a rapid staccato beat, settling into a deep thrum.
Into the hot pits, where dozens of other hands were patiently waiting with a light touch on the wheel. The whistle shrilled, slicing the tension — the five-minute warning. More than twenty Formula Juniors punched small holes in the air, spinning up and easing down in a tilted symphony, waiting to be flagged off.
And then the swarm exited the hive. A tense batch cleared Turn 1 with a clean parade into Turn 2. Waaaa, whop, whop, whop as speed increased into braking for Turn 3. Bunching up out of the fast radius, a few slides out of Turn 4, pushing to carry speed through Turn 5 and hold onto the banking. Without huge reserves of power, every ounce of speed mattered.
Several Juniors jiggled at the dip in the apex and were passed before hitting the blind crest short of the elevator ride down the Corkscrew. Caution at the drop, holding speed, flying through Turn 9, braking harder, the scent of hot brakes through Turn 10. Easing into Turn 11, avoiding getting squirrelly, and flooring it into the long straight.
Skills, practice and tuning to the nth degree brought to the fore by aggressive driving meant that the there was more than a slight chance that a millisecond's decision would be costly. Roger made an incremental and smooth progression. Twenty minutes simply flew by, leading a few, passing a few, being passed by a few.
Back in the pits his face told the story: I could have done better. A father-and-son effort stands little chance against drivers half the age, with cubic money supporting a healthy crew size and parts bin — not to mention one-race grenade engines and hours of experience at the track. But this is the Reunion, and as Roger said, it's about challenging yourself, seeing old friends, and making it work on a shoestring. Final position doesn't matter as much as being a part.
The blitz home would include Big Sur, dipping a toe in the Pacific (for the first time for Brent), solitude stops at Zion and Bryce Canyon and then winging it back to Ohio.
Were Roger and Brent glad they came? As the dust settled the story was the same for them as for most of the other participants.
When one looks back the difficulties and challenges slip into perspective. The "wow, was that fun" seeps in and solidifies. Driver, crew or fan, just ask, will you be back? The answer from Roger is a universal "I expect so."
It's the satisfaction. That's the essence of what makes the Reunion so special for so many people.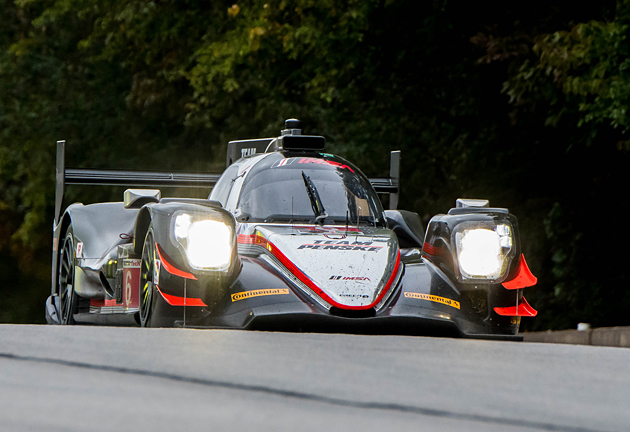 November 2017

The #6 Team Penske ORECA LMP2 took the pole but had to fight its way to a 3rd-place finish in the WTSCC race.
Photo by Colin Sword

On the Podium at Petit
by Bruce Vild



BRASELTON, Ga., Oct. 4-7 — They call it "Petit Le Mans" because the main event, the WeatherTech SportsCar Championship race, is only ten hours long — as opposed to La Sarthe's 24 hours. It takes place at Road Atlanta, is the last event on the IMSA calendar for the WTSCC and the Continental Tire SportsCar Challenge, and its outcome can determine how the championships go in each IMSA category: driver, team, and manufacturer.

The outcome this year, in 25 words or less, was a sweep of the Conti podium by British manufacturers McLaren and Aston Martin, and a 3rd on the WTSCC podium for British engine supplier Gibson Technology.

More about the championships — which are based on a season-long accumulation of points — later. Let's look at the contenders first.

The WTSCC runs all its classes at Petit — Prototype, Prototype Challenge, GT Le Mans and GT Daytona. As everyone who has paid even the slightest notice to the Marque's reports on this series, our main interest is in the Prototype class, where five of the contenders are running Gibson V8 engines on chassis designed by ORECA or Ligier.

We've also had our eyes on the new Mazda DPi prototypes, which are running engines developed in concert with UK builder AER. However, they were not at Road Atlanta, nor were they seen at Road America in August or Laguna Seca in September. Following their 4th- and 5th-place finishes at Mosport on July 9th, they were withdrawn from the series as the team reorganizes under a new partnership with Joest Racing. "Mazda Team Joest" was announced in mid-July and will lead to further refinements of the engine and chassis in preparation for the 2018 season. The team was focusing on testing, not competing.

With the apparent withdrawal of TRG-AMR from the WTSCC series, the GT classes offer little of interest to British car enthusiasts. There are no Astons, McLarens, or (as in previous years) Jaguars to root for over the Porsches, Ferraris and Acuras.

But then there's the Conti, with its Grand Sport (GS) and Street Tuner (ST) classes, each offering racing with cars quite similar to what you can purchase at your friendly neighborhood Aston, McLaren or MINI dealer. Due to horsepower differences between the two classes, skill through traffic rather than putting down brute force will often determine the winner overall and in either class, much as it does in the WTSCC — the advantage being there are British cars, not just engines, in the Conti.

Coming into Petit the adrenaline was running high. At Laguna Seca, in the WTSCC race immediately preceding this one, driver Renger van der Zande in the #90 Visit Florida Racing Ligier LMP2 found himself in 2nd place overall after a cleverly planned and staged pit stop. With only minutes left, he made a pass that was so artfully done the IMSA website posted the video. The victory was all the sweeter because the team had only taken delivery of the car in August.

In the Conti, Al Carter took the win at Laguna that one could argue was denied him and his partner Steve Phillips at Watkins Glen. Readers will remember his #99 Automatic Racing Aston Martin Vantage was nudged off the track at the Glen on the last lap of the race by the car running behind him. Didn't happen this time, and Carter reported the team was coming to Road Atlanta with the "smiles and confidence" of a race winner.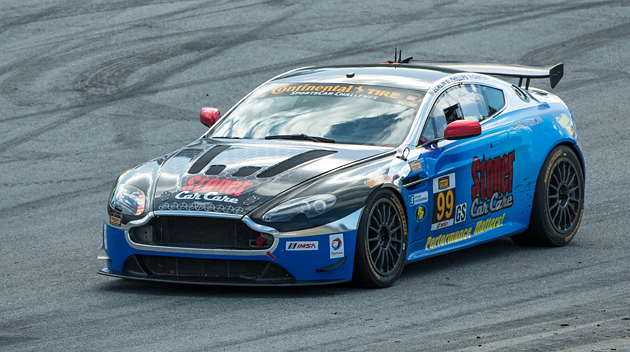 The #99 Aston was coming off a win at Laguna Seca, where they started in back of the pack, just as they did now at Road Atlanta.
Photo by Colin Sword
McLaren, meanwhile, was entering Petit with C360R's Matthew Keegan and Nico Rondet in 3rd place in the Conti's GS drivers' championship, and in 3rd among the manufacturers, behind Porsche and Ford. MINI, in ST, held 3rd place in the team championship under MINI JCW Racing and 2nd among the manufacturers, behind Porsche. (Yes, Porsche Caymans run in both classes in the Conti — just in different trim levels and states of tune.)
The major difference between Laguna Seca and Road Atlanta? The duration of the race: ten hours, as mentioned, for the WTSCC, and two hours (rather than Laguna's four) for the Conti.
There were three practice sessions in the Conti and four in the WTSCC. After two excellent practices in their #76 McLaren GT4, C360R drivers Paul Holton and Matt Plumb only completed three laps in the third. Holton came back in qualifying, however, and took the Conti pole.
Their teammates Keegan and Rondet managed top-five positions in two of the three sessions, and Keegan qualified their #77 McLaren in 7th place.
The third McLaren, Motorsports in Action's #69 with drivers Jesse Lazare and Chris Green, had mid-field finishes in the first two practices, but came out on top in the third and qualified their #69 car, with Green at the wheel, in 2nd place.
Al Carter and his Automatic Racing co-driver Steve Phillips finished their practices toward the back of the field, and Phillips qualified the #99 Aston 13th.
In the Conti's ST class, the MINI JCW Team's cars had their best result in the first practice, where Mat Pombo and Derek Jones placed 2nd in the #73 MINI behind a Nissan Altima. The MINIs went on to qualify 9th, 10th and 11th in class, with drivers Mike LaMarra, Derek Jones, and Jared Salinsky in cars #37, #73 and #52 respectively.
In the WTSCC, Team Penske had strong results in three of the four practice sessions, and driver Helio Castroneves qualified their #6 ORECA LMP2 on pole. Laguna Seca winner Visit Florida Racing had mixed results for their #90 Ligier LMP2 in practice, and Laguna's hero, Renger van der Zande, qualified 5th.
Among the other Gibson runners, Rebellion Racing would start 4th on the grid in their #13 ORECA, PR1/Mathiasen Motorsports 6th in their #52 Ligier, and JDC-Miller Motorsports 8th in their #85 ORECA.
The races
In each race, one team came from behind — far behind — and worked their way through the field to finish in the top three and take their podium step.
The #99 Automatic Racing team was one of them. At Laguna Seca they qualified in the back of the field (as they did here), ran mid-field for the first half of the race, then moved into the top three, then the top two, and then d the pass that carried the day.
At Road Atlanta, #99 started moving up slightly past the race's midpoint and gained ten positions, eight of them over the course of five laps. The Aston reached 2nd place behind the #69 McLaren and stayed there till the checker waved. Not quite the victory this time, but an incredible accomplishment nonetheless.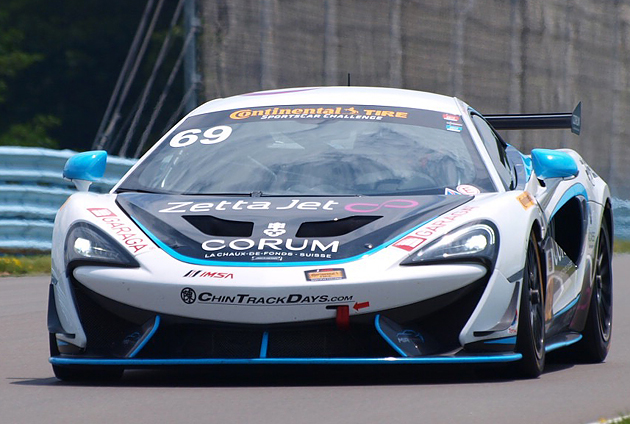 Besting everyone in the Conti was the #69 Motorsports in Action McLaren GT4, which qualified 2nd and just got everything right on race day.
Photo by Jon Gardner
Team Penske was the other. Yes, they qualified 1st, but at the end of the first hour of the WTSCC race they found themselves in 20th after Castroneves was spun from behind and sent into a sand trap. The trip back to the pits to replace #6's rear wing caused them to lose a lap. Castroneves made up 11 positions before co-driver Juan Pablo Montoya took over, followed by Simon Pagenaud. Then it was back to Castroneves, who brought the car all the way up to 2nd.
The charge to victory was thwarted, however, when, after the final driver change to Montoya, contact was made with another car — the #90 Visit Florida Ligier — that resulted in a cut left rear tire for #6 and an unscheduled pit stop. Another lap was lost, but Montoya was able to make it up and push the car back to 3rd, where he finished.
Number 90 was not so lucky. The hit caused damage to the exhaust that hindered the car's power output and caused overheating that eventually retired the car. Visit Florida finished the race 7th in class, but 20th overall.
Other WTSCC outcomes included 6th in class and overall for #85, 8th in class/36th overall for #13, and 10th in class/38th overall for #52.
Lazare and Green took the Conti win in #69, and Keegan and Rondet brought #77 home just behind the Aston. McLaren kept its 3rd position in the GS team and manufacturers' championships as a result. Horton and Plumb's #76 ran into mechanical trouble, however, and the car had to retire after completing only 31 laps.
The MINI JCW Team did not have a good day. Two of their cars retired before the race was half over, #37 being a victim of a cracked windscreen and radiator from debris on the track, and #52 spinning into a tire wall.
However, #73 looked like it was headed to the podium after Mat Pombo drove around a three-car accident and emerged in 3rd place, where he finished. But then race officials determined the MINI had made the pass under a "technical" caution (though witnesses say the race was green and the yellow flag waved after the move). So, no podium for the team, and MINI did not get to finish in the top three in the ST manufacturers' championship — losing to 3rd-place Mazda by a single point.
For more details on Petit, visit www.imsa.com.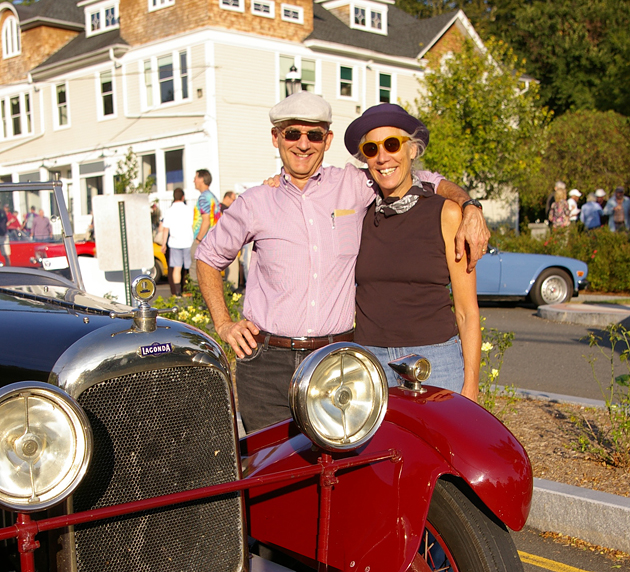 October 2017

At Falls Village, Lakeville residents Rob and Barbara Bettigole displayed a fabric-bodied 1928 Lagonda.
Photo by Bruce Vild

An Excellent Vintage

Lime Rock's 35th Historic Festival Was Fun, Even When It Rained

by Bruce Vild


LAKEVILLE, Conn., Aug. 31-Sept. 4 — Hard to believe this weekend was Lime Rock's 35th Historic (née Vintage) Festival, and interesting to see Murray Smith and his merry band trying something new – an auto auction, courtesy of Bridgeport-based Dragone Classic Motorcars, that wound up taking up most of a very rainy Sunday. At least Friday and Saturday were nice enough to allow everyone strolling along the midway to see what was being offered under two large tents.

Also new was Mr. Smith having to go around car to car in a golf cart to award the Concours trophies on Sunday, trying to read names from a drenched list of entries while under an umbrella. No reviewing stand with drive-by this year with the rain, but a surprising number of cars showed up in the Concours anyway. It was worth it to don the proper gear and take a smaller camera along that could be tucked into a pocket and shielded from the downpour.

New things notwithstanding, the main reason people come to the Festival is the three days of vintage racing, and fan access to racers and crew between races. Now we're talking tradition. A display from this year's Honored Collector, Bruce Meyers, took pride of place in the A Paddock, and a huge assortment of parts, cars and automobilia was to be found in the B, as it is every year.

A racecar and classic car parade kicked off the weekend on Thursday afternoon. The numbers seemed to this writer to be down a bit from last year, but that just could have been because of the way the cars were marshaled on the track prior to departure and parked on arrival in the town square in Falls Village. Michael Kaleel, who has raced a Jaguar XK120, a Lotus 7 and (most recently) a Lola Mk1 at the Historic Festival, was kind enough to offer me the passenger seat in his Jag for the ride through town. I really enjoyed chatting with him over the glorious thrum of that race-tuned straight-six (thanks, Mike).

Included in the parade was a prewar Bentley driven by Bruce Meyers. Sadly, I wasn't able to catch up with him in Falls Village, but I did have a very interesting chat with Rob Bettigole, a local gentleman, and his wife Barbara, who brought a lovely Lagonda to the festivities of approximately the same vintage as Meyers' Bentley (1928). I learned a lot about the car (a 2 Litre "High Chassis Speed" model, with a fabric – "leather cloth" – body stretched over an ash frame), also about the marque. For example, did you know that "Lagonda" is a Shawnee Indian word and that the company's founder was an American ex-pat, Wilbur Gunn, who hailed from Springfield, Ohio, and originally sold machine parts? Neither did I.

And there was a Bentley connection. W. O. Bentley, following his ouster from the company that bore his name, began tuning Lagondas to compete at Le Mans. (It's been said that David Brown, of Aston Martin fame, acquired Lagonda after the war to get Bentley's engine.) The Lagonda had already established itself as the transport of doctors, lawyers and professional people, as opposed to the Bentley's appeal to the landed gentry's playboys. That's interesting to contemplate in 2017, with the modern Lagonda Rapide and the Bentley Continental GT each having their own niches.

As to the Bettigoles' car, it was open, with body flex avoided by using the fabric-over-ash tub. Rob started the Lagonda with a one-quarter turn of the crank handle and it just purred — very impressive for a car nearly 90 years old. Rob and Barbara have owned the car for 18 years, and are only the third owners. A passer-by asked them if it was in as good a condition as it is now when they bought it, and they replied, "No, it was better." I grinned. That's because they're not shy about driving the car.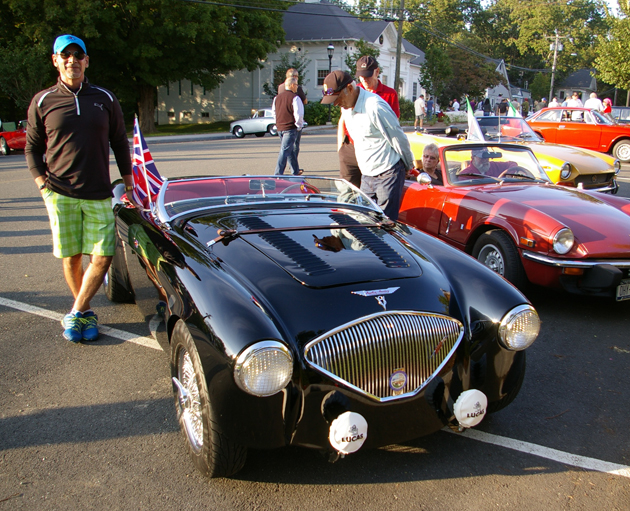 David Snetro and his 'deseamed' Austin-Healey 100. A Corvette engine lurks therein.
Photo by Bruce Vild


A stroll around the town commons revealed other cars with fascinating stories. One in particular was an Austin-Healey 100, which I first viewed from the back. It seemed oddly sculptured, but beautiful — lower in the haunches than a stock Healey, with a single taillight on each side molded into the fender. In the front, the chrome-capped seam between the fenders (steel) and the bonnet (aluminum) was missing, and, again, the front end seemed sculpted, lower than stock. Plus there was a retro Ford-style "V8" chrome badge, another suggestion this was not your average Healey.

The car's owner, David Snetro from New Haven, must have seen I was confused, because he started offering an explanation. First, it was what the Healey crowd likes to call a "Nasty Boy" — a Big Healey with a V8 engine dropped in. In this case, it was a 1970 Corvette LT1 unit, coupled to a Ford rear end and Muncie transmission. The wire wheels were also outsourced. They were Italian numbers like you would see on a Ferrari from the 1950s.

The car, David said, answers the question, "What would Carroll Shelby have done if he had gotten his hands on a Healey instead of an AC?" I don't think Shelby would have objected.

The sculpted body eliminated fender welds, substituting fiberglass so that the two dissimilar metals could be "joined," with the glassed-in areas repainted and blended in to bonnet and fender. Very clever, and beautiful, and unique.

There were plenty of other British cars in Falls Village, of course, and the date requirement for participation assured that cars up through the 1960s were included. So, you could view TR6s, MGBs, a couple of Lotus Elans and a Jaguar or two, and chances are run into a few friends as well.

If you were a spectator in Falls Village and felt bereft because you sold a British car "just like that one" back in the 1970s, you had an opportunity, thanks to the Dragone auction people, to buy back your lost innocence. They had a pull-handle MGB and an Austin-Healey 3000 on offer, plus your choice of Jag (XK120 or E-type OTS) or a prewar Bentley saloon. If you had your bidding paddle on Sunday, you were all set.

The racing started Friday, with two practice/qualifying sessions for each of the nine groups competing this weekend. A racer's best run would determine his or her place on the grid. Among the drivers there were a couple of "ringers," and both of them were British. Go figure. Namely, they were Honored Guests Ray Mallock, racing a 1960 U2 Mk2 FJ in the front-engined Formula Junior group, and Richard Attwood, in a 1966 Ford GT40, picking off the MGBs, Morgan Plus 4s, Porsche 911s and 914s, and Triumph Spitfires. (Oops, not so much one of the Spitfires. Read on.)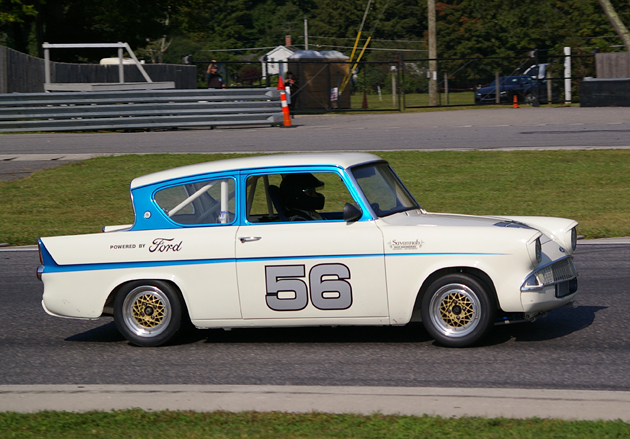 Ross Bremer's Ford Anglia was back at Lime Rock after 21 years.
Photo by Bruce Vild
Returning after a year's hiatus was Dave Reid in his signature #57 Mini Cooper. Also on the track were other people familiar to British Marque readers: Ernie Staubesand (Lotus Super 7), James Juhas (MGA), Ross Bremer (English Ford), Dave Nicholas (MGA), Stu Forer (Turner), Kent Bain (Triumph Spitfire) and the aforementioned Mike Kaleel (Lola Mk1).
The "real" competition began Saturday morning, with two races. Following the no-Sunday-racing rule, it would pick up again on Monday, Labor Day, with another two races, giving the drivers four chances on the track.
Racing
During a five-day weekend, it's pretty chancy that all five days will be ideal. Plan on rain for at least one of them. As it turned out, the four racing days were pretty good: cold in the morning but warming sure enough, cloudy to partly cloudly, or sunny and warm. The morning chill meant the track was cold and grip wasn't optimal, but that sure beat puddles and races shortened because drivers were having a hard time seeing through the rain.
The weekend brought out some interesting cars, but then that's always the case at the Historics. You could get a real education on Lotus cars, because they were here in almost every shape they came. Elvas, too, from Formula Juniors front- or rear-engined to the roaring Mk7S and the MGB-engined Courier in between. The Ginettas were out in force as well.
One of this writer's personal favorites last year was Ross Bremer's ex-Paul Newman Ford Escort (the European model, not the Dodge Omni clone sold over here). Ross did not disappoint this year. He brought a 1966 Ford Anglia Super, modified to the extent the SVRA will allow to compete in his favorite class including a 1300cc engine. Having had this fun with it in the late '60s, Ross retired the car — then, in 1991 when he "discovered" vintage racing, he restored it and took it racing.
The engine-size maximum has always been a bit of a handicap as the car is relatively heavy because of its all-steel construction. Competition bits such as fender flares were never made, limiting options for tires. However, the car is sturdy, as Ross well knows because he flipped it twice in the 1990s — once because there was a gasoline slick on the track, and once because the rear axle broke, jammed the wheel underneath and (in Ross' words) caused the car to "pole vault"!
This year it was back at Lime Rock, having last campaigned here in 1996. It was placed in Group 3 with Datsun 240Zs, Volvo 122s, Alfas, Cortinas and a Lancia Fulvia Coupe, made all four races, and was finishing in the middle of the pack by Monday.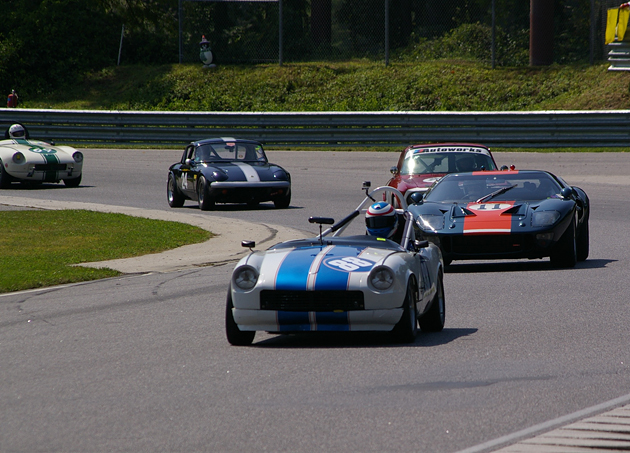 David Gussack's #88 Triumph Spitfire being chased by Richard Attwood's #11 Ford GT40 going into the Downhill. Both cars traded the lead in all four races — was 'Honored Guest' Attwood holding back, or was Gussack just nimbler on Lime Rock's many curves?
Photo by Bill Richardson
British cars generally did well against their contemporaries from Italy, Japan and Germany. Their poorest showing was in Group 3, but is it really fair to pit four-cylinder cars against six-cylinder machines boasting 2800cc or more? Maybe, but only if you have some hotshoe Minis in the mix that can take them in the corners, such as Dave Reid's #57 Cooper S.
It turned out that Dave was having trouble with his gearbox and a motor mount all weekend and, despite finishes as high as 4th place during practice and within the top 10 during Saturday's races, had to retire after completing only two laps in the first session on Monday.
It was amusing watching the David-and-Goliath dicing between Richard Attwood and David Gussack in Group 9. Gussack was at the wheel of a Triumph Spitfire, pretty much evenly matched against most of the other cars except Attwood's — that GT40. Attwood qualified on top, but during the actual races both cars posted best lap times within hundredths of a second of each other. Often it seemed Attwood just couldn't get around Gussack. These two very different cars wound up splitting the results, each winning two of their four races.
Lime Rock once again provided something for everyone, race-wise. Across the nine racing groups were everything from prewar MGs to late-'60s Mustangs and Camaros, and from Formula Juniors to Chevron and Abarth Sports Racers. The tin-tops in Group 3 were a hoot to watch, and it was great to see cars like ours — Triumphs, Healeys, MGs, Jaguars — going lap after lap against each other in Group 1, just as they did back in the day. It also brought a smile to this British car enthusiast's face to see Donovan Motorsports' two E-types constantly challenging the dominance of the Porsche 911s in Group 5. Jack Busch in the #61 Jag was a standout — he placed 2nd in three of his four races, and won the other!
Sunday in the Park
While Mother Nature was kind to the racers with cloudy but pleasant days, Sunday in the Park was another story. The rain started the night before and hung in all day. Many of the trailer queens in the Concours were understandably no-shows, and club participation in the Gathering of the Marques was way down.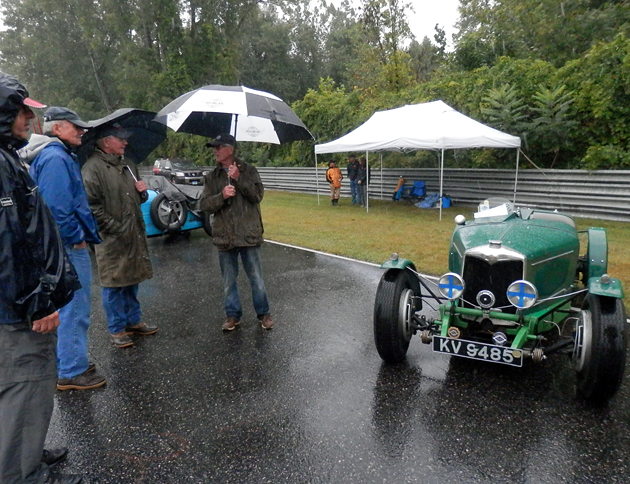 Mike Virr (center) talks about his very neat, very wet Riley Ulster Imp.
Photo by Bruce Vild
Still, it was obligatory to do the walk around the track just to see what was out there. I started as I typically do, at the Concours, which is always organized around Lime Rock's start/finish line, and headed toward the pedestrian bridge just before Big Bend.
I noticed the awards tents were set up, but today they were just providing shelter for the crew from the rain (which, mercifully, was not accompanied by high winds that would have blown the tents away). I saw Skip Barber sitting snugly in his black Cadillac Eldorado Biarritz, poring over some paperwork as drops of water dripped off the fins. Rain or shine, the show must go on.
And it did. Among the British cars present and accounted for were a 1971 Marcos GT, a 1953 Jaguar C-type, a 1979 Aston V8, a couple of Series I E-types, and two racecars, Simon Kirkby's 1963 Hillman Imp and David Porter's 1965 Ford Cortina.
And, totally open to the elements, there was Mike Virr's 1934 Riley Ulster Imp. Unlike many of the Concours exhibitors, Mike was hanging around the car (along with a lot of other people), answering questions and entertaining passers-by with tales of his adventures with it.
Mike told me, as we chatted under our umbrellas, that he acquired the car in Rhode Island. "Barn find" would be a charitable description. From the cowl back, the car needed a complete restoration — and much of it was carried out by Mike himself in his well-equipped workshop, complete with English wheel. It was a process that took many years, and it's unfortunate that it couldn't be shown today in sunshine and really appreciated. But good for Mike that he brought it anyway.
Of course, not all the cool cars in Concours were British. The silver Tatra V8 we've seen before was there, and so was a Simca (not Fiat) Topolino that was also seen tooling around B Paddock. Orrie Simko, of Simko Motorcars (specializing in "historic vehicle sales, consignment and consulting," according to his business card), displayed the car with a grin.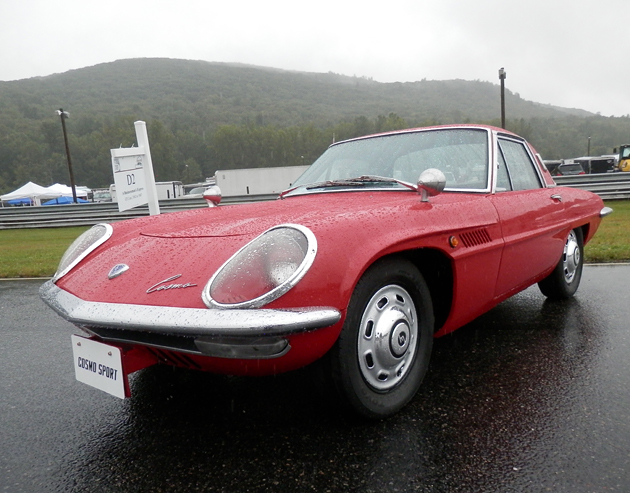 Mazda Cosmo.
Photo by Bruce Vild
One of the more unusual cars in the Concours was a Mazda Cosmo Sport, one of the first production cars to use a rotary engine. The nose of the car bears more than a passing resemblance to Britain's Marcos, which should not be surprising as the cars were contemporaries. The styling is striking, but certainly not to everybody's taste — like the Marcos.
If you wanted a break from racing or the Concours over the course of the weekend, you could always visit the vendors on the midway, but the more interesting ones (I think, anyway) were in B Paddock. That's where the parts guys were, providing a bit of convenience to the racers with whom they shared the space. It seemed the majority of the parts on offer were for British cars, but that was a good thing as there were British cars running in all the race groups. I hope the track will continue to treat these guys well as they do provide a service to the racers in case of an emergency.
And Bert ("BS") Levy was on hand as always, just outside the Lime Rock store, ready to sell and autograph one of his books and chat with his many fans.
All of this made it sad to leave late Monday afternoon after the last checkered flag waved. Not all the cars made it to the end, but happily most did. My fondest memory, though, is of all the people who put their cars in the Concours in spite of the rain. They may have done it just for the awards, but I think they did it so the fans who paid for a full weekend wouldn't be disappointed.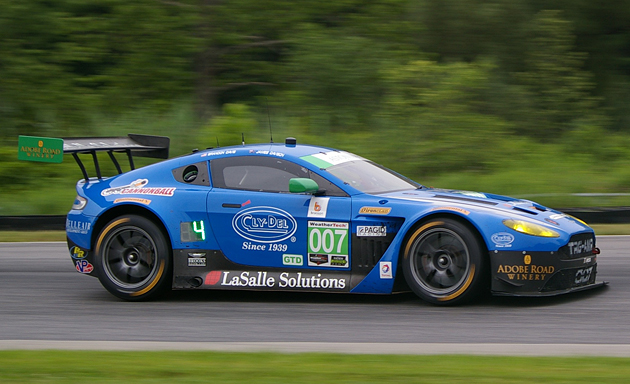 September 2017

In the absence of British-powered Prototypes, it was good to see the UK represented in the WTSCC race by TRG-AMR's V12 Vantage, number 007.
Photo by Jon Gardner

Lime Rock's Grand Prix

007 returns to the track, McLarens tune in,
MINIs start at the back

by Bruce Vild


LAKEVILLE, Conn., July 21-22 — The IMSA race series are continuing their run around the country, and this weekend it was Lime Rock's turn — though with only part of the usual line-up: the WeatherTech SportsCar Championship, what this writer has called "the main event," was running the two GT classes, GT Le Mans and GT Daytona, and no Prototypes.

That meant there were no Gibson- or AER-powered machines for Marque readers to root for, but there was a pleasant surprise in GTD: the entry of TRG-AMR, bringing their venerable #007 Aston Martin Vantage and talented drivers James Davison and Brandon Davis. Whether their presence in the WTSCC would be for Lime Rock and its Northeast Grand Prix only was not revealed in the pre-event press release.

TRG-AMR would be present in the Continental Tire SportsCar Challenge as well (in the Grand Sport class with car #3), with veteran drivers Craig Lyons and Kris Wilson — as they have been throughout the season, and are expected to be till its closing in October at Road Atlanta.

Lime Rock Park, at 1.5 miles in length, is the shortest circuit IMSA runs. The weekend's schedule seemed short, too, with two practice sessions and qualifying for both the Conti and the WTSCC race taking place on Friday, and, given Lakeville's no-Sunday-racing rule, all the races over on Saturday.

Practice

The action started mid-morning on Friday with the Conti's first practice session. The cars the Marque would be following in GS, besides #3, were three McLarens (#69 from Motorsports in Action and #76 and #79 from C360R), the #99 Automatic Racing Aston Martin, and, in the Street Tuner class, the three MINI JCW Team cars, #37, #52 and #73.

It shook out as follows: among the McLarens, #76, driven by Paul Holton and Matt Plumb, finished best, in 2nd place behind a Camaro. Number 69 was 8th, piloted by Jesse Lazare and Chris Green, and #77 13th, at the hands of Mathew Keegan and Nico Rondet. Lyons and Wilson in Aston #3 held their own behind three Porsche Caymans, finishing 6th. The other Aston, #99, with Rob Ecklin and Charles Espenlaub on board, came 12th.

The Conti field numbered 31 cars, and, as expected, GS cars took the top 13 positions. For them, their overall finish was also their class finish. The smaller, lighter STs brought up the rear, with the top-finishing MINI being #37, run by Mike LaMarra and James Vance, at 25th overall and 12th in class.

The WTSCC cars took to the track shortly after noon for their first practice. Double-oh-seven seemed to be taking its time, with Brandon Davis doing the first stint, keeping the car at the back of the field before handing off to Davison. Lap times kept improving, with Davison managing better times than some of his GTD cohorts, but ending in next-to-last place.

Practice #2 for the Conti had the McLarens in 4th overall (#76, behind three Porsches), 6th (#69) and 10th (#77). The Astons finished one behind the other, in 11th (#99) and 12th (#3). Jones and Pombo in the #73 MINI finished 3rd in class, behind a Mazda MX-5 and a Nissan Altima, and 16th overall. Nate Norenberg and Mark Pombo brought #52 to 8th in class and 21st overall, but the LaMarra and Vance only managed 15th in class and 28th overall.

The second WTSCC practice saw a great improvement for #007, with the team advancing to 4th in class and 12th overall, just behind erstwhile teammate Christina Nielsen in her Ferrari.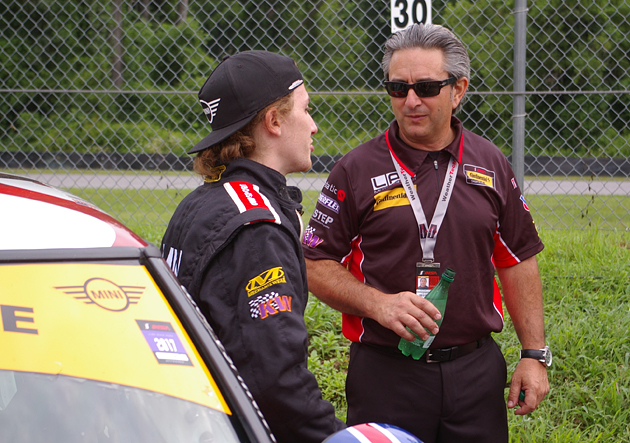 MINI JCW Team owner Luis Pericarpi (right) on the grid after learning two of his cars had to start from the back.
Photo by Bruce Vild
Qualifying
There were two separate qualifying sessions for the Conti, with the ST cars out first. Mazdas grabbed the top three positions, while Derek Jones qualified MINI #73 5th in class, LaMarra took #37 to 9th, and Norenberg took #52 to 11th. In GS, the McLarens were 5th (#76), 6th (#69) and 10th (#68), with the Astons, #99 and #3, behind them in 11th and 13th.
In WTSCC there were two qualifying sessions as well. In GTD, #007 made 9th after running as high as 5th, with Nielsen again placing just above them in 8th. Interestingly, it wasn't her former co-driver, James Davison, who did the qualifying for TRG-AMR, but his partner, Brandon Davis. Davison has an excellent record grabbing the pole for TRG-AMR in #007, having done it no fewer than four times in IMSA's 2014-15 Tudor series.
Qualifying times from top to bottom suggested this race — actually, both races — could be anybody's. Only 3.59 seconds separated the GTLM pole (50.404), taken by a Porsche, and the lowest-placed contestant in GTD (53.998), an Audi. It was about 6 seconds in the Conti, but in ST only 3.4 seconds and in GS less than 2!
The Lime Rock Park 120
The large Conti field can complicate things on as short a track as Lime Rock, with the slower ST cars being lapped quickly by the GS machines and traffic starting to bunch up as the race progresses. There is bound to be contact, and today was no exception.
From the start, things did not go well for the MINIs. Number 73 and #37 had to start at the back of the grid after failing post-qualifying inspection due to a tire infraction. Someone had apparently mislabeled the rubber on both cars, confusing one for the other. This, of course, made the team's struggle harder, but based on past performance in this series, they were still very much in the hunt.
Jones' luck did not improve much. Within the first half-hour of the race he made contact with a Porsche after hitting some curbing at high speed, but escaped without a penalty. At about the 40-minute mark, he was sent off-course and into a crash barrier by teammate Norenberg in #52, who had been bumped by another car. Fortunately, however, he rejoined the race almost instantly, albeit losing a few positions, obviating a caution flag and being praised by one of the track commentators as "being made of sterner stuff."
Norenberg, who also fell in the field from the incident, and Jones fought their way back, running 10th and 11th in class, then 9th and 10th. The third MINI, #37 with LaMarra at the wheel, was 12th. These latest positions were 20th, 21st and 23rd overall.
At this point, the #69 and #68 McLarens, which had worked their way up to 2nd and 3rd, began falling behind. Lazare's #69 car was only firing on seven cylinders, but his team decided to tough it out as best they could.
Fifty-five minutes into the race, the #3 Aston went into the Armco, Lyons losing it while trying to avoid a slowed car coming out of a curve. It continued on its own power (again, no yellow) to the pits, where the crew got out the tape and secured trim around the driver's side headlight before sending #3 (with Wilson) out again, but about five laps down.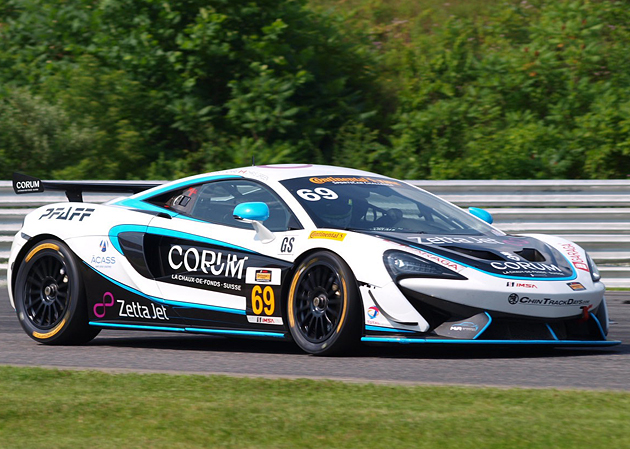 The #69 McLaren finished its race down a cylinder.
Photo by Jon Gardner
As ST cars pitted for tires and driver changes, Norenberg found himself in the class lead in #52. He eventually pitted and Mark Pombo took over, but #52 appeared to have a tire rub issue on the left rear, even generating smoke at one point where tire and body made contact. At this point he was a lap down from the class leaders, but the tire problem seemed to cure itself and he was able to make up a few positions.
A full-course yellow came out about 15 minutes after the halfway mark when a Mazda lost power coming out of Big Bend and was unable to rejoin the race. After the race went to green, nothing much changed, except #69 had taken advantage of the caution and pitted for new tires.
But the drama was far from over. With less than 15 minutes to go in the race, the two Mazdas running 2nd and 3rd in ST had contact, the #27 car going too wide into the Uphill and turning sideways, the #34 car striking it and actually correcting its position to allow it to continue while #34 hit a tire barrier. Remarkably, no yellow flags waved as #34 limped back to the pits — so no one running behind them, including the MINIs, could take advantage and gain position.
With less than five minutes to go, the #69 McLaren was running 4th, behind a Camaro and two Porsches. Mark Pombo brought the #52 MINI to 8th in class (18th overall), the other Pombo (Mat) was in 12th (22nd overall) in #73, and Vance had #37 in 15th (26th overall). Caught in traffic behind one of the Astons, #52 lost a position to a BMW. The two Astons were running 10th and 21st overall, not having a very good day.
That's pretty much how it ended. The Camaro — driven by a Scot, Robin Liddell — would take the checkered flag. There would be no podium for McLaren, and disappointment for Matt Plumb in car #76, a contender for the Conti championship. The Astons would be at the bottom of GS, with Espenlaub finishing 10th and Wilson coming in behind 10 ST cars. Only one MINI would be in the top 10 of ST, Pombo in #52.
The Northeast Grand Prix
The starting grid for WTSCC saw GTD cars that had qualified below 2nd-in-class advance one position, due to the 2nd-place Porsche being sent to the back of the grid for a starting driver change. Davis would now start #007 in 9th position.
The two-hour, 45-minute race began at 3:05 p.m. The bang-ups started early, with Katherine Legge and her #93 Acura responsible for two separate incidents within ten minutes of each other — one with a Lamborghini, the other with a Mercedes — prompting two drive-through penalties for her.
An accident involving a Corvette and a Ford GT (both in GTLM) then took the Corvette out of contention and moved everyone up a place overall. Other developments moved Davis' Aston up to 6th in GTD, but still behind Nielsen's Ferrari — and then to 5th, with Nielsen, now 4th, doggedly pursuing the 3rd-place Audi.
The Aston pitted shortly before 4 p.m. for fuel, tires and a driver change to James Davison, re-entering in 13th place. Nielsen passed the Audi and was now in 2nd place, behind pole-sitter Madison Snow in the #48 Lamborghini. She did not overtake him by the time it came to hand over the Ferrari to her teammate, Alessandro Balzan. Balzan re-entered in 10th place. Davison was holding 6th.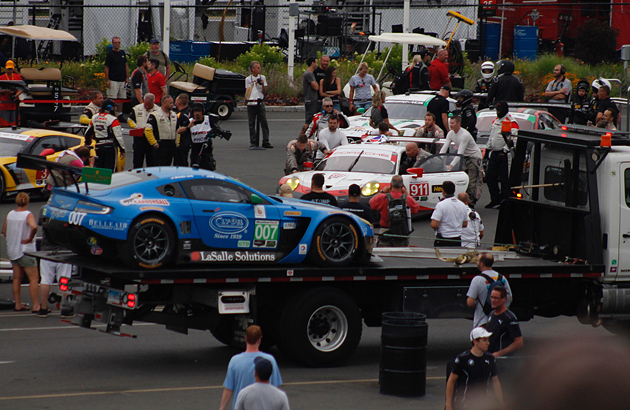 Double-oh-seven at the end of the race.
Photo by Bill Richardson
Davison continued to advance, and by 4:22 he was 5th in class. One by one the class leaders pitted, and soon #007 was in the lead. It was brief, though, as Davison himself pitted shortly afterward for fuel and tires. He re-entered the race down three positions but seemed to settle into a comfortable trot as if waiting for someone ahead to falter so he could make his move.
But after nearly an hour running 4th, it was the Aston that faltered. With about eight minutes to go, Davison suddenly fell three positions and stopped at the runoff at West Bend. The sole British car in the WTSCC race would finish 13th, finishing also a very disappointing day for British car fans in both the Conti and WeatherTech.
Those following Christina Nielsen's career might have been disappointed, too, as she and Balzan were only able to bring their Ferrari home in 6th place instead of, as fans are used to, on the podium. Their season so far has kept them on top in championship points. Because their closest competitors did not fare well at Lime Rock, there they remain, so for Nielsen and Balzan it wasn't such a bad day after all.
Postscript: Double-oh-seven was not entered in either of the two WTSCC races subsequent to the Northeast Grand Prix at Lime Rock (to date), the Continental Tire Road Race Showcase at Road America or the Michelin GT Challenge at VIR.
[The writer consulted Lee Driggers' Pit Notes and IMSA.com when preparing this report. Thanks, guys.]