Feature Stories
---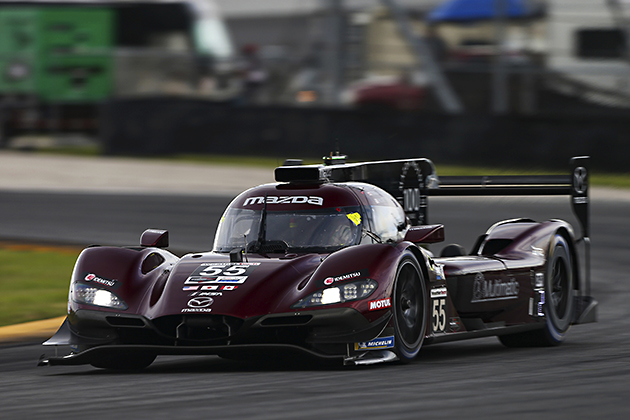 August 2020

AER's turbocharged four-cylinder MZ-2.0T engine took the #55 Mazda DPi to victory and its #77 sister car to 2nd place in IMSA's first race since the Rolex 24.
Photo by Jake Galstad, LAT Images

Mazdas on Top at Daytona, McLaren on Pole
but...

by Bruce Vild



DAYTONA BEACH, Fla., July 3-4 — It was the first summertime IMSA race at Daytona in ten years, and the first since the COVID-19 pandemic put a halt to the Sebring 12-hour and events scheduled for April, May and June.

It was a clean race, no full-course cautions, green all the way — a spin here, a nudge there, but no "incidents" or penalties.

And it was a race where two prototypes powered by British-sourced engines grabbed the top two podium steps, and a McLaren GT3 took class pole — though it suffered a setback before the race even began from which the team couldn't recover.

It was the WeatherTech 240 at Daytona, the name reflecting the two hours and 40 minutes the race ran. Three WeatherTech championship classes were represented — Daytona Prototype International (DPi), GT Le Mans (GTLM), and GT Daytona (GTD), distinguished from each other by style, horsepower, and driver experience.

Weather a factor from the start

The absence of yellow flags did not mean this event was a stroll in the park. A huge rainstorm had run through the area between the morning qualifying sessions and the early-evening start of the race. The storm cell still hovered nearby though the rain had paused, and the threat of lightning was enough to delay the start and clear the grandstands of the few fans that were permitted to attend.

When race officials gave the go-ahead to begin the required recon lap, the track was damp enough for many teams to start with "wet" tires rather than slicks. When the race went green, their cars did a better job sticking to the track, but after five laps several of them begin to pit for a tire change as the track got warmer and dried. Slicks became the order of the day for speed and fuel economy though the threat of more rain hadn't passed.

McLaren misfortune

Missing from the recon lap was the #76 car, Compass Racing's McLaren 720S GT3, taken to pole that morning by Corey Fergus. A fuel-pressure problem that was rectified only after the pit gate had closed prevented Fergus from joining the recon lap, forcing him to start the race from pit lane and run a drive-through penalty. Instead of leading the GTD field, he and co-driver Paul Holton wound up following it for most of the race.

The McLaren, the only British car in the line-up, finished the race 11th out of 12 in class, down two laps from the winner.

But the weekend's news was not all bad for Compass Racing. First, there was practice the day before, with results that foretold a brilliant qualifying session for WeatherTech first-timer Fergus. He slotted the second-fastest lap in practice, less than half a second behind leader Aaron Telitz's Lexus and ahead of GTD entries from Ferrari, Porsche and Acura.

Then, the next morning, after running much of the qualifying round in 7th place, Fergus suddenly shaved three seconds off his best time and vaulted to the top of the field. The performance instilled such confidence from his teammates that the McLaren was parked with four minutes remaining. He would later explain that it wasn't so much confidence that the result would hold as it was to save the tires.

Fergus' coup was remarkable on many levels. True, he is an experienced McLaren driver, placing 2nd in the Michelin Pilot Challenge championship last year in Compass Racing's GT4 car — but the car in the WeatherTech series is another animal entirely, with its aero effects, enhanced braking, and learning curve even for those very familiar with its smaller sibling. To take it to pole on the first try was an amazing achievement, even for a guy like Fergus who's made podium in one out of every three races he's run.

Co-driver Paul Holton, who is perhaps better acquainted with the GT3 — having helped the factory develop the car through long stints with it in Europe — predicted great things to come in the race.

"This is definitely our track!" he exclaimed about Daytona, adding that the "sprint" nature of the race made the qualifying result that much more important. Not having run in the Rolex 24, this was the kind of contest he and Fergus were used to. Holton predicted the race would likely "go green for the entire time" with its smaller-than-usual field, and as mentioned before, it did.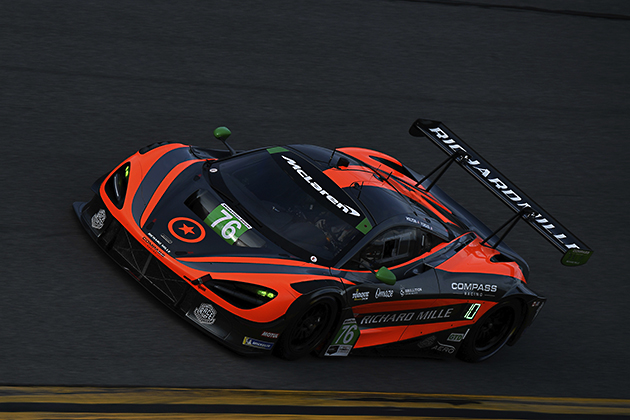 Paul Holton during practice in Compass Racing's McLaren 720S GT3.

Photo by Richard Dole, LAT Images
When Holton took his turn at the wheel that evening, he set the second fastest lap in GTD at 01:47.331, just slightly slower than Fergus' qualifying time. Other than the glitch before the race started, the McLaren had no mechanical issues. If it hadn't been sent to the back of the pack for not making the recon lap, it's quite possible the team would have added another podium result to Fergus' and Holton's record.
Summer magic for the Mazdas and AER
As there was no British representation in the GTLM class (except for drivers Oliver Gavin for Corvette and Nick Tandy for Porsche), this report will skip right to the prototypes.
It is interesting to step back a moment and look at the different approaches to power that the contenders are taking. Mazda Team Joest continues the partnership Mazda established nearly 15 years ago with Advanced Engine Research Ltd., Basildon, England, to fabricate engines based on an inline four-cylinder, turbocharged platform. At 2 liters, their MZ-2.0T powerplant is the smallest in the class.
Next is Acura Team Penske's Honda 3.5-liter V6, boosted by twin turbos, and finally there is the Cadillac teams' GM 5.5-liter, naturally-aspirated V8. We don't see the hybrids that nowadays dominate Le Mans, but the diversity in IMSA makes for interesting debates among fans and strategies among teams. It keeps officials busy, too, revisiting weight and induction allowances to keep the playing field relatively level.
Which scheme works best? In the races run so far this year (admittedly, only two), the smart money is on Mazda-AER — which proved itself under two radically different conditions at the same track, the Daytona International Speedway, in the Rolex 24 enduro and the Daytona 240 sprint.
In the Rolex 24 in January, Team Joest's Oliver Jarvis grabbed pole in the #77 Mazda DPi, and he and co-drivers Tristan Nunez and Olivier Pla were constantly in contention for the win. They led 190 laps of the 833-lap race and finished 2nd to a Cadillac DPi.
Lest you think it was the four extra cylinders that made the difference, in the Daytona 240 the #55 sister car was brought to the win by Harry Tincknell and teammate Jonathan Bomarito, who had started 3rd, while Jarvis and Nunez followed right behind after starting 2nd. A Cadillac DPi had to settle for 3rd.
Bomarito also ran the fastest lap in the race at 01:35.446, with Jarvis nipping at his heels at 01:35.470. The Mazdas are fast.
IMSA commentators have observed that the month of July seems a charm for the four Mazda drivers — they have not lost race in July for three years running. Last year, Tincknell and Bomarito (with Pla) won at Watkins Glen and, the following weekend, it was Nunez and Jarvis at Canadian Tire Motorsport Park. "Midsummer magic," they called it.
Magic or not, the Daytona 240 was not kind to its three pole sitters. The Compass Racing McLaren had its problem in GTD, and in GTLM, the top-seeded #4 Corvette struggled at the end as it tried to stretch its fuel supply by doing a lot of coasting, finishing 5th in class out of six.
In DPi, it was the #7 Acura, one of two cars fielded by Acura Team Penske. On its 43rd lap (about halfway through the race) the car began losing pace, and before long flames were coming out of its exhaust pipes, the car blowing unburnt fuel out both sides. Driver Ricky Taylor dove into the pits and quickly exited the car. The team took the car behind the wall and back to the garage, game over.
The WeatherTech series will return to Florida — Sebring, this time, for another sprint race, not the 12 Hours — later in July, after deadline for this issue. We'll see if Mazda's summer magic continues if the McLaren can get the good result it seems to deserve and, later on, if other cars (namely the Aston Martins) that made the Rolex 24 but opted out of both the Daytona 240 and the July Sebring race will return, or sit out the rest of 2020.
Stay tuned.
[This article was developed mainly from IMSA reports and Lee Driggers' Pit Notes. Many thanks.]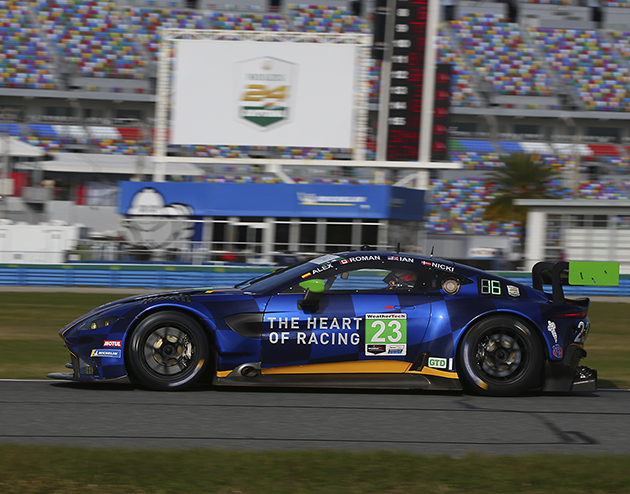 July 2020

Heart of Racing's #23 Aston Martin Vantage GT3 at Daytona earlier this year, in the Rolex 24. The U.S.-based team has said they are in it for the entire season, but this could not be confirmed at press time.
Photo by Tom Murray

IMSA: 'Real' Racing Back in July at Daytona

by Bruce Vild
From IMSA Sources



DAYTONA BEACH, Fla., June 4 — After featuring several weeks of "virtual" racing with professional racecar drivers on simulators, the International Motor Sports Association (IMSA) announced today it will be returning to actual racing on Independence Day, close to its home base.

The scene will be Daytona International Speedway on Saturday, July 4th, with two hours and 40 minutes of WeatherTech Sports Car Championship action with prototype (DPi), GT Le Mans (GTLM) and GT Daytona (GTD) cars. This will be the first midsummer IMSA event at Daytona since 2010, and the first since the 2020 season was suspended due to COVID-19 concerns just before the 12 Hours of Sebring.

The event will be known as the IMSA WeatherTech 240 at Daytona.

The season so far has consisted of but one race, the Rolex 24 (also at Daytona). Mazda Team Joest, running two AER-developed Mazda DPis, finished 2nd and 6th and was looking forward to Sebring when the 12 Hours was red-flagged because of travel and crowd-size restrictions under the pandemic.

Also of British interest at the Rolex 24 was a new Aston Martin Racing partner, Heart of Racing, which anticipated participating in the full WTSCC season. The card was completed by Automatic Racing, Stephen Cameron Racing and KohR Motorsports, all running Astons in the Michelin Pilot Challenge support race, along with M1 Racing and AWA and their McLarens.

"We are all ready to see sports cars back on the track and racing," commented WeatherTech founder and CEO David MacNeil. "I think that the IMSA staff and the Speedway have done a great job to pivot on the schedule so we can get back to on-track competition."

It was originally announced that this race — and one at Sebring later in the month, which will be accompanied by the restart of the Michelin Pilot Challenge series — would be conducted without fans in attendance. Now plans are in place to allow up to 5,000 fans, Florida residents only, face masks and social distancing required.

A total of 11 races this season

The new WTSCC/MPC schedule has shaped up as an 11-race season that runs through the now-rescheduled 12 Hours of Sebring November 11-14:

January 25-26 — Daytona International Speedway (Rolex 24).

July 3-4 — Daytona International Speedway (WTSCC only).

July 17-18 — Sebring International Raceway.

July 31-August 2 — Road America.

August 21-23 — Virginia International Raceway.

September 4-6 — Watkins Glen International (Six Hours of the Glen MPC race four hours).

September 11-12 —Lime Rock Park.

September 25-27 — Mid-Ohio Sports Car Course.

October 14-17 — Michelin Raceway Road Atlanta (Petit Le Mans).

October 30-November 1 — WeatherTech Raceway Laguna Seca.

November 11-14 — Sebring International Raceway (12 Hours of Sebring).

[Note: The above schedule includes revisions to the schedule made by IMSA since this article was originally printed.]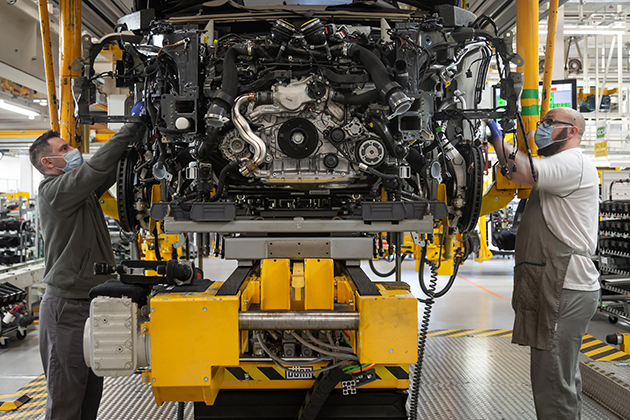 June 2020

Personal protection equipment and social distancing are among the changes introduced in production.
Photo courtesy Bentley Motors Ltd.

Bentley Back to Work
Phased Production Ramp-up Promotes 'Stronger, Safer Future'

by Wayne Bruce & Matthew Reed
Bentley Motors Ltd.



CREWE, Ches., 11 May — Bentley Motors today resumed production at the company's headquarters in Crewe, England, with over 1,700 colleagues (employees) following 250 comprehensive and wide-ranging hygiene and social-distancing guidelines implemented to enable a safe return during what is hoped to be the final phases of the coronavirus pandemic.

This represents the next stage in Bentley's 'Come Back Stronger' programme, a phased production ramp-up following the biggest changes to daily working life in the company's 100-year history. 

Before the restart, colleagues received an insight into their new working patterns, operations and environment during socially-distanced briefing and training sessions. They returned to a redesigned manufacturing facility that allows two-metre distance between workers, and one-way movement paths and traffic flows. Even the washrooms across-site have been reconfigured to reduce the number of people being able to use them.

Running from today, the Bentayga and Mulsanne production lines will be joined by the return of the Continental GT and Flying Spur line next week.

On each line, production will be running at approximately 50% for a number of weeks, while the average start time from one manufacturing stage to the next for each car has doubled. In addition, each production cell now spreads over two stages rather than one, ensuring adequate distance between colleagues.

The remaining manufacturing workers, over 500, are anticipated to return by the middle of June based on current assumptions and government guidance.

During the plant's shutdown at the height of the pandemic, all colleagues were kept fully updated with the changes through a home-issued guide, video tutorial, and a newly created 'Employee News' app designed to ease any uncertainty that this challenging period prompts.          

Commenting on the production restart, Adrian Hallmark, the company's Chairman and CEO, said he was confident that the new working environment will keep his employees 'as safe as being anywhere else'.

The key process changes behind the 'Come Back Stronger' employee programme impact all areas. Face masks are now compulsory in all factory and office areas, while Bentley will maintain a work-from-home policy for those who are able to do so.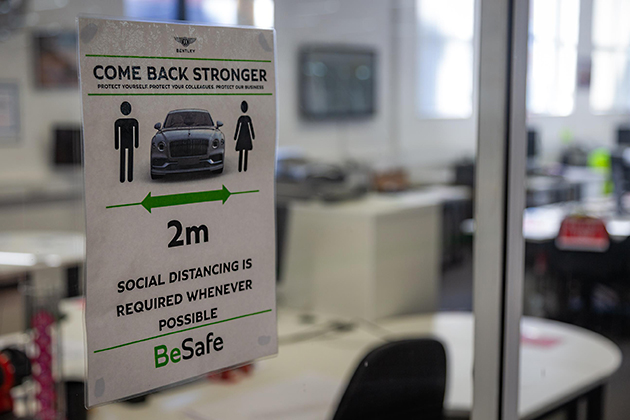 Social distancing posters remind returning workers to be safe as pandemic restrictions ease.
Photo courtesy Bentley Motors Ltd.
Personal protection equipment — including face masks, gloves, goggles — are provided as necessary both to colleagues and the local care sector, as well as health temperature checks for staff. There is also an enhanced cleaning routine and clear guidance to the workforce on limiting the risk of infection on areas such as meeting governance, site access and travel.
In relevant office areas and catering facilities where distancing is more challenging, plastic partitions — designed and manufactured by Bentley workers — now offer segregation between colleagues in addition to control measures limiting capacity, staggered times and distanced seating.
There are also new, stringent measures to control the population density on-site at any one time, with all entry and exit points reviewed and reconfigured to disperse the volume of people. 
According to Hallmark, Bentley's future is 'stronger and safer' as it looks beyond the pandemic.
"We have a strong order bank, around eight months of customer orders to manufacture, established parts supply routes and patient customers who are looking to receive their extraordinary cars as soon as possible," he said.
"We will ramp up in a controlled, measured way to ensure we manage this continued demand, and look ahead and in spite of this interruption continue on our journey to lead sustainable luxury mobility in the future."  
Crewe is home to all of Bentley's operations, including design, R&D, engineering and production of the company's four model lines — Continental, Flying Spur, Bentayga and Mulsanne. Bentley employs around 4,000 people there.
[From a press release courtesy of Newspress Ltd.]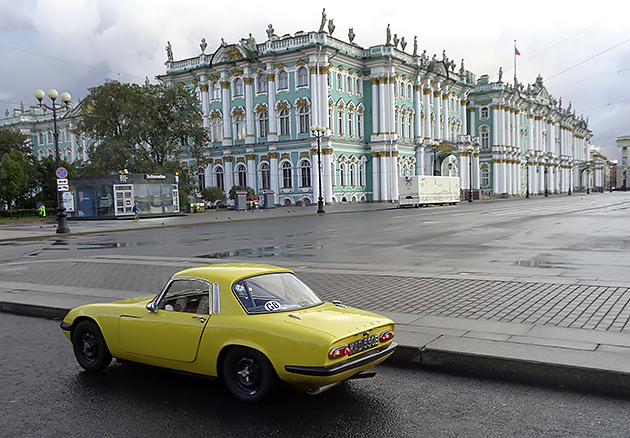 May 2020

Outside the Winter Palace in St. Petersburg, Russia, with the yellow Elan.
Photo by Peter & Allison Cotes
Russian Elan

by Peter Cotes


[The globe-trotting adventures of rallyists Peter and Allison Cotes continue! This time it's from their home in England to the eastern reaches of Europe, not Asia, and in a different car, but still a Lotus Elan. Along the way to Moscow and St. Petersburg were many interesting stops, so fasten your seat belts and get your papers ready, because here we go! —Exec. Ed.]
Having just completed our rally along the Silk Road in July, we knew our red Elan would not be ready for Scenic Car Tours' Moscow and St. Petersburg trip in September — and so we took our 'other' Elan, the yellow one, which would get its first long run in some time (15 years!).
Before leaving I checked the normal weak points: clutch (the fluid was murky so we replaced both master and slave cylinders) and rear wheel bearings (where there was play — but not due to the bearings this time the shaft had worn away and the movement was the shaft moving inside the bearings, so both had to go).
On the same axle, the donuts needed replacing and the handbrake assembly was so worn that I promised the car a set of new calipers on our return.
The noise from the exhaust was from rust holes in the downpipes, so they were replaced with a stainless set.
And last but not least, the car leaked oil like a sieve so we took plenty with us. In the 3500-mile journey we used four litres.
The first sign of trouble was in traffic on the M11 when the ammeter swung violently deep into negative territory. So our priority next morning was to get a replacement regulator box, which I found in rural Kent from a retired Mini enthusiast. The old regulator then behaved perfectly for the entire trip!
Heading east
On the motorway to our first overnight stop in Brussels, Belgium, we were overtaken by a red Elan Plus 2 — how often do you see them on the road? Scenic had suggested alternative routes to avoid motorways, but with 300 miles or so each day, the alternatives just took too long so we used a lot of motorway. We were happy at 65/70, meaning we were faster than the trucks but slower than most cars.
We continued by way of Leuven, Munster, Bielefeld, Hamelin (remember the Pied Piper? He's now a major tourist feature), Wolfsburg (Autostadt) and on to Berlin. Autostadt is the VW factory and museum, where the theme is not so much the cars, although VWs unsurprisingly feature more than any other marque, but more the designers and their influence.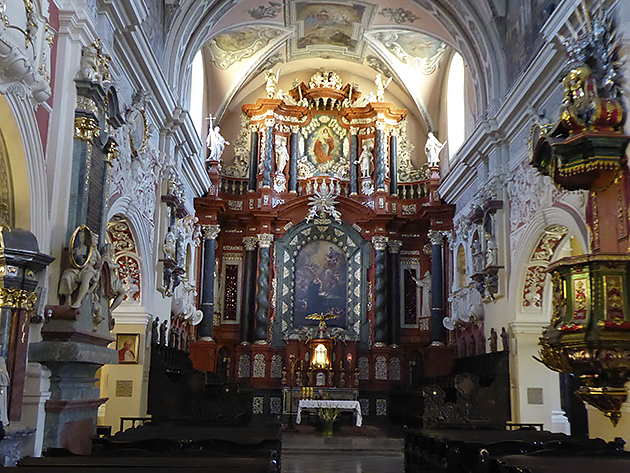 Inside a baroque church in Poznan, Poland.
Photo by Peter & Allison Cotes
We spent longer at Autostadt than planned, and I didn't pay enough attention when entering the under-the-arches car park in Berlin. Result — the exhaust caught as the front tyres went into a dip and slipped smoothly off the new stainless downpipes. It was much more secure with its old rusty and pitted mild steel version! There was one other car on this tour, a 1968 TR5, and John, its owner, spent some time after dinner helping me reassemble the damage.
We had a rest day in Berlin, themed mainly on Wall-related tourism. Checkpoint Charlie is still there with a museum next door, showing the development of the Wall and a history of the escapes — behind the spare wheel of a VW, inside a modified fuel tank, inside an old Opel with reinforced concrete sides and door panels (not sure how it moved), and so on.
We continued via Poznan to Warsaw — which was both a good day and a bad day for us!
Poznan is an old town with a lovely square, old buildings and great atmosphere. Allison went to an interactive demonstration on making (and eating) croissants whilst I admired the richly decorated Baroque churches — but left the lights on whilst parked. The battery was flat and we had to bump-start the car. Not a clever idea, but no damage done until, with my brain on electrics and on not overloading the dynamo, we drove out of the car park carelessly, catching the exhaust yet again.
It was a late-night session, on our own this time, to put it back together — but before that we got caught in a three-hour jam on the motorway, resulting in over two hours night-time driving with a battery low on charge. We got to bed that night at 1:30 a.m.!
Whilst in the jam, the guy in the car next to us came to chat and said he had what we needed if the car would not start — a battery booster pack. This weighs about a kilo and a far cry from the jump start devices that garages used to wheel out to cars in distress. We had to get one ASAP next morning, and once we had the taxi driver's interest he was on the case and proudly marched us round the supermarket until he found one. Of course, the next day the car started fine without it. (Well, we would need it soon.)
On to Russia, but first, Latvia!
Our next overnight stop was in Vilnius, Lithuania, followed by a drive through Latvia to the dreaded Russian border. Here we expected trouble and we got it, but not from the Russians!
It seemed the Latvians wanted to check everything — car identity plate, insurance (for western Europe, where we'd come from) and driving licences. And this was a problem, because about 18 months earlier I had reported my licence as lost/stolen to DVLA, who gave me a new one, matter forgotten. But not here at the frontier of the EU! Because my driver's licence number was linked to a lost/stolen document it had wound up in an EU-wide database and, under the Schengen agreement, something had to be done.
Fortunately, in between times, I had found the lost licence and happened to have it with me. The Latvian solution was to confiscate the cancelled licence and issue a "decision on withdrawal of foreign travel document under the provisions of Article…" That all took a couple of hours. I don't like Latvia anymore!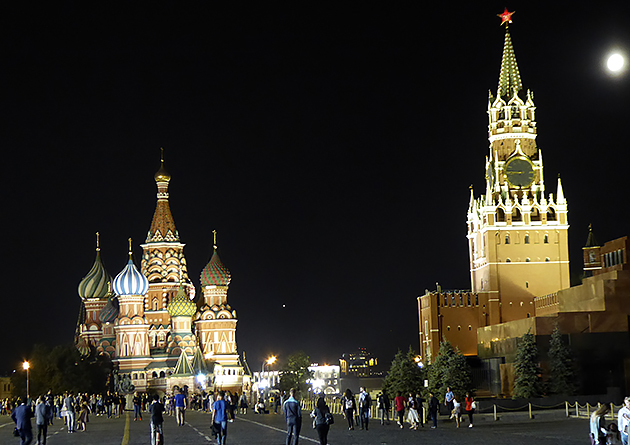 St. Basil's and the Kremlin at night (Moscow).
Photo by Peter & Allison Cotes
Motor insurance is compulsory in Russia. Some U.K. insurers (not ours) can provide it, and after failing to buy it in Latvia, we got it at the first fuel station after Customs, once we had found and awakened the salesman who was snoozing in his car.
Moscow, Novgorod (one Kremlin each), then St. Petersburg
After an overnight stop we reached Moscow in the early afternoon, when traffic is at its most dense. Amazingly the car did not stall or overheat and oil pressure was fine, but with the lights on and fan working hard, the battery was drained, and having stopped outside the front door of the Metropol Hotel right next to Red Square, I needed that battery jump-start pack to get to the car park. The TR5 had similar electrical problems when he arrived but whereas our Optima battery survived, his conventional battery was dead and he had to get a replacement.
Scenic had provided 'Hop-on, Hop-off' bus tickets for most of the capital cities, so we spent a day on the buses after an early morning drive (no traffic) to the edge of Red Square for a photo op of the car at St. Basil's Cathedral. An interesting excursion was to a Cold War bunker, 65 metres down, the HQ of Strategic Bomber Command — nuclear bombers and intercontinental ballistic missiles. We had a beer in their underground restaurant.
Our next stop was Novgorod, an old and relatively undamaged city on the way to St. Petersburg, where we visited the Kremlin (not 'the' Kremlin but their local castle with an old cathedral) and a museum of wooden buildings.
St. Petersburg was not as hot as Moscow, and we were quite cold as we walked down Nevsky Prospekt in the drizzle to the Winter Palace and Admiralty Embankment.
Our bus tour next morning was disrupted by a marathon so we got off and walked until it rained, at which stage tea and cakes were called for. Another early morning drive provided photos of the car at some of the major sites.
Of course we had to look at some eggs — Fabergé eggs! We had been round the Winter Palace with our daughter many years ago, so chose the Fabergé Museum on the bank of one of the canals.
The 'Coronation Egg' displayed at the Fabergé Museum — its contents the miniature carriage next to it.
Photo by Peter & Allison Cotes
Coming home
After two rest days it was time for the return leg — the border to Finland (so quick and easy compared to the Latvians!), a night in Helsinki, a ferry to Germany, a drive to the Hook of Holland, and home via Harwich.
The drive to the Hook was not quite as planned. We stopped in Lubeck, then smelt petrol — both banjo bolts on the carbs were loose and fuel was dripping out. Fixed that and headed on the motorway past Bremen, where there were a whole series of road works. Exiting them there was a boom and we were surrounded with sound — the exhaust 'Y' piece had sheered and the pipe was dragging on the road under the car. It's then that you realise what a good job a silencer does!
The exit was just ahead of us so we left the motorway where a passing classic VW Beetle found us. He was local and knew a workshop just off the slip road. The owner told us to be patient — difficult when you're still 240 miles from the ferry! We were there about 90 minutes and left with a newly welded pipe, and were in time to catch the ferry back to Norfolk (okay, Essex, but close!).