Feature Stories
---
May 2018

The spirit of British Car Week as displayed by John Biagioni, a member of British Motorcars of New England. Enjoy and make the public more aware of British cars during BCW — and help save the hobby to boot.
Photo by Bruce Vild
BCW: A Public Service

Celebrate British Car Week May 26-June 3

by Scott Helms

This year we will be celebrating the 22nd Annual British Car Week during the extended week of May 26th through June 3rd.
Even though the week has a beginning and ending date, the intention is that enthusiasts will use this opportunity to get their cars ready for all the upcoming events and continue driving their cars long after June 3rd.
These dates also provide a target for getting the cars out on the road in full force to show them off to people who otherwise rarely have a chance to see vehicles from days gone by doing what they do best. With every passing year, getting these cars out of the garage and onto the roads for display is becoming more important.
We live in a time when technology is rapidly escalating. Companies are competing aggressively for the latest and greatest in communication, entertainment and transportation. And people have become so involved with their electronic devices, they leave almost no time for more fulfilling things to do that don't involve a computer or smart phone — such as a hobby involving classic cars.
Energy is a hot topic, too, and there's been a lot of talk about putting an end to gasoline as a means for fueling transportation.
A recent article written by Richard Lentinello of Hemmings Classic Car magazine recently caught my eye. He mentioned the economic impact of banning gasoline, and how it would not only be detrimental to the old car hobby far and wide, but also affect the economy, period.
A gasoline ban would affect all of the manufacturers that supply parts for restoration, performance and racing, impacting owners of hot rods, low-riders, sports cars, vintage trucks, classic motorcycles and off-road vehicles.
It would also affect all of the businesses that feed them the raw materials required to manufacture products, and the distribution chain, including shipping supplies and the trucks that deliver goods.
Real estate would be impacted as well, including companies that manage or sell the buildings and land required for manufacturing and warehousing all those parts, and all the retailers and garages to which the goods are delivered.
This list goes on and on, which makes us realize how important it is for all enthusiasts to pull together to ensure our hobby's survival — mainly by doing what we can to keep the interest in historic vehicles going strong in future generations.
So, how do we do this? The majority of those reading this already know. It's all of the people who aren't reading this that we need to target, including the next generation of potential classic British car owners who may not realize there is a wide world of driving fun waiting for them. If they don't get a chance to experience this through enthusiasts' active participation in events such as British Car Week, they may never know.
When I think back to when I got my initial taste of what it's like to take a ride in a classic British car, I realize my world was never the same again. If it weren't for the people who took the time to invite me unselfishly to take a ride in their old British car, I might not be sitting here writing this article.
That car from the outside had caught my eye for sure, but I didn't realize how much of a joy it would be to own a British sports car until I was able to sit in the passenger seat and experience the sweet sound of the exhaust emanating from the tailpipe and feel the raw rumble of the engine winding out while running through the gears.
So put your smart phone away in a drawer somewhere and top off your dashpots. It's time for some of that good, old-fashioned, seat-of-the-pants driving fun! And if you know someone new to the British car scene, take him or her along. See you on the road!
[Scott founded BCW in 1997. It has been promoted by British car clubs ever since for education and awareness. Find out more at www.britishcarweek.org.]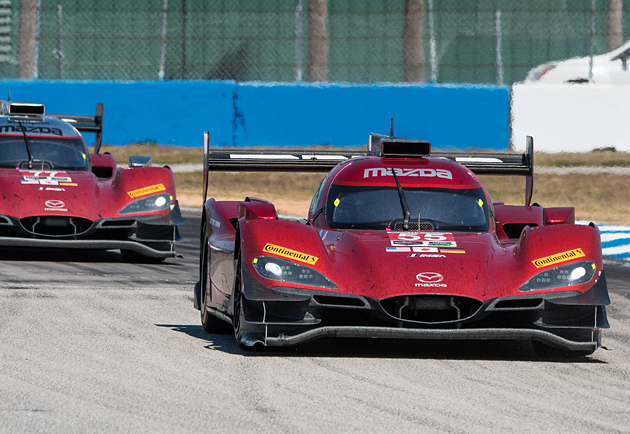 April 2018

The #55 Mazda DPi led the race nearly 40 times, and #77 set a new Sebring lap record.

Photo by Colin Sword
On the Ground at Sebring

Mazda/AER Sets Record, Gibsons off Podium but Strong

by Reggie Smith


SEBRING, Fla., Mar. 16-17 — The second race of the 2018 WeatherTech SportsCar Championship season is now history, and it held a few interesting lessons for drivers and fans alike.
The first is that the outcome always brings pain and joy, sometimes to the same team. Case in point, Tequila Patrón ESM, running two identical Nissan DPi prototypes that managed, respectively, the worst and best result possible.
12 seconds first out, 12 hours first overall
Twelve hours of endurance racing sometimes winds up being shorter than 12 hours. A lot shorter.
Englishman Ryan Dalziel and well-known American star Scott Sharp never got to touch ESM's #2 car. Their aggressive French teammate, Oliver Pla, drove from 2nd grid position at the start all the way to Turn 1 before sliding off course and retiring the car on the spot.
As we often see in Formula One, a quick start from the front row can be an advantage because you are not very likely to get involved in early traffic nonsense. This time, cool tire temperatures and the decreasing width of the course as the long, fast start/finish straight turns into a rather narrow two-lane stretch required a bit more grip than was available to Pla, and he slid wide when he tried to grab the lead.
Pla really didn't hit anything, but as the car rotated the rear tires started to reverse the direction of torque going through the transmission and differential — resulting in a "box full of neutrals" and a somewhat less than glamorous stroll back to the pits with not much to be proud of, perhaps setting a record for the earliest retirement ever at Sebring.
The team's other Nissan, #22, was able to get through not only Turn 1, but quite a few other turns as the day progressed, and did the best job possible of bringing up team spirit — an overall win! American Johannes van Overbeek, Brazilian Pipo Derani and Frenchman Nicolas Lapierre headed a five-car lead lap result after a steady and well-judged 12 hours.
Completing the podium
Second overall went to the #10 Konica Minolta Cadillac DPi driven by Jordan Taylor, Netherlands export Renger Van Der Zande, and IndyCar star Ryan Hunter-Reay. Jordan's brother Ricky was driving a Roger Penske-entered Acura DPi with teammates Graham Rahal and Helio Castroneves. Penske has always shown a knack for showcasing and developing superstar drivers, and although both Penske Acuras retired by mid-afternoon, it would have been interesting if it had turned out that Ricky and Jordan were front runners at the end of 12 hours.
Third overall was the Whelen Engineering Racing Cadillac driven by Brazilian Felipe Nasr, American Eric Curran and Englishman Mike Conway.
Mike is from Bromley and has some very strong history in both Honda and Braun Formula One cars. He is best known in America for his occasional drives in IndyCars. His choice to specialize in road course-style events matches his strong skills with car sorting and strategies. He mentioned his favorite courses in America, which are Long Beach, Austin, Sonoma, Watkins Glen, and yes, Sebring. When asked whom he admired most in racing, his rapid reply was Senna for his pure skill and Schumacher for how he packaged everything. Mike is a very serious chap, who is sternly focused — but still a very polite Englishman.
Among the top ten overall
As fans of British engineering, we are always interested in how UK products stand up to the pounding they get, especially in endurance racing. The second lesson from Sebring is the tenacity of the Gibson Technology-powered LMP2 cars and the real potential — "one of the five key takeaways from Sebring," IMSA reported — of the AER-developed Mazda DPis to grab the lead and win.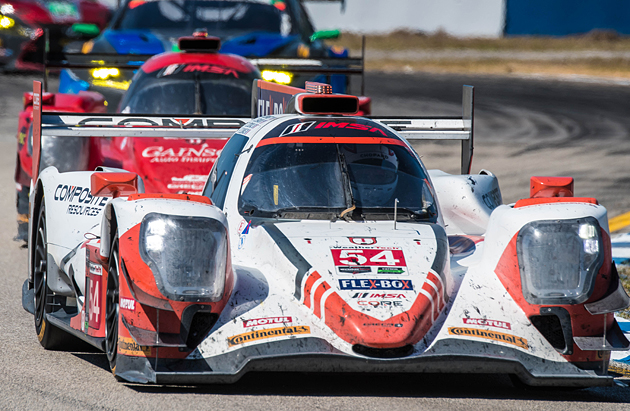 CORE Autosport ORECA LMP2, #54, finished 4th and was joined by three other Gibson-powered LMP2 cars in the top 10 at Sebring.
Photo by Colin Sword
The Mazdas captured and held the lead for a grand total, between cars #55 and #77, of 44 laps, even swiping the lead from each other about two hours into the race. Jonathan Bomarito, Spencer Pigot and their Brit co-driver Harry Tincknell each got at least one turn at the front of the pack in #55, while Brit Oliver Jarvis and Tristan Nunez got their turn in #77.
Unfortunately, Mazda's run for the podium and maybe the win was foiled by long pit stops — #77 dropping positions mid-race to solve a brake issue, and #55, late in the race chasing the leading #22 Nissan, suffering an electrical problem that delayed its restart. But Mazda Team Joest earned serious bragging rights when Jarvis posted the fastest lap of the race, 1:49.002 (123.521mph), thereby setting a new WTSCC prototype lap record at Sebring.
"We definitely made everybody stand up and take notice," Mazda Motorsports Director John Doonan said. The Mazdas finished 6th (#55) and 8th (#77) respectively.
Other spots in the top ten overall were taken by CORE Autosport's #54 ORECA LMP2, 4th United Autosports' #32 Ligier LMP2, 5th JDC-Miller Motorsports' #99 ORECA LMP2, 7th and JDC-Miller Motorsports' #85 ORECA LMP2, 9th. That's four spots in the top ten for Gibson to celebrate, comparing well with their outcome at Daytona.
Balance of performance
The third lesson is what balance of performance management is doing across all the race classes and categories. Aside from mechanical failures and accidents that happen during a race, starting grids determined in qualifying and finishing results turn out to be very similar.
In the Prototype class, there are DPi entries (Nissan, Cadillac, Acura and Mazda) and LMP2 cars (ORECA and Ligier). The DPi cars all had quick times within 2/10 of a second, in the neighborhood of 1:49.2. The LMP2s all managed to run within 4/10 of a second, from 1:50.5 to 1:50.9. The GT Le Mans class was close behind at around 1:58.0, followed by GT Daytona at between 2:00 and 2:02.
So, as it turned out, after two or three laps of each green flag deployment, the classes basically ran nose to tail, with the two fast groups around 1:50 seconds and the not-quite-so-fast production-based cars about 10 seconds slower around the 2:00 minute mark. This parade started getting mixed up only when the faster groups advanced at about 10 seconds a lap and finally caught the slower cars, as they were bound to do. That was about the only time the actual difference in car performance and driver ability showed. Passing events either happened smoothly or not.
In the first half-hour of the race, Sebastian Saavedra in a Ligier LMP2 tried to do an inside pass on Frank Montecalvo's GTLM Ferrari, lost grip and spun. The Ferrari "tripped" over the front of the Ligier, which was going backwards at the time, and launched itself, finishing on its roof. Fortunately neither driver was hurt, but the event ruined the Ferrari and delayed the prototype, which had to stop to have a new nose fitted. The LMP2 car was easily lapping at 8 to 10 seconds per lap faster than the Ferrari, suggesting that even with balance of performance driver judgment honed by experience is still a huge factor in the outcome of a race.
The fourth and final lesson? The television coverage of a race like Sebring is now very sophisticated and probably shows more than a person could see standing by a fence, but the sounds and smells encountered in person make it worth the trip.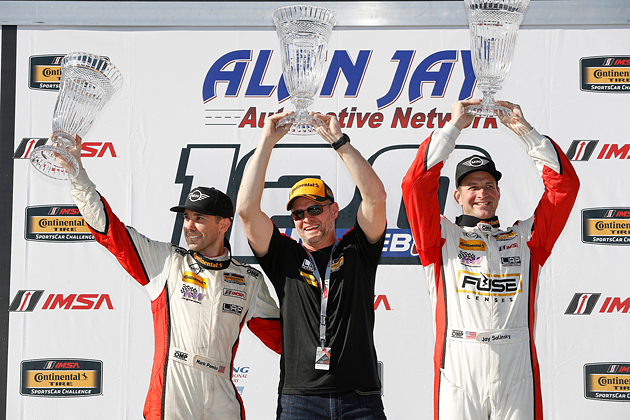 Co-drivers Mark Pombo and Jared Salinsky on the podium.
Photo by Michael L. Levitt, courtesy IMSA

MINI Thrills in the Conti
by Bruce Vild


SEBRING, Fla. — The Continental Tire SportsCar Challenge came to Sebring International Raceway on Friday, March 16th, as the Alan Jay Automotive Network 120, but most people just called it the Conti. If you wanted to see British cars — not just British engines, electronic gear and drivers — this was the IMSA place to be.

Grand Sport (GS) cars dominated the field at Sebring as they did at Daytona, with 27 entered in that class against six in the new Touring Car (TCR) group and five in Street Tuner (ST), with Murillo Racing's Porsche Cayman, which finished 3rd in ST at Daytona, not present.

The MINI JCW Team fielded all three of their cars in ST, facing Bodymotion's #21 Porsche Cayman and BimmerWorld Racing's #81 BMW 328i. The interest in GS centered on Automatic Racing's two Aston Martin Vantages, #09 and #99, and two McLaren GT4s, Motorsports in Action's #69 and Compass Racing's #76.

Driver Nate Norenberg and the #37 car grabbed the ST pole for MINI JCW with a lap time of 2:23.941 (about 94mph). Joining him on the front row would be teammate Mike LaMarra in the #73 MINI, and starting 3rd would be BimmerWorld Racing's #81 BMW 328i.

Motorsports in Action's Corey Fergus qualified 4th in GS with #69, with Compass Racing's #76 in 5th, and Automatic Racing's #99 in 19th and #09 in 21st. Touring Car entrants were all Audi RS3s save for one lone VW Golf GTI, with the #77 Audi, also from Compass Racing, on the pole.

Race day for the MINIs was a good day that was almost a great day. Much to the amusement of fans and commentators, brothers Mark and Mat Pombo, #52 and #73 respectively, found themselves playing follow the leader in 1st and 2nd position late in the race, right down to the final straightaway. Mark finished ahead without any serious (or foolish) challenge from Mat, with only 0.276 seconds separating them. It was the first 1-2 MINI sweep since Watkins Glen last year, when it was Mat who finished 1st with Mark behind.

For a while it looked as though the sweep would be 1-2-3, with the #37 car fighting off a challenge from Bodymotion's Jason Rabe in the #21 Porsche. It was quite a fight. Rabe started his stint in 4th place but quickly moved up to 3rd, then was passed by #37 to drop back to 4th. With 22 minutes to go he passed #37, but the MINI passed him again four minutes later. The two cars swapped places four more times, with the Porsche finally getting the upper hand with just two minutes left, and holding on to it till the finish.

Two out of three's not bad.

Meanwhile, though Motorsports in Action had come to Sebring with the highest expectations, the team would leave disappointed. Fergus started the #69 McLaren in the second row and worked his way to 1st before handing the car over to co-driver Jesse Lazare. Lazare started his stint a few positions down, took the opportunity to refuel when a caution flag came out, and re-entered the race with his eyes on the podium.

But then a BMW M4 collided with the McLaren, running Lazare off the track. He recovered and came back out at the rear of the pack, only to end his race moments later when the car's right rear wheel came apart, a casualty of the accident. Car #69 would finish 31st overall, 21st in class.

Faring better with their McLaren were Compass Racing's Paul Holton and Matt Plumb, who had what the team called "a solid finish" for #76 in 7th place, good enough for championship points.

Automatic Racing saw their two cars advancing a couple of positions from the start, with Al Carter and Steve Phillips bringing #99 home in 15th place and Conor Flynn and Ramin Abdolvahabi taking #09 to 16th.

The Conti's next race is at Mid-Ohio in May.

[From team reports and IMSA sources.]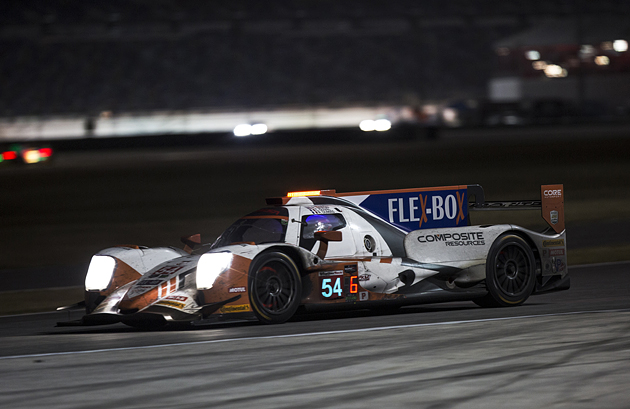 March 2018

CORE Autosport's #54 ORECA LMP2 led a parade of Gibson-engined prototypes across the finish line in the first race of the IMSA WeatherTech Championship season.
Photo by Tom Murray

Dateline: Daytona

Few cautions, Gibson on the podium, early out for Mazda — all this and Fernando Alonso, too

by James Edmonds


DAYTONA BEACH, Fla. — As the chequered flag waved the #5 Mustang Sampling Cadillac DPi across the finish line on Sunday afternoon, January 28th, it heralded a new record — 808 laps completed under mostly green running — for the Rolex 24.

Mild temperatures and very little rain saw the big boys playing well with the gentlemen racers and almost shockingly young rookies. A multi-class, endurance-format race on a packed track — there were 50 entries in total, 20 of them in the Prototype class alone — usually means plenty of full course yellows, but they were virtually absent this year and it was a welcome change.

One had to look a little harder this year to find the British interest at Daytona. No Aston Martins, Lotus or Jaguars, and with Lola out of business certainly none of those. There were, however, a lot of LMP2 cars with French names (ORECA and Ligier) and one with a not-so-French name (Multimatic-Riley) with V8 powerplants all supplied by Derbyshire-based Gibson Technology. This is the standard for this class at Le Mans and it is obvious these teams were aiming high.

Let's not forget either that the Mazda DPi prototypes have their own British connection, with engines developed by the UK's own Advanced Engine Research, Ltd. (AER). Those cars are managed by a new organization, Mazda Team Joest.

The drivers

And certainly there were quite a few choice British drivers. From the glitz and glamour of Formula 1 we had Alex Brundle, racing for Jackie Chan DCR/JOTA in the #78 ORECA. Mike Conway, from WEC's Toyota LMP1 team, was out in the #31 Whelen Cadillac DPi. Two Olivers, Gavin and Jarvis, were pedaling their respective machines, the factory-sponsored #4 Corvette GTLM and Joest's #77 Mazda DPi. Harry Tincknell came over from Chip Ganassi's UK-based Ford GTLM team to drive the other Mazda DPi, #55.

Phil Hanson, age 18, was driving the #23 United Autosports Ligier. I literally have socks older than this talented young pilot, who also happens to be the reigning Asian Le Mans Series LMP3 champion.

Joining Hanson was another English youngster, Lando Norris, from the Zak Brown McLaren F1 program. I half expected him to wear a "Stig" helmet and arrive in the Millenium Falcon when I saw his first name! With Zak Brown also being part owner of the United Autosports team, it was easy to see why his F1 talent was so easily installed.

Joining Messrs. Hanson and Norris was arguably the best driver in the business, Fernando Alonso. The mighty Spaniard's own F1 career goes back well over 15 years, with two championships (2005 and 2006), 32 wins, 97 podiums, 22 pole positions and 23 fastest laps. Last year he ran in the Indy 500, driving a McLaren-branded car for Andretti Autosport, and this year he's tackling endurance racing in the WEC on the Toyota Gazoo Racing team.

With these drivers and their Gibson-engined machine, the #23 Ligier was definitely one to watch.

Rounding out the list of UK drivers were series stalwart Ryan Danziel, in Tequila Patron ESM's #2 Nissan DPi fellow Scot Paul Di Resta, in another United Auto-sports car, the #32 Ligier and versatile ex-DeltaWing star Katherine Legge, now driving Michael Shank Racing's #86 Acura NSX.

With James Calado in Risi Competizione's #62 Ferrari 488 GTE, Richard "Westy" Westbrook, in one of Chip Ganassi's Ford GTs, #67, and Nick Tandy, in the Porsche GT Team's #911 911 RSR, that makes a total of 18 British drivers in machines from France, Italy, Germany, Japan and the USA. Bases covered then!
Fernando Alonso (center) during the autograph session with co-drivers Phil Hanson and Lando Norris.
Photo by Tom Murray
The strength of this year's driver line-up from all corners of the globe goes a long way to dispelling the myth that endurance racing is the knacker's yard of the high-profile racing fraternity. Where once you "retired" to the likes of a race series where it was de rigeur to nurse a car around for half a day or so, now every lap is driven at next to qualifying pace, demanding the very cream of the crop in drivers.
What's more, with seats in F1 and IndyCar being so few and highly sought after — and with the increasing number of teams demanding the drivers themselves come with bags of money — it's no wonder that some of the best young talent make a beeline for endurance racing, with its large grids and up to four or even five team drivers per car.
The race
Last year's dominant Cadillacs lost some cubic inches this year and were pressed hard by the DPis fielded by Acura Team Penske — which also were prototypes, not to be confused with the NSX GT3s competing in the GTD class — to the point of nigh exhaustion. The Cadillacs cruised home with overheating issues, albeit in 1st and 2nd. The Acuras showed real promise and were fast out of the box. With a little development they will be on the podium this year I am sure.
Of course, they would have to contend with the LMP2 cars, which were remarkable at Daytona. Five ORECAs and one of United Autosports' Ligiers (not Alonso's car) placed 3rd, 4th, 5th, 6th, 7th and 8th in the race, led by podium clincher #54 — CORE Autosport's ORECA with Americans Jonathan Bennett and Colin Braun taking turns at the wheel with Frenchmen Romain Dumas and Loic Duval. The Penske boys' Acuras finished 9th and 10th.
Keeping track of the British drivers, we saw Paul di Resta come 4th with teammates Hugo de Sadeleer, Bruno Senna and Will Owen in the #32 United Autosports Ligier, and Alex Brundle 5th with Antonio Felix da Costa, Ho-Pin Tung and Ferdinand Habsburg-Lothringen in the #78 Jackie Chan DCR/JOTA ORECA.
That took care of the top ten positions, but there were ten other prototypes on the track, plus the GTLM and GTD cars.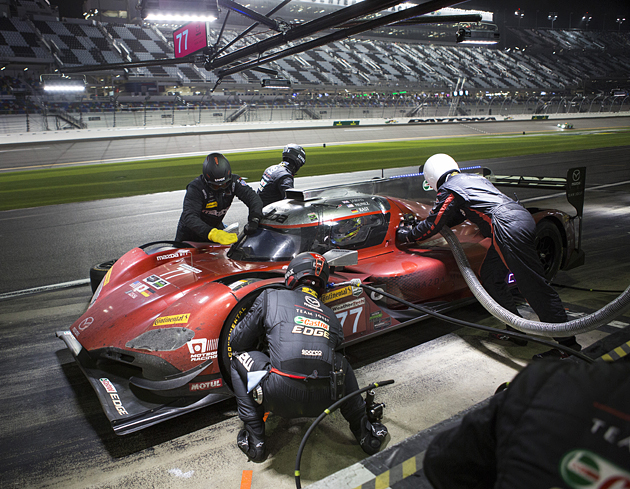 Mazda Team Joest's #77 car in the pits Saturday night. Both Mazda DPis would retire early.
Photo by Tom Murray
Of special interest among the prototypes were the Mazda DPis. The ex-Audi Joest team found themselves taking over that project last year, and were able to secure a new Multimatic chassis and a development AER engine as well as a new aero kit and lots of hidden shiny bits. Although the results were fast and showing good signs, the team had a very disappointing weekend.
One of the cars, #55, suffered an engine fire resulting from an exhaust failure, sounding the death knell less than seven hours before the finish. Shortly afterward, the other car, #77, was retired after repeated electrical issues led to power steering failure and a very uncharacteristic-for-Joest wheel-off.
Fernando Alonso's team also sputtered after showing lots of promise in their Ligier. Alonso qualified #23 13th overall, ahead of Bruno Senna in the #32 sister car. Although perhaps not as quick in a straight line as some of the other prototypes, Alonso, Norris and Hanson were able to put in long stints, running with the fastest cars and even taking the lead at times.
However, the car was plagued by tire punctures (as were several in the race) and brake problems that led to lengthy pit stops, dropping it 25 laps on the first occasion and even further down the list when they happened again. While #32 finished a respectable 4th overall, #23 came in 38th and 13th in class — 90 laps down from the winner.
In the GTLM category, which was for heavily modified road cars with manufacturer-supported teams, the Ford GTs went on to another win in cars developed from last year's version — to the casual observer the only outward difference being the more attractive (to my eyes anyway) paint colours.
A very big surprise came in the GTD class, where the machines have to be very close to their roadgoing brethren, making the cars most relevant, perhaps, to the fans. The Land Motorsport Audi R8 team, who flew over from Europe with the intent of racing at Daytona and the three other venues for the Tequila Patron North American Endurance Cup, were holding a fairly handy lead when they were handed Balance of Performance (BoP) penalty at the 10-hour mark.
The team had been refueling several seconds faster than the IMSA GTD average (which was apparently not known to the other teams, or to Land Motorsport), resulting in a no-appeal five-minute stop and hold. This put the team down so far they were unable to recover, finishing 7th in class.
What incensed the team about the penalty was the fact that the fuel rig and the car's restrictor were compliant with IMSA regulations before the race, as was its BoP table. It also passed all post-race scrutineering. Land Motorsport, it turned out, had made use of totally legal and very clever loophole in the rule book regarding fuel tank ballast. The team had studied the hydrodynamics of the operation and optimized the fuel fill rate, resulting in huge gains during each fuel stop.
In the final analysis the Audi team lost out, but Audi, as part of a bigger corporation, still won as the VW/Audi-owned Lamborghini brand came out on top in GTD.
JDC-Miller Motorsports' #85 ORECA LMP2 streaks by a fan tribute to the late Dan Gurney.
Photo by Tom Murray
And finally...
A closing word or two about fan favourite Fernando Alonso.
After pre-season tests in an LMP1 Toyota, it came as no surprise to learn that 'Fred' had landed a full-time WEC drive with the team. Sure he has shown that he can lead at Indy and even led at Daytona — albeit during a pit stop rotation — so he certainly has the chops to equal Graham Hill's triple crown record of a win at Monaco in F1, the Indy 500 and Le Mans.
The rub, however, came with the announcement that the WEC's Japanese round at Fuji Speedway — Toyota's home event — has been rescheduled from its original date, which had conflicted with the F1 calendar, so that Alonso could compete. This put Fuji in conflict with IMSA's Petit Le Mans! With several WEC drivers already contracted for the Atlanta event, one can imagine several of them, along with team owners, having their noses put out of joint.
The big question in my mind is, "Is he worth it?" No one has doubted his ability not only to drive cars in several disciplines but also to drive fans to the tracks and TV screens. But endurance racing occupies its own place in the pond of global sport, and to cause a far-reaching ripple in that pond has many in the sport shaking their heads. And their fists.
One thing is for sure, it won't be a dull season here or abroad!
[James Edmonds and Tom Murray are the principals behind themotorsportdiaries.com and are frequent contributors to this publication. Additional information for this article was gleaned from team reports, the IMSA website, and of course Lee Driggers' extensive Pit Notes. Thanks to all.]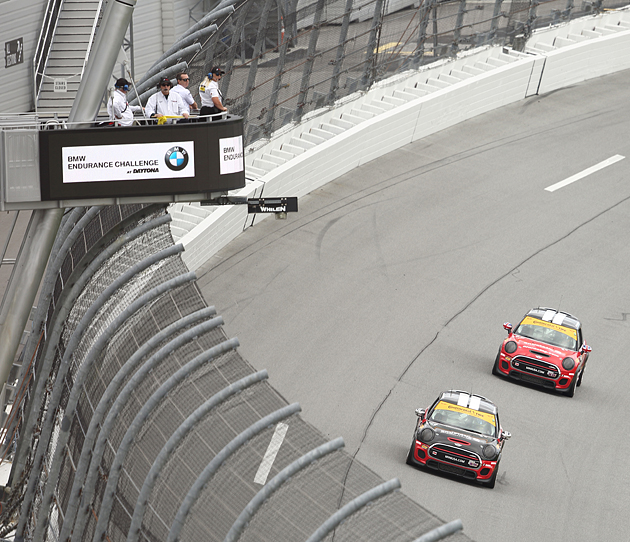 This iconic Daytona 'shot' of MINIs running past the start/finish platform won't be possible next year — no ST.
Photo by Tom Murray
Where Have All the Mazdas Gone?
by Bruce Vild

DAYTONA BEACH, Fla. — Long time passing... apologies to Pete Seeger.
The Continental Tire SportsCar Challenge race during the Rolex 24 weekend, called the "BMW Endurance Challenge at Daytona," introduced a new class, TCR — short for Touring Car — slotted between Grand Sport (GS) and Street Tuner (ST), and intermediate in performance at about 300-350hp.
TCR was populated in its first run by six Audi RS3s and a sole VW GTI, though IMSA is looking for Alfa Romeo and Honda to join the fray eventually.
And so began an all-too-obvious farewell to ST, a class once dominated by Mazda MX-5s, with BMW 328is and base Porsche Caymans typically trading the lead while a three-car-strong MINI JCW Team occasionally pulled its own rabbit out of the hat (as they did at Daytona last year).
Long story short, this is the last season for ST in the Conti. Come to think of it, it's also the last season for the Conti, as Michelin takes over next year as the sponsor/tire of choice — but I digress. The low esteem in which ST now seems to be held was evident at Daytona with only six cars racing in the class, three being the MINIs. The cool little Mazdas are gone.
The other class we've come to know and love in the Conti, GS, saw a huge influx of new cars, including no fewer than nine Mercedes-AMGs run by six different outfits. There were also four Audi R8s that I don't remember from last year, three of them fielded by GMG Racing and the fourth by CarBahn Motorsports.
To that you can add the usual Porsche Cayman GT4 MRs, BMW M4 GT4s and Ford Mustang GT4s. The better news is Automatic Racing was back with their two Aston Martins, #09 and #99, and a new driver, 19-year-old Aurora Straus. Young she may be but a rookie she's not, having driven a Porsche Cayman last year in ST for the RS1 team. Straus lives in Boston and has enrolled at Harvard, so it will be interesting to see how she'll balance her academic schedule with her commitments to Automatic Racing as the season progresses.
It was good to see two of the three McLarens that ran in 2017 return, also in GS, with Motorsports in Action running #69 with Corey Fergus and Jesse Lazare, and Compass Racing fielding #76 with Paul Holton and Matt Plumb. These names will be familiar to those who followed the Conti last year.
Daytona was one of two four-hour races in the series, which otherwise run two hours. (The other is Watkins Glen.) Forty-one cars posted times across the three classes, with an almost mind-boggling 28 cars in GS alone.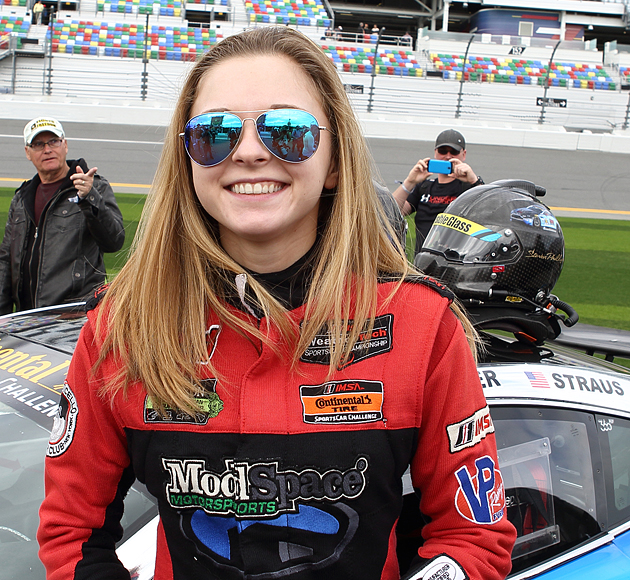 Aurora Straus joined veteran drivers Al Carter and Steven Phillips in Automatic Racing's #99 Aston Martin.
Photo by Tom Murray
Straus started in the #99 Aston in 21st place and began gaining almost immediately, picking up four positions in the first ten minutes of the race and proving herself a quick study.
Ramin Abdolvahabi was not so lucky in #09, which he co-drove with Brandon Kidd and Rob Ecklin. The car was hit during his stint, and while it was getting repaired luck ran out for #99 as well. Now with Steven Phillips at the wheel, the car was taken out in an incident with one of the Mustangs. Phillips was shaken up a bit, taken to a hospital and released that night. Kidd, meanwhile, brought #09 back to the race 15 laps down, with Ecklin then taking over and finishing 32nd overall and 22nd in class.
Motorsports in Action left Daytona disappointed, too. The team's strategy was to advance to the top 10, and maybe even the top five by maximizing track time. Fergus had the first stint in #69, driving for more than three hours before handing off to Lazare. Lazare found himself well positioned to start a push to the front, the strategy apparently having worked, but a caution flag late in the race put paid to that. They wound up 18th overall and in class, taking little solace in having started 19th.
Their McLaren also had something of a weight problem, they said, due to a new BoP standard that they hoped could be resolved by Sebring.
Paul Holton and Matt Plumb took Compass Racing's #76 to 14th place overall and in class. They started 28th, so while not the top 10 this was good progress for them.
Meanwhile, in ST, the #73 MINI JCW ran as high as 3rd in class early in the race, but drivers Mat Pombo and Mike LaMarra ran into axle problems and finished 6th out of six. This is the car that carried the team to their class victory in 2017.
Best finisher among the MINIs was #37, with Nate Norenberg and Derek Jones (one of last year's winning drivers) getting 4th in class after of an incident with one of the new-to-the-series Mercedes. Sandwiched between #37 and #73 was MINI #52, victim of a radiator failure from picking up debris on the track, finishing 5th.
Overall victory in the Conti and in GS was taken by Aurora Straus' old team, RS1, and their #28 Porsche pole sitter driven by Spencer Pumpelly and Dillon Machavern. The class victory in TCR was Tom Long's and Britt Casey Jr.'s in one of Compass Racing's other cars, an Audi RS3 LMS TCR. In ST, top honors went to Devin Jones and Nick Galante in BimmerWorld Racing's #81 BMW 328i.
On to Sebring. Let's see what happens there.
[With thanks to Dave Newman, who provided details on the outcome for the MINIs, and team reports.]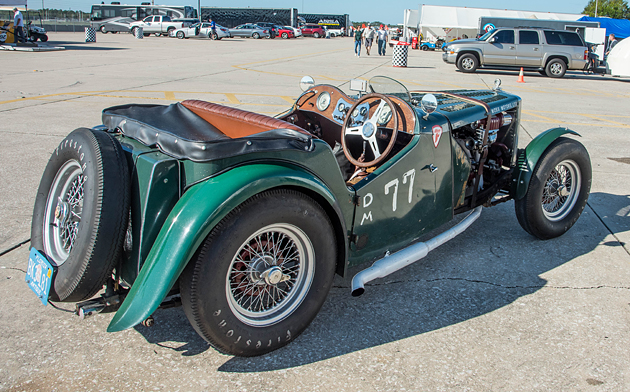 February 2018

Scooter Gable's MG TC at the Historics, which took place November 30-December 3.
Photo by Colin Sword

History at Sebring...
and Sebring Historics

by Reggie Smith
Special to the Marque


SEBRING, Fla. — To appreciate the Historics, you have to know the history.

One unpredictable feature of post-World War II days in the USA was the popularity of a new crop of automobiles brought from overseas — sports cars.

Before long, XK120 Jaguars and other mostly English cars joined the MGs that had come over first. The setting lent itself to social exchanges and little events their owners called races, which were fun to drive in and pretty amusing to watch. The MGs had little more than bicycle wheels and tires, nearly adequate brakes, and pretty much open-air cockpits. The Jags, Healey variants and Cadillac-engined Allards added flavor, and racing started to grow.

A charming village in New York, Watkins Glen, became the site for some of this racing, and the laps going through the town, the countryside and even over a railway crossing gave the sport a more definitive title — "road racing."

Two gentlemen from quite different backgrounds helped the early events along, and in pretty short order, with some marvelous competitors, started thinking like many pioneers in history: "bigger" and "better." Even though the early heart of interest and participation was in the New England area, conversations developed with two brothers who seemed to know quite a bit about Florida.

The two men were Alec Ulmann, a Russian-born aeronautical engineer and MIT grad whose work had him looking for sites to store surplus WWII aircraft, and Reginald Smith, from the Midlands in the UK and ex-British army, who worked for Dunlop and now lived on this side of the pond. The brothers were, as you may have guessed, the Colliers. All were avid racing enthusiasts.

They looked at Hendricks Field, a wartime Air Force training facility in the middle of Florida, and with fairly modest (primitive) arrangements targeted the site for a new variation of the sport, endurance racing.

Oh, yes — the little town nearby was called Sebring.

Nearly seventy years ago, a six-hour endurance race was held starting on New Year's Eve, and a year and three months later the first "Florida International 12 Hour Grand Prix of Endurance" was held. From then on, "racing at Sebring" has been an achievement that several thousand drivers from the USA and all over the world have considered as a major highlight of their careers.

Through decades of brilliant and sometimes sad events, the 12-hour traditional race continues as part of IMSA's WeatherTech SportsCar Championship, but a popular new variation called the Sebring Historics and Sebring Classic 12 Hour brings the older cars back to the track for some great vintage racing. The event attracts dozens of cars and drivers for a segmented schedule of sprint races and four runs with combined results totaling 12 hours.

MG TC

The most recent Historics — November 29th through December 3rd last year — had many English cars scattered about, and one that attracted smiles and attention was a 1949 MG TC that has been in Scooter Gable's family since August 1969. The MG has a Judson supercharger with a single SU carb feeding its 1500cc engine. You might know that the TC originally had a 1250cc engine, but the class regulations through the little car's racing days allowed it to upgrade to the 1500cc displacement that was optional in the mid-'50s TF cars.

The TC's right-hand drive and rear-hinged doors plus a very upright driver-seat position sort of had more in common with a horse-and-buggy arrangement than anything else, but the point is it only had to race against other cars just like it, so everything was fine just the way it was! This TC did not race this weekend, however.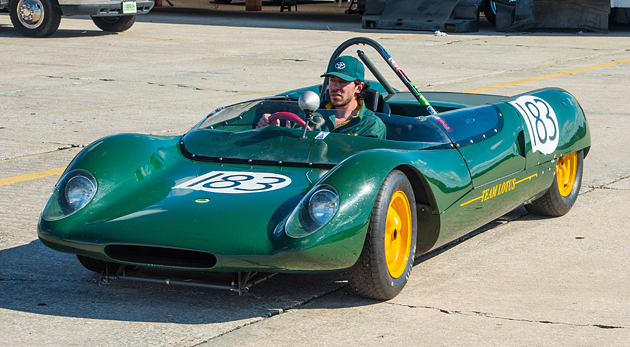 Brad Hoyt's Lotus 23b won its class in the third of three races.
Photo by Colin Sword
Lotus 23b
A few steps down the runway paddock quickly advanced us to the early 1960s, when Colin Chapman's Lotus Car Company introduced the Lotus 23.
Lotus had already built a very strong mid-engine sports racing car called the 19, which used a very powerful Formula One-type engine, but the 23 was a small, light and more affordable product. It incorporated a 1600cc twin cam Ford unit that, up to the cylinder head, could be found in little family sedans called Anglias and a slightly larger car called the Cortina. While Chapman's use of the twin cam kept the cost down, with Jim Clark driving the car absolutely dominated the German championship race on the famous Nürburgring.
With only about 1100 lbs. and just over 180hp on tap in his car, Lotus 23b owner Brad Hoyt was clean and fast at Sebring, and proved a recent victory in Savannah, Ga., was not a fluke!
E-type Jaguar
Probably the most famous endorsement of Jaguar's E-type came when Enzo Ferrari said it was the most beautiful car in the world. Even if he didn't say that, it obviously is. The E-type was a road-going development of the famous D-type, which was a tremendously successful endurance race competitor.
Larry Ligas' stunning blue E-type continues to show exceptional development for the specialized world of HSR competition. The engine produces nearly twice the power of the original 3.4-litre D-type, and the very up-to-date suspension and smooth bodywork take things as far as anyone could imagine. At Daytona the car actually hits 170mph, which is about as fast as the D-types ever went — and the brakes and suspension allow it to be competitive in current racing whereas the D-types were purpose-built for long-distance endurance racing and had to select courses that did not put a premium on handling.
A quick outline of the car might be interesting: steel tub, aluminum doors, aluminum trunk lid, aluminum cowel and toneau, 4.2-litre engine, dual ignition set-up (12 spark plugs), three twin-choke Webers, 428bhp, triple disc clutch, dry sump 10-quart oil system, 6800rpm shift point, Jerico 4-speed transmission, Brembo front brakes, Girling rear brakes, and rear bump steer zero.
Quite interesting.
Austin-Healey Sprite
All of us tend to smile when we see an original Austin- Healey Sprite, which is affectionately known as Bugeye in this country or Frogeye in England. When Albert Carr, Jr., climbs out of this little car he manages to have a smile just as big as the Sprite.
This car features a slightly upgraded BMC A Series engine, disc brakes, and a bit of streamlining over the passenger's side. Some people might recognize the car and will remember that its former owner knew all the words and music from the popular group AC/DC. (He should, he's Brian Johnson. Maybe it's fitting, too, that in close inspection the Sprite now uses a negative ground alternator instead of the original positive ground generator!)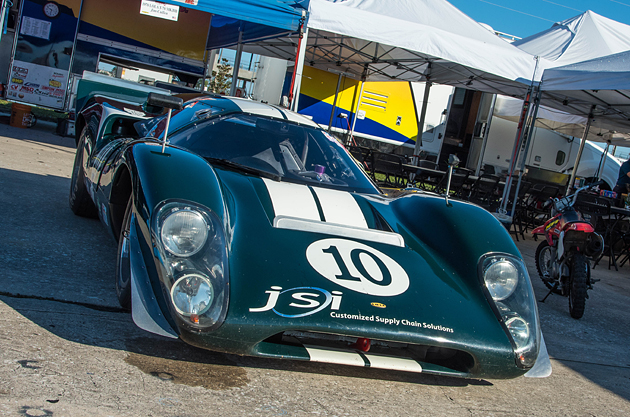 Running in the Classic 12 Hour was the Jim Cullen Lola T70.
Photo by Colin Sword
Lola T70
Jim Cullen wanted to make sure the trip from California was worthwhile, so he brought three cars — a 997 Porsche Cup car, a 914-6 GT, and a pretty serious Lola T70 Mark IIIB. The Lola uses a massive Chevrolet V8 and was very competitive in the Sprint races this weekend until it had a delay in one of the segments of the 12 Hour Classic contest.
The Lola T70s were very popular in the late '60s and well into the '70s for two reasons. First, they were fast, and second, they were strong. One of the more notable and memorable results was when the 24-hour Daytona race was won by Roger Penske's car, which was driven at the time by Mark Donahue.
Ford GT40
Owner/driver Georg Nolte drove a very interesting Ford GT40 replica, which has been approved on a one-and-only-one basis by owners of the original car (or cars in Mr. Nolte's case). Being an authentic true copy, it does anything an original GT40 can do without the substantial risk of a value-damaging accident or even total loss. His preparation manager and crew chief Michael Leib explained that this particular car is nut-and-bolt accurate, but has the roof panel over the driver's seat removed for clearance of the rather Gurney-size driver. (Such an arrangement would not be acceptable on an original car in some of the FIA-sanctioned European events.)
The car has a correct specification V8 engine, and brings back memories of the original car's exhaust note, which resulted from a careful blending of header tubes and collector mixing. The lack of sharp report could well have contributed to the longevity of some of those engines because certain vibration frequencies can cause premature metal fatigue.
The pictured car ran on period-style treaded tires, which of course did not give the confidence in cornering speed of current slicks, but is a tribute the authenticity of the copy. The 4.7-engine actually features Gurney heads and ZF transaxle.
B16 and B26 Chevrons
Two fantastic Chevrons were on display that both achieved international success during their young lives in racing. Chevron's founder Derek Bennett probably attracted customers to both of these cars through clean engineering and particularly outstanding body designs. Over time, the allowed weight and power output in various race classes have obviously kept performance potential in a similar bracket for all entries, but the Chevrons showed forward thinking by considering the importance of air management relative to handling and speed.
The B16 was a tubular chassis design and used a Cosworth four-cylinder 1800cc engine. The B26 advanced to a BDG Cosworth 2-litre, but under the skin used a full monocoque chassis. The B26 also had a rather pronounced body design that enhanced performance through downforce, particularly noticeable with the larger spoiler — which not only helped straight-line speed but also stabilized cornering speed. This could be thought of as the beginning of the serious science of aerodynamics since the management and utilization of air as it goes over and under racing cars today probably has done more for lap times than any other design development.
Ironically, Derek Bennett died in a hand-glider accident.
Gray Gregory owns both of the Chevrons and is following his father's interest and participation in vintage racing. With suitable personal training through Skip Barber's programs he now drives the B26 in a very strong and correct fashion.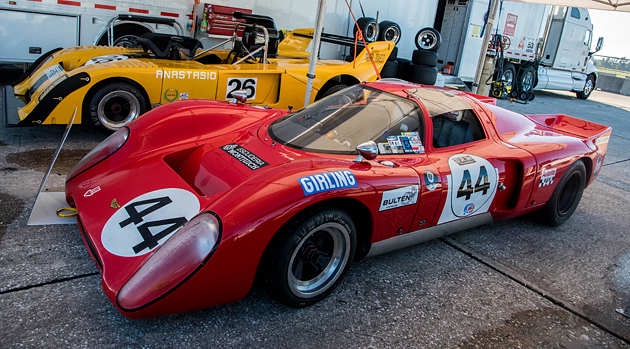 In the paddock with the two Chevrons. Number 26, in the background, shared the Classic 12 Hour podium with another Chevron not pictured.
Photo by Colin Sword
How they fared
It is curious that although many people can tell you what car and driver combination finished 1st overall through the years, almost nobody will know who finished 2nd or 3rd. However, if you were in one of those races with multiple classes sharing the track and came away winning your own little class, you would probably even remember what you had for lunch that day no matter how you finished overall. Big races are actually composed of many small races at the same time.
Case in point: Brad Hoyt in his Lotus 23b. In Group 2 in the Historics, he was 3rd overall in the first race, 9th overall in the second, and 2nd overall in the third — but placed 2nd in his class, VSR2, in the first two races, and won the class in the third.
Similarly, Larry Ligas in his Jaguar E-type. Running in the Historics in Group 5, he was 8th overall in the first race and 4th overall in the second, but won his class, MP1, both times. He did not race in the third.
And we must tip our helmets, too, to Albert Carr, who also ran two of the three races in the Historics, but in Group 2. In the first he made 23rd overall and in the second 22nd overall with his Bugeye, but each time he topped his class, VP5. (Unlike Hoyt and Ligas, however, he was the only one in his class — but class victory is class victory.)
Moving to the Classic 12 Hour, multi-tasker Jim Cullen and co-driver Frank Beck took their Lola T70 to 18th overall and 6th in class in Group A, Class A-1. Also in that group and class was Georg Nolte with his GT40, placing 21st overall and 7th in class.
Gray Gregory, co-driving with Randy Buck and Ian MacAllister, made 4th overall and placed 2nd in class in Group B, Class B-8, in the Chevron B26. Interestingly, his race was won by another Chevron, that one a B23 piloted by Ryan Harrold, John Harrold and Kevin Wheeler.
[Results are courtesy of the Historic Sportscar Racing website. Thank you, HSR.
Reggie Smith lives in Sebring, is a former professional racecar driver, and is a frequent contributor to this publication. And yes, Reginald Smith was his dad, so he knows quite a bit about Sebring's history.]