Feature Stories
---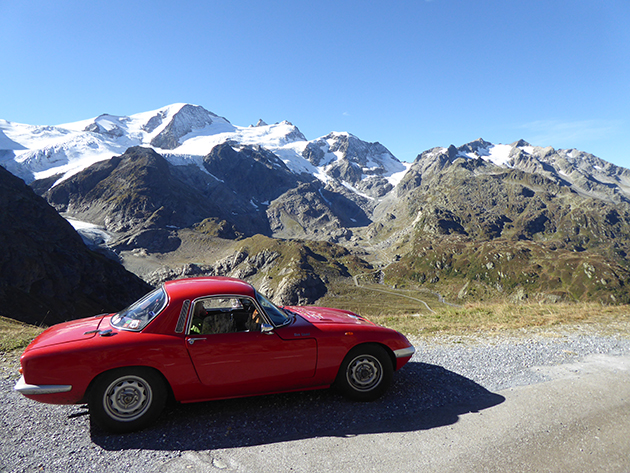 July 2019

The famous and very well-traveled Lotus on the Susten Pass in Switzerland.
Photo by Peter & Allison Cotes

Alpine Elan
by Peter Cotes



There's more than one way to tour Switzerland. One might take the 'Grand Tour of Switzerland', a route that is mapped out by the tourist board and sounds good, or our tour, called 'The Seven C's of Switzerland', which Allison and I took last September.

It was very gentle — we did more miles travelling to/from the start than we did in Switzerland, but then again, it is a small country! We met up in Neuchâtel (near the French border in the northwest) after taking the ferry to Hook of Holland and having a 500-mile thrash through Holland, Belgium, Luxembourg and France. We rushed because had to be there in time for the Welcome Dinner at 7.30. Swiss wine and cheese fondue were on offer, and I hadn't had a fondue since they were all the rage 40 years ago!

There were six cars in the tour at first, but that reduced to five when word came that one couple's house had been broken into and their E-type stolen. They hastened home to sort out the chaos. Another interesting development came from a German-speaking Swiss couple who drove a Corvette until that broke down and they switched to a Mustang. I was intrigued and perhaps given some insight into Switzerland when they spoke to a waitress in a French-speaking area — in English!

The tour was a clockwise meander round the centre of the country with plenty of 'all-you-expect' views of Alpine scenery — cows, lakes, vineyards and hills.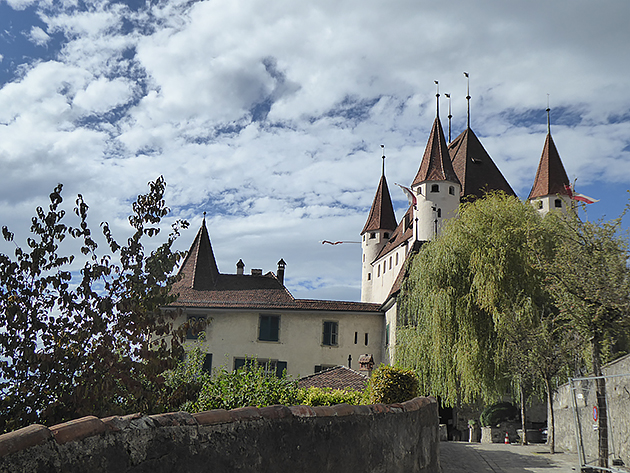 Thun Castle.
Photo by Peter & Allison Cotes
Chocolate and cheese were on the menu from Day 1 with a tour round the Cailler factory, a few miles from the town of Gruyères. Our journey on Day 2 was interrupted by people in ceremonial jackets directing all cars to pull off the road. When I asked what was happening, the short answer was les vaches. Cows, decked out with cow bells and straw hats, were descending to winter pasture, and around here cows, 'les vaches', are the source of income!
After cows the next feature was the Schilthorn, a scene of James Bond's On Her Majesty's Secret Service, where a sequence of cable cars go up to the 2970-metre summit. This is the centre of Swiss skiing, but fortunately there was no snow to worry us in September.
Our next stop was the City of Thun, with a castle dating from 1180. Switzerland has an amazing number of mediaeval buildings, many still in use. I guess that avoiding two World Wars helped.
We spent a day wandering round Lucerne. The size of the Elan not being a relevant barrier, I had to try a different tactic to lure Allison away from the watch shops that comprise most of the shopping opportunities here. The wooden bridges with their painted panels and sculpture of a dying lion seemed to do the trick!
That evening in Vitznau I thought I should reduce the noise pollution from the Elan's squealing brakes and was joined by an underworked rally mechanic who thought he should show he was willing and provided the copper grease that helped reduce the screeching.
A guided tour round the Swiss Army Knife visitor centre occupied us before we took the ultra-modern funicular railway to Stoos. The train consists of four barrel-like carriages which rotate as they climb so the passengers are always upright despite a gradient of 110% (48° in old money)!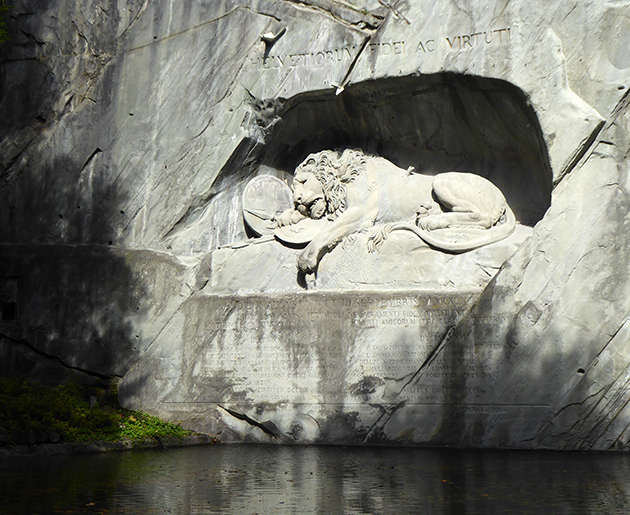 'Dying lion' sculpture commemorates 786 Swiss Guards who died defending Louis XVI and Marie Antoinette.
Photo by Peter & Allison Cotes
The next stop was Andermatt, and then we had some mountain passes to test us. We started on the Susten Pass, opened in 1945 for tourism and generally the last to be cleared of snow. We decided to walk up to the Steinen Glacier and found the Swiss Army in training. This consisted of shooting at the rock face — not sure why, but as they were having their lunch break they didn't mind us being in the line of fire!
The next pass was the Grimsel, a much narrower road where a black Rolls hooted furiously at our temerity in ascending whilst he was descending, just missing us in the process. We had a choice of routes at Gletsch and took the shorter route via the Furka Pass, spending some time in a passing point as a group of 25 French Porsches followed a bus slowly uphill. Probably not what they had in mind when they set out!
Sadly we missed out on the Tremola and Saint Gotthard Passes, but we did drive them five years ago as part of the Peking-to-Paris rally (not in the Lotus!).
Day 8 saw us reverse the Furka Pass and this time we stopped to visit the Rhône Glacier, a rather sad lump of ice covered in white sheeting in a vain attempt to reduce the melt.
After a rest day in Crans-Montana, mainly spent hiking around some expensive ski slopes, we found our way to the Château de Chillon. Who can forget Byron's poems about the democratic Protestant prisoner, François Bonivard, chained to a pillar in a dungeon for four years by the Dukes of Savoy?
There are seven pillars of Gothic mould,
In Chillon's dungeons deep and old…
Chillon sits at the edge of Lake Leman and from the lake is a picture of peace and tranquillity — until one sees the railway line and highway running right along the lake shore, but it is Switzerland's most visited site and the tourists have to get there!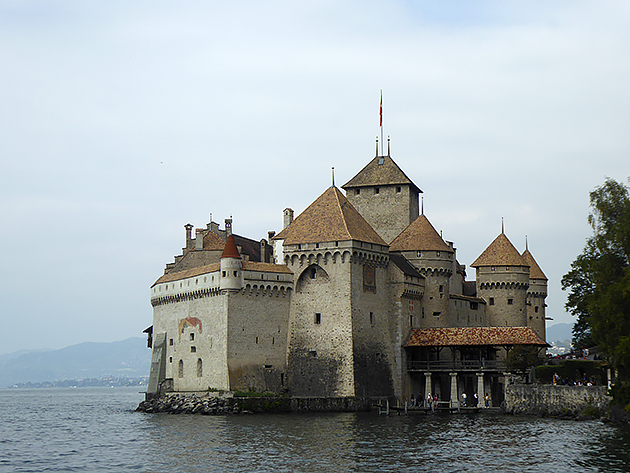 The Château de Chillon on Lake Leman.
Photo by Peter & Allison Cotes
Our last day revealed an unexpected treat at the Abbey of Romainmôtier. This huge building, constructed between 990 and 1030, is hidden away in a tiny village below a narrow mountain road — and the entrance is via a cupboard door in the café! There are huge rooms with wide floorboards and massive pillars in the cellar to take the weight.
And then it was time to close the door on expensive hotel rooms and Swiss luxury — with another 500-mile trip to the Harwich ferry.
[Stay tuned for more adventures with Peter and Allison and their Lotus Elan. Rumor has it the next trip will be to Central Asia, along the Pamir Highway and through the old Silk Road cities of Samarkand and Tashkent. "Some tarmac on the route and a few hills," quips Peter! —Exec. Ed.]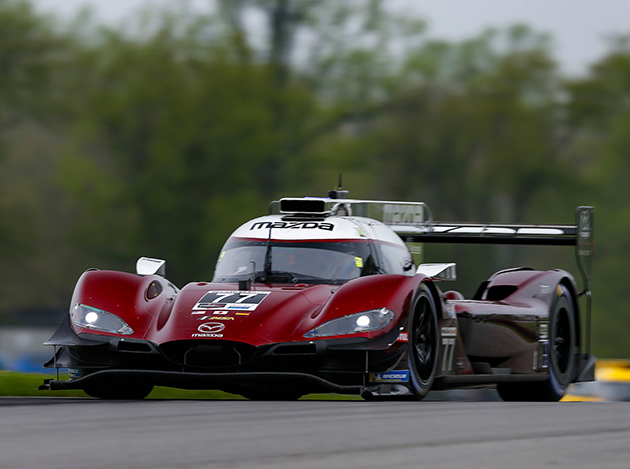 June 2019

Two steps on the podium were grabbed by Mazda DPis #77 and #55 and their AER-developed engines.
Photo by Jake Galstad, LAT Images

Mazda-AER 2-3 at Mid-Ohio
And Now There's a McLaren in the GT Daytona Class

by Bruce Vild



LEXINGTON, Ohio, May 3-5 — The jaded among us might have called this year's IMSA's WeatherTech SportsCar Championship a cause lost to the Cadillacs, as the series' top class, Daytona Prototype International (DPi), seemed dominated by them: outright victories in the first three races, and at Daytona and Sebring, at least one additional podium step.

That changed this weekend at Mid-Ohio.

Acura Team Penske, whose two cars had chased the Cadillacs with a passion — grabbing 3rd at Daytona, 4th at Sebring and 2nd and 3rd at Long Beach — took the win at the race officially (and coincidentally) called the "Acura Sports Car Challenge at Mid-Ohio." The glory went to their #6 car, co-piloted by Dane Cameron and Juan Pablo Montoya.

And two of the other three races' also-rans, the Mazda DPis campaigned by Team Joest — #77 and #55 respectively — flew past Mid-Ohio's checker in 2nd and 3rd place. This followed a brilliant qualifying session in which #77 driver Oliver Jarvis took pole, a nail-biter because he ran out of fuel two turns from the end and might have lost position had the 2nd-place car not gone wide on the track, piling on critical fractions of a second, to avoid him!

The highest-placing Cadillac was Whelan Engineering Racing's #31, which just might have overtaken Jonathan Bomarito's #55 Mazda had driver Felipe Nasr not had to run a drive-through penalty in the last two minutes of the race for passing under yellow during the session's sole caution.

Several firsts at Mid-Ohio

Track commentators called this race the first standard-length contest in the WTSCC year, "standard" being two hours and 40 minutes. That's in contrast to the 24-hour and 12-hour sessions at Daytona and Sebring, and the one hour and 40 minutes spent on the streets of Long Beach that brought us to this point.

Other standard-length races will be run at Mosport, Lime Rock, Road America, VIR and Laguna Seca. The remainder will vary: one hour and 40 minutes at Belle Isle Park in Detroit, six hours at Watkins Glen, and ten hours at Road Atlanta (Petit Le Mans).

Mid-Ohio also inaugurated the seven-race Sprint Cup competition for the WTSCC's GT Daytona class, described as a "championship within a championship" to be run at the standard-length races and at Belle Isle Park.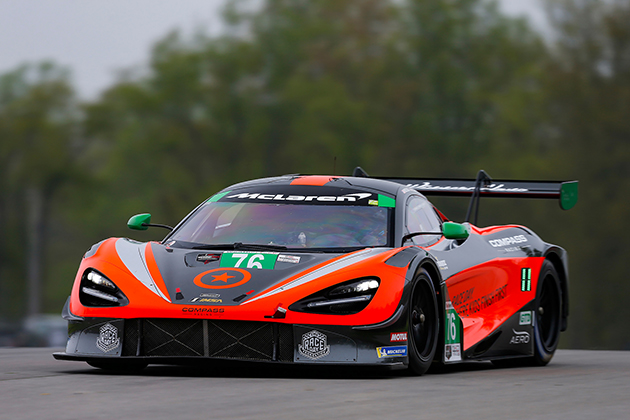 The debut of an all-new McLaren in GTD was another WTSCC highlight.
Photo by Jake Galstad, LAT Images
Another debut at Mid-Ohio — to take advantage of the new contest? — was a hot new McLaren piloted by Michelin Pilot/Conti stalwarts Paul Holton and Matt Plumb for Compass Racing and wearing the familiar #76. The car is a 720S GT3, with a slightly larger twin-turbocharged V8 than Compass' other McLaren, a 570S GT4, which will continue to run in the Michelin Pilot Challenge series. Holton drives in that series as well, but with Kuno Wittmer — his partner in victory at Daytona in January.
The race
Although the practice sessions were wet, with rain either falling or remaining in puddles on the track, qualifying and the race were dry, the race itself marred by only one caution late in the session.
The entry list included 11 DPis, two LMP2 cars, eight in GT Le Mans, and 15 in GT Daytona, where the Holton/Plumb McLaren ran. If you are a fan of the Gibson-engined LMP2s and appreciate their British connection, the list does not compare favorably with last year's, when there were five P2s competing — in a combined class with the DPis.
The four races to date this year have seen a significant decline in P2s, which compete in their own class now and have to start the race behind the DPis no matter how well they qualify. In light of the results some of the P2 cars achieved last year when they had no such disadvantage, the drop-off confirms a suspicion this writer had when the current series began — that most P2 teams would opt out of IMSA or would switch to DPis. (One example of the latter is CORE Autosport, which jumped ship to a Nissan DPi this year.)
The Mazda DPis run a turbocharged 2.0 liter four-cylinder engine developed by UK-based Advanced Engine Research, Ltd. It has proven remarkably competitive against the much larger engines in its class, and Jarvis' pole and the 2-3 finish in the race with his teammates, Tristan Nunez, Jonathan Bomarito and Ryan Hunter-Reay, showed the cars' potential.
Jarvis even set the best lap on the 2 1/4-mile track within the first half-hour of the race at 1:12.410 — which held to the finish.
With the addition of the McLaren, there are now nine different marques competing in the GT Daytona class. McLaren is the only one that's British. Matt Plumb qualified #76 8th on the GTD grid and ran as high as 4th in class in the race, but a gearbox problem compounded by a hit from the back led to a long pit stop that ultimately took the car behind the wall and out of contention. Maybe next time.
The car is gorgeous, though.
[From track and team reports, and Lee Driggers' Pit Notes.]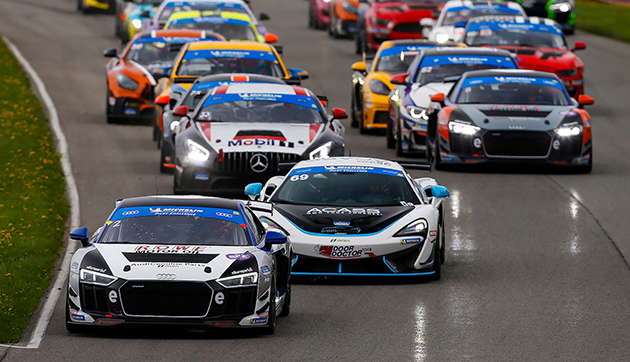 Michelin Pilot Challenge race start. Traffic only got worse when the smaller TCR cars, which start behind the GS cars shown here, started moving up or were lapped.
Photo by Jake Gastad, LAT Images

Rain, Traffic Complicate Things in Michelin Pilot Race
by Druha Nahoda


Racers and commentators will tell you the Mid-Ohio Sports Car Course is challenging enough in dry conditions, with elevation changes and tight turns that make passing a real test of skill and... well, luck. Add rain, slick conditions and the abundance of traffic that's typical in a Michelin Pilot Challenge race and you've got yourself a real time.

The rain was with the teams for most of the weekend, leaving muddy conditions off-track that trapped several cars that took a turn too wide or spun in the wet. There was a slew of full-course cautions as the tow trucks went to retrieve them (very quickly, I must add — even the IMSA radio commentators were impressed by the crews' efficiency), and the smaller TCR cars nudged the larger GS machines into the top six or seven overall positions as they seemed to have an easier time of it.

Precipitation started to get heavy in the last 45 minutes of the race, just as Paul Holton and Kuno Wittmer were returning to the track after repairs had been completed on their #75 McLaren GT4. They had taken a hit from the back (an experience repeated for Holton in the WTSCC race that followed) with damage to the car's suspension. By then they were several laps behind.

It was not what one would call a good weekend for the Compass Racing Team. Holton had qualified #75 in 5th and moved his way up to 3rd in the first lap, then to 2nd by Lap 6. But Compass' reversals of fortune had the car falling to 29th by Lap 17, struggling back to 11th by Lap 21, and then falling again to 32nd by Lap 26, less than halfway through the race.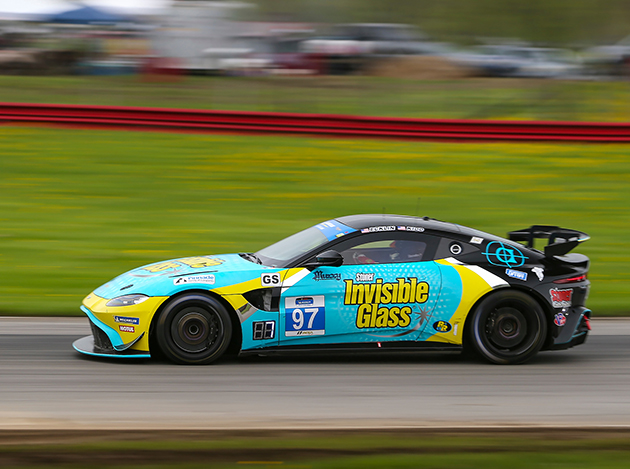 Automatic Racing's #97 Aston Martin Vantage GT4.
Photo by Jake Gastad, LAT Images
The team would finish 34th, and 22nd, next to last, in class.
The other McLaren in the hunt, Motorsports in Action's #69, fared much better. Gridded at 2nd, the car with starting driver Jesse Lazare led for ten laps early in the race, fell back with the usual pit stops for tires, fuel and/or the driver change to Corey Fergus, but escaped the worst of the rain and the traffic to take the checker in 9th position, 7th in class.
The good news for MIA was that they went to Mid-Ohio tied with Bimmerworld for the class championship, and emerged one point ahead with their 7th-place finish to Bimmerworld's 9th.
The only other British manufacturer in the Michelin Pilot mix is Aston Martin, and Automatic Racing's new #97 Vantage GT4 put in a good run under co-drivers Rob Ecklin, Jr., and Brandon Kidd. Ecklin gridded 15th and took the car as high as 7th in the first half of the race, the best performance so far for #97 — which was on only its third outing.
But the Aston wound up finishing 29th, 18th in class, its flawless run marred by a problem with the refueling rig when the car pitted, and a later stop-and-go penalty for Kidd for exiting pit lane during one of the race's many yellows when the pits were officially closed.
The team also had to grapple with the wet conditions (as did everyone else) and decide whether to switch from slicks to rain tires. They opted to switch. Interestingly, the Porsche that ultimately won the race stayed on slicks, taking the gamble that the rain wouldn't get any worse and driver Trent Hindman could find the "dry line" to keep ahead of the others. It worked.
The Michelin Pilot Challenge is skipping the next race on the WTSCC schedule in Detroit and will return at Watkins Glen June 27-30.
[From track and team reports.]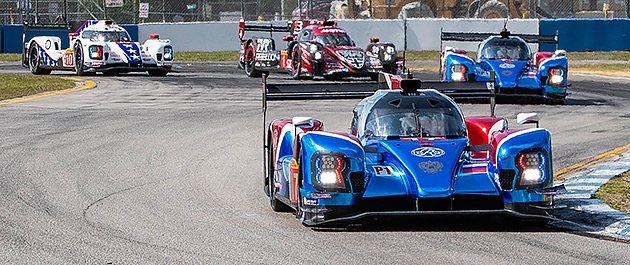 May 2019

Non-hybrid LMP1 cars on the track in the WEC race, all powered by Gibson or AER.
Photo by Colin Sword

Sebring Truly 'Super'
by Reggie Smith



SEBRING, Fla., Mar. 13-16 — The promoters called it "SuperSebring" and the fans really could not have asked for more. It isn't often that two world-class races are scheduled back-to-back at the same venue, and this run featured no fewer than 137 cars and 338 drivers.

Add the two IMSA supporting races, the Michelin Pilot Challenge and the LMP3 Prototype Challenge, plus all the practices and qualifying sessions, and the action was literally non-stop.

At SuperSebring, the sanctioning organization for Le Mans and other races in the World Endurance Championship — the Fédération Internationale de l'Automobile, or FIA — joined forces with IMSA and brought cars and teams to Sebring International Raceway that most American race fans don't ordinarily see, at least not in person.

This also gave those cars and drivers an opportunity to experience storied Sebring, a place alive with history and with its own special challenges for racers.

A little background...

The events leading up to SuperSebring need to be reviewed from both sides to get a better appreciation of just how big a deal this was.

Since 1973, IMSA has sanctioned the 12 Hours of Sebring — as it did this extended weekend. With many revisions over the years, Sebring still remains the brightest star in IMSA's galaxy.

The "12 Hours" endurance concept was patterned after the 24 Hours of Le Mans. The French race is not related, but the respective sanctioning organizations, IMSA and the FIA, have always had a very genuine appreciation of each other.

Last spring, the FIA introduced a new twist to the World Endurance Championship, which features an elite grid of cars and graded drivers competing in four classes for points and end-of-season prize money. The FIA called it the "Super Season." The first round was a year ago at the Spa-Francochamps circuit in Belgium, a six-hour race, then Le Mans (24 hours), and then Silverstone, Fuji and Shanghai (each six hours again). Now it was Sebring, soon to be followed by Spa, and then Le Mans again, to end the first Championship season.

The WEC Super Season is more than a "class" of racing or a "series" — it's an entire circus in as much as all the competing cars, pit structures, paddock enclosures and FIA management quarters get put into containers and transported to the next location! It is a bit like Formula One except it appears the only time to try some allowable modifications to suit the host track is during the very brief time immediately before the race.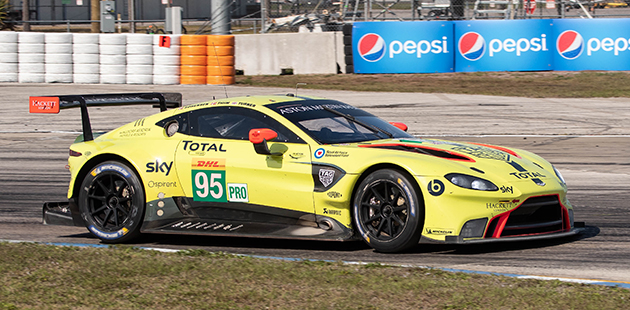 Aston Martin Racing's new #95 Vantage. It ran in WEC's LMGTE Pro class.
Photo by Colin Sword
The WEC teams at Sebring had not seen their cars for several months — since the last race in Shanghai, which was back in November. Financial support was evident with certain on-car advertising, but the running expenses rely heavily on end-of-season prize funds for support. It seems only the hopelessly wealthy players are in the elite series.
By hosting both IMSA and the WEC at SuperSebring, the track proved itself a pioneer as it has been in the past with such launches as F5000, Trans-Am, Formula Vee, Formula One, the Firestone Firehawk Series and more. The WEC race at Sebring, dubbed the "1000 Miles of Sebring," was a standalone race separate from IMSA's WeatherTech SportsCar Championship contest, the 12 Hours, and a first-ever happening in that regard.
The WEC race
The cars in the WEC are in four class structures with points and funds on offer for each, but realistically, the premier LMP1 class was the show. Toyota Gazoo Racing, with its cutting-edge hybrid cars, faced prototypes powered by Gibson or AER engines, including two entries from Rebellion Racing and its new partner TVR. Toyota's dashing Spaniard Formula One star, Fernando Alonso, was the focus personality of the race, but he had plenty of support from the other five drivers on the two-car team.
The other three WEC classes are LMP2, LMGTE Pro and LMGTE Am, comparable to the LMP2, GT Le Mans and GT Daytona in IMSA's WeatherTech series. There is British interest across the board with the all the LMP2 cars powered by Gibson V8s, and Aston Martins represented in both LMGTE Pro and Am.
The program began with a two-day test the weekend prior to the WEC and IMSA races. All four WEC classes were able to learn the course and tune the cars with suspension adjustments appropriate for Sebring.
It was immediately obvious which cars were going to be qualifying at which end of the grid, but the fascinating part was discovering that the two fastest cars (the Toyota hybrids) were actually getting through Turn One without lifting or braking. Curiously, close observation showed the brake lights coming on, but with no reduction of speed.
When I had a brief chat about this with Toyota driver Mike Conway, a well-known Brit, he smiled and confirmed my observation. He explained that the brake lights were on due to a light left-toe pressure on the brake pedal that obviously lit the lights, but more importantly turned on the massive recharging system for the electronic hybrid storage that facilitated a 200-horsepower surge down the next straightaway!
In further exchange, I asked how well traffic (all the other cars) behaved when he gave a headlight flash when he came up on them. He said it was always a concern because even at night, when the lights might be more noticeable, the closing speeds are difficult to judge, and he had to be careful not to assume too much as he prepared to pass.
At any rate, the Toyotas dominated the eight-hour race, and through the field the other LMP1 and LMP2 cars filled most of the top ten positions. Chip Ganassi's Ford GTs ran very closely in 12th position, and while the new-generation Ford GTs are not UK-built virtually their entire team is headquartered and staffed in England.
Aston Martin Racing fielded two cars in LMGTE Pro and one in Am, the latter with Canadian champion driver Paul Della Lana heading the team. One of Paul's co-drivers was none other than Formula One legend Niki Lauda's son, Mathias.
The highlights of the WEC were the incredible speeds in the top classes and the quality of driving through the rest of the entry.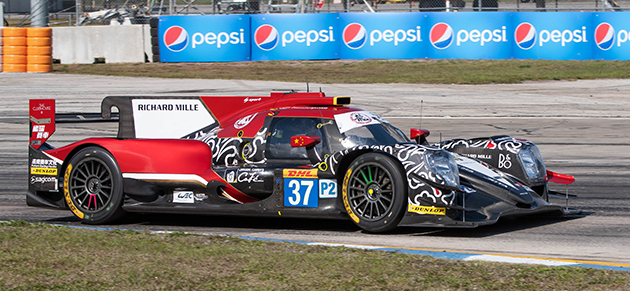 Jackie Chan Racing's #37 LMP2 ORECA-Gibson.
Photo by Colin Sword
The course
Both the WEC and the traditional 12-hour competitors no doubt found the 3.7-mile course to be a unique challenge due to the advancing science of ground effects and chassis body design.
It begins with a simple principle: airplanes fly up and racing cars press down. This has to do with air management as speed increases. As airplanes gain lift, negative pressure causes them to gain altitude and vertical rudders steer them. With cars, air is used to push down on the body and the tires are used to steer. The additional factor is a fairly new science of managing negative pressure under the car to draw it to the ground like a mobile suction cup, which adds physical weight through the tires to improve traction for cornering and braking.
Most British Marque readers would understand these factors clearly, but there is more. At Sebring, the course is a classic combination of roads and corners, along with some straightaways and fast corners on concrete slab runways originally poured and used for Air Force pilot training in 1942. Adjustments in ride height and rake are necessary to avoid scraping the surface and losing stability.
Team philosophy and strategy
One WEC team was particularly interesting to interview, and that was the Jackie Chan DC Racing — running an LMP2 ORECA-Gibson. Team manager Sam Hignett shared some fascinating background for the car, engine, and philosophy.
The team "identity" is a show business celebrity who really loves racing (yes, that Jackie Chan). The team is based in England, but the bits and pieces have multiple bloodlines. The ORECA car (chassis) is basically a development of the Peugeot cars that won the 12-Hour races in 2010 and 2011. The engines are from Gibson (like all of the LMP2 and many of the LMP1 cars), and there are some well-established bloodlines there, too. Bill Gibson was significantly responsible for the Zytek engines in the last decade and also had quite a bit of involvement with the Walkinshaw Jaguars that appeared so strongly in the '90s. Many Zytek engines appeared in Formula 3000 cars in those days also. The Zytek name went on to Continental, but Bill Gibson continued solo with a new engine carrying his own name.
The reliability of the Gibson engines is extraordinary, even though from just 4 litres they develop a dependable 600 brake horsepower. The ORECA car uses a 6-speed X-trac gearbox and performs like a well-rehearsed orchestra. Very steady, don't expect mistakes!
Jackie Chan's 4th-place overall, 1st-place LMP2 finish was truly excellent, but more importantly it was not lucky — just a strong team with strong machinery.
It is certainly appropriate to mention the Toyota manager of marketing and communications, Mr. Allister Moffett. It was an easy guess that the Hybrid Toyotas would dominate the WEC race, but fascinating to watch the constant lines of autograph seekers in front of their garages due to their driver line-up. Mr. Moffett assisted us with the chats we had with Mike Conway and his teammates. The technical side of Toyota may currently be the standard for comparison, but it benefits immensely from his best-in-class skill in public relations.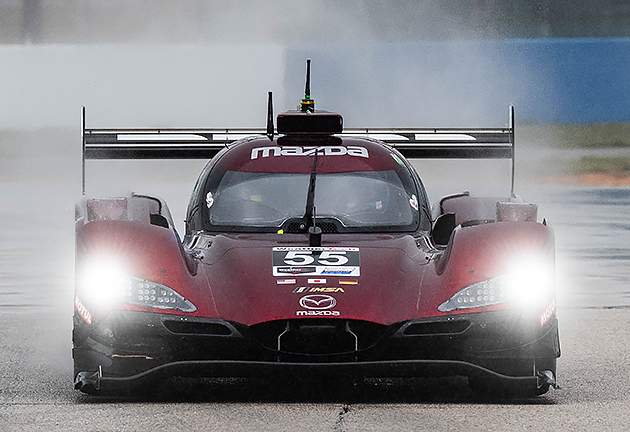 The #55 Mazda-AER DPi kicks up some spray during the wet going early in the 12 Hours of Sebring.
Photo by Colin Sword
The 12 Hours of Sebring
The 67th 12 Hours of Sebring was a bit more of an "endurance" race than usual due to the strength of the entry and the intermittent rain showers. For a start, the pace laps varied slightly in speed because of the wet surfaces, and when the clock finally started its 12-hour countdown, yellow and white flags waved instead of green — yellow meaning "no passing" and white indicating "slow or non-racing vehicles on the course." They were non-race vehicles for sure — big tractors with big brush rollers trying to move standing water puddles from the course!
When the race finally turned green, it was like recess at an elementary school — or the Cadillac division of General Motors. Six of GM's finest roared away at the front of the pack and they all seem to have had the exact same speed. The only difference was the old faithful asset, experience.
Lap times showed the conditions were a handful, and it helps to understand that all of the aero tricks that aid high-speed handling and braking are almost a menace on a wet surface. It might have been worse somewhere else, but Sebring's racing surface is a bit like "rally-cross" because more than half the 3.7-mile course are those aforementioned concrete slabs that have been around since World War II. Over time, the gaps and slight settling of the matured runway sections will aid drainage, but throughout the 12 Hours new rain showers continued to create more spray than speed. Ironically, the slower cars in the back of the field didn't seem as severely hampered, and the effect was like a long rush hour parade.
The TV coverage of the race made the best of a damp situation, and it was remarkable there were only four full-course cautions — two of which attributed to the #55 and #77 Mazda-AER DPis this paper has been following with much interest. The #77 car stopped on course after smoke was reported coming out of the rear, and #55 slipped off-course and into a tire wall about 3 1/2 hours later. Both eventually rejoined the race, #55 relatively quickly but #77 after more than three hours of downtime.
The other two cautions were prompted by mechanical issues that hobbled two GT Daytona cars, the last a BMW only 15 minutes before race's end.
As has been the case in recent years, it was 11 hours of get ready and the last hour of go! The finish was extremely close and it was a brilliant victory for driver Eric Curran in the Whelen Engineering Racing Cadillac DPi. The #55 Mazda finished 6th, but #77 could only manage 37th. Everyone involved gets credit for the light attrition rate.
[Reggie is a former professional racecar driver and a frequent contributor to this publication. His report contains additional material courtesy of IMSA and Pit Notes.]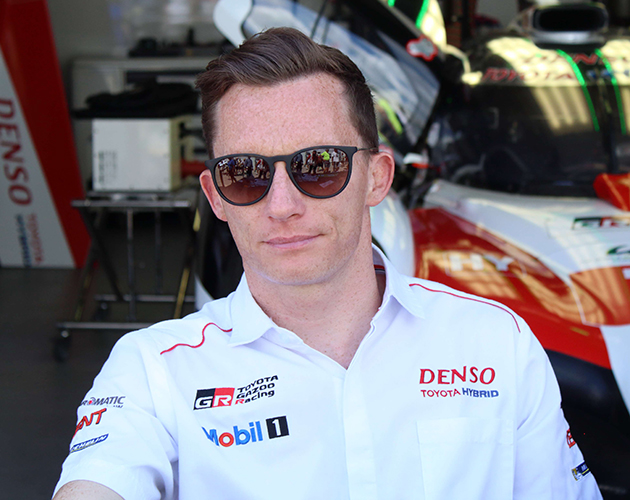 Reggie chatted with Toyota's Mike Conway...
Photo by James Edmonds
Conversations at SuperSebring
by James Edmonds


2019 promised to be a year to remember at Sebring, with the WEC making a return to Central Florida's world famous event for the first time in seven years — having broken ties with its previous North American venue, the Circuit of the Americas in Austin, Tex., in 2017. Although the top LMP1 field was a little thin, the Le Mans-style spectacle brought out record numbers of fans eager to see the cars and their star drivers again.
With the WEC race being run to a "1000-mile" format on Friday and the IMSA 12 Hours of Sebring keeping its traditional Saturday morning start time, there was a lot of ground for my old friend Reggie Smith and me to cover.
Seeing the new Aston Martin Vantage GTE cars was a huge thrill, as this marked their debut on American soil. The new machines do not have the grace of the older ones in my eyes, but in the flesh they were certainly a terrific presence — and sounded fabulous despite their now-turbo-muffled exhaust note.
These cars run in the LMGTE Pro class. Two other Astons, in the LMGTE Am class, are from the previous generation with naturally-aspirated engines.
Previous Sebring and three-time Le Mans class winner Darren Turner was happy as always to chat about all things Aston Martin before the race, and he talked about the return to Sebring and his latest ventures.
"My last race with the works team was Le Mans 2018, but since then I've been racing with customer programs in British TT, VLN, and the Abu Dhabi 12 Hour. We [also] do a lot of testing as the works team with some GTE cars, but mainly GT3 and GT4," he said.
(VLN, for the uninitiated, is the German acronym for the "Association of Nürburgring Endurance Club Organizers," a group of motorsport clubs that each host one event in a nine-race series at the Nürburgring circuit in Germany. The series is closely associated with the 24 Hours Nürburgring and run under similar rules.)
It had been several months since Darren's last race in the new car and I asked about its progression.
"There's been some good progress," he replied, "especially in the wet conditions that we had at Shanghai. That seemed to suit the car very well. We had a big test here [in Sebring] last weekend, and there are still areas that we need to develop and continue to improve and that will take shape as we head to Le Mans.
"The one lap pace is pretty good, but the main area of improvement is always going to be the race run. Managing tire degradation is an important part — not so much here at Sebring because we're allowed seven sets of tires for an eight-hour race. A couple of full course yellows and the last set are only going to have to do a little bit more than a full stint.
"When you do the normal WEC six-hour races you are only allowed 18 tires so there's a lot more tire management going on," he added, "and the team strategy is critical in making the most of the six hours. It's not an easy thing to work out. The teams all have the same challenge and have to work out the perfect scenario. And what happens when that scenario changes — which every race it does!"
Darren has raced at Sebring many times, but this was the first time that he and all the other WEC participants would be racing here to an eight-hour format. Did that change the approach?
"In the 12-hour race you're under IMSA rules so there's always a chance of gaining back a lap, whereas with the WEC, if you're a lap down, you're a lap down. You can be a little looser and more creative in IMSA in terms of risk-taking because if it doesn't work out, there's a chance to get it back and then change your strategy. It gives bravery a little more freedom," he smiled.
"WEC, you can not afford to go a lap down at any point because it's game over in terms of any real possibility of a race win. It means that there is more risk involved in being creative, but being very disciplined with your strategy."
This year Darren is going to making his annual return to Goodwood for the Revival. Although he owns an old Turner that he has raced in the past, this year he will once again be racing a Mini against a few of his fellow WEC competitors.
Last year his daughter took her first foray into racing when she took part in the kids' pedal car event. Although his little boy is not able to reach the pedals quite well enough to "really put the power down," hopefully he will also see what it's all about next year when he turns 6!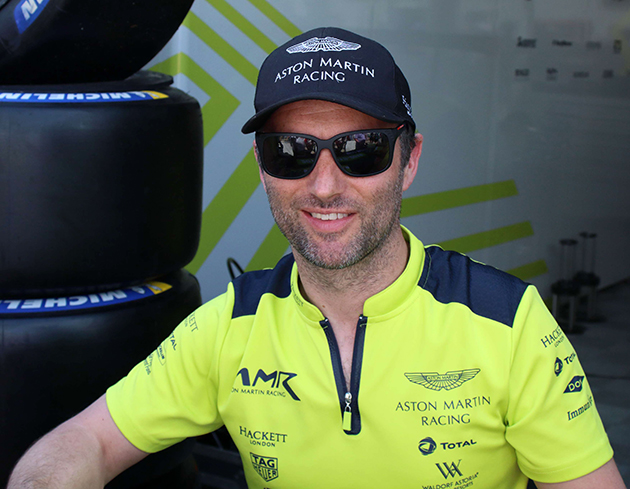 ...and James with AMR's Darren Turner.
Photo by James Edmonds
John Gaw
The Team Principal at Aston Martin Racing, John Gaw, gave his impressions of Sebring during a rare, if forced (!), spare moment before the race.
"The challenges here are the bumps," he said. "Compared to a European circuit, it's just trying to keep the tires on the ground. We are probably through that now because we've done the two-day test.
The biggest thing now is to make the tires last for a stint," he added, echoing Darren's sentiments. "It's also very hot, the tarmac is different here, so managing the tire temperature across the stint is really critical. Just getting a little bit more than the competition is helpful."
I asked John if the data from previous races here provided any help with the new car.
"Zero," he replied. "The only thing that helps you is human experience. Tire 'deg,' bumps, the racing in the dark is important, but in terms of technically with the car it's all new.
"I was surprised to be that competitive yesterday because we are a bit behind on tire development. We switched to Michelin a bit late this year so historically our slick performance this year has been a little poor because everyone's got a different version of the tire. When it's wet we are fantastic because the tires are all the same so the basic car is good. At the test we were the slowest, but yesterday [in two practice sessions] we were quickest!"
I guess that proves that on any given day, even the smallest changes in air temperature, track temperature, humidity or wind direction and speed can make a huge difference to modern racecar performance.
(The AMR Astons would go on to place 9th and 10th in LMGTE Pro and 8th in LMGTE Am. An Aston run by TF Sport finished 6th in LMGTE Am.)
Andrew Marriott
Those who follow endurance racing on television or on Radio Le Mans will know Andrew Marriott — if not by his face, then certainly by his voice. Andrew has been covering Le Mans and the major races for 50 years and is a fixture at the track. His insight, knowledge and wit are often more interesting than the racing itself! His animated style and long associations with just about everyone up and down pit lane mean that he can be both his natural self and add huge insight to any situation.
It always amazes me that people like him can be seen strolling the paddock with no entourage and few fans around. A chance casual meeting led to a great conversation.
"I think this weekend will be very interesting indeed," Andrew offered. "The WEC have taken a huge gamble because we know who's going to win that race, but we don't know who's going to win the IMSA one, do we? It will be very, very close."
(Prophetic words, indeed. The victor in the 12 Hours of Sebring won it by a mere 1.030 seconds, the closest finish in the race's history.)
Returning to the WEC race, Andrew said, "Obviously one of the Toyotas will win it unless they are disqualified like they were at Silverstone."
Andrew was referring to both Toyotas failing a post-race technical inspection after finishing 1-2 in that six-hour race.
"Unfortunately," he added, "the way the regulations are means that they have no opposition anymore because nobody else can afford to do it. It's sad, but the regulations have become too complicated and too expensive."
When asked about next year's proposed rule changes, Andrew was equally candid. He said, "They are going to go with the so-called 'Hypercar,' which I think is a good move, but they haven't clearly defined the regulations yet and the manufacturers won't sign up until they know what they are. In theory it works very well and goes back to the 1995 era when long-tailed McLarens were running."
Andrew has been around for a long time, indeed, and now is involved in a couple of film projects. His following observation is worth noting:
"We need a world sports car series not as a rival but as an adjunct to Formula One because most people can relate to it."
[James is Editor-in-Chief of The Motorsport Diaries, www.TheMotorsportDiaries.com, and a frequent contributor to this publication.]
April 2019

Jaguar D-type 'Short Nose' Continuation — 1 of 25 to be built — on display at Rétromobile.
Photo by Russ Dennis

Rétromobile!
by Marguerite Dennis



PARIS, France — Paris is known throughout the world as the City of Lights. For the better part of a week in February, thanks to a phenomenal event called Rétromobile, it should also be known as the City of Classic Cars.

From February 6th through 10th, at the Porte de Versailles Exhibition Centre, more than 620 exhibitors, 1,000 cars, 120 car clubs, 60 artists, and 132,000 people participated in Rétromobile 2019.

The largest indoor classic car show in the world, Rétromobile began in 1976 and for the past 44 years has chronicled the history of the worldwide automotive sector, from lorries and tanks and motorcycles to most of the classic cars designed in Britain, France, Germany and Italy. Private collectors, museums, foundations, and car clubs throughout the world participate in the event.

For lovers of classic cars, car restorers, car sellers and auction houses, there is no better venue to see Aston Martins, Alfa Romeos, Bentleys, BMWs, Bugattis, Citroëns, Ferraris, Jaguars, Lamborghinis, Lancias, Land Rovers, Maseratis, Mercedes, Porsches, Renaults, and Skodas all sharing space on the exhibition floor.

Citroën center stage

The featured marque of this year's Rétromobile was Citroën, a giant in the history of French cars, celebrating its 100th anniversary. Spanning the years from the 1919 Type A-10HP to the 2019 C5 Aircross SUV, the Citroën display was by far the star of this year's Retromobile.

André Citroën was both a pioneer and a visionary. In addition to the cars he designed and built, Citroën was also a talented marketer. He was one of the first people to use the Eiffel Tower to advertise his cars. From 1925 to 1934 Parisians could see models of Citroëns on the tower's three sides.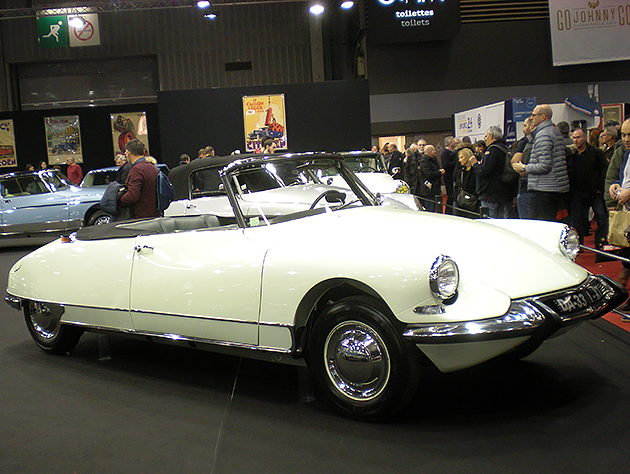 The Citroën DS19 Cabrio by Chapron caught Marguerite's eye.
Photo by Russ Dennis
I am a lover of all things Jaguar. I always thought the classy and classic lines of the XK120, 140 and 150 could never be matched. But I was wrong. If there was a contest for the Best in Show at Rétromobile, a 1965 Citroën Cabriolet Usine convertible, white with a gray interior, would surely get my vote. This car and all the other Citroëns in the private collection that was on display gorgeously reflected the imagination and elegance of their times. People waiting in line to get closer to these cars must have agreed, because the wait time was more than 30 minutes.
Rétromobile's consultant and manager of the event for 44 years, François Melcion, told me that these cars were lent to the exhibition to celebrate Citroën's centennial and will not be displayed publicly again.
Brits at Rétromobile
Lovers of British cars would not be disappointed with Rétromobile's displays of British cars. A 1928 Alvis 12/50 FWD, the first car with front wheel drive, was parked alongside a display of Morgan roadsters. A 1954 Jaguar XK120 in its original yellow-green color was nearby.
This year also marked the 60th anniversary of the Mini, and to celebrate one section of an exhibition hall was devoted to these cars. Like the Citroën line-up, the display was a walk through time. I was impressed by the earliest uses of these cars, the functionality, and the nod to history.
British car clubs were well represented at this year's Rétromobile. Stopping at the booths of the French Jaguar Club, the MG Club of France, Club Healey, the Morgan Club and the Rover Club made me feel right at home. It is amazing how these cars can unite a diverse group of people.
Viewers of the Australian detective series Miss Fisher's Murder Mysteries would not be disappointed with the 1920 display model of a Hispano Suiza, an elegant car whether on the screen or on an exhibition floor. Two other cars were placed next to the Hispano Suiza with similar lines and elegance — a Delahaye and a Delage, both examples of French design. It seems the Delage club, Les Amis de Delage, has resolved to rebuild the mythic Delage V12 Labourette and re-introduce the car to the racing circuit.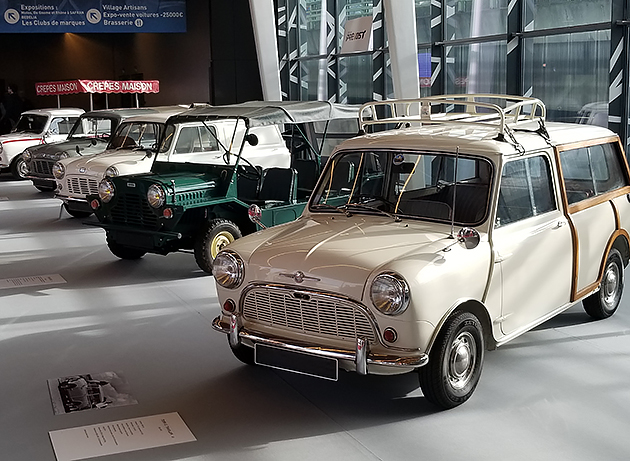 Minis on display for their 60th anniversary.
Photo by Russ Dennis
Auctions, too, and more
Serious buyers and classic car enthusiasts come to Rétromobile either to add to or to sell from their collections. One dealer told me that several million-dollar cars were sold on the first two days of the exhibition, but there were also many affordable cars for sale. While the price for a 1933 MG Midget was €72,000, a 1958 Jaguar XK150 Roadster €178,000 a 1959 Austin-Healey BN4 Cabriolet €85,000 and a 1960 MGA 1600 Coupe €47,500, there were 250-300 other cars for sale that were under €25,000, and 75% of them were sold during the show.
A 1956 Austin-Healey M-Le Mans had no listed price. A serious buyer would have to negotiate privately with the seller for that one.
If you wanted to buy vintage or period clothing, electrical parts, model cars, auto books, works of art, club shirts, or classic car parts, there were booths to meet every need and fancy. I could have completely outfitted myself for the Goodwood Revival with the many vintage clothing booths I passed.
No single article or picture can adequately capture the richness of Rétromobile. You would have to see the displays, the unusual cars, and the enthusiastic crowd to understand why I have come to the conclusion that this is truly the best indoor classic car show in the world.
When I asked François Melcion what made Rétromobile so special, his answer was simple: "First, it is because we are located in Paris and that is a big draw for car enthusiasts and collectors, and second, we want to show the public things they have never seen before."
And that's why you have succeeded all these years, François.
[Marguerite and Russ Dennis are frequent contributors to this publication.]