Feature Stories
---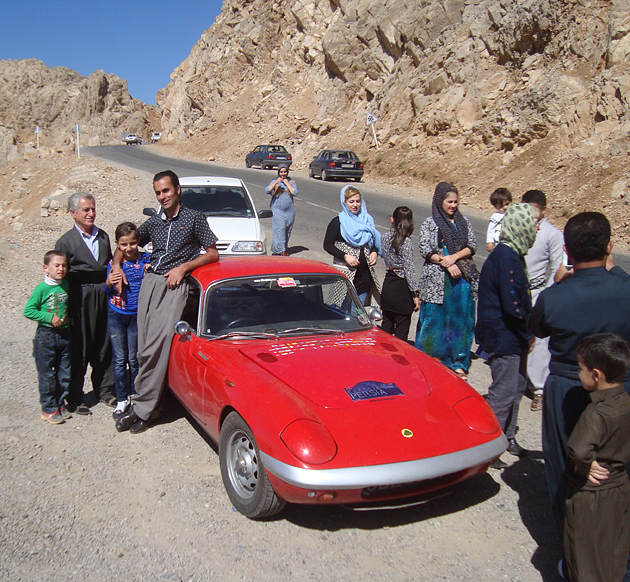 June 2017

'Star quality' shown by the Cotes Elan — whole families loved to pose with it!
Photo by Peter & Allison Cotes
Persian Elan

by Peter & Allison Cotes
Special to the Marque

They called it 'Classic Persia'. The title says it all: first stop Istanbul, where the rally starts, then through Turkey to Iran, through Iran to the Persian Gulf. It turned out to be a hot trip with many long days.
After taking our Lotus Elan on the Arctic Highway rally, which we reported in the January/February 2017 British Marque, the main things to resolve upon our return were heating (or cooling, as it was 39°C in the Persian Gulf), steering, ignition and a noisy engine. So…
A pair of high performance "pull" fans came from Cliveyboy.com, suppliers of Lotus Elan and Hillman Imp specialist parts. The steering rack was overhauled after being found full of grit and dirt, with every moving part needing to be changed. We bought a Boyer-Bransden unit to address the ignition problem, negative earth as we now have an alternator. And the engine noise? Caused by the cam lobes and cups disintegrating. The surface hardening had given up, the lobes were rounded, and the flat base of each cup was nicely hollowed out with lots of swarf round the valves.
We allowed ourselves 4 1/2 days for the 1700 miles from home to Istanbul, including border crossings and sightseeing in Serbia. It didn't quite work out like that. Starting was sluggish before we left, but the car had been in the workshop so maybe they left the doors open…? After a meal in Harwich before the overnight crossing, starting was even more sluggish. The two-hour drive in darkness had not helped.
So, as is always the case, in the sleepless moments before getting up I decided to return home from where we were at that point to collect a spare starter motor. This involved a 500-mile, 24-hour detour, Eurotunnel, and a 5.40 a.m. ferry crossing. Needless to say after that, battery, starter and starting were trouble-free — they call it insurance!
We blasted through France, Belgium and Germany, finding a delightful hotel in a twee village near Regensburg. Next day there were four border crossings — Austria, Slovenia, Croatia and Serbia, where we found a huge Soviet-style hotel, complete with cockroaches and very cheap! Then through Serbia and Bulgaria and we were back on track, allowing a day for the last 200 miles, one border crossing — and Istanbul traffic.
We lost time at the Turkish border as the computers were down and we could not buy the required third party insurance. We also met the first of the other participants, who arrived in a 1979 Bentley just as the computers came back to life. (We should not complain. At the Turkey/Iran border, trucks have a two-deep, 13-kilometre queue to join and it takes them four days.)
After a little sightseeing it was off to Istanbul, and the last 30 miles took forever. The Elan was very forgiving, no overheating, no stalling. Not only that, it was experiencing the first day of real star attraction that it would enjoy for the next three weeks. People there had never seen anything like it before — small, red, two seats, wrong-side steering wheel. We'd be multimillionaires if we charged for each photo taken!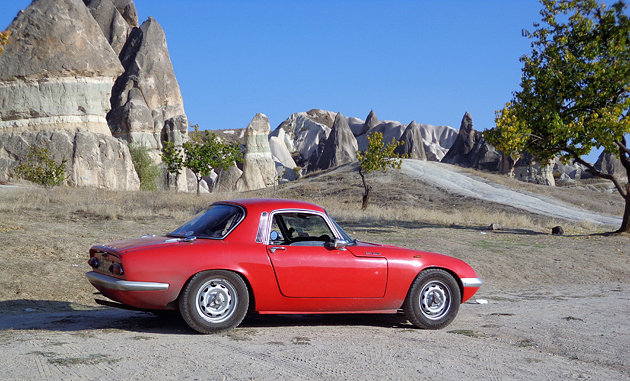 Elan among the rocks in Cappadocia.
Photo by Peter & Allison Cotes
There were another five cars in the rally, a Porsche 912, two Mercedes SLs, a Land Rover and a Lagonda. Next day we queued up outside the hotel for a photo shoot and it was off to Ankara, Turkey's capital.
We had done this same route in 1977 on our way to my new job in Tehran. Then it was winter, snow, and Bulgarian lorries on the potholed single-carriageway road. Now it was hot, dual-carriageway, and either high-quality surface or roadworks. Navigation using the organisers' Garmin tracks would be a headache throughout the rally. The open road was fine — you were either on the right road or lost — but in towns, working out the junctions was nearly impossible, and we spent a lot of time getting back onto our purple line.
Next day, Cappadocia. We took the short-cut, main-road route. This area is amazing — irregular rocks with weird shapes, hollowed out for churches, houses, fortresses, underground cities. We didn't see this last time. (And get there if you can. They were moaning about the lack of tourists and would love to see you!)
Our hotel was partly built in the rocks on the edge of a cliff, and our tour included the 40,000-bottle cellar, the start of a five-mile tunnel, and an old monastery, all cut out of rock, next to Mt. Nemrut. The area had a drought and our hotel was shut, so we ended up at a hotel in Kahta instead — under a tree, and what do birds do in trees? Yup, the Elan required a good bath before we could get away next morning!
On the rally proceeded, east to Lake Van. Our route was over a fabulous new bridge — with no traffic and no tolls. Not so fabulous was that on the far side the road looked like a lake of tar, it smelt like tar, and it was tar. Wet tar. I figured that if I drove slowly I might stick in it, so I drove at normal road speed wondering how the tyres would expand as they picked up tar and gravel. The answer is the tyres were fine but the sides of the car were black and sticky, the brakes squealed, and when we stopped to look at them, pools of tar formed underneath. What a mess! The answer is diesel, so in Van we had a diesel bath scrub followed by a high-pressure hose, and the visible bodywork was fine. Just the underside and suspension were untouchable!
Friday brought the first challenge, over 350 miles and a long border crossing into Iran. The first hurdle was that the army had closed the road to the border. This required another detour as we decided against the potential side road, which bypassed the closed road but was completely un-signposted. Turned out it included loads of rocks and would have exacted an unnecessary toll on the car. We got to the border at lunchtime, and three hours later were in the first group of three cars allowed into Iran.
A lot has changed in Iran. The driving is more disciplined — though all Iranian drivers would face a dangerous driving charge in UK! — and the road surface has improved almost beyond recognition, but some things don't change and the avoidance of using lights at night is one such. As dusk turned to darkness we progressed to Tabriz, trying to work out which shapes might be cars or lorries. We joined the fast-moving ring road system and amazingly arrived at the hotel only a couple of hours after dark. Others didn't arrive till after midnight. One of my objectives on this rally was not to drive after dark, and this was the only time we failed.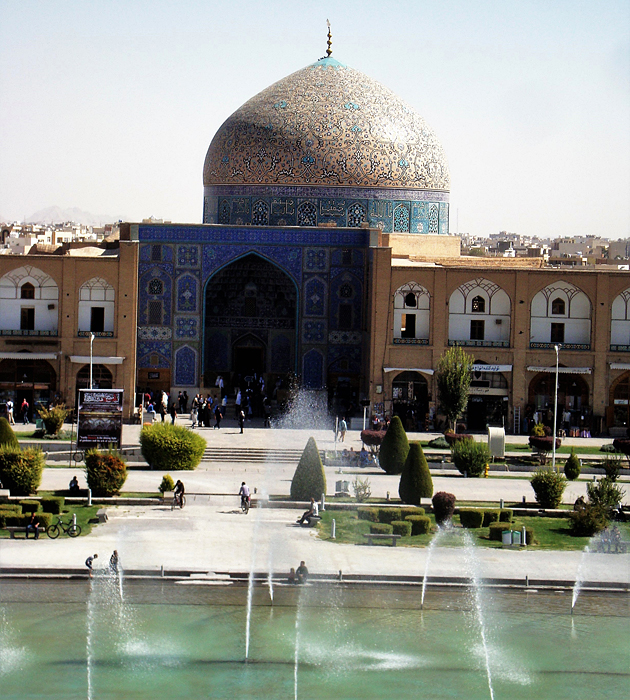 Sheik Lotfallah Mosque, Isfahan.
Photo by Peter & Allison Cotes
It was shortly before Tabriz that we had the major "car issue" of the rally. A pulley came off the passenger window. The rally mechanic had no drill to replace the stud and circlip with a bolt, so we tied it up with cable ties.
We took the main road option to Astara and the Caspian Sea. (The organisers had proposed a scenic route via the border with Azerbaijan, but that was a 9 1/2-hour driving day.) The approach to the Caspian is down twisty roads from the high and dry plateau to the damp greenery of sea level. Lorries take it slowly and there are the other hazards of Iran's roads to handle, namely speed bumps and police or army checkpoints. The hotel was on a ring road, so in the evening we took a taxi to the city. This trip grew from a taxi ride to a city tour, with translation provided by the driver's sister over his mobile phone. He took us to a restaurant — 'local specialities', etc., which turned out to be a tourist venue — and shortly afterwards the rest of the rally arrived!
Three days of short drives took us to Zanjan, Sanandaj and Kermanshah. This was to the far west of Iran, the hills of the Kurds, overlooking Iraq. We did a detour to Takht-e-Soleyman, the remains of a 2,000-year-old Zoroastrian Fire Temple and a place the kings had to visit to complete their coronation. At one photo-stop (us of the hills and scenery, the locals of the Elan), we met a family who invited us back to Grandma's for lunch on the hillside terracing.
Two cars were off the road and on trucks by now, the Bentley and the Lagonda — the first to the Persian Gulf, and the second to Isfahan, where parts would be flown out from the UK. Both Mercedes were struggling, one with ignition electrics and the other with a dirty fuel tank that was blocking up their filters.
Isfahan came next, the tourist centre of Iran, but first we had to negotiate the parades that characterise Ashura. There was a religious festival commemorating the martyrdom of Husain, and, effectively, the split between Sunni and Shia. It was a public holiday, the roads were largely empty of traffic, but in the towns and cities people were parading, banging drums, going through the rituals of self-flagellation, and covering their hair and clothes with 'mud'. Two tourist days were allowed in Isfahan, time to get out of the cars and see the Maidan, mosques and churches. Our tour included a carpet shop as this is also the centre of Iran's carpet trade.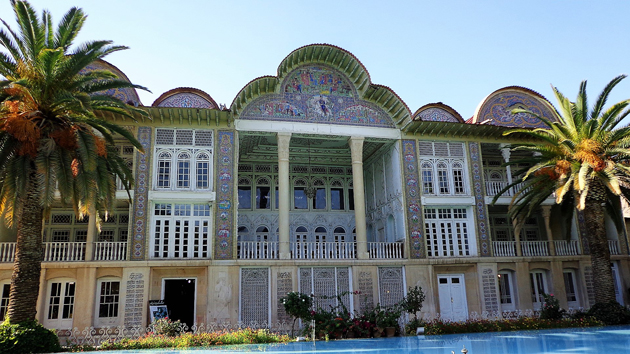 Barg-e-Eram.
Photo by Peter & Allison Cotes
Shiraz was another 8 1/2-hour driving day. We again took a shortcut, reducing it to 6 1/2 hours. On the way we had a close encounter with a white car (only about 80% of Iran's cars are white!). It was on the main road with no traffic. He was so busy looking at us and taking photos that he drove into us! It was a glancing blow. The Elan jumped three feet sideways we gained some of his white paint and rubber strip, and he our red paint. Fortunately no damage was done to either car and we carried on, shaken, not stirred.
On arrival we visited the gardens of Barg-e-Eram — greenery, quiet, cool and a tea house — a welcome contrast to the highway. Two rest days allowed us to wander round town and go to the ancient sites of Persepolis and Pasagarde. Forty years ago, we had Persepolis to ourselves and could wander where we pleased. It's been sanitised. There is an entry kiosk, visitor centre, timber stairs to protect the original, fencing, and scaffolding to protect the structures. But whatever they do to it, it's an amazing place, and no-one really knows whether Alexander of Greece deliberately burnt it down or if it was an accident.
The cars were booked on a ferry from Bandar Abbas to the UAE, from where they were to be shipped home in containers. The route was fast once we had escaped Shiraz (and the Garmin's repeated instructions to revisit one particular roundabout in the City Centre), but it was hot and dry, as effectively we were going through a desert. Oh, and there were flies. The car did not like this, and we had the familiar stuttering that means points. Only this time it was the gap, and not burn-out. The Boyer-Bransden unit did its job perfectly, and after adjusting the gap (at 6 a.m. next morning, when it was 'cool'), the engine again ran sweetly.
We had done about 6,500 miles in 17 driving days — that's an average of 380 miles per day, much on main roads but also towns and hills, all in the heat — and the Elan did it all. We adjusted the fan belt and the points gap, replaced one bolt and tightened up many more on routine nut/bolt checks, we had one puncture, and used 1 1/2 litres of oil. Visit www.rallyelan.com for the full report and many more pictures.
[Stayed tuned to British Marque for the further adventures of Peter, Allison and the Elan!]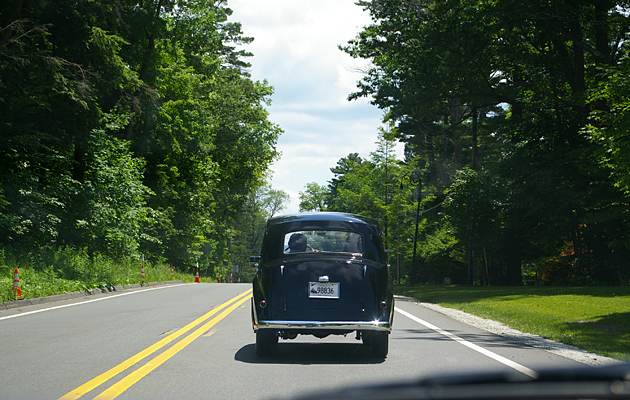 May 2017

Share your British car with the world during British Car Week!
Photo by Bruce Vild

Paying It Forward

by Scott Helms
Special to the Marque


The tradition of driving classic British cars to increase public awareness continues! British Car Week 2017 begins as usual on the very last Saturday of the month of May and ends on Sunday the following weekend. This year, those dates are Saturday, May 27th, through Sunday, June 4th.

But even though British Car Week has a beginning and an ending date, the driving season doesn't necessarily start or abruptly end then. For those of us coming out of cold and sloppy weather during the winter months, it is just the beginning of an exhilarating, seat-of-your-pants driving adventure for many weeks to come.

During winter up North, many owners put their cars into storage. They make good use of that time making improvements to their cars and performing important scheduled maintenance to have them ready for the driving season. British Car Week is both a wake-up call and a target date for these enthusiasts.

If you live in warmer climes, you probably have enjoyed your British car throughout winter and spring. For you, British Car Week is a great time to hook up with your Northern counterparts in full force to show off your classic cars to townspeople in communities far and wide.

From reports I receive every year, some people feel they're the only British car driver in their city or town. But I tell them that even though they may seem to be alone on the roads, there is a huge population of onlookers who can't help but take notice of their unique cars. If not for this experience, many of them would never know about these vehicles, or have the chance to become enthusiasts themselves.

The British car hobby can't afford to be forgotten. For this reason, I like to think of our efforts to promote the hobby as "paying it forward." What better way to do so, while also having fun!

Most people have had the experience of having someone perform an act of kindness towards them, and they appreciate it so much that they pass it on to another person. The feeling is often as good for the giver as it is for the recipient.

Seeing you with a smile on your face, having fun with your British car — whether it's on a drive around town or just rolling it out on the driveway for a wash and a polish — just might spark enough interest in other people to want to learn more about these vehicles, and even to become owners themselves someday. By spreading your enthusiasm, you are doing them a favor!

Many of the original people who were instrumental in the design and development of our beloved British classics, as well as those who helped make them well known throughout the world, are no longer with us. Original owners are becoming few and far between, and their cars may well find new owners to care for them and enjoy them. But there is also the risk that they may be abandoned in a dark and gloomy place to be forgotten about, or, worse yet, parked at an undesirable place outdoors to wither away.

Let's not let that happen. This year, during the week of May 27th through June 4th, "pay it forward" to the next generation of British car owners. Take the time and spend it with your favorite British car, doing what you enjoy most. Plant the seed that will give people in your neighborhood a yearning to return to a time when driving was not only pure and simple, but entertaining — and you will help keep our hobby flourishing for years to come.

So grab your goggles and driving gloves, and top off your dashpots! It's time to have some fun! See you on the road.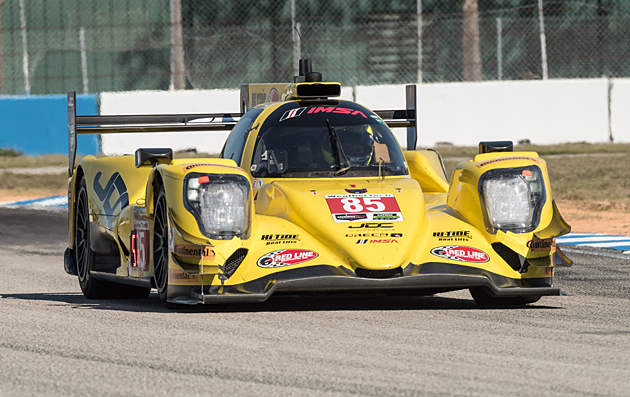 April 2017

Underneath it all is British machinery. UK-based Gibson Technology provided the engine for the #85 ORECA LM P2 run by JDC-Miller Motorsports.
Photo by Colin Sword

Sebring, Behind the Scenes

by Reggie Smith
Special to the Marque


Q: What does the Sebring 12 Hour weekend have in common with an extra-large "works" pizza?

A: Either one can be a handful. And you may start off thinking you are only interested in one part, but by the end, you may well finish up liking the whole thing.

Having Prototype (P), Prototype Challenge (PC), GT Le Mans (GTLM) and GT Daytona (GTD) all running together, but with less dramatic performance comparisons than "pure" prototype vs. "normal" production, keeps the competition at Sebring more interesting and less likely to have a runaway winner or dangerous traffic differentials.

Managed performance blending is accomplished through regulating power-to-weight ratio, certainly, but also doing things like eliminating tire variations that used to produce "identical" cars playing with the strategy of softer (pronounced "faster") vs. harder (that's "slower"), leading to fewer visits to the pits. An additional factor is assigned fuel capacity, which tends to cause pit-stop intervals to be similar for all cars.

And then there is the "grading" of drivers based on experience, history, and even age, with some of each in each car.

All of this — dubbed "Balance of Performance" by IMSA, the sanctioning body for Sebring and other races in the WeatherTech SportsCar Championship — is intended to make racing more competitive and safer, but it's also for spectator value.

The use of "spec tires" is a major element in IMSA's balance-of-power agenda, meaning everybody gets the same equipment. In three of the four classes at Sebring, Continental supplied the tires. Continental has had a presence in America racing since 2009, and it's no surprise that in the last couple of years, the company has increased retail sales by 40%. Racing is an interesting avenue to demonstrate Continental's product to a fairly knowledgeable audience.

We talked to Bruce Foss, the product manager for Continental Tire Motorsports. His background would almost over-qualify him for the job, because he has more than 30 years' worth of hands-on experience with sports car, IndyCar and even dirt track racing — which no doubt helps him guide the Continental commitment brilliantly.

As an aside, you probably know that Continental tires are manufactured by a company with a home base in Germany. What you may not know is that tire production is actually less than 30% of Continental AG's $3 billion-per-year business globally. The company also supplies late-model technology such as lane change warning and anti-lock brake systems throughout the industry, and Continental AG products, interestingly enough, make up nearly half the technology driving current BMW cars.

The significant new player on the engine front is an English firm called Gibson Technology. Their purpose-built engines appeared in four cars in Sebring. Their design features Cosworth electronics and Hewland gearboxes (with mandated ratios) installed in various chassis equipment, but with virtually identical power ratings from car to car.

One of their engines, in the #13 Rebellion Racing ORECA LM P2 prototype, was actually quickest in qualifying overall. The Gibson engines are 4.2-litre V8s and develop nearly 600bhp. The Rebellion car is expected to run at Le Mans in June.

Also distinguishing itself with a Gibson engine was the #85 JDC-Miller Motorsports ORECA LM P2 entry, which placed 4th overall in the race.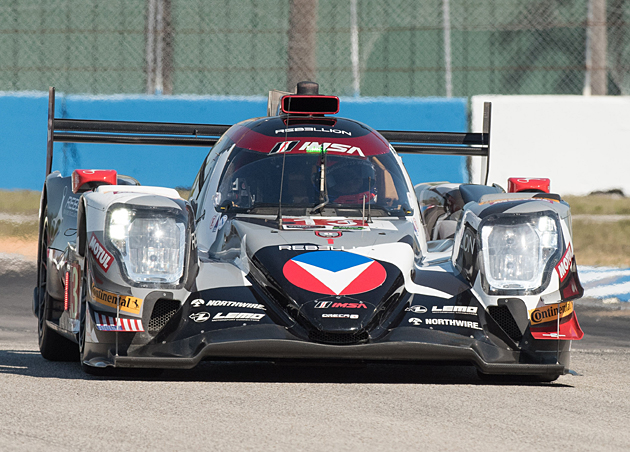 The #13 ORECA LM P2 run by Rebellion Racing qualified on top but was beset by mechanical problems race day. The car will rejoin the IMSA series at Watkins Glen and Petit Le Mans.
Photo by Colin Sword

Where are the Brits? Why, right here
Sebring attracts fans from around the world, and manufacturers as well. This year has been brightened by the presence of new and competitive entries from Cadillac, Mercedes, Acura and Lamborghini. Most British Marque readers are interested in how British cars do, but just at the moment no British cars happened to be involved at Sebring — no Lolas (they're out of business anyway), no Jags or Lotus, not even TRG-AMR's 007 Aston.
Having said that, many of the entries across the WTSCC classes still feature engines, gearboxes, and electrical technologies developed in England. The examples of Gibson Technology and Cosworth are described above.
Another British engine company, Advanced Engine Research (AER), has been partnering with Mazda Motorsports for years and is supplying the powerplant for their new generation of prototypes, the Mazda DPis. Mazda's #55 car came in 5th overall at Sebring.
In addition to what's going on under the bonnets and in the cockpits, a significant British presence is added by the slew of drivers hailing from the UK.
One is Richard Westbrook, who expressed the sage observation that his drive in Chip Ganassi's new-style Ford GT in the GTLM draws on respect for Ford's ongoing international involvement in motorsports. Remember that in the '60s Ford developed the GT40 series, which not only dominated international sports car racing, but drew also on the talents of some really super drivers such as Ken Miles, Bruce McLaren, Jackie Oliver, David Hobbs and Jackie Stewart, just to name a few.
Richard is a very fast driver with lots of respect for the historic reference — and even mentioned his interest in driving at Goodwood sometime when schedules allow.
Someone else who's British and very fast is Alexander Lynn, co-driver with the Taylor boys of the #10 Konica Minolta Cadillac DPi-V.R that won this year's Rolex 24 at Daytona and would go on to win at Sebring. There were three Cadillac entries at Sebring, each fielded by a different team, and Mr. Lynn is as close as a British connection gets. Oh, by the way, the three Caddies finished 1-2-3, and it counts that the overall victor included a Brit.
Another interesting personality is Dave Sims, who was born in Salisbury, England. He is currently the team manager for Risi Competizione Ferrari, which does not exactly roll off your lips like "tea and scones," but getting from the UK to here is a story that could rival Steve McQueen's Le Mans script easily!
Dave entered racing in mid-1965 in Hethel, England, working for Formula 1 legend Colin Chapman's Team Lotus. His first activity was prepping and supporting the popular Lotus Cortina saloons for Jim Clark and John Miles. The Cortinas were dominant because they were pretty quick in any hands, but angelic flyers for Clark and Miles. The Twin Cam Ford engines were prepared by BRM at the time, and the power, weight and predictable handling made for three-wheeled cornering that was captured by cameras all over the world — including at Sebring, by the way!
Dave progressed rapidly and soon was assigned to the Lotus crew at Indy, which, of course, was a developing effort for Lotus. (Jim and Dan Gurney had encouraged Chapman to reach into the champ car-racing field already explored by Jack Brabham in a Cooper Climax.) Shortly thereafter, Dave moved to a dedicated assignment in the Formula 2 program. He remembers when Jim Clark returned from America and said that in his opinion, Mario Andretti was very, very good, and if he were in an F1 car he could be a world champion. That was an endorsement that obviously showed Clark's eye for skill, and probably was a rare remark at the time.
Dave's career at Lotus continued beautifully until the sad day in April 1968 in Germany, when an F2 Lotus left the road and shockingly struck a tree. Jim Clark's death impacted even the strongest players at the time, as many thought if it could happen to him, it could happen to them, too. The Lotus group was stunned and Dave was obviously thinking, "Is this the end for me?" Chapman somehow gathered some deep reserve and said, "Dave, you are booked on a flight tomorrow to run our car at the next race!"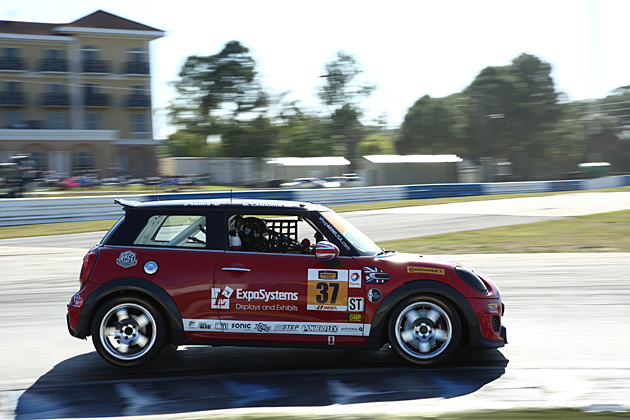 MINI JCW Team Car #37 at Turn 7 in the Continental Tire SportsCar Challenge race.

Photo by Tom Murray
There were always several programs, and soon Dave moved to F1 in the days of the red-and-white gold leaf cars. Emerson Fittapaldi and Dave Walker were the drivers, but even though Walker did a lot of the testing for the normal Fittapaldi car, his actual assignment was to learn to drive a four-wheel-drive turbine machine that was not well suited to grand prix racing. Unfortunately, the turbine car and Walker found a short career in F1.
Dave's departure from Lotus led to joining Robin Herd in the newly-developed March F1 car. His time there with a young team was not an instant success, but his relationship with the driver Niki Lauda impressed him deeply. "Lauda was not exactly technically strong," Dave told us, "but in a good car he was really fast."
When Hesketh Racing came into existence, Dave found himself involved with probably the most bizarre team ever before or since. Lord Hesketh wanted to have "a good time" with nobody (a sponsor, for example) to answer to. James Hunt was a perfect fit as far as sharing a vision of having a good time, but it turned out they ran out of money before they did any good.
Other doors soon opened for Dave, including a stint in the Toyota Grand Prix in Japan. He said the engineering talent there was phenomenal, but the pace was like watching grass grow.
When asked what period influenced him the most, Dave mentioned his time with Colin Chapman — the calmest and coolest person he'd ever worked for, he said. No matter what drama, success, or other major event took place, Chapman would just say, "We will take care of it." Is it a coincidence that, with such an influence on team management, Risi's drivers Tony Vilander, Giancarlo Fisichello and Britisher James Calado had a fast, steady race, and finished 3rd in GTLM?
We also got to talk to Jim Vance, driver of the #37 Mini JCW Racing MINI Cooper in the Continental Tire SportsCar Challenge, a two-hour contest that ran the day before the 12 Hours. He was the only Brit driving in the three-car MINI team. (Unlike the WTSCC, there are British cars in the Conti — not just the MINIs, but Aston Martins and McLarens as well.)
Being front wheel drive, the MINIs have a strong weight bias toward the front of the cars, which gives the drivers a different challenge in cornering. Braking is effective, but turn-in is influenced by the cars' natural tendency to go straight on. This requires finding a somewhat shorter apex and then counting on the turbocharged exit to launch onto the next straight.
At Sebring, there really isn't much car-to-car overtaking in the corners, so the MINIs' main goal was to fully occupy the braking zone and cut to the apex with confidence, thereby delaying a near competitor and having a stronger exit. The longer the next straight the more desperate it becomes for the MINIs as the road speeds climb, and the barn-shaped MINIs cease to keep accelerating.
At any rate, after a ding-dong battle throughout, Jim's teammates Mat Pombo and Derek Jones in the #73 MINI finished a very respectable 4th in class. Although the top of the red cars was black instead of white, as in Paddy Hopkirk's day, many photos will have the little shoeboxes nicely centered for framing indeed!
The other news from the Conti was the strong finish by two of the McLaren GT4s, Motorsports in Action's #69 in 2nd and C360R's #77 in 3rd, keeping the Porsches off the podium.
Good show, lads!
[Reggie, a former professional racecar driver, knows his way around Sebring. He, Colin and Tom are frequent contributors to this publication.]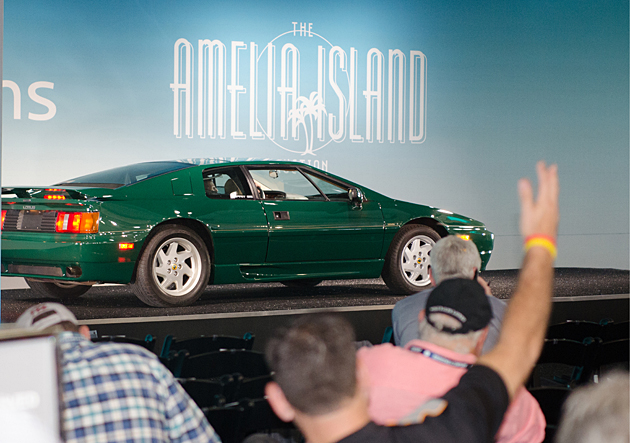 Auction action before show time as a low-mileage Lotus attracts a bid at Bonhams.
Photo by Brett Lemoine

Amelia Island: Where Florida Becomes Car Heaven in March

by Ken Lemoine
Special to the Marque


AMELIA ISLAND, Fla. — As I count down the days until the salt and sand are washed off the roads where I live in the Northeast, it's time for the annual trek to Concours d'Elegance on Amelia Island, just north of Jacksonville.

It may not be normal to be checking Florida winter weather when you live in Massachusetts, but if you are going to a world-class car event that happens to be outdoors it's not a bad idea. For the past four years that I have been attending with my son, British Marque photographer Brett Lemoine, we have been graced with near-perfect weather for the three or four days we've been there. This year on the Thursday morning plane ride down (yes, they have in-flight WiFi now on Jet Blue), we got an announcement that they were going to move the Concours event from Sunday to Saturday because of the nearly 100% likelihood of rain.

Given the logistics, one would think moving a major event like this up a day couldn't happen. Cheers to our Amelia Island hosts for proactively stepping up for their entrants and sponsors to assure a successful event.

When we landed, the weather was Florida-perfect. We piled into a Tahoe and headed straight to the Bonhams auction. As soon as we checked in we were immediately in love with half the collection. Austin-Healeys, E-types, Astons early and late, Allards, and a 4.5 liter 1927 Bentley were all right in front of us.

(The only thing that separates me from these cars is the cash, a detail I am always working on. The hard part is they go up in value faster than I can save up to buy them! The other issue is as soon as I collect up a little pile I find another automotive orphan that needs a little love. I bring it home, my little pile gets wiped out to make it a running collectible, enjoy the driving experience, and put it into the hands of a new owner!)

A friend of ours had his 9,000-mile 1990 Lotus Esprit Turbo SE on the block with no reserve so he was just a little nervous about the outcome. Fortunately it got bid up to $29,000, so he was satisfied.

One of the interesting trends we noticed was that virtually all the bids were falling short of the estimates and the demand for the really high value cars (over $1 million) was beginning to soften. Evidently the serious money car collectors were refining their collections and much of the inventory that we would consider "dream machines" were falling out of favor and losing relative value against the highest end of the market.

It seemed TR6s, Lotus Europas and MGBs were largely ignored, BT and BN Healeys were flat, though early E-types were solidly selling for $125,000 to $150,000. Late E-types weren't enthusiastically bid, while Aston DB4s, 5s and 6s were bid to nearly and over $1 million. Prewar cars (except for the Bugattis, Blower Bentleys, etc.) are now not desirable to most collectors as they can't be driven on many of today's roads — and hold no favor with younger buyers. Teens don't have pictures of '38 roadsters on their bedroom walls.

The exception to this "softening" was the Ferrari and Porsche performance car market. A 1998 Porsche 911GTI Strassenversion was sold for $5,150,000. These guys are nuts about their cars and are willing to spend barrels of money.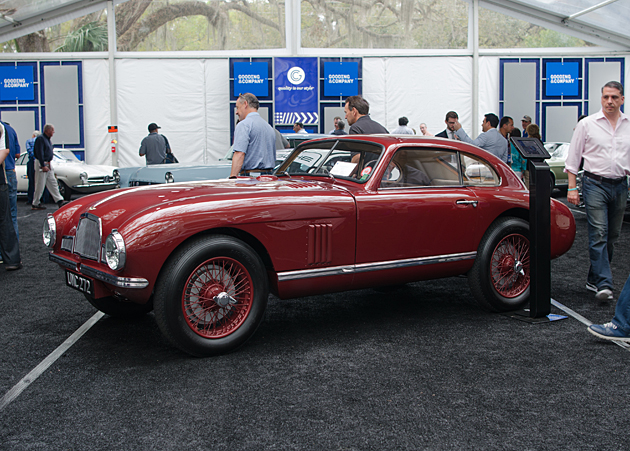 David Brown's own Aston DB MkII went for $1.4M at Gooding.
Photo by Brett Lemoine
On Friday morning we took a jitney to the Gooding auction. The entry area featured the 1989 Mazda 767B rotary race car, and it was being fired up as a wake-up call before the auction began. Brett d, "I love the smell of race fuel in the morning!"
We worked our way to the VIP area and mooched a space from our friends. Great action followed, and the best of the Brits included a beautiful 1964 E-type that sold for $185K, and David Brown's personal prototype 1949 Aston Martin DB MkII that was hammered for $1,400,000. When you tack on a 10% buyer's premium to these prices they get even scarier.
The auctions here are more reserved affairs than the Barrett Jackson scream fests but there are plenty of humorous and witty moments to be had. Auctioneer Charlie Ross, a delightfully quick-witted Brit, enjoys his interaction with the crowd and intersperses bid amounts with pleas like "Have another, sir!", "Ordering popcorn or bidding, sir?" and "If you've come to buy the car you'll need to continue to bid!" There were four major auctions here this year, and some of our friends entered the fray both buying and selling. With the weekend being compressed by a day there were many conflicts on Saturday, which used to be a big auction and meeting day but now combined with the show itself.
RM Sotheby's always has some of the best cars in the world and this year was no exception. There were some surprises. A 1956 Austin-Healey 100-4 BN2 Coupe one-off was $86,000 and an XK150 coupe was sold for only $65,000.
But the shock of the day was a 1956 Bentley S1 Continental Drophead Coupe that was estimated at $700-900K. I find these cars to be beautiful luxury tourers, but I don't consider them at the same price level as a 300SL or Gullwing. Maybe that's just me. When this car was sold at $1,530,000 (plus a 10% buyers premium), I was among a large part of the crowd that let out a very suggestive "Wow!" No doubt there are a lot of Bentley owners now opening their bottle of DP — their car just doubled in value! This, while beautifully restored, prewar Rolls-Royces were finding new owners for as little as $100,000. Unbelievable!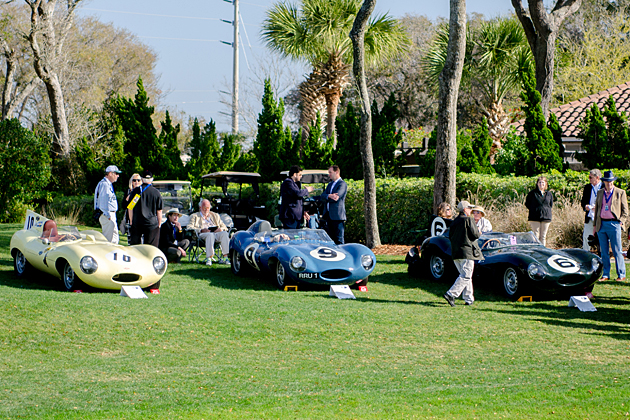 Featured at the Concours was a display of historic Jaguar D-type racecars.
Photo by Brett Lemoine
Saturday, as show day, was as mentioned a whirlwind, event-filled day. We got early access to the field with our media passes, and even though the show was a day early every car was on the lawn, and what a collection! We walked over the bridge from the media parking area and we were among the first people to see the positioning of 11 D-types and XKSS Jaguars. British car heaven!
On the main lawn we caught up with a couple of fellow New Englanders who brought their cars. David, from the Audrain Collection in Newport, brought a 1930 Deusenberg, and Ben Levy was finishing his show prep on a 1966 GT40.
Astons always are magnetic for me, and the Aston we all know so well showed up the "Movie Stars" class. The JB007 Goldfinger car (one of two) was displayed with its machine guns popping out from behind the marker lights, the plate in the back half turned in, the back shield up and the scanner screen in the middle of the console.
With nearly 300 of the most incredible cars in the world on one field it is a daunting challenge to give them your full attention. The subject of racecars and their drivers is somewhat lost on me, so I focus on the early cars (back to 1900) and those marques I want to learn more about. Two of the most interesting cars this year were a 1933 Delage D8S and a 1931 Stutz DV32 Convertible Victoria. Their beautifully sculpted lines and incredibly detailed interiors were works of art. The 1935 Jaguar SS1 Coupe and the 1939 Lagonda V12 Rapide I spied were the standard of excellence in British cars.
You can't begin to appreciate the Amelia experience until you come and see it. Everyone I speak with says this costs less than half as much to visit as Pebble Beach, and you can do it on a budget if you really try. Book the weekend in 2018. You won't be disappointed.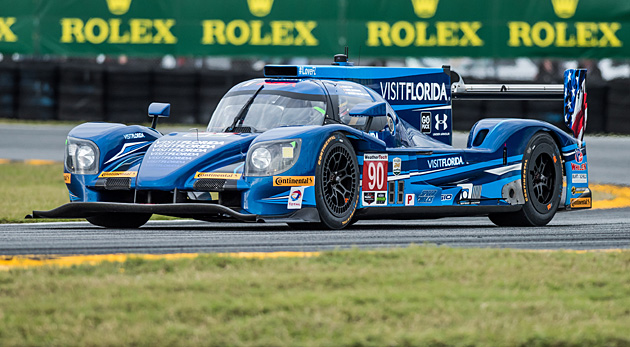 March 2017

Visit Florida Racing's new LMP2-spec prototype, #90, replaces last year's Corvette DP, and runs with UK-sourced Gibson power.
Photo by Colin Sword
Daytona Debut

New cars, new rules and new teams at rainy Rolex 24,
first race in 2017 WTSCC

by James Edmonds & Bruce Vild
Special to the Marque

DAYTONA, Fla., Jan. 26-29 — A new year means a new beginning, and that couldn't be more true for the 2017 WeatherTech SportsCar Championship.
A year ago the series' season started much like any other, with some new cars but many left over from the year before. There was some great racing to be sure, but amid the racing there was obvious discontent among some of the teams — to the point that one of the cars in the GT Daytona (GTD) class wearing the name of the series title sponsor pulled out, with races still to be raced.
The WTSCC still pitted Grand Am-style Daytona Prototypes against Le Mans-style LMP2 machines in a single Prototype class, requiring continued rule-tweaking to level the playing field. That was bound to displease someone, too.
After a short winter break, however, the Florida sunshine dawned and with it a new season. This year's opener, the Rolex 24, once again drew the diehards to brave the cold (and wet) weather. And what a cracker it was, with three of the four classes going down to the wire! The precipitous weather and cool temperatures made for plenty of yellows, which kept everything close, and fans witnessed some of the best duels in recent memory.
New rules also brightened things. A new style of prototype has come out to replace the long-in-the-tooth Daytona Prototypes, called the DPi (for Daytona Prototype International). It is based on the LMP2 design that runs under ACO specifications at Le Mans. For 2017, older LMP2 designs are also able to run in the WTSCC Prototype class, but next year all cars in the class will be required to be DPis. This will set up WTSCC contenders nicely for Le Mans, which is of course what many of the teams aspire to anyway.
So, that's one conflict mitigated. A happy byproduct of this for British car enthusiasts is that many of the DPis in the WTSCC are running engines sourced from a British company, Gibson Technology. The main reason is that the ACO is requiring all the LMP2 entries at Le Mans to run the Gibson GK428 4.2-litre engine — so you could say Le Mans is driving both chassis and engine developments in the WTSCC.
Along this line, it is worth noting that the new Mazda Motorsports DPis are also British-powered, but not by Gibson. For 2017 they have retained their AER-developed powerplants. Some of the other DPis, most notably the Cadillacs, have sourced their engines in-house — for example, from Chevrolet, so it is unlikely they will be invited to Le Mans anytime soon.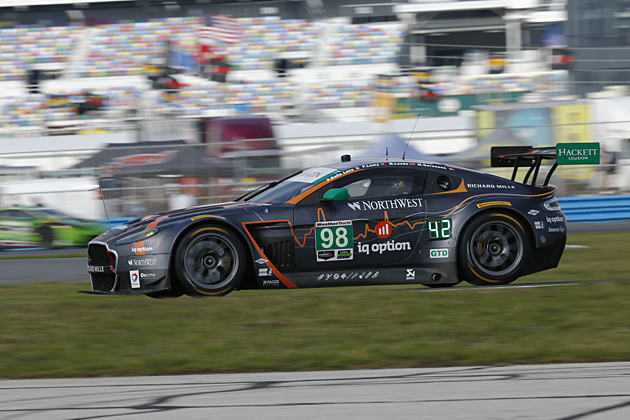 The #98 AMR Aston Martin was the only Brit among the GTs.
Photo by Tom Murray
Rule changes have also affected the GTD class. Last year it was determined that going forward all GTD cars will be built to international GT3 specifications, and this has made a lot of people happy. Commentator Steve Cole Smith from Autoweek explains why.
"GT3 cars are eligible for literally dozens of series around the world," he writes. "This consequently gives manufacturers an incentive to build and sell GT3 cars, which go for somewhere above or below $500K per copy, depending on your spares package and level of factory support. It also gives the GT3 cars a certain level of resale value, appealing to many teams on the fence about what series and class to pick."
And so, at Daytona this year, GTD saw the old guard there as always with entries from Porsche, Ferrari, Aston Martin, Audi and BMW, but also new teams fielding Mercedes-Benz, Lamborghini, Acura and Lexus cars, too.
The race
Endurance racing isn't for everyone. Some like the fanfare of Indy or NASCAR while others like the glitz and glamour of F1. To be sure, we understand the appeal, but the long, drawn-out ebb and flow of endurance racing, with constantly changing drivers, weather and track conditions, really speaks to the psyche. Plus, the fan participation allowed at these events is a key to the camaraderie experienced by most.
The weather is never warm at Daytona this time of year. You can see the ocean from the rooftop and the cold Atlantic air can be bitter at night. New Englanders may laugh at us, but for most, the cold is real. You don't see many fans walking around at night like at Sebring or Le Mans. The true fans are bundled up in their tents while the softies are in their beachfront hotels!
The night racing is less frenetic and falls into a rhythm of sorts as fans are lulled into a good night's sleep by the metronomic engine sounds and warm afterglow of beer and barbeque. Meanwhile, crew members sleep under packing blankets for a few minutes at a time (this year between yellows). Some grab a smoke and a hot coffee to get some warmth back into their fingers.
This year the rain came just as the fireworks were going off and really never ceased until into the daylight hours. The drivers didn't have to worry too much about the slick surface or poor visibility, however. They were behind the pace car for much of the night! For the first time that we can remember, the pace cars swapped duties in the early morning hours. Whether the driver was out of gas, literally or metaphorically, we're not sure, but certainly this was a first!
With the ground still cold and soggy, the daylight started to peek through the clouds as the three main classes continued to run within seconds of one another. As the morning wore on and the place came alive again, the sun started to peek through, and the lap times tumbled as the track dried out.
Some highlights of the race:
Speedway golden boy and five-time winner Scott Pruett surprised the crowds when he stuffed his new GTD Lexus early in the proceedings with a rare mistake that ended the team's race as he hit an infield wall. Although he walked away waving, albeit a little crestfallen, this was not what the team had hoped after so much pre-season promise.
In the GT Le Mans class, the Chip Ganassi Ford GTs were back in domination mode with the full Le Mans squad on hand, the UK GTE Pro cars as well as the US team. They were at it hammer and tongs with the lone Risi Competizione Ferrari, which played David to Ford's Goliath. This time, however, David didn't win — but placed 3rd, behind the #66 Ganassi Ford and the appropriately-numbered #911 of the Porsche GT Team.
The big and powerful GT cars — including Corvettes and BMWs among the Ford GTs, Porsches and Ferrari — all had a tough time with the cold ambient temperatures. Getting correct pressures and heat into the rubber caused many spins and accidents, with a record amount of running time under full-course yellow. This year saw over seven hours, besting (?) the previous record set in 2007.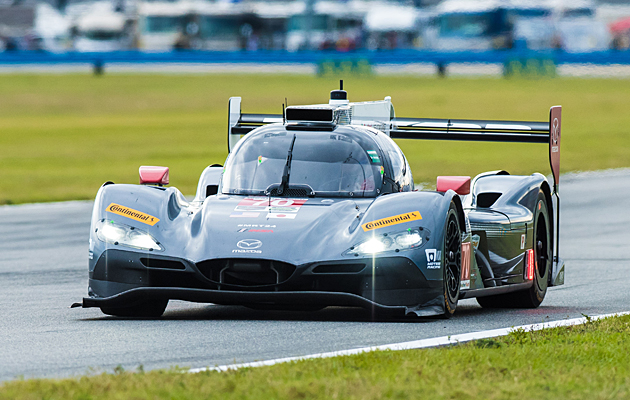 Mazda Motorsports' #70 DPi prototype has a distinctly different look, but retains its AER-developed engine.
Photo by Colin Sword
Up at the sharp end, the three new Cadillac DPi cars were the talk of the town with their rather snazzy new machines swapping blows with each other, literally, until the last lap. They grabbed the top two podium positions, overall and in class.
Mazda entered their new and beautifully slippery-shaped RT24-P DPi to the adoration of the crowd, who, it seemed, would dearly have loved to see the team do well. Alas, one car smoldered into the late race pits, trailing oil after a fractured line saw their demise from a hard fought 5th place, while the other car was ignominiously punted from the rear by one of the Caddys while also suffering from two transmission failures. The second of these struck, as it always seems to happen in round-the-clock races, with only 30 minutes remaining. "Why can't the thing break in the first hour if it's going to break?" Vic Elford once remarked. How true!
The amount of running time that the Mazdas saw gained them invaluable data for the rest of the season, for sure, and who knows? Maybe they'll win a race at one of the tighter tracks where the outright power of the Cadillacs will not be such an advantage.
A more pleasant surprise was the result for the #90 car of Visit Florida Racing, a Riley/Multimatic LMP2-spec chassis propelled by the aforementioned Gibson engine. It will be remembered that #90 last year was an old-school Daytona Prototype Corvette. They started 11th, but fought their way to a podium finish, even leading 39 of the 659 laps run in the race. As an LMP2 car, they were faced with the considerably greater pace the regulations allowed for their DPi competitors, so the result was remarkable. Driver Renger van der Zande was later to comment, "The gap is way too big. I hope IMSA can do something about that."
GTD saw the class win going to the #28 Alegra Porsche, but the win could have gone to any number of the teams. It was that close. Considerably further down the list in 12th place was the sole Aston Martin, co-driven by the international team of Paul Dalla Lana, Mathias Lauda, Pedro Lamy and Marco Sorensen — the very familiar #98 car. Other drivers running in GTD with whom British Marque readers are familiar included Katherine Legge, whose #93 Acura NSX finished 11th in class, and Christina Nielsen, last year's champion, whose Scuderia Corsa Ferrari finished 16th.
MINI JCW on top in Daytona Conti
One could argue that the real action for British car lovers was not in IMSA's main event, the WTSCC Rolex 24, but in the warm-up: the Continental Tire SportsCar Challenge. At Daytona, it was called the BMW Endurance Challenge, and interestingly enough, in the ST class, it was won by a BMW brand (but not BMW).
Each Conti race has two classes, GS (Grand Sport) and ST (Street Tuner). There are British cars running in both of them. In GS, there are Aston Martin Vantages and — new this year — McLaren GT4s. In ST, there are three MINI JCWs — cars #37, #52 and #73. It was the #73 car that pulled off the class win.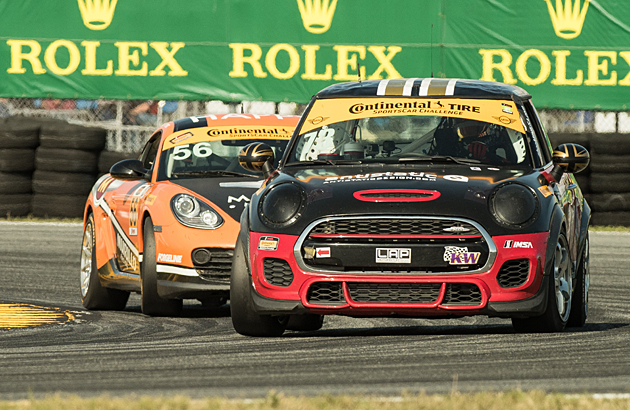 MINI #73 ahead of Porsche #56. It was that way at the checker, too.
Photo by Colin Sword
This race was unusual, not just for the first-ever victory for MINI, but that it ran for four hours instead of the usual two.
Derek Jones and Mat Pombo co-drove #73, with Pombo crossing the finish line 1.568 seconds ahead of the #56 Murillo Racing Porsche Cayman of Eric Foss and Jeff Mosing. Third and 4th positions went to Porsches also.
(Yes, there are Porsches in the same class where MINIs compete with Mazda MX-5s, baby BMWs and a Nissan Altima. There are also Porsche Caymans in the GS class, but they are of the higher-spec GT4 and GT4 MR varieties.)
One could say MINI's class victory was not all that strange, as Pombo had already brought attention to the team by setting the fastest lap in practice. The other cars, #37 and #52 were not far behind.
Then, during qualifying, Jones took #73 to 3rd, while teammates Nate Norenberg and Mike Lamarra grabbed 6th and 9th respectively in MINIs #52 and #37. In other words, all three MINIs qualified in the top ten, out of 20 contenders in ST.
MINI #52, unfortunately, did not fare well in the race. First there was contact with a BimmerWorld BMW 328i early on, then under a full-course yellow it lost power as it was entering the pits, becoming stationary in the middle of pit lane and obstructing traffic until moved out of the way, and then, as the race was ending, it hit a tire wall. It would finish 17th in class.
MINI #37's day ended in heartbreak. After nearly flawless driving by Lamarra and then James Vance, the car was forced into a tire wall with but seven minutes left in the race, ending its day in 12th.
Mat Pombo's biggest challenge in #73 may have come in the last ten minutes of the race, right after #52 crashed. The full-course yellow meant the race restart had to be clean to sustain the sizable lead that he had built. Turns out it was.
So, the real story is not just that the Jones-Pombo team came out on top, but that all the MINI JCW drivers proved themselves to be real contenders in the series. But for bad luck, #37 and #52 could have easily been in the top ten, maybe the top five. A 1-2-3 finish could have happened, too!
As to the other teams fielding British cars, Automatic Racing represented two marques very well. They ran the #99 and #09 Aston Martins that we've seen before, and also, with partner VOLT Racing, a McLaren GT4. TRG-AMR was also there with an Aston, car #3. Sadly, #3 completed only 18 laps, less than 38 minutes of the four-hour race.
Automatic Racing's Rob Ecklin, Al Carter and Charles Espenlaub once again put in a steady performance, placing #99 7th in GS in qualifying and 7th in the race. Their sister car, piloted by Max Bladon, Chris Beaufait and ex-MINI JCW driver Ramin Abdolvahabi, started in 15th and finished in 11th.
The team's #7 car was the top finisher among the five McLarens running, ending the race just behind the #99 Aston. The second best finishing McLaren, fielded by Motorsports in Action, came in right behind them. That team ran another McLaren that finished 13th in class.
Two other McLarens, ending the day 15th and 16th, were run by an outfit called C360R.
Stay tuned — there's plenty of British action in IMSA this year.