Feature Stories
---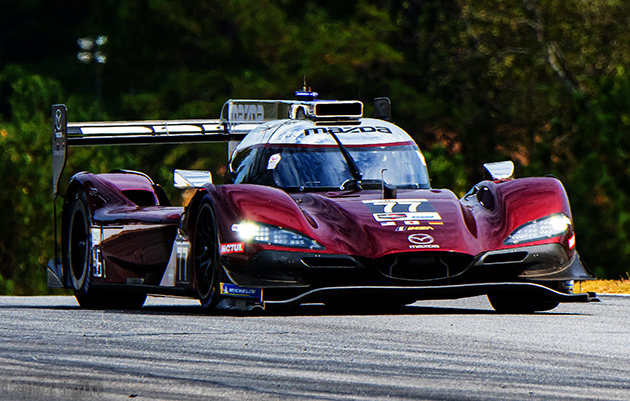 December 2019

Mechanical problems bedeviled both Mazda-AERs at Petit. After trading the lead several times with a Cadillac, #77 (above) slowed considerably after its last pit stop and had to settle for 6th place.
Photo by Colin Sword

Petit Closes Bittersweet Year for Mazda Team

by Bruce Vild



BRASELTON, Ga. — Both IMSA and the team have called this "the breakthrough season" for Mazda Team Joest, and that description is just fine with this writer. From Watkins Glen on, their story this year is a compelling one — and, as with any good novel or play, there's a denouement bound to drop a jaw or two.

In our August issue we chronicled the team's first outright victory in IMSA's WeatherTech SportsCar Championship. It took place at the Glen. The #55 Mazda RT24-P topped the podium and sister car #77 finished right behind. Since then they claimed two more victories, right in a row, at Mosport with the 1-2 positions reversed, and Road America with #55 back on top.

The team slipped a bit at their next race at Laguna Seca. Number 55 was forced to retire due to a component failure, while driver Oliver Jarvis got hung up in lapped traffic and brought #77 home in 6th.

The season closer, the Motul Petit Le Mans at Road Atlanta, saw #55 again retire with mechanical issues, and #77's lead slip away after Jarvis pitted during the race's fourth yellow in the final half hour. The car seemed to lose its pace after the restart and finished 6th.

While the outcome at Petit was a disappointment, the team was left with the distinction of having led laps in every race of the 2019 season — plus their three victories, eight total podium finishes, three pole positions, and track records set at Daytona, the Glen, and Mid-Ohio.

Mazda Motorsports Director John Doonan would later salute "the attitude and work ethic of everyone in the program and our technical partners, [chassis constructor] Multimatic and [engine fabricator] AER."

AER, also known as Advanced Engine Research, Ltd., is based in Basildon, Essex, England, and has provided their racing engines over the years not only to Mazda, but also Ford, Hyundai, Nissan, Toyota, and MG/Rover. The U.K. connection, of course, is why this publication has paid so much attention to Mazda Team Joest.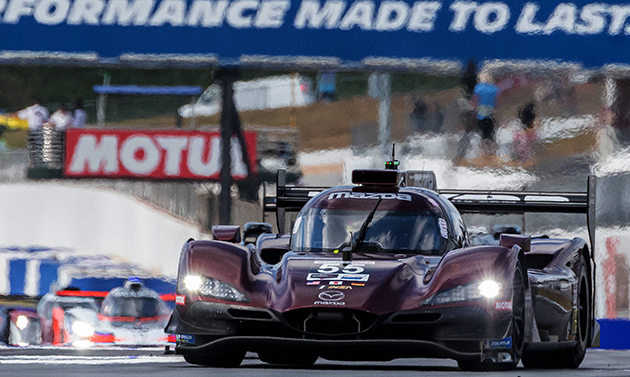 Mazda #55, the victor at the Glen and at Road America, only made it halfway through Petit.
Photo by Colin Sword
The outcome at Laguna Seca and Petit naturally affected driver and team championship standings. Acura pilots Dane Cameron and Juan Pablo Montoya tied for top place with 302 points each, while Mazda's drivers in car #77, Jarvis and Tristan Nunez, came 5th with 268 each, and #55's Jonathan Bomarito was 6th with 263. Bomarito's partner, Harry Tincknell, placed 9th with 233.
With these results the team is neither resting on their laurels nor moping about what might have been. IMSA reports that the team is already turning laps around Daytona International Speedway and Sebring in preparation for the 2020 season.
Said Tincknell, "I feel like we have the team, we have the car, we have the engine, we have the drivers." We'll see soon enough. The Rolex 24 at Daytona, the first race of next year, will take place on Saturday, January 25th.
The denouement to this year's story? They will do it with John Doonan presiding over, and not managing Mazda Team Joest.
Doonan has accepted a new role that, after a career with Mazda and its motorsports program reaching back to 2003, has him taking over from Scott Atherton as IMSA president.
"Clearly, this summer was a breakout for us [at Mazda Team Joest]," Doonan commented. "I feel very confident we're going to continue to be a strong participant long term as well as, hopefully, championship winners. But I'm needing to step back a little bit now and wear a different hat, wear a different shirt."
The announcement caught many of us by surprise (yes, jaws dropped). Doonan now has big shoes to fill given his predecessor's long tenure as IMSA president, but fill them he will. Under his management, Mazda Team Joest worked their way through a tough season with some sweet results. IMSA should benefit accordingly.
Good luck to both going forward.
[Prepared from team and IMSA reports, and Lee Driggers' Pit Notes. Thanks to all.]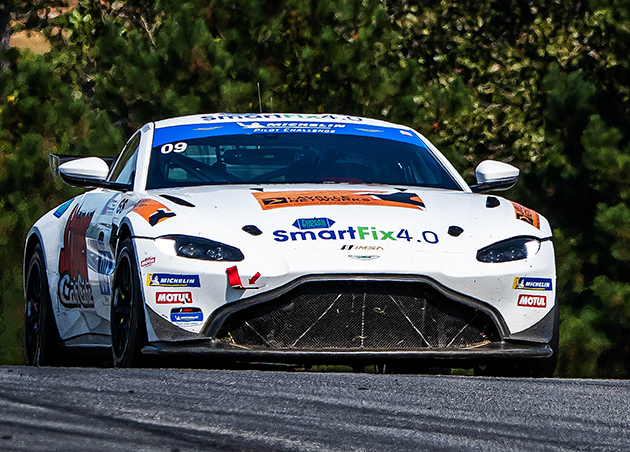 The #09 Aston stormed from behind to finish 2nd, but...
Photo by Colin Sword

Aston Team Bounced to Bottom with Post-race Penalty

by Druha Nahoda



BRASELTON, Ga. — In the final race of the 2019 Michelin Pilot Challenge season, it looked as though Automatic Racing was about to repeat what happened at Daytona — a 2nd-place finish, with a McLaren right behind it.

Unfortunately, this was not to be. The team would be hit by a technicality that denied them their podium step and placed them at the very end of the field.

No one, however, could deny that the team had finally dialed in car #09, a brand-new Aston Martin Vantage GT4.

After some middling results in previous races, #09 grabbed pole position at Road Atlanta at the hands of driver Akhil Rabinda, and when the race began it seemed the real contest would be between the Aston and the #15 Multimatic Ford Mustang, which started 2nd. No one else could match their pace.

There were four full-course yellows during the two-hour race, so it all came down to the pit stops. As all the cars cycled through for tires, fuel and driver changes, #09's sister car, the team's soon-to-be-retired, seven-year-old #99 Aston, took and briefly held the lead.

Rabinda turned #09 over to Tom Long to finish, but a long pit stop dropped Long down to 15th in class. Long still had time to move up through the field, getting the Aston as far as 2nd place and ready to charge the Mustang.

When the dust cleared, the Mustang emerged victorious, with the Aston three seconds behind and Motorsports in Action's #69 McLaren 570S, piloted by Jesse Lazare and Corey Forgus, in 3rd.

But not quite. With the cautions and pit cycles, there was a small window for refueling and the Astons' options were limited when it came time to call for a pit stop. Complicating things was that Automatic Racing shared a pit box with another squad in the race, and the overlapping pit sequences forced #09 to stay out on the track longer than anticipated until the pit box cleared.

This unhappily prevented Long from reaching the drive-time minimum for the race and, under series rules, the team lost their 2nd-place standing post-race.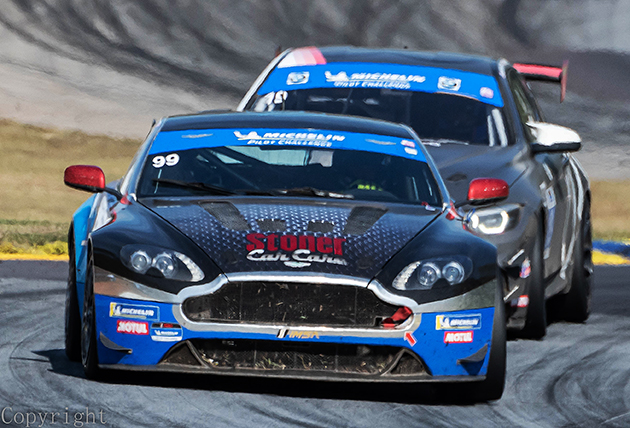 Aston #99, now retired after seven years of racing, had its turn at the front of the pack this one last time.
Photo by Colin Sword
There really was no room for protest. As Long explained after the race, "Unfortunately, each driver has to have a minimum of 40 minutes, but our first opportunity to get into pit lane [for the driver change] was with 38 minutes left."
But Long remained upbeat, calling it "a fun drive."
"The Aston Martin just pulled through the field," he said. "It was an incredible day for a lot of reasons."
The earlier-generation #99 car did its swan song at Road Atlanta. Driver Ben Widdell made his Pilot Challenge debut in the race, and he was the one who took the car to the front of the field — "a privilege," he said, "even a bit surreal."
Widdell and co-driver Ramin Abdolvahabi finished 16th after one final pit stop for fuel. The third Automatic Racing Aston, #97 — another new GT4 — was brought home in 14th by veterans Gary Ferrera and Kris Wilson, who incidentally took #99 to the podium at Daytona.
Anyone looking for a used Aston, seven years old, 62K miles, ran (very well) when parked?
[From IMSA and team reports.]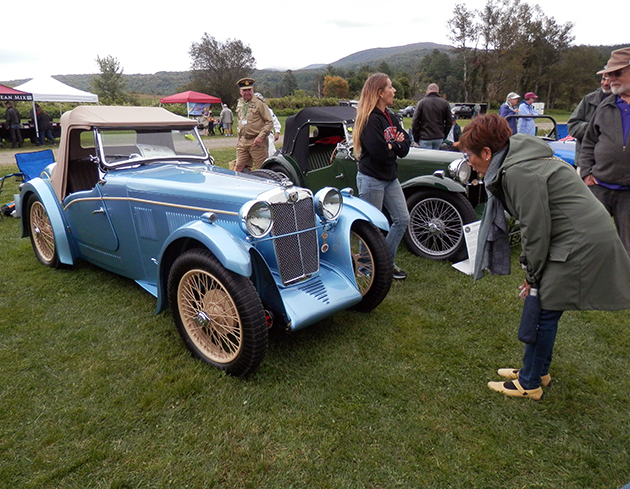 November 2019

MG was the Featured Marque at this year's British Invasion, and there were some fine examples in the Concours. Malcolm and Barbara Appleton's 1932 F1 Magna, shown here attracting some attention, was one of them.
Photo by Bruce Vild
Stowe XXIX

by Michael Gaetano, Event Organizer


STOWE, Vt., Sept. 13-15 — Year twenty-nine of the British Invasion was marked by a schedule change, perfect weather for arrival and for the Friday Street Party, some brief moisture on Saturday morning, and a sunny Sunday for the last field events and the trips home.
A conflict with nearby Norwich University's 200th anniversary celebration on the third Saturday in September left us with no choice but to move the Invasion from its usual weekend to the second weekend to ensure the availability of accommodations for Invasion attendees. At least one of our food vendors had a conflict with the schedule change, which left us without coffee and breakfast sandwiches.
But, these issues aside and even with showers on the show field, British Invasion 2019 was a success.
With MG as our Featured Marque, we enjoyed an impressive turnout in the judged Concours d'Elegance, the people's-choice British Classic Motorcar Show and the Car Corral, where vehicles were displayed for purchase. Enthusiasts drove in from Utah, Tennessee, New York, Pennsylvania, Virginia, Ontario, Québec, Nova Scotia, and of course New England, and we had many visitors from other points on the compass.
We were most pleased to enjoy the active participation of the Jaguar Land Rover Performance Center in Manchester, Vt., who have already pledged to return in 2020. Vehicles and staff from the "Land Rover Experience" were on display to tempt British Invaders to look into that hands-on program and come out to play.
The modern Land Rovers were complemented by a display of vintage examples belonging to Jim Macri of High Meadow Farm in Saxtons River, Vt., including his famous re-creation of the 1947 prototype Centre-Steer Land Rover — the product of many years of research and painstaking construction. Jim also entered a dazzling 1947 Rover convertible in the Concours that had just finished a complete restoration.
Stowe XXIX maintained its position as the largest all-British car show in the eastern USA as we managed to field over 550 British vehicles on Saturday, including roadsters, coupes, saloons, military vehicles and motorcycles.
As the Invasion is advertised as "pre-registration only," if you waited to register until Friday afternoon you had to pay a premium and be lumped together on the show field with other late registrants instead of joining the proper class for your car. Several did, which bolstered the overall turnout in the people's-choice show. The Friday option was not available for the Concours.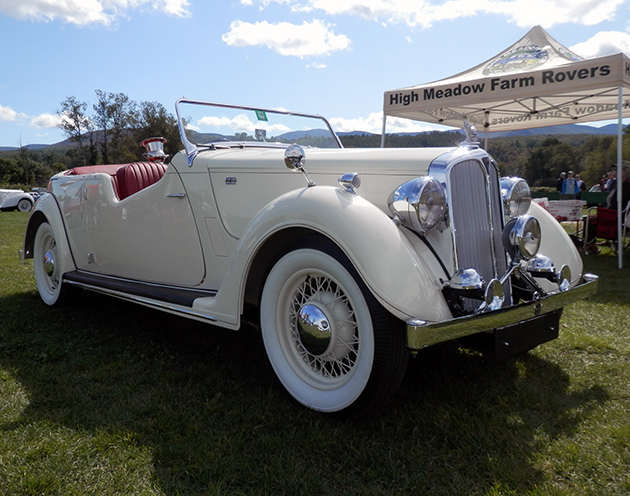 Best in Concours, Jim Macri's 1947 Rover P2 Sport.
Photo by Bruce Vild
The British Classic Motorcar Show was where the vast majority of our entrants were located. We had 66 separate classes and we awarded 125 awards to class winners. Best of Show in the British Classic went to Foster and Phebe Whitworth of West Lebanon, N.H., and their 1948 MG TC. The MG was in delightfully original, "as found" form, which obviously made it the people's favorite.
The Concours d'Elegance, our judged competition, challenged owners not only to compete against other entrants, but also against a Code of Excellence that sets the minimum score required to be awarded a 3rd, a 2nd, or a 1st place award. The Best of Show in the Concours d'Elegance went to the aforementioned Jim Macri and his 1947 Rover P2 Sport.
A complete roster of all the winners at Stowe XXIX is available for your viewing pleasure on the British Invasion website, www.britishinvasion.com, and on page 3 of the November issue of British Marque Car Club News. This includes not only the Concours and the British Classic, but the Tailgate Picnic Competition, Ladies' Hat Competition, and British Attire Competition, which are all important features of the British Invasion.
Sunday started with our largest following ever of British motorcars for the morning Notch Run. I believe we attracted over 40 vehicles and drivers, who followed my 1947 Bentley as we climbed over Smuggler's Notch and managed a 70-minute morning run.
Meanwhile, back at the show field, entrants regrouped for the "Competition of Colors" and for the Tailgate Picnic Competition.
The American Cancer Society, which managed General Admission Parking, raised a respectable amount of money for the cause during the Invasion weekend. Habitat for Humanity was also on hand, and ran a couple of very successful raffles that raised needed funding for their latest building project in nearby Morrisville, Vt.
We owe a special debt of gratitude to the more than 30 volunteers who made this year's British Invasion the success it was as they helped with field layout, show car parking, registration, regalia sales, general admission, Concours judging, ballot counting, the awards program, the Queen's Court (where the Ladies' Hat Competition took place), and then the breaking-down of the field and packing up for the next show.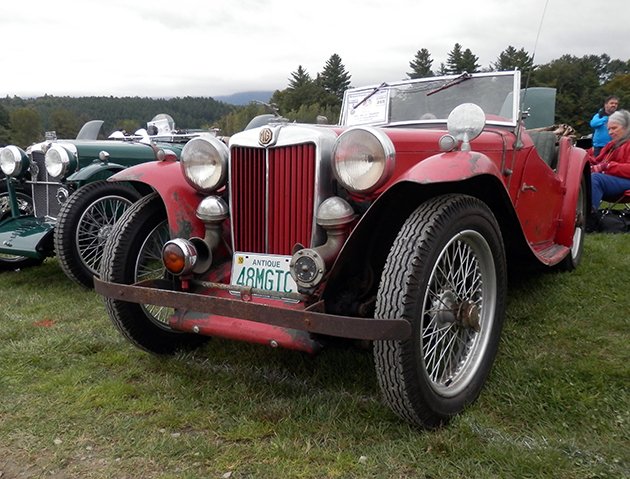 Best in British Classic (the people's choice competition), Foster and Phebe Whitworth's 1948 MG TC.
Photo by Bruce Vild
As you mark your calendar for British Invasion XXX — yes, that's 30! — please note that in 2020, in order to help ensure room availability, we have once again moved the event to one week earlier than normal, and will again be the weekend of the second, not third, Saturday in September. That will be September 11-13. We encourage you to make your plans and book early.
The Featured Marques next year with be Rolls-Royce, Bentley, Austin-Healey, and Singer. The Singer Motorcar Club, known for their often humorous club displays at the Invasion, will mark their 20th year of active participation with a special display and challenge other British car clubs to do the same.
Also for 2020, the Rolls-Royce Owners' Club/Bentley Drivers' Club will join us creating what they refer to as an "RROC Mini Meet" that will be a separate event from their annual National RROC Meet.
Jaguar Cars will be present in 2020, as will McLaren.
We are exploring the possibility of hosting a one-week, point-to-point tour culminating in Stowe for British Invasion XXX. The itinerary might run something like this: Start in Sturbridge, Mass., on Sunday, travel to Manchester, Vt., on Monday, then on to Lake Placid on Tuesday and Wednesday, off on Thursday over Lake Champlain to Shelburne and Burlington, Vt., then to the stone quarries of Barre, Vt., and points north, concluding with a drive over Smuggler's Notch, and ending in Stowe on Friday. This tour would be open to show registrants. Stay tuned.
To all who attended and helped to make the British Invasion a memorable weekend in scenic Stowe, Vt., over the past 29 years we say, thank you! And, as always, we wish you many miles of carefree and enjoyable touring in your British classic.
[Michael has been the principal organizer of the British Invasion from its inception in 1991. He is also chiefly responsible for the British Motorcar Festival in Bristol, R.I., ably assisted in both endeavors by his wife Paula and a dedicated team of volunteers that includes family and friends.]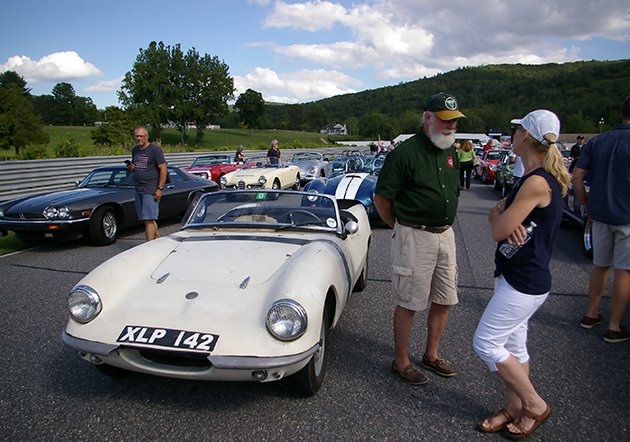 October 2019

Al Chicote chats with Anita Busch before the start of the Thursday afternoon parade.
Photo by Bruce Vild

Another 'Historic' Event
Lime Rock Hosts Its 37th Under (Mostly) Sunny Skies

by Bruce Vild



LAKEVILLE, Conn., Aug. 29-Sept. 2 — I love this place, and I love vintage racing. Labor Day weekend is wonderful because I get to enjoy both at Lime Rock's annual Historic Festival.

Kudos to the track, too. They arrange a schedule that kicks off with a parade of vintage street cars and racecars, features three full days of racing, and offers the breezy "Sunday in the Park" Concours with something for everyone. Like British cars? Of course you do. There are plenty of them in the Concours and in the club displays (the "Gathering of the Marques") that ring the track that day.

They also keep things very fan-friendly. Brush has been cleared from the fences so photographers and spectators can get almost as close to the action as the credentialed folks do. If you can't get a good picture at Lime Rock, you're just not trying. (And speaking of credentialed folks, they treat us well, too.) Both paddocks are open to the fans and the racers are delighted to chat with them, enthusiast to enthusiast.

This year there were nine race groups, with British cars of various vintages well represented in each of the first eight. The ninth was an all-Mazda Miata group, which doesn't seem terribly historic to this writer, but the model was inspired by the Lotus Elan from the 1960s.

On Lime Rock's Midway, David Hobbs, the retired British racecar driver who seems to be getting around a lot lately, was on hand offering autographs and books. Burt "B. S." Levy of The Last Open Road fame was at his usual spot just outside the track store, inviting people to help underwrite the next installment in the series with a donation to the cause ("buying immortality," he calls it, as all who contribute will get a mention in the book).

Familiar vendors such as Abingdon Spares could be found sharing space with some of the racers in B Paddock. There were artists, artisans and booksellers along the Midway, plus more options for food and beverage than ever. Craft beer was even available for the tasting.

Formula Fords, which race in their own group, were celebrated for their 50th anniversary. They are always worth a look because they run a spec engine sourced from Ford of England (a Cortina 1600cc four-cylinder) and offer basic, open-wheel fun.

Oh, and Formula Fords were also the starting point for many professional racecar drivers with famous last names like Andretti, too. They are as much a piece of history as any other car on the track this weekend, from Richard Morrison's 1925 Bentley 3 Litre to the 1970s sports racers from Chevron, March and Lola.

I was privileged once again to ride shotgun with Al Chicote in his 1959 Elva Courier in the Thursday afternoon parade to Falls Village, where a street party awaited us. About 100 cars participated, some of which we would see on the track the next day (such as that '25 Bentley). You have to apply and be accepted to run in the parade, but chances are you can grab a ride with someone who has an empty seat if you don't have your own car. This is always a hoot as the streets are closed and the driving is… well, spirited.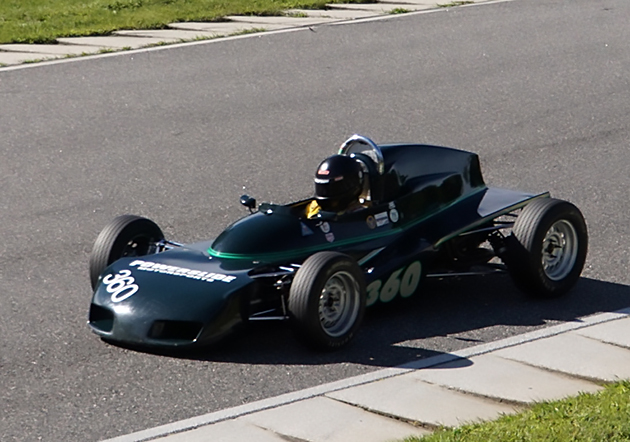 Dan Kraus in his Cortina-engined 1972 Elden. Formula Fords celebrated their 50th at Lime Rock this weekend.
Photo by John Morris
Friday and Saturday on the track
Friday was all about practice sessions and qualifying, and racing began in earnest Saturday morning. With British cars scattered among all the classes except for the all-Miata Group 9, the outcomes were always exciting ecause a Brit usually prevailed. For example, Group 1 was flat-out dominated by them, with 16 cars in the original 18-car grid being of U.K. origin. There were only two Porsche 914s to challenge them, and in the first race they could only manage 10th and 11th place finishes. Group 3 was usually a contest between Jim Bok's '61 Lotus 7 and Peter Greenfield's terrifyingly fast prewar Alfa Romeo 8C-2600 Monza, and Jack Busch's '65 E-type consistently held the line against Chris Homer's '64 Corvette in Group 4.
It was quite a mix. The cars were as varied as Frank Mount's MG TB, Hervey Parke's Ginetta G4, Michael Kaleel's Lola Mk1, David Porter's Lotus Cortina, Simon Kirkby's Hillman Imp, Mark Rosenberg's Peerless GT, Graham Adelman's Chevron B36, and of course most of the Formula Fords. It was hard to sit out any of the races because a British car was always in the hunt. That's entertainment.
Sunday in the Park
Sunday was the usual kick, with both the Concours and the Gathering of the Marques proving once again you never know what will show up – and totally delight you. I counted 29 classes in the Concours, with special emphasis on Morgan, which is celebrating its 110th anniversary this year, and Italian vehicles. Morgans had four classes in which to display and the mixed Italian marques eight. The entry list showed 33 Morgans, the oldest a 1913 three-wheeler and the newest a 2016 three-wheeler. Of course, there were lots of four-wheelers, the Plus 4s, 4/4s and Plus 8s, in between.
Augmenting this salute to Morgan on the non-Concours days was a big tent that Morgan Motors of New England, from Copake, N.Y., had set up on the Midway, showing Morgans ranging from a vintage three-wheeler to the 21st-century Aero Coupe. Local Morgan owners had their own cars on display around the tent and were on hand to answer questions about them. As part of the exhibit, a Morgan body tub was on display to show how steel, aluminum and, yes, wood, are used in traditional coach-building as practiced in Malvern Link.
Perhaps the most interesting Morgan there was David Webb's 1967 Plus-4-Plus, a model that I would argue is the most beautiful car Morgan ever built. It is also likely the rarest, only 26 examples having been produced because of poor sales. The streamlined fiberglass body apparently did not appeal to the usual Morgan enthusiast, though it did appeal to Concours Chairman Murray Smith. He honored it with a "Chairman's Choice" trophy.
Other award-winning Morgans included two other Chairman's Choices, Russell J. Deveso's 1953 Plus 4 and Morgan Malone's 1980 4/4. John Peden's 1963 Plus 4 and Ann and Brent Follweiler's 1969 Plus 8 each were recognized as a "Star of the Rock." Murray Smith himself won the Sports Car Market Crystal Award for his 1938 4/4 Le Mans.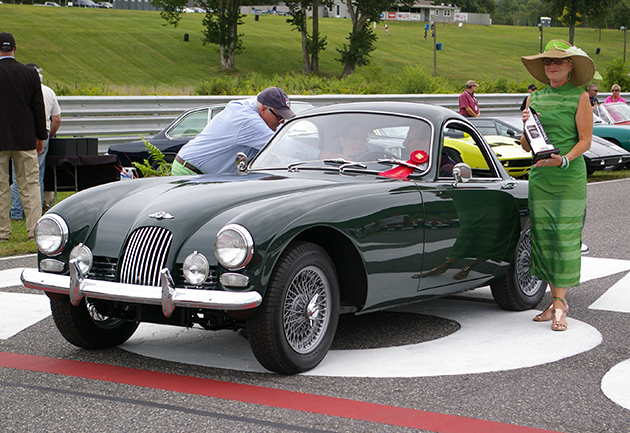 David Webb's 1967 Morgan Plus-4-Plus, one of only 26 made, won a Chairman's Choice award in the Sunday Concours.
Photo by Bruce Vild
Among the Stars of the Rock were Steve and Anita Busch's 1962 Daimler SP250 and David Porter's 1961 Jaguar XK150S. A "Kids' Choice" Crystal Award went to Bruce and Leslie Silvers' 1954 Austin-Healey 100 Le Mans Roadster, which also won its class in the Concours.
Other class winners included James Cordock's 1970 Jaguar E-type OTS, David Jones' Aston Martin DB2, Marcel and Rene Perlman's 1966 Jaguar 3.4S Coupe, and Steven and Donna Kalmin's 1971 E-type Coupe. There were four Morgan classes, topped respectively by the 1934 SS three-wheeler of Marc Wunderman, the 1948 Flat Rad 4/4 of John Bigler, the 1970 Plus 8 of Richard Fohl, and the 1962 Plus 4 Supersport of Murray Smith.
Monday in the rain
Eyes were on the weather all weekend, and for the first three days all was well – partly cloudly, not overly hot or humid, excellent conditions for shooting the cars – but Labor Day Monday saw the threat of severe rains starting about 11 a.m. Several vendors and a few track entrants left. Grids were reduced for the most part, but not in the early morning before the rains came.
But come they did. Lightly at first, but by the time the Mazdas closed out the morning sessions, it was pouring. The radar showed the rain would be with us for hours, putting participation in the afternoon racing in question.
Greg Rickes, Lime Rock's announcer, read the list for Group 1 as the cars lined up in the false grid – rather an academic exercise, as few showed up (four, to be precise, three of which were British, and two of those open cars!). Tom Brown's 1963 Spitfire finished way out in front, ahead of a Porsche 914, Marcos GT and Austin-Healey 3000. Lap times, of course, increased significantly – more than 42 seconds in the case of 3rd-place finisher Jonathan Einhorn, in the Healey, over his sunny-day best on Saturday.
The racing program went on. It was another reduced grid in Group 2, the Formula Fords, this time with five cars. All of these were open cars and the top three did complete their 10 laps, going fast enough perhaps to keep the cockpits dry. Dan Kraus' 1972 Elden took that one, with Mike Kraus in 2nd in another Elden, and Frank Delvecchio following in a Van Diemen RF 81.
Group 3, the prewar and immediate postwar cars, lined up on the false grid shortly after, with the best showing so far of drivers willing to have a go in the wet — I counted six. And then it was announced that their race was suspended, waiting for official word whether racing could continue. The rain had stopped and the skies were clearing, but a drain was plugged and a portion of the track was flooded.
As I walked toward Big Bend to set myself up for the Group 3 race, camera in hand, I met two corner workers who had left their station. "You guys going home?" I asked. "Yep," came their reply.
Racing was over, they explained. There was simply not enough time left in the afternoon to clear the drain and the water on the track. Disappointing for the fans and the drivers, but sometimes it's better to end a weekend with a whimper than a bang.
Looking forward, as always, to next year.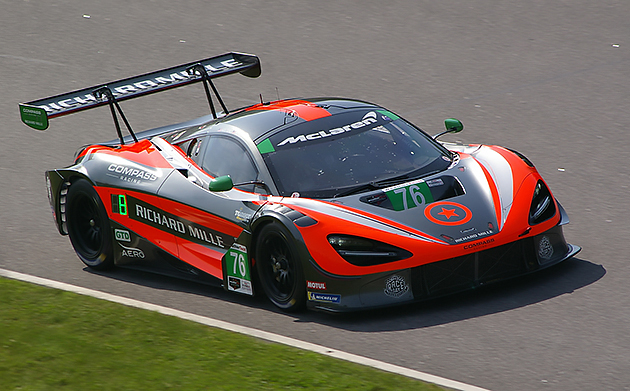 September 2019

It was a GT-only race in the WTSCC at Lime Rock, and the big (and only) news for British car fans was Compass Racing's new McLaren 720S GT3 — developed with extensive input from team racer Paul Holton.
Photo by Bruce Vild

Heating up Lime Rock
Air and Track Temperatures Add to the Challenge of IMSA's Shortest Track

by Bruce Vild



LAKEVILLE, Conn., July 19-20 — It was Lime Rock Park's turn once again to host IMSA's Northeast Grand Prix.

This was the eighth race in the WeatherTech SportsCar Championship series. Don't look for any coverage here of the Mazda-AER DPis — this was a GT-only race, no doubt due to the shortness of the track (almost exactly 1.5 miles long, the shortest on the circuit). There are some tight turns and only one straight long enough for the prototypes to stretch their legs.

Our eyes were on the sole British-manufactured entry, Compass Racing's McLaren 720S GT3, new this season and competing against familiar GT3s from Porsche, BMW, Ferrari, Lamborghini, Audi, Mercedes, Acura and Lexus in WTSCC's GT Daytona (GTD) class.

But while options for a story about British racecars were few in the "big" race, there was an embarrassment of riches in the Michelin Pilot Challenge. Compass Racing was active there as well with a McLaren, the #75 570 GT4 that won Daytona. Motorsports in Action's #69 McLaren, most recently on the podium at Mosport, was there, too. Add to the mix three Aston Martins fielded by Automatic Racing, #97, #99 and #09, and there was plenty to watch.

Compass Racing's Paul Holton would not have to do double duty as a driver in both the Michelin and the WTSCC races, as he had previously. Brit Paul Rees would be partnering with Kuno Wittmer in the Michelin, leaving Holton to concentrate on the 720S, with Matt Plumb, in the WTSCC.

Corey Fergus took the #69 McLaren to a 7th-place finish in the Michelin's first practice session Friday morning. This was the best result of the five British cars out on the track. Greg Liefooghe brought Automatic Racing a (hopefully) lucky 13th for the top Aston, #09.

The second practice was red-flagged when a Mercedes stopped on the track after only two laps. At that point, the two McLarens were 2nd and 3rd in the Grand Sport (GS) class, and 3rd and 5th overall — split by a Hyundai Velostar N running in the Touring Car (TCR) class. (During practice, cars in both Michelin classes line up in pit lane and start at the same time.) That changed when the race went green and the GS cars began moving up. Driver changes also jumbled things, but Liefooghe's co-driver, Ali Balogh, had a decent finish in 7th position, the top result for a British car.

Fergus and his partner Jesse Lazare returned #69 to the top ten in the third practice in the 9th spot, while the leading Aston, Liefooghe and Balogh's #09, managed only 13th — again.

Ambient and track temperatures meanwhile were climbing, and it was supposed to be even hotter on Saturday. The WTSCC GTs got in their first practice, with the McLaren finishing last and putting in only 35 laps where others recorded 53 or more. Holton brought the car in 19th overall and 11th in class in the second practice session, ahead of a Lexus and an Acura but still only logging 37 laps with Plumb.

Practice 3 in WTSCC found #76 in 20th overall and 12th in class with its slowest time so far.

I know I'm partial to British cars, but quite a few people would agree that #76, in its orange-and-black livery, was the best-looking car on the track. One could forgive Holton and Plumb if they wanted to "go easy" in practice with their new car. Qualifying might tell a story needing telling.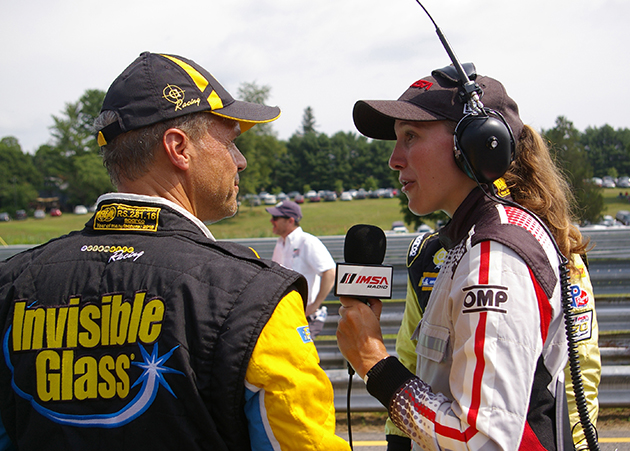 IMSA Radio's Shea Adam talks to Automatic Racing's Rob Ecklin, Jr., about the race ahead.
Photo by Bruce Vild


Qualifying
Lest you think that the TCR cars in the Michelin, being smaller than the GS entries, are much slower, take a look at the results of qualifying: overall and GS pole by Team TGM's Mercedes at 53.963, 2nd overall and TCR pole by Herta Autosport's Hyundai Veloster at 54.034, and 3rd overall and 2nd in GS by Carbahn Motorsports' Audi R8 at 54.051.
(However, all TCR cars start the race behind the GS grid. One would presume this is to manage traffic in a usually very crowded grid, at least in the first lap.)
I looked down the list and found the #69 McLaren in 8th position overall, and 5th in class the #97 Aston next in 12th overall and 9th in class the #75 McLaren, 21st overall and 13th in class the #09 Aston, 23rd overall and 14th in class and, two up from the bottom, the #99 Aston, 31st overall and 19th in class. The range of qualifying times among the British cars was 54.477 to 56.686.
Matt Plumb was the qualifying driver for #76 in the WTSCC. Unlike practice, where the classes were combined, qualifying sessions were split between GTD and GT Le Mans with GTD going first. His result, 52.008, shaved more than two seconds over #76's practice times. There was less than a 0.7 second gap between him and pole sitter Trent Hindman. This put the McLaren in 10th position among the GTDs.
I had a chance to chat with Paul Holton at the pre-Michelin-race fan walk about the two Compass Racing McLarens and just how different they are.
The car entered in the Michelin is, he said, about 70% street car, with race modifications added, whereas #76 is about 90% racecar, developed from the get-go exclusively for the track. I asked if the new car was particularly challenging getting used to, and he replied, not so much — he played an active role in its development from the very start, including testing the car in Europe on Formula 1 tracks.
But Holton was quick to add that Lime Rock presented its own challenges, especially in the heat. The track surface, he said, was really abrasive, with pebbles poking out that were contributing hugely to tire degradation.
(This confirmed an early conversation I had with one of the crew members for Automatic Racing, who said that tires were only good for about five laps.)
Not offering excuses by any means, he said this was all part of the learning experience as teams go from track to track — at least it's "not as bad as Sebring," he told me.
Back at Automatic Racing, the conversation drifted to the three cars the team is fielding at Lime Rock — "two new cars, and this old relic," a tech grinned as he leaned against #99, which I pointed out was also being piloted by two of the most senior drivers in the series. That "relic" and those two older guys managed 2nd place at Daytona after a last-minute pass edged out the #69 McLaren, prompting a comment about "old age and treachery" once again getting the better of youth and skill!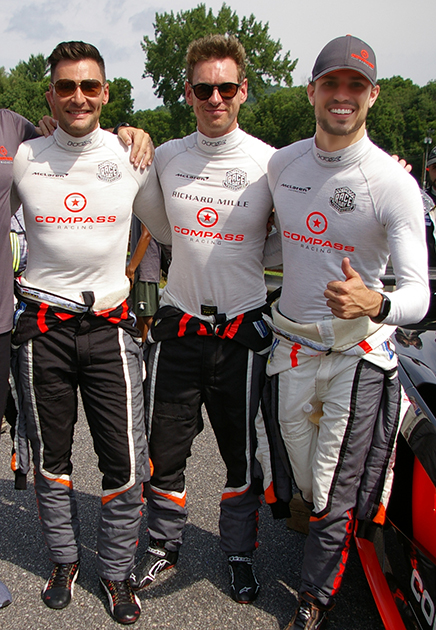 Three of Compass Racing's drivers (left to right) — Kuno Wittmer, Paul Rees and Paul Holton.
Photo by Bruce Vild
The races
Starting in the Michelin, in descending order, were Jesse Lazare, #69 McLaren, Rob Ecklin, Jr., #97 Aston, Paul Rees, #75 McLaren, Ali Balogh, #09 Aston, and Gary Ferrara, #99 Aston.
Lazare handed off to Fergus a little less than halfway through the race, the pit stop costing a handful of positions that Fergus immediately began recovering. At the midpoint #69, so far the top Brit, was running 7th overall, 6th in class, and as others pitted #69 climbed to 4th.
Ferrara had an early incident with a tailgating Mercedes coming out of Big Bend, with both cars going off-course but recovering with no apparent damage or change in position.
Cautions were rare. One came when a car's passenger-door window fell onto the track, was run over, shattered and splintered — the "sharp debris on the track" prompted a yellow until it was removed.
A Honda had an engine fire that sent it to the pits. There was a lot of spirited driving, but squeezes and passes were done expertly and contact was minimal — exuberance did not quash skill. The Honda was the only car to be retired, and it wasn't due to an accident.
An easy lesson from the short track at Lime Rock was how quickly one could fall off the lead lap. A car in 6th place was likely to be off it, and a gap of more than 52 seconds from the overall leader could make the difference.
It turned out not to be so great a day for either the McLarens or the Astons, with the only top-ten class finish enjoyed by Corey Fergus in #69, in 7th and but one position off the lead lap — but all in all, a good, consistent performance by the Motorsports in Action team.
Automatic Racing just missed the top ten, with T. Long in #97 crossing the line 11th in class and 14th overall. The sister cars came 15th in class and 20th overall (#09, brought in by Liefooghe) and 18th in class and 25th overall (#99, with Kris Wilson).
Kuno Wittmer finished #75's race near the bottom of the list, some five laps down at 19th in class and 30th overall. Disappointing, but Compass Racing was still on the hunt in the WTSCC.
A height infraction sent a Lamborghini that had qualified 3rd in GTD to the back of the grid, so the #76 McLaren moved up a position for the start. Matt Plumb took the first shift.
Trackside commentators talked about the heat. One of their guests, a driver whose name I didn't catch, remarked that extended stints in this kind of heat clouded one's judgment, even with the air conditioning that's used in the cockpit. It was surprising we didn't see more offs or relief drivers fainting from the heat as they waited for the predecessors to pit. Seriously.
They also mentioned tire life under these conditions and how five to ten laps took you to the absolute limit — and yet, with these Michelins, two or three laps were needed to dial them in, at least at Lime Rock.
With a little more than an hour to go, air temperature had reached 94°, and track temperature 116°. The timing of driver and tire changes, always critical in pit strategy, seemed particularly so today, yet for many cars the starting drivers (including Plumb) were still doing a stint. Minutes later, Paul Holton finally took over, losing two positions but regaining them when an Acura that had gained the advantage had an off.
As the race entered its last stages, the excitement seemed limited to GTLM, where two Porsches and a Ford GT jockeyed for position and traded the lead. It became obvious that the podium in GTD would be shared in some shape or form by the pole-sitting Acura, a Porsche and a Mercedes, with the McLaren in the top ten — just.
The outcome saw Richard Westbrook take the Ford to an overall victory and the GTLM class win, while the Porsche prevailed in GTD. The McLaren finished 18th overall and 10th in class, ahead of a Ferrari, Acura and Lexus.
Next on the IMSA schedule was Road America and the return of the DPis. More later.