Feature Stories
---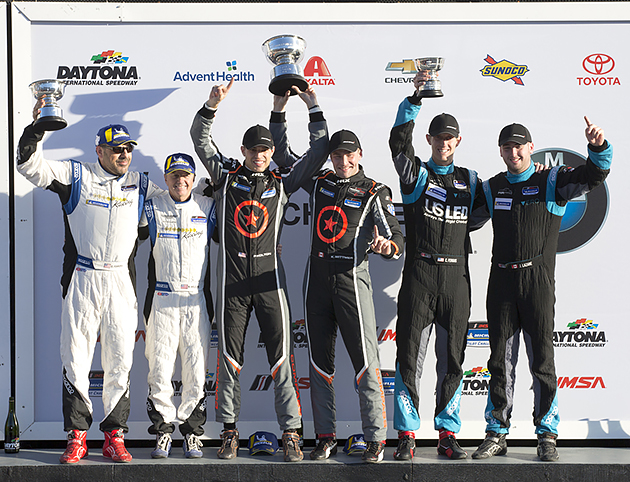 March 2019

Left to right: Gary Ferrera and Kris Wilson, Automatic Racing, #99 Aston Paul Holton and Kumo Wittmer, Compass Racing, #75 McLaren and Corey Fergus and Jesse Lazare, Motorsports in Action, #69 McLaren. Holton took the win, with Wilson just edging out Lazare for 2nd.
Photo by Tom Murray

Win, Place, Show
British Cars Grab the Podium at Debut of IMSA's Michelin Pilot Challenge

by James Edmonds


DAYTONA BEACH, Fla., Jan. 24-27 — So this year it was "all change" with the application of the new IMSA rule set — or perhaps I should say for the Rolex 24 at Daytona and the races to follow in the WeatherTech SportsCar Championship, "all change back"!

For casual followers, the major and most important change for the WTSCC was the splitting of the Prototype class, which has been discussed in these pages before. The Daytona Prototype International (DPi) machines and Le Mans Prototype 2 (LMP2, or simply P2) cars are now in separate classes. This reminds us of the old American Le Mans Series, with its P1 and P2 classes.

And for those who like watching British-made GTs do an enduro, the change was doing it on a new brand of tire — to be expected in something called the Michelin Pilot Challenge — and with only one class of smaller car competing alongside.

Even without the MINIs this year, Daytona was a big win for us British car fans if you look at the Michelin Challenge, served up as the supporting race to the main event. It was held on Friday, replacing the previous Continental Tire SportsCar Challenge. All of the drivers put on a show that will be remembered and talked about over many pints of ale for some time to come, because when the dust settled, the podium was monopolized by British cars — win, place and show.

There were two McLarens and three Astons taking part in the GT4-based Grand Sport (GS) class in the Michelin, the other class being the Touring Car (TCR) category. Smaller, as mentioned, but no less exciting to watch, especially since Luis Perocarpi's LAP Motorsports was back, albeit in a Honda Civic TCR. (Perocarpi and his team captured the Manufacturer's Championship for MINI last year in the now-defunct Street Tuner class.)

Paul Holton and Kuno Wittmer drove the #75 McLaren for Compass Racing, moving that team up to GS this year from last year's Conti TCR class and a Championship-winning Audi RS3. Corey Fergus and Jesse Lazare teamed up in the #69 McLaren for Motorsports in Action, while Kris Wilson and Gary Ferrera paired up in the oldest car in the race — the #99 Aston Martin Vantage — for Automatic Racing, who also entered its #97 Aston and a new-generation Vantage running #09. The #75 and #69 McLarens qualified 1st and 2nd, but the #99 Aston only managed 27th.

The race was an edge-of-the-seat nail-biter from the drop of the flag, although our intrepid photographer Tom Murray was none too happy with pole-sitter Holton, as he jumped the start by a large margin and ruined the green-flag photos Tom had spent some time setting up!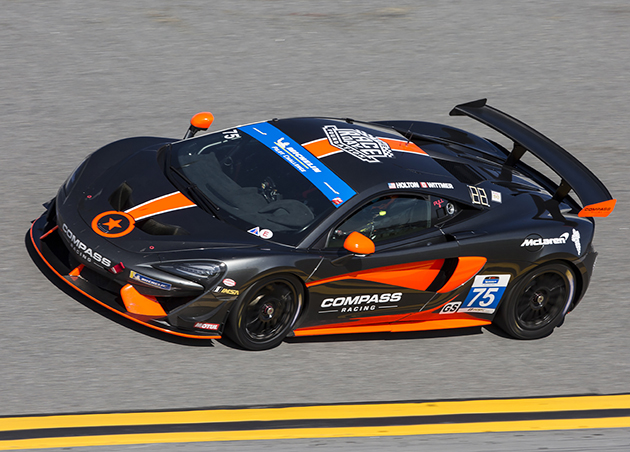 The #75 McLaren mastering the famous banked course at Daytona.
Photo by Tom Murray
Teams from Audi, BMW, Porsche, Mercedes AMG and Ford duked it out with the McLarens and Astons for the duration of the four-hour enduro. Whether due to the door-handle-to-door-handle racing or the large number of "gentlemen drivers," there was rubbing and bumping that caused cars to go off with alarming frequency. The #09 Aston was hit in the first 10 minutes and was forced to pit, never to get back into serious contention.
Yellow flags are a common sight at Daytona, but they appeared a total of nine times in the four hours, leading to green-flag racing being only marginally longer than the laps run under caution. This may have artificially kept the racing very close, but certainly didn't seem to spoil the fun. This caused the lead to change frequently with the pit stop rotations, but not more than the on-track passing that gave many laps of wheel-to-wheel, old-school racing to the delight of the large crowd.
The McLarens seemed awfully fast in a straight line, leading to the inevitable speculation that they will be pegged back by BoP (Balance of Performance) come Sebring — but their speed on the oval didn't stop the competition from gaining on the infield.
At about two-thirds distance, the Compass Racing McLaren jumped the start again after a yellow, this time leading to a drive-through penalty. The old #99 Aston meanwhile had moved up and was challenging in the top 10, keeping its nose in the hunt going into the final hour. That last hour saw more yellows, but left both McLarens and now the old Aston battling for the lead. The Vantage even took the lead for several laps, resulting in huge cheers from the fans as Wilson looked to be combining rallycross and drifting with road racing. He literally tried to drive the wheels off the old girl as he held the much newer and more advanced McLarens at bay. Inevitably, the faster Compass Racing McLaren was able to take the lead, but not before a brilliant battle.
As yet another yellow was lifted towards the end, one of the Audi R8s managed a daring slip-stream pass for the lead going into Turn One, but after fighting for the lead with all the Brits, it was forced to pit for a splash-and-dash with only minutes remaining, leaving the finish to be decided by our glorious trio.
On the last lap, the old Aston managed to split the McLarens, and despite the huge speed of the newer car, was able to hold onto 2nd place, just seconds behind the leader and a remarkable seven-thousandths of a second ahead of the 3rd-place car. Yes, the Aston Martin finished .007 of a second ahead of 3rd place. You couldn't make this stuff up!
A tremendous day for the McLarens, which, despite looking rather fragile in the past, both crossed the line seemingly unmarked against the ravaged cars around them — and of course for the Aston team, who also won the "Spirit of the Race" Award and deservedly so!
[Exec. Ed. note: Not only was the #99 Aston the oldest car in the race, its drivers, Kris Wilson and Gary Ferrera, were, at 57, two of the oldest teammates. "Old age and treachery vs. youth and exuberance!" Wilson would later quip about his run with the McLarens. —BV]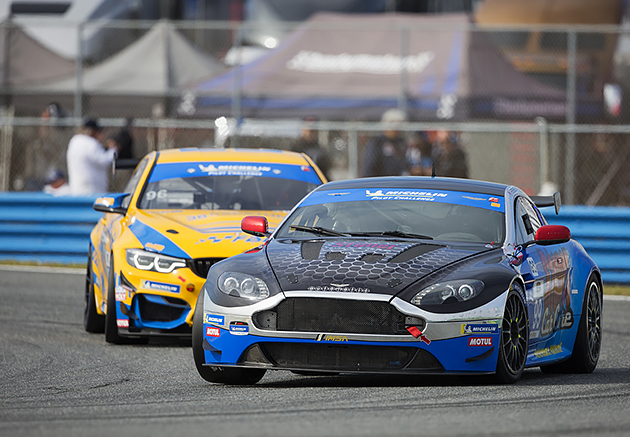 The #99 Aston had a 2nd-place finish in the Michelin race that would have made 'Q' proud.
Photo by Tom Murray
The Rolex 24
This season, with manufacturers from Acura, Mazda, Nissan and Cadillac making large investments and attracting top drivers to their DPis, IMSA's new P2 class is really running as second billing to a BoP-specific DPi class. P2 is now subject to a Pro-Am driver line-up as it is in the FIA World Endurance Championship and elsewhere around the globe, albeit with no BoP restrictions. P2 also has new starting and qualifying rules, and P2 pole-sitters must start behind all the DPi entries, regardless of qualifying times, putting them at a distinct disadvantage for an overall victory.
Has the new scheme discouraged P2 entries? Maybe. Last year's Rolex 24 at Daytona, with the combined Prototype class, had ten P2s on the entry list. This year there were only four.
The WTSCC's session at Daytona, the season opener, was one for the books. The race goes for 24 hours and is sponsored by Rolex, so it is known as "the Rolex 24 at Daytona" — except maybe this year, as it didn't go for 24 hours. And it will go down as the slowest in history, with two stoppages due to the constant and heavy rain that arrived with the dawn on Sunday.
The miserable weather left a sodden track with rivers of water that the track engineers seem to have made little plans for, meaning that 126 laps were run under full-course caution. This ultimately led to "the Rolex 22 at Daytona" when a red flag halted the race some two hours early, I am sure much to the pleasure of all the teams who could finally go the hell home!
If you follow the British drivers, there were a couple who made surprising headlines. First, Oliver Jarvis of Mazda Team Joest, driving the #77 Mazda DPi, beat the outright lap record on the way to a spectacular pole time. Unfortunately for the team, they were unable to capitalize on this, but more in a minute.
Next was James Calado in the sole Risi Competizione Ferrari GTLM car, who had been desperate ahead of the race because of the huge difference in lap times between his car and the factory teams from BMW, Corvette, Ford and Porsche. Despite trying everything — ultimately resorting to running almost no wing to maximize top speed — with almost a second per lap between them, he seemed angry and resigned to a last-place finish.
That rain, though — it really is a great equalizer. Calado and his team managed to stay out of trouble and had perfect pit stops while all the works equipes crashed, broke, or succumbed to both. The fact that the giant-killing Taxas team was able to finish in the rooster-tail of the winning BMW left the fan-favorite underdogs with tears streaming down their rain-soaked faces.
If it's the British cars that you follow, then prospects for this year were tenuous at best. Granted, all the P2 cars have British engines (the Gibson V8s) up to spec, but given IMSA's new rules about starting and qualifying the cards were stacked against them. On the other hand, the Joest Mazda team, running the latest AER engine in DPis with a revised Multimatic chassis, turned in sufficiently impressive qualifying times at Daytona to suggest the Japanese-Canadian-British partnership would be dominant in the race.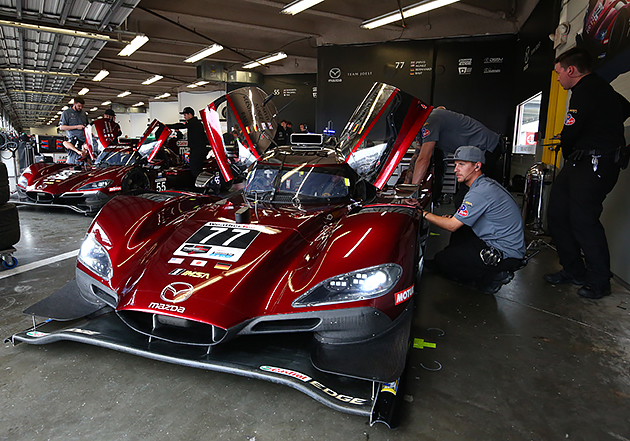 In the garage with the #77 and #55 Mazda-AERs, which qualified 1st and 4th respectively in the WTSCC race. Their efforts resulted in a disappointing finish, however.
Photo by Tom Murray
However, after leading or contending for the first six hours, both #77 and #55 had serious problems. Jarvis' teammate in #77, Timo Bernhard, came to a stop at the entrance to the track's "Bus Stop" with an engine fire and quickly exited the car. The team later announced #77 could not be repaired and the car was retired.
Minutes before the incident Mazda team driver Olivier Pla pitted in #55 with a fuel leak probably resulting from contact with an Acura GTD. The #55 car managed to re-enter the race about ten minutes later and tried to make up for lost time in the wee hours, but was also forced out after an incident in the 14th hour, putting an end to the team's campaign.
The rain made things horrific for the teams that were left on the track, with all sorts of consequences. Just before the race was red-flagged for good, Sebastian Saavedra in the #18 Dragonspeed ORECA LMP2 slid into a wall but was able to limp back onto the track to slink into the pits with a terribly bent car. But at the time of the red flag, he was leading the class by four laps and, as the race never resumed, managed to win it.
After the race, John Doonan, Team Director for Mazda Team Joest, had this to say.
"While it is disappointing that we didn't see the checkered flag, our crew and drivers can leave with their heads held high that they had put together an effort that ran at the front and was a contender for the victory at Daytona.
"Our approach was to race from the front and push ourselves and the competition as hard as we could. We'll learn everything we can, put a plan into place to address the issues we had here, and go for it again at Sebring."
Ah, yes, Sebring, where the WEC will stage its own race, "the 1,000 Miles of Sebring," in addition to IMSA's "12 Hours of Sebring." With a doubleheader in the cards, might it be twice as good?
[James is Editor-in-Chief of The Motorsport Diaries, www.TheMotorsportDiaries.com, and is a frequent contributor to this newspaper.]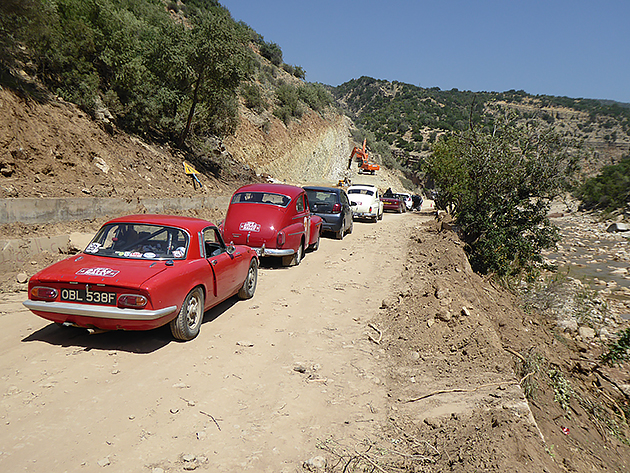 January/February 2019

The Elan 'on the road to Morocco' — actually, in Morocco, with a dusty wait on the way to a night stop in Taroudant.
Photo by Peter & Allison Cotes

The 'Curse of Midelt'!

by Peter Cotes



I wouldn't expect many to have heard of Midelt, but those long-time readers with retentive memories may remember the Dakar Rally in 2005 when my wife Allison and I, and our Lotus Elan, visited for the first time and lost our back wheel...

Midelt is in the Atlas Mountains in Morocco, northeast of Marrakesh at an altitude of 5,000 ft. Our second visit was in 2009, when we tried bump-starting the Elan in reverse and snapped one of the diff output shafts. Our third visit was last April, and we had to wonder — what would happen this time?

ROARR's 'Atlas Rally' started in Seville, Spain, with a run down to the port of Tarifa and a ferry to Tangier, Morocco. Our previous trip had been to the USA and Route 66. Since then, I had replaced my well-worn Brazilian tyres, changed the clutch hydraulic components (I've had enough of changing the slave cylinder in hotel carparks!), and replaced the brake master cylinder. Everything else seemed O.K.

The organisers gave us a choice of really bad and not very good routes, so we chose the not very good. The Ford Mustang that joined us opted for the really bad and ended up in thick, sticky mud up to the doors – and that was just in Spain.

We headed south via Chefchaouen, Morocco, to Fez. The 'blue town' of Chefchaouen, located on a hillside, is famous for its blue-washed buildings — but it was cold, with a biting wind that howled round its narrow, winding lanes. The souvenir vendors had a hard time coaxing any money out of the few tourists. Our room in the Auberge had a wood fire, which kept us warm.

Day 3 to Fez saw the Mustang and a Mercedes sliding off a crumbly track and stranded with two wheels dangling over a trench. We avoided that, but did have an exciting moment when we launched ourselves into a deep muddy rut that we somehow scrambled through. It was the only available track and I am sure someone would have pulled us out if necessary. Sure we could have taken the main roads, but our organiser felt we would prefer dirt, river crossings and potholes!

Leaving Fez we attracted the attention of a 'man with a hair dryer' who decided I was doing 73kph in a 60 limit, which cost me £12.50. The Mustang passed as we were being processed and was baffled that we were stopped and not him!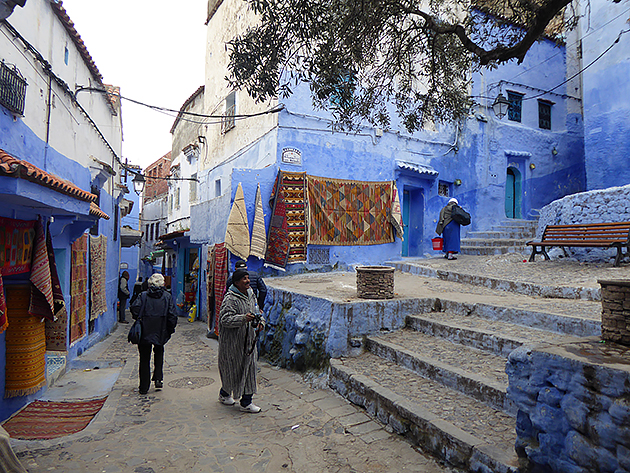 Chefchaouen, the blue town.
Photo by Peter & Allison Cotes
We continued south and west to Marrakesh. Another Mercedes (there were four of them) had a scrape with a lorry on a bend and lost part of the rear bumper along with having some 're-alignments' to the door and wing. One of the two Volvo PVs, a rally veteran, needed welding to a shock absorber mounting to match the work done to the other side in Patagonia in 2010!
We had a rest day wandering round Marrakesh, trying to avoid the scams arranged to part tourists from their money. Our next stop was Essaouira, a fishing port and holiday destination on the Atlantic coast.
Which brings us to one of the contradictions of Morocco — alcohol. The Western-style hotels have plenty (at a price), but this being a Muslim country it is not 'accepted' and most local restaurants do not serve it. They also produce wine, and Essaouira is in a wine-growing area so we had a group vineyard visit, though no one got beyond the sampling phase.
(Later, in Ifrane, we'd meet the retail side — an epicerie, or grocery, with shelves of bottles and an all-male clientele, all of whom departed with sagging jacket pockets or discrete cloth bags.)
We headed south along the coast, turning inland just short of Agadir and the first of a number of excessive and lengthy rally lunches. The food just kept coming! Our night stop was in Taroudant, a small town with impressive town walls. There was a festival in town this evening, but only men could attend and gathered in clusters round the musicians and performers. There were women in the souks, but in this society that was as far as they could go.
Day 10 took us over the 7,000-ft. Tizi n Test pass, constructed in 1929 and once considered a fearsome and dangerous road. None of the cars had any problems one driver was hit by a local car at a viewpoint but fortunately suffered only backache and bruising.
We dropped down from the High Atlas to the Ourika Valley, where a rutted and bumpy track led us to our hotel, a kasbah, a (once) fortified dwelling on top of a rocky hill. Midelt was just two days' drive away — so far so good!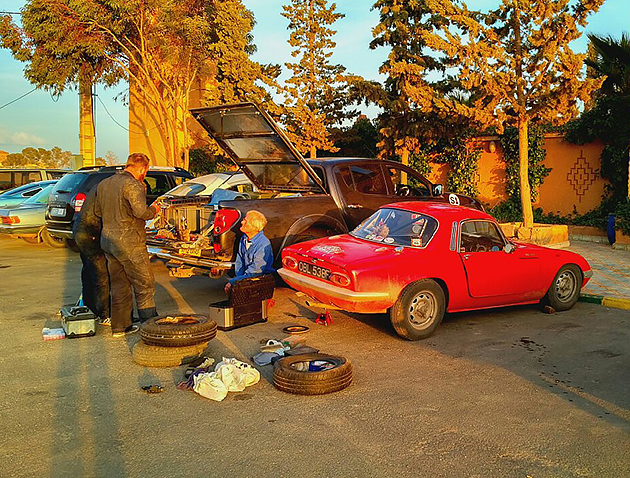 In the Kasbah carpark making repairs.
Photo by Peter & Allison Cotes
The next day's route through Skoura was uneventful and we headed for the Todhra Gorge and on to Midelt. The Gorge entrance was occupied by dithering tourist cars and vendors, but the horn was in good working order and we soon climbed to our lunch stop in a village on the high plateau. As ever there was an embarrassment of food but worse was to come — Allison found there was a lady weaving rugs in a shed round the back. She traded in the first rug she bought, an obviously insufficient packing challenge, and settled on one twice the size!
We continued to a river crossing where the organiser was waiting for us, camera in hand. I went through 'for the cameras', and then we stopped to photograph Allison coming through, clinging to the side of the 4WD (she had stayed behind to take pictures).
Afterward the Elan complained that it was wet and would only fire on one cylinder. The others soon dried out with the bonnet open. We tightened up loose fuel lines I hadn't noticed a fall in mpg but fuel was washing round the outside of the carbs.
On to El Rich, and the throttle return spring came detached. I had 2500rpm and zero control. We stopped at a fuel station outside town. The fuel pump attendant thankfully got rid of a group of most annoying kids — no, I don't want to give you money or pens when I'm under the car trying to find that damned spring!
Then there was grumbling (from the Elan, not me), and it got worse. It wasn't just a gentle grumble, but a collection of screeches with a few other even less pleasant noises thrown in. I stopped, knowing that my diagnosis would be rear wheel bearings, which was confirmed by jacking up one corner of the Elan and waggling the wheel.
We limped on to Midelt and into the carpark of the same hotel that had witnessed two previous Elan 'moments'. The rally mechanics helped change one side's bearings. (And yes, my spares kit includes bearings and a rear hub extractor!) Our friends Phil and Kieron used a dinner plate to conduct an archaeological reconstruction of the old bearing, the theory being that the already hot bearing (gentle grumble) had shattered on contact with the cold water at the crossing.
Next stop Ifrane, a mountain town built by the former French administrators to shelter them from the summer heat at the coast. It looks nothing like any other Moroccan town — no street vendors, no souks, and good roads — just like any town in northern Europe! We had a rest day to wander the waterfalls and find the off-licence.
From 'modern' (okay, 1929!) Ifrane we headed back in time at Volubilis, a major Roman settlement with surprisingly many remains still intact. This was one of Allison's goals on the trip as the mosaic floors are spectacular.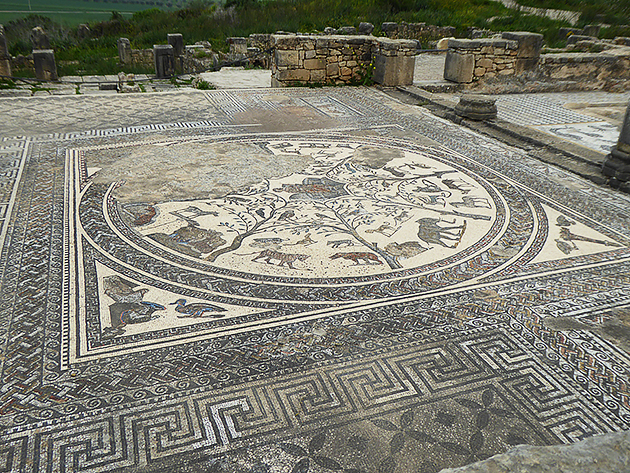 Detail of mosaic floor of the House of Orpheus, Volubilis.
Photo by Peter& Allison Cotes
We were stopped by two sets of police that day, the second just wanting to know who we were and how many. The first was convinced I was doing "sixty fifteen" kph in a 60 limit (that's the literal translation of the French soixante quinze, or 75), but decided the following Mercedes was a softer target — and anyway his camera hadn't picked up our front number plate.
Another lunch followed in the nearby, once-religious preserve of Moulay Idriss, where an English master chef opens his house a couple of times a month as a restaurant.
The road that afternoon was awful, and no, I hadn't touched a drop, which is more than can be said about the navigator! Subsidence had caused the surface to undulate alarmingly without warning — and to no great surprise, when the next time I looked I saw I had a broken front spring. I don't carry a spare of that, but Tangier, the ferry and Seville were only a short distance ahead.
Maybe a fourth trip to Midelt would be trouble-free, but you know I really don't plan to find out!
Visit us and the Elan at www.rallyelan.com.
[Peter, Allison and their classic Elan are very well traveled, having had rally experiences on five of the seven continents. Wonder where they'll go next? Watch these pages!]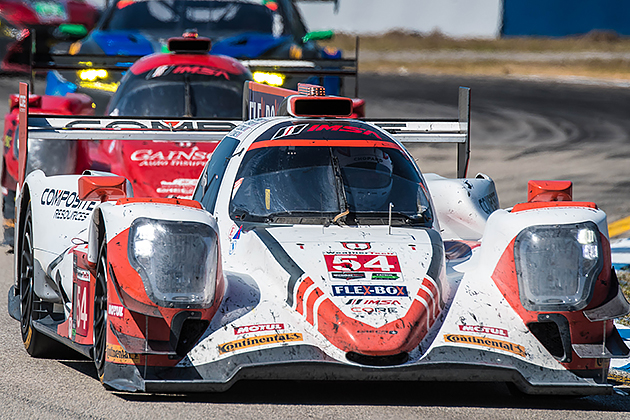 December 2018

Finishing just shy of the championship this year, CORE Autosports' ORECA-Gibson will be back — just in a new class.
Photo by Colin Sword

Looking Back, Looking Ahead
IMSA's Shaking Things Up Next Year with Race Series, Classes, Regulations

by Bruce Vild


BRASELTON, Ga. — Shortly after 9 p.m. on Saturday, October 13th, it was the end of the world as we knew it. IMSA-wise, that is.

That is when the checkered flag waved at Road Atlanta in the WeatherTech SportsCar Championship race, signaling not only the end of the Motul Petit Le Mans weekend but the end of the 2018 season — and major changes in the WTSCC and the Continental Tire SportsCar Challenge.

One of the series, the Conti, would even cease to be, replaced by something new, different, and with another lead sponsor in 2019. They're calling it the Michelin Pilot Challenge, and it will be running with one less class than the Conti. The "Street Tuner" class, home to the champion MINI JCW Team, has been discontinued.

All those cool ORECA- and Ligier-tubbed LMP2 cars with their Gibson V8s will be running in their own class in the WTSCC races, separately from the Daytona Prototypes. Readers will remember that late this season the Balance of Performance numbers were adjusted across the board in the LMP2 cars because their wins were starting to embarrass the DPis.

In some ways, the new class structure in WTSCC has relegated the LMP2 cars to junior varsity status. The LMP2s will be racing in a "Pro-Am" category that requires at least one driver on the team to be rated Silver or Bronze, meaning they have less experience on the track than those rated Platinum or Gold. (It's an FIA-Le Mans thing.) In addition, Silver- or Bronze-rated drivers will be required to qualify and start the race, which should put them at a disadvantage for overall pole and maybe for overall victory against more seasoned drivers in the DPis.

This writer would hate to see teams that ran LMP2s in the "premier" Prototype class in WTSCC this year feeling slighted and opting out of IMSA in 2019. The LMP2s have proven themselves very competitive with the DPis, and quite capable of wresting an overall victory from them or at least securing a place on the podium.

One team that did that has already announced plans to participate next year in their ORECA-Gibson — CORE Autosport. In fact, CORE did so well this year they came within three points of taking the WTSCC championship away from Cadillac, 274 points to Caddy's 277. That was a remarkable outcome given this was the team's rookie season.

All told, CORE earned five podium finishes with their #54 car, including victories at Canadian Tire Motorsport Park (Mosport, as I think it will always be called) and Road America. Said Jon Bennett, owner and driver, "We gave them a run for their money and I think we will continue to. I couldn't be prouder of my team and my co-drivers."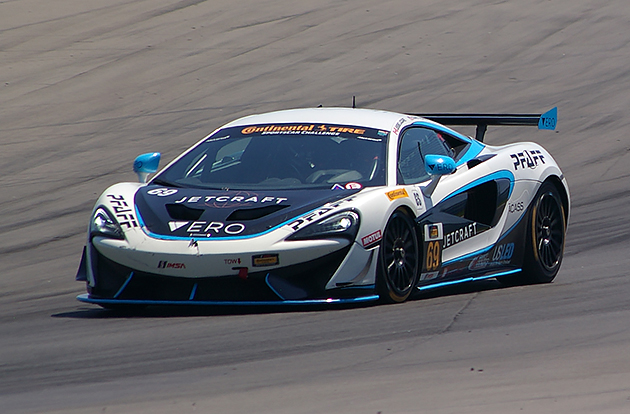 Motorsports in Action qualified 2nd in the Conti but finished 9th. They too are looking forward to next year.
Photo by Bruce Vild
The LMP2 cars are, as Bennett has pointed out, built for endurance and should do well in a ten-hour race like Petit Le Mans. However, #54 found itself at a distinct disadvantage at Petit because it couldn't go the same distance on fuel as the Cadillac it was chasing (a consequence of the BoP adjustment?) and had to pit for a splash of fuel in the last few minutes of the race. This resulted in a 7th place finish for Bennett's co-driver, Colin Braun, who till then had been running as high as 4th.
And CORE is not discouraged by the new driver rules. The team recognizes that it was up against factory teams with decades more experience this year, and achieved what it did with a driver line-up that is already "Pro-Am."
With the LMP2s now in their own class, I'm wondering whether their BoP will again be adjusted — reversed to early-season spec, as most of the teams will be focusing on the top position in the new class rather than prevailing over the DPis. And if it is not adjusted, what will happen when an IMSA team is called to Le Mans? The LMP2 category is a spec class there, too, and European and Asian teams that do not participate in IMSA will be racing at a different standard.
The Michelin series
And in the Conti… er, Michelin ("Mich"? "Lin"? Neither seems quite right), the Marque's hero, Luis Perocarpi, will be running a team in the "Touring Car" (TCR) class — for Honda. Corporate support apparently was not to be for one of the larger MINI models in TCR next year, in spite of the terrific fan support Perocarpi and his drivers generated in 2018.
Motorsports in Action, whose #69 McLaren GT4 had a disappointing finish at Petit in the Conti race due to a wheel nut issue that resulted in what team owner Eric Kerub called "an immediate catastrophic failure," also plans to come back, but with the same car as in 2018.
In Kerub's view, the McLaren is an ideal racecar — he claims a 40-year relationship with the manufacturer — and his drivers have also been ideal, namely Chris Green and Jesse Lazare and this year's addition, Corey Fergus.
Green, Lazare and Fergus all figured prominently in the Porsche GT3 Cup Challenge, another IMSA series, the first two being Cup champions and Fergus the runner-up, before Kerub tapped them for the Motorsports team. Fergus proved his worth at Petit, qualifying 2nd, while Lazare started the race and led for the first 22 laps before the wheel nut failed and #69 wound up in the gravel. They would eventually place 9th.
Kerub, in typical "hey, that's racing" fashion, remains confident that Motorsports can live up to its potential with outstanding machinery, driver talent and teamwork. "If we didn't have the right ingredients, I wouldn't be trying. We have all the right ingredients, and now we just need a bit of luck."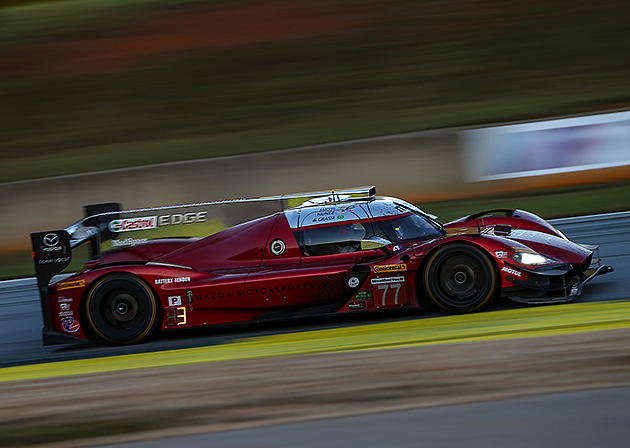 The #77 Mazda-AER, here running 3rd, finished 2nd at Petit.
Photo by Jake Galstad, IMSA Photo
This paper is watching for announcements from Compass Racing, who also ran a McLaren GT4 in the Conti, and from Automatic Racing, who fielded Aston Martins, telling what their plans are for next year. Like Motorsports' McLaren, these cars would be racing in the "Grand Sport" (GS) class in the Michelin.
Compass Racing, incidentally, had better luck than Motorsports at Petit. After taking pole with their #76 McLaren, drivers Paul Holton and Matt Plumb finished 2nd, their best result in the series.
Compass Racing also campaigned three Audi RS3s in TCR.
And the Mazdas?
We still haven't heard from Mazda Team Joest, but if their finish at Petit is any indication, their AER-powered DPis will be back, too.
The two cars qualified 2nd (Oliver Jarvis in #77) and 3rd (Jonathan Bomarito in #55) and went on to place in exactly that order in the race. Number 77, with co-drivers Lucas di Grassi and Tristan Nunez, ran virtually with no problems and led several times during the race, and #55, though suffering contact that forced a lengthy pit stop to replace body panels, managed to regain the lead lap and also make a run for the win.
There was some drama as the race entered its final stages when the team opted to give up track position to make sure they had enough fuel to finish the race. (Another DPi, the #5 Cadillac that was leading the race, did not.) Re-entering from the pits in 6th and 7th position, they made it up to 3rd and 4th and then both passed the 2nd-placed car on the final corner.
Readers will remember that their BoP was adjusted, too — to their advantage. And LMP2s should do better than DPis in endurance races, because that's what they're designed for. But this was an endurance race. Go figure.
I'll watch for and root for them next year, if they're around. John Doonan, Director of Mazda Motorsports, has talked about having "a lot of positive momentum going into 2019," so chances are they will be.
I also liked the shout-out he gave to AER after the race for "a season of great reliability." We all know where AER engines are made.
[Developed from team and IMSA reports. Thanks, everyone, and good luck next year.]