Feature Stories
---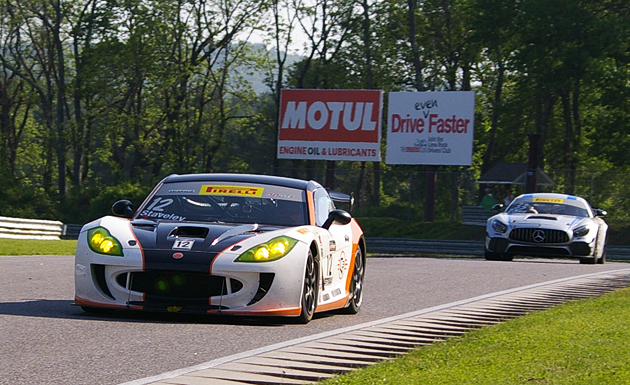 June 2018

The #12 Ginetta of Drew Staveley, powering out of West Bend and heading for the Downhill at LRP.
Photo by Bruce Vild

'How Racing Should Be'

Ginettas, Bentleys, a McLaren and a Lotus Compete in the Pirelli World Challenge Season-opener at Lime Rock

by Bruce Vild


LAKEVILLE, Conn. — As crowded with spectators as your usual IMSA race, the Pirelli World Challenge came to Lime Rock Park on Memorial Day weekend, May 25-28, with a pause on Sunday.

The entry list promised British car enthusiasts two Bentleys, two McLarens, three Ginettas and a Lotus to root for, but, for various reaons, not all of them showed up. No matter, it was still a great weekend with all four of those marques represented on the track.

For those unfamiliar with the PWC, there are five divisions for vehicles and four classifications for drivers. There are two Grand Touring divisions, GT and GTS, and three Touring Car divisions, TC, TCA and TCR, based on the entrants' engine displacement, horsepower, body style and market placement.

The TCB division, where MINIs raced last year against cars like the Chevrolet Sonic and the Honda Fit, has been discontinued. Too bad, because it was great fun.

The races at Lime Rock in GT and GTS were part of the "SprintX" (SX) championship series in the PWC, 60 minutes long and requiring a driver and tire change during each run. The PWC is willing to make an exception to the driver change rule (but only in GTS) if a team is fielding a solo driver.

Drivers are ranked by race experience and age, following the FIA model: bronze, silver, gold or platinum. These determine the classes in the PWC for the GT and GTS divisions: Pro, Pro/Am, and Am.

For example, the drivers of the #9 Bentley Continental GT3, Alvaro Parente and Andy Soucek, are both ranked "platinum," so they were in the class GT SX Pro/Pro. Paul Horton (silver) and Ray Mason (bronze) and their #78 McLaren 570S GT4 were in GTS SX Pro/Am, while solo drivers Drew Staveley (bronze) and Frank Gannett (bronze) and their twin Ginetta G55s, #12 and #24, were in GTS SX Am.

In TC, TCA and TCR, drivers are not rated by the FIA system. Some may have driver classifications from their participation in FIA-affiliated series, but others do not. It's not unusual for the owners of TC teams/cars to be the drivers themselves.

Besides the four British marques mentioned above, Mercedes, Porsche, Ferrari, Lamborghini, Ford (Mustang), Subaru, Honda, Nissan, Chevrolet (Camaro), Audi, BMW, Mazda and even Genesis are represented in the PWC. Except for being modified for racing, the cars are essentially the same vehicles you can drive out of a showroom — which explains using "market placement" as a criterion for classifying them.

"How racing should be" is this year's tag-line for the PWC. All the cars get two sessions of practice and two races per weekend, with TCR and TCA running their sessions together. Each class qualifies separately.

Unlike IMSA, where super-fast prototypes race together with GT cars and the resulting traffic snarls are considered part of the game, it's like against like in the PWC — but given the classes Pro, Pro/Am and Am in Grand Touring, and TC, TCA and TCR in Touring Car, there are still races within races to watch.

It all adds up to a very long weekend, particularly at Lime Rock, where a treaty the track has with the town prohibits racing on Sunday. The event stretched to late Monday afternoon with the final (the second of two) GT race at 4:05 p.m.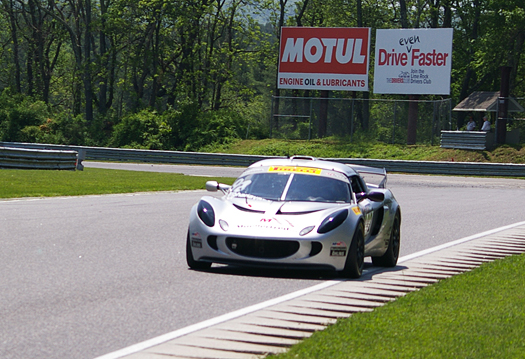 Nicolai Elghanayan did double duty for his team, MarcoPolo Motorsports, driving a KTM X-bow in GTS SprintX and a Lotus Exige in TC (above). Good results in the former, not so much in the latter.
Photo by Jon Gardner

Though this year's PWC began in March on a street course in St. Petersburg, Fla., this was Lime Rock's first "big" spectator event of 2018 — the season opener, if you will. IMSA will be here with the WeatherTech SportsCar Championship and Continental Tire SportsCar Challenge July 20-21.
The racing
There were a lot of cars racing this weekend — 88 on the entry list, with the cars within each class being remarkably competitive.
The division with the most by far was GTS, with 35 initial entrants, 31 of which qualified. At pole was Nicolai Elghanayan in the Austrian-built #71 KTM X-bow, and right behind him was Drew Staveley in the #12 Ginetta G55. The top three finishers were all GTS SX Am cars. Tops in the GTS SX Pro/Am class was a Ford Mustang GT4, which placed 4th overall.
GT SX qualifying provided more good news — at first, anyway. The #9 Bentley Continental (GT SX Pro) took pole after a very successful practice session that placed the car 2nd. K-PAX Racing's other Bentley, #3 (GT SX Pro/Am), was 7th overall, and 1st among the Pro/Ams. The resulting grid was shaken up, however, when both Bentleys were sent to the back because of technical infractions discovered post-race.
GTS SX qualifying was no doubt disappointing for the #78 McLaren, which only managed 29th place overall and 17th in class (Pro/Am) in spite of encouraging runs in two practice sessions. The #12 Ginetta's sister car, #24, placed 31st overall and 13th in class (Am), the very bottom of the list.
The second McLaren on the entry list and the third Ginetta were no-shows.
Elghanayan was also kept busy behind the wheel of another car his team was fielding, the #92 Lotus Exige in TC. Made sense, because he had already made a name for himself in the Lotus Cup USA series in its top-tier Trophy class.
And the Lotus bore watching. Lime Rock fans may remember that last year an Exige at the hands of Elivan Goulart qualified well and then won its first race, but went off into a tire wall after a dice with a BMW in the second. This year, it seemed the Lotus just did not have the pace. Elghanayan qualified 13th in TC, at the bottom.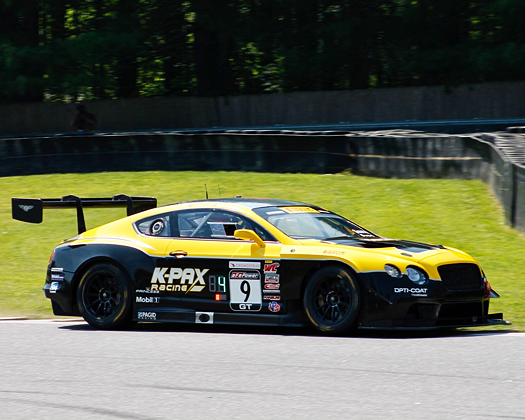 Two of K-PAX Racing's Bentley Boys were Parente and Soucek in car #9.
Photo by Bill Richardson
To cycle through all the classes, race day was spread over Saturday and Monday.
In his first TC race on Saturday, Elghanayan and the Lotus finished 10th out of 14 cars, on the lead lap at checker and 58 seconds behind the winning #91 BMW. The second round, also on Saturday, brought them off the lead lap in the final minutes of the race and in 11th place out of 13 cars.
That performance was nothing if not consistent. The Lotus' fastest lap in race one was 58.867 seconds in race two, 58.811. This contrasts with Goulart's best last year, 56.857, and that of the winners this year, Karl Wittmer in race one, 58.005, and Johan Schwartz in race two, 57.637 (both BMWs, but from different teams).
Elghanayan did go on to win the first round of the GTS SprintX races on Monday outright in the KTM X-bow, but fell to 9th place overall in the second — which, however, still got him a step on the podium in the Am class.
Once again, Elghanayan's races in the X-bow were spot-on consistent: his best lap in the first was 54.431, and 54.420 in the second.
Sharing the podium with him in race one was Ginetta driver Staveley, 3rd overall and 2nd in class (Am). Staveley finished 9.5 seconds behind Elghanayan — and would go on to win race two.
Staveley would comment after that race that it was a "big win" for his team, Ian Lacy Racing, and Ginetta.
"We felt the Ginetta G55 would be a good car for the Lime Rock circuit," he said. "The high-speed corners suit this car very well."
The team's other Ginetta, however, only managed 23rd overall and 8th in class in race one. In the second race Gannett completed only 15 laps, below the minimum for classification. The 16 top finishers completed 50.
Monday did not bring joy to the #78 McLaren either, which finished off the lead lap in both races — 25th position overall and 16th in class in the first session and 22nd overall and 13th in class in the second.
GT SprintX, where the Bentleys ran, featured Rodrigo Baptista and Maxime Soulet in the #3 car chasing Parente and Soucek in #5 in that division's Monday double header. Both Bentleys made the top five in class in both races, with their best results in the second race.
To this writer, the spectacle was remarkable. Both Bentleys have such a presence, they seem so much bigger than the other GT cars, even when reposing in the paddock — yet according to the official program, each tips the scale at a mere 2800 lbs., making them only 66 lbs. heavier than a Porsche 911 GT3R, the same as a Lamborghini Huracan GT3, and 308 lbs. lighter than a Mercedes AMG GT3!
In the first GT SprintX race, Parente and Soucek just missed the podium, placing 4th overall and in class (Pro/Pro), behind a Porsche, a Ferrari, and another Porsche. Baptista and Soulet finished 8th overall, but on podium with a 3rd in class (Pro/Am).
These were excellent results considering both cars had to start race one from the 10th and 11th position, and maybe not all that surprising since Alvaro Parente has been called "one of the best GT drivers in the world."
And it got better in race two. Five of the 13 cars running were lapped and the leaders had to dodge them, which Toni Vilander, in the #61 Ferrari, was able to do. But Parente was right on his tail and, in spite of occasional bottlenecks because of the slower cars, took the checker about 2.5 seconds after him for a 2nd overall, 2nd in class finish.
The good news for Baptista and Soulet in the second race was a top-five finish overall, and a class win (Pro/Am) — and, by the way, they won convincingly, with the 2nd-in-class Audi nearly 25 seconds behind them.
"Good race, no touch," grinned Soulet afterward.
Commentators before the race speculated that a good result for the #3 Bentley could mean a promotion for Rodrigo Baptista from bronze to silver. We'll see.
[Many thanks to the PWC and LRP staff for contributing to this article.]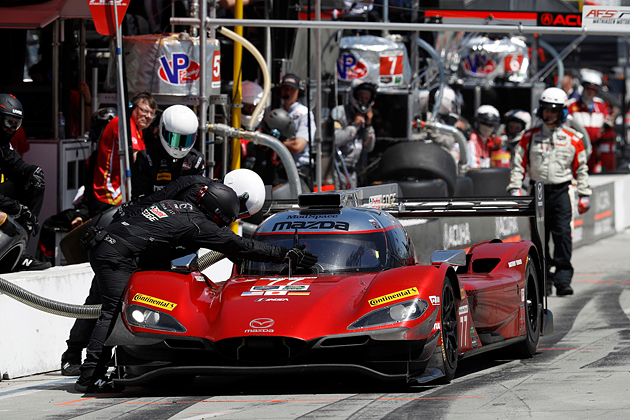 June 2018

Has Mazda Team Joest finally hit its stride? With a 4th at Long Beach and a 3rd at Mid-Ohio — the team's best results to date — and a lap record at Sebring, they're looking for a win in Detroit.
Photo by Michael L. Levitt, LAT Images, courtesy IMSA
And Now for Something Completely Different...
by Bruce Vild

LONG BEACH, Calif., Apr. 13-14 — The Bubba Burger Sports Car Grand Prix of Long Beach. If you tried to design a race more different from the two before it — Daytona and Sebring — you couldn't.
This one, the third in the IMSA series called the WeatherTech SportsCar Championship, took place on streets instead of on a track, and started and finished in the space of 100 minutes, rather than 24 hours or 12.
Which called for a different strategy. When to pit and how to position your car becomes all the more critical when time is short and the number of cautions, with open pits, are likely to be few rather than several.
Add to this a very narrow course improvised from existing city streets, with limited runoff space and unforgiving barriers. And traffic from slower cars? Sure, though this time limited to only one GT class (GT Le Mans) instead of the usual two.
Not to mention that a street race is a sprint rather than a slog, and early leaders are the ones likely to prevail — or at least they have less time to falter.
Within the IMSA prototype line-up, it would be interesting to see whether a shorter race would give one type of prototype the advantage over the other. The Le Mans Prototypes (LMP2s) were designed with an eye toward les 24 Heures and did well at Daytona and Sebring, though pipped by the DPis. How would they do in a sprint?
All the LMP2s run but one engine, the Gibson V8 designed and built in Britain and seen in European and Asian endurance races. Might that single spec be a handicap, since the DPis all have their own variations on the theme — four, six or eight cylinders, turbocharged or naturally aspirated — that might allow more tweaking?
Well, as it turned out, the DPis dominated Long Beach. Only one LMP2 car qualified in the top ten — the #52 Ligier piloted by Gustavo Yacaman, who ran 9th. Every other position was grabbed by a DPi, with Juan Pablo Montoya getting his first IMSA pole in the #6 Acura DPi for Acura Team Penske.
My eyes were on Mazda Team Joest. Harry Tincknell and the #55 Mazda DPi, with its feisty turbocharged inline 4 developed by UK-based AER, qualified 3rd, and teammate Tristan Nunez in the #77 sister car came 7th.
For the Mazdas, Long Beach was like homecoming weekend. Mazda's North American Operations and its Research & Design facility are in nearby Irvine, where the Mazda RT24-P (the official name of their DPi) was developed. Both facilities hosted events leading up to the Grand Prix, and Mazda brought a bunch of employees to watch the race on Saturday.
The race went O.K. for Mazda, with Tincknell starting and enjoying an incident-free stint before pitting during a caution (the race's second) and turning #55 over in 4th place to Jonathan Bomarito. The pit stop was quick and clean, and #55 was the first out of the box of all the cars that pitted. Bomarito found himself running 3rd when racing resumed under green.
Things were looking good for #77, too. Starting driver Nunez jumped to 6th place during his turn at the wheel, handing over to Oliver Jarvis. (Incidentally, this was the first time at Long Beach for both Jarvis and Tincknell.)
For the rest of the race, the story was one of #55 losing ground and #77 gaining.
By the time the team decided to make its next pit stop (for fuel), Bomarito was running 5th and Jarvis 6th. The strategy now was to be among the first prototypes in and out as soon as the pits opened, and to move up for a charge to the finish while others were still pitted.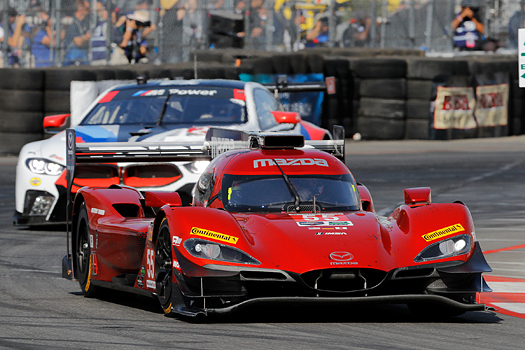 The #55 Mazda DPi started well but was caught in traffic in Long Beach.
Photo by Perry Nelson, LAT Images, courtesy IMSA
Things were looking good for #77, too. Starting driver Nunez jumped to 6th place during his turn at the wheel, handing over to Oliver Jarvis. (Incidentally, this was the first time at Long Beach for both Jarvis and Tincknell.)
For the rest of the race, the story was one of #55 losing ground and #77 gaining.
By the time the team decided to make its next pit stop (for fuel), Bomarito was running 5th and Jarvis 6th. The strategy now was to be among the first prototypes in and out as soon as the pits opened, and to move up for a charge to the finish while others were still pitted.
Unfortunately, what seemed like a good idea was negated by traffic from a group of slower GT cars. The advance never happened for Bomarito, who fell further behind, and was deferred for Jarvis.
The clock was beginning to run out, and Jarvis, now in 5th place, was right behind Ricky Taylor's #7 Acura DPi. Taylor had just lost a position to his brother Jordan in the #10 Cadillac DPi, and the Acura was off-pace and off-grip, perhaps with a tire going down. Ricky drove as defensively as he could to prevent the Mazda from overtaking him, but Jarvis made the pass and was now running 4th — and chasing the other Taylor.
With lapped GT cars adding to the traffic and preventing one last charge, Jordan Taylor was able to put a little distance between his car and the Mazda before the checkered flag waved. Taylor made the podium and Jarvis just missed it, but the 4th-place finish for Mazda Team Joest was their best to date.
There was plenty of other drama that weekend. Jonathan Bennett, in the #54 ORECA LMP2, took his car into the runoff at Turn 8 and recovered, but about 20 minutes later his co-driver, Colin Braun, went hard into the tires there. A five-minute red flag resulted.
Turn 9 was also problematic, with the #24 GTLM BMW of John Edwards having an off there twice, and James French grazing the wall in his #38 ORECA. Eric Curran also went wall-grazing at Turn 9 in his car, the #31 Cadillac DPi, continued, and was hit three minutes later by Johannes van Overbeek in the #22 Nissan DPi, prompting another red flag.
Robert Alon's #85 ORECA went off at Turn 1 and stalled, forcing yet another red flag.
And all these incidents happened during practice.
During the race, the first lap was barely underway before the #52 Ligier of Gustavo Yacaman spun and hit Kyle Masson's #38 ORECA at Turn 2, sending Masson into the wall and resulting in the first yellow while a tow truck retrieved Masson's car.
Robert Alon had an off when the race resumed, and seven minutes later he pitted with problems with his shifter. Masson's car was brought in for fuel and fresh tires and hopefully a hand-off to teammate James French, but a lot of work was needed behind the wall.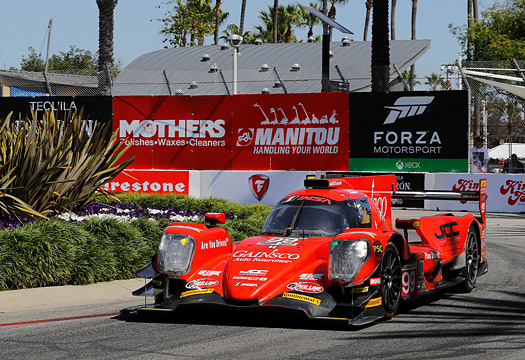 Top Gibson-powered finisher at Long Beach was the #99 ORECA, which placed 8th.
Photo by Perry Nelson, LAT Images, courtesy IMSA
Both ORECAs were in for very long stops. Only Alon's would eventually rejoin the race, but would pit barely a minute later and retire with a broken left rear toe-link. Like French, Alon's teammate, Simon Trummer, would not get to drive. Ironically, two cars designed for endurance racing were the first to retire at Long Beach.
Porsche, competing in GTLM, had a bad day, too. For several of the early laps one of Chip Ganassi Racing's Ford GTs was dragging something from its rear. It eventually fell off and onto the track, just barely missing the racing line, and was later traced not to the Ford but to the #911 Porsche 911 RSR of Nick Tandy and Patrick Pilet.
The debris was part of the Porsche's undergrille diffuser, essential for braking and cooling. It had come off as a result of contact with the Ford. Car #911 had other damage to its nose but soldiered on, with Tandy pitting for four new tires and a new front bumper section, and then losing a piece off the front moments after exiting the pits. This led to another yellow.
The Porsche team's other car, #912, was leading the class when it started having trouble with its front suspension and suffered a tire puncture. There was not enough time to do the repair and get back in the race. The Porsche was retired, a gutting result when you're in the lead.
As in qualifying, the DPis dominated the race. Eight of the top ten finishers were DPis, led by Joao Barbosa and Felipe Albuquerque in the #5 Cadillac DPi. Jarvis, as mentioned, took the #77 Mazda DPi to 4th place, and Bomarito finished with #55 in 9th. The highest-placing LMP2 car was the #99 ORECA of Mischa Goikhbert and Stephen Simpson in 8th, and Colin Braun and Jonathan Bennett's #54 ORECA finished 10th.
Does this prove anything about the DPis and LMP2 cars in sprints vs. endurance races? The jury's still out until we compare the results from Mid-Ohio and Detroit.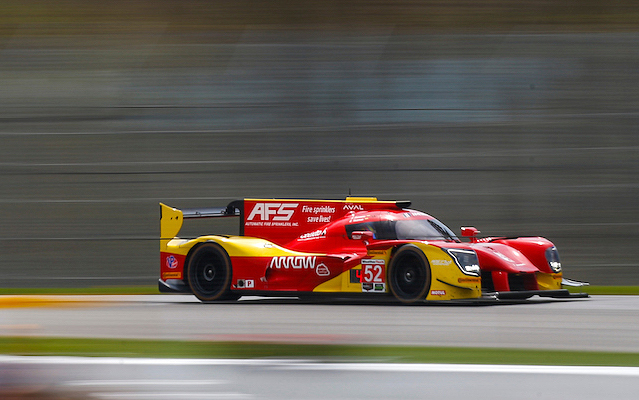 Top LMP2 car at Mid-Ohio was the #52 Ligier-Gibson (in 8th place overall).
Photo by Michael L. Levitt, LAT Images, courtesy IMSA
On to Mid-Ohio
by Bruce Vild

LEXINGTON, Ohio, May 4-6 — Changing up again and going from streets to a storied racetrack, IMSA took the WTSCC to the Mid-Ohio Sports Car Course for its fourth session and brought along three support races including the Continental Tire Sports Car Challenge.
The weekend was called "the Acura Sports Car Challenge at Mid-Ohio" and it would have been, well, embarrassing if the Acuras did not do well. They did. Acura Team Penske delivered their first WTSCC victory at Mid-Ohio via Ricky Taylor and Helio Castroneves in the #7 Acura DPi, with the #6 Acura DPi of Juan Pablo Montoya and Dane Cameron right behind them.
Interestingly, Acura is the only manufacturer in the WTSCC with a presence in both prototype and GT, a claim that not too long ago could have been made by Porsche and even Aston Martin. They came close to grabbing a class victory in GT Daytona as well as the overall win, but Alvaro Parente and Katherine Legge and their #86 NSX GT3 could not get past a Lexus and had to settle for 2nd place.
IMSA commentators were quick to point out that, on the prototype side, Acura dominated the weekend — but it wasn't a cakewalk as Mazda Team Joest's own prototypes, #55 and #77, had the Acuras constantly in their sights. Penske's DPis may have come 1st and 2nd in all three practice sessions, qualified that way, and taken the race, but 3rd place in both qualifying and the race was Mazda's.
While Acura celebrated its first win, Mazda grabbed its first podium and emerged as the team to watch going forward. Both #55 and #77 qualified in the top five — in 3rd and 4th position respectively — and by the time they pitted for a driver change (Jonathan Bomarito to Spencer Pigot in #55 and Oliver Jarvis to Tristan Nunez in #77), both cars were in the top three.
But there's always an issue with traffic from the GT cars, and at Mid-Ohio they were back to running both GT classes with plenty of opportunities for side-to-side contact. After the pit stop and a charge to jump ahead, Pigot was struck by one of the GT cars and had to pit again with debris on #55's right front side. He would not rejoin the race.
Nunez also lost some time in lapped traffic but managed to close the gap and ran strong as the race came to a close to take 3rd place. After the race he congratulated everyone on a "true team effort" to get to the podium, right down to Multimatic, the chassis constructor, and engine provider AER. He predicted they would learn from their experience with traffic and the possibility of contact, "and go to Detroit and be competitive again."
And the LMP2 cars? Down on the list, but not nearly as far as at Long Beach. During qualifying, four of the five of them made the top ten. Gustavo Yacaman led the pack with the #52 Ligier in 7th place, followed 8th through 10th by three ORECAs — Mikhail Goikhberg's #99, Robert Alon's #85 and James French's #38. Jonathan Bennett gridded the #54 ORECA 14th.
Alon's teammate Simon Trummer set a few fast lap times during practice in the #85 ORECA, but in the race the car crossed the line in 12th. Early in the race, Alon spun and had an off (which led to a drive-through penalty for the responsible party, a Nissan DPi). This cost #85 a couple of positions and no doubt contributed to the result.
Most of the other LMP2s advanced one position from grid to race finish, suggesting a very consistent and perhaps cautious race, and perhaps also an unexpected consequence of Pigot having to retire his Mazda and everyone behind him moving up.
Mid-Ohio was a race that was "intermediate" between a sprint race and an endurance challenge. I'm tempted to point to the results — with the improvement in standing, vis-à-vis Long Beach, of the LMP2 cars — and say, look, it's a longer race (exactly one hour longer than Long Beach), so the endurance racers were naturally going to do better than before. But I won't, until at least after Detroit, another sprint/street race — and instead think about just how competitive those four-cylinder Mazdas are against sixes and V8s in the prototype class.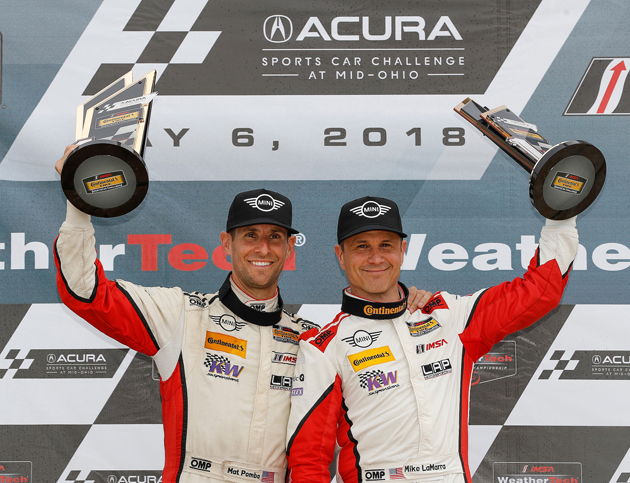 On the top step of the podium in ST at the Mid-Ohio 120 were MINI JCW drivers Mat Pombo and Mike LaMarra.
Photo by Michael L. Levitt, LAT Images, courtesy IMSA
MINI 1, 2 at Mid-Ohio
by Dave Newman

The MINI JCW Team finished 1st and 2nd in their class on what was otherwise a lackluster day for British cars in the Continental Tire SportsCar Challenge race at Mid-Ohio, "the Mid-Ohio 120."
The two-hour endurance race included cars from the GS (Grand Sport) and new TCR classes along with the ST class, where the MINIs were competing against a Porsche and a BMW.
The Mid-Ohio track is 2.4 miles long with 16 turns and many elevation changes and blind corners, perfect for a MINI. It was the first time the team had raced at Mid-Ohio, as the last time IMSA was here was in 2013.
The recently married Nate Norenburg qualified 1st in class in the #37 MINI JCW. At the start of the race, he initially fell back but fought his way to the front before the driver change, with Derek Jones taking over.
The MINI JCW Team has technicians from different local MINI dealers helping out at races as part of MINI USA's Service Tech Education Program (commonly referred to as STEP). This race had four techs from Cincinnati MINI and one from way down south, Tom Bush MINI in Jacksonville, Fla.
The STEP techs noticed that the #37 MINI JCW had a torn CV boot. They could not fix this and still be competitive, so while Derek was sent back out onto the track, they probably were not surprised when the CV joint (axle assembly) broke with about 30 minutes left in the race. Derek was forced to retire.
This left the race up to the #52 MINI JCW, first driven by Colin Mullan. At mid-point Colin handed the car off to Mark Pombo, who would run a close, bumper-to-bumper race in 1st or 2nd for the last hour with the team's third car, the #73 MINI JCW.
Number 73 started with driver Mike LaMarra, who swapped positions back and forth with the #52 car, eventually passing his MINI to Mat Pombo (keep your Pombos straight here!). Mat led the race with his brother Mark in the #52 on his tail for some fantastic racing in the last half hour.
The television announcers clearly love the MINI team and the competition between 1st and 2nd was tight. Mat in #73 MINI crossed the finish line inches in front of Mark, bringing home the victory.
Luis Perocarpi, who campaigns the three MINI JCW cars for MINI USA, runs a tight and focused team. Except for the CV joint problem on #37, they had the perfect race. For those of you with a MINI: have you checked your CV joint rubber seals lately?
[Track commentary from IMSA, the teams covered, and Lee Driggers' Pit Notes contributed much to these reports on Long Beach and Mid-Ohio. Thanks to all.]
May 2018

The spirit of British Car Week as displayed by John Biagioni, a member of British Motorcars of New England. Enjoy and make the public more aware of British cars during BCW — and help save the hobby to boot.
Photo by Bruce Vild
BCW: A Public Service

Celebrate British Car Week May 26-June 3

by Scott Helms

This year we will be celebrating the 22nd Annual British Car Week during the extended week of May 26th through June 3rd.
Even though the week has a beginning and ending date, the intention is that enthusiasts will use this opportunity to get their cars ready for all the upcoming events and continue driving their cars long after June 3rd.
These dates also provide a target for getting the cars out on the road in full force to show them off to people who otherwise rarely have a chance to see vehicles from days gone by doing what they do best. With every passing year, getting these cars out of the garage and onto the roads for display is becoming more important.
We live in a time when technology is rapidly escalating. Companies are competing aggressively for the latest and greatest in communication, entertainment and transportation. And people have become so involved with their electronic devices, they leave almost no time for more fulfilling things to do that don't involve a computer or smart phone — such as a hobby involving classic cars.
Energy is a hot topic, too, and there's been a lot of talk about putting an end to gasoline as a means for fueling transportation.
A recent article written by Richard Lentinello of Hemmings Classic Car magazine recently caught my eye. He mentioned the economic impact of banning gasoline, and how it would not only be detrimental to the old car hobby far and wide, but also affect the economy, period.
A gasoline ban would affect all of the manufacturers that supply parts for restoration, performance and racing, impacting owners of hot rods, low-riders, sports cars, vintage trucks, classic motorcycles and off-road vehicles.
It would also affect all of the businesses that feed them the raw materials required to manufacture products, and the distribution chain, including shipping supplies and the trucks that deliver goods.
Real estate would be impacted as well, including companies that manage or sell the buildings and land required for manufacturing and warehousing all those parts, and all the retailers and garages to which the goods are delivered.
This list goes on and on, which makes us realize how important it is for all enthusiasts to pull together to ensure our hobby's survival — mainly by doing what we can to keep the interest in historic vehicles going strong in future generations.
So, how do we do this? The majority of those reading this already know. It's all of the people who aren't reading this that we need to target, including the next generation of potential classic British car owners who may not realize there is a wide world of driving fun waiting for them. If they don't get a chance to experience this through enthusiasts' active participation in events such as British Car Week, they may never know.
When I think back to when I got my initial taste of what it's like to take a ride in a classic British car, I realize my world was never the same again. If it weren't for the people who took the time to invite me unselfishly to take a ride in their old British car, I might not be sitting here writing this article.
That car from the outside had caught my eye for sure, but I didn't realize how much of a joy it would be to own a British sports car until I was able to sit in the passenger seat and experience the sweet sound of the exhaust emanating from the tailpipe and feel the raw rumble of the engine winding out while running through the gears.
So put your smart phone away in a drawer somewhere and top off your dashpots. It's time for some of that good, old-fashioned, seat-of-the-pants driving fun! And if you know someone new to the British car scene, take him or her along. See you on the road!
[Scott founded BCW in 1997. It has been promoted by British car clubs ever since for education and awareness. Find out more at www.britishcarweek.org.]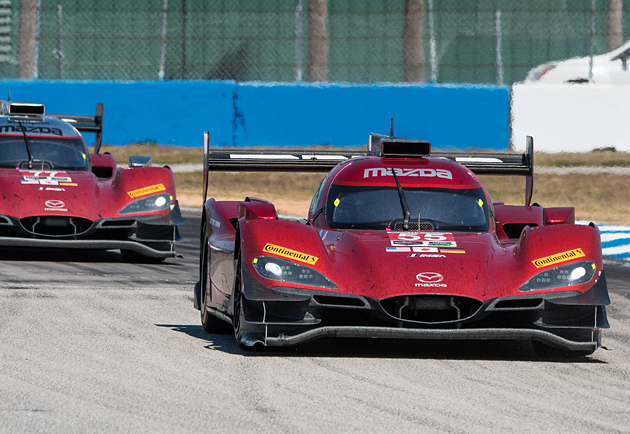 April 2018

The #55 Mazda DPi led the race nearly 40 times, and #77 set a new Sebring lap record.

Photo by Colin Sword
On the Ground at Sebring

Mazda/AER Sets Record, Gibsons off Podium but Strong

by Reggie Smith


SEBRING, Fla., Mar. 16-17 — The second race of the 2018 WeatherTech SportsCar Championship season is now history, and it held a few interesting lessons for drivers and fans alike.
The first is that the outcome always brings pain and joy, sometimes to the same team. Case in point, Tequila Patrón ESM, running two identical Nissan DPi prototypes that managed, respectively, the worst and best result possible.
12 seconds first out, 12 hours first overall
Twelve hours of endurance racing sometimes winds up being shorter than 12 hours. A lot shorter.
Englishman Ryan Dalziel and well-known American star Scott Sharp never got to touch ESM's #2 car. Their aggressive French teammate, Oliver Pla, drove from 2nd grid position at the start all the way to Turn 1 before sliding off course and retiring the car on the spot.
As we often see in Formula One, a quick start from the front row can be an advantage because you are not very likely to get involved in early traffic nonsense. This time, cool tire temperatures and the decreasing width of the course as the long, fast start/finish straight turns into a rather narrow two-lane stretch required a bit more grip than was available to Pla, and he slid wide when he tried to grab the lead.
Pla really didn't hit anything, but as the car rotated the rear tires started to reverse the direction of torque going through the transmission and differential — resulting in a "box full of neutrals" and a somewhat less than glamorous stroll back to the pits with not much to be proud of, perhaps setting a record for the earliest retirement ever at Sebring.
The team's other Nissan, #22, was able to get through not only Turn 1, but quite a few other turns as the day progressed, and did the best job possible of bringing up team spirit — an overall win! American Johannes van Overbeek, Brazilian Pipo Derani and Frenchman Nicolas Lapierre headed a five-car lead lap result after a steady and well-judged 12 hours.
Completing the podium
Second overall went to the #10 Konica Minolta Cadillac DPi driven by Jordan Taylor, Netherlands export Renger Van Der Zande, and IndyCar star Ryan Hunter-Reay. Jordan's brother Ricky was driving a Roger Penske-entered Acura DPi with teammates Graham Rahal and Helio Castroneves. Penske has always shown a knack for showcasing and developing superstar drivers, and although both Penske Acuras retired by mid-afternoon, it would have been interesting if it had turned out that Ricky and Jordan were front runners at the end of 12 hours.
Third overall was the Whelen Engineering Racing Cadillac driven by Brazilian Felipe Nasr, American Eric Curran and Englishman Mike Conway.
Mike is from Bromley and has some very strong history in both Honda and Braun Formula One cars. He is best known in America for his occasional drives in IndyCars. His choice to specialize in road course-style events matches his strong skills with car sorting and strategies. He mentioned his favorite courses in America, which are Long Beach, Austin, Sonoma, Watkins Glen, and yes, Sebring. When asked whom he admired most in racing, his rapid reply was Senna for his pure skill and Schumacher for how he packaged everything. Mike is a very serious chap, who is sternly focused — but still a very polite Englishman.
Among the top ten overall
As fans of British engineering, we are always interested in how UK products stand up to the pounding they get, especially in endurance racing. The second lesson from Sebring is the tenacity of the Gibson Technology-powered LMP2 cars and the real potential — "one of the five key takeaways from Sebring," IMSA reported — of the AER-developed Mazda DPis to grab the lead and win.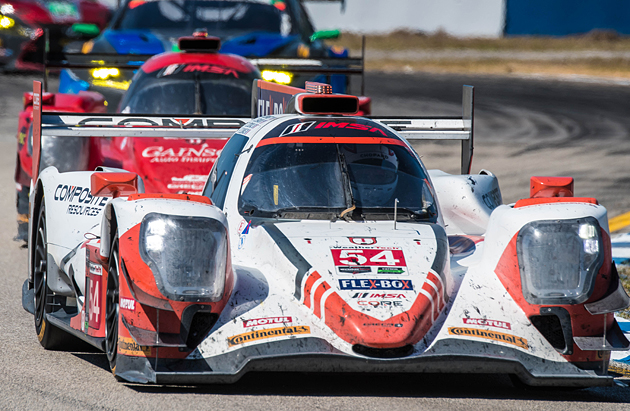 CORE Autosport ORECA LMP2, #54, finished 4th and was joined by three other Gibson-powered LMP2 cars in the top 10 at Sebring.
Photo by Colin Sword
The Mazdas captured and held the lead for a grand total, between cars #55 and #77, of 44 laps, even swiping the lead from each other about two hours into the race. Jonathan Bomarito, Spencer Pigot and their Brit co-driver Harry Tincknell each got at least one turn at the front of the pack in #55, while Brit Oliver Jarvis and Tristan Nunez got their turn in #77.
Unfortunately, Mazda's run for the podium and maybe the win was foiled by long pit stops — #77 dropping positions mid-race to solve a brake issue, and #55, late in the race chasing the leading #22 Nissan, suffering an electrical problem that delayed its restart. But Mazda Team Joest earned serious bragging rights when Jarvis posted the fastest lap of the race, 1:49.002 (123.521mph), thereby setting a new WTSCC prototype lap record at Sebring.
"We definitely made everybody stand up and take notice," Mazda Motorsports Director John Doonan said. The Mazdas finished 6th (#55) and 8th (#77) respectively.
Other spots in the top ten overall were taken by CORE Autosport's #54 ORECA LMP2, 4th United Autosports' #32 Ligier LMP2, 5th JDC-Miller Motorsports' #99 ORECA LMP2, 7th and JDC-Miller Motorsports' #85 ORECA LMP2, 9th. That's four spots in the top ten for Gibson to celebrate, comparing well with their outcome at Daytona.
Balance of performance
The third lesson is what balance of performance management is doing across all the race classes and categories. Aside from mechanical failures and accidents that happen during a race, starting grids determined in qualifying and finishing results turn out to be very similar.
In the Prototype class, there are DPi entries (Nissan, Cadillac, Acura and Mazda) and LMP2 cars (ORECA and Ligier). The DPi cars all had quick times within 2/10 of a second, in the neighborhood of 1:49.2. The LMP2s all managed to run within 4/10 of a second, from 1:50.5 to 1:50.9. The GT Le Mans class was close behind at around 1:58.0, followed by GT Daytona at between 2:00 and 2:02.
So, as it turned out, after two or three laps of each green flag deployment, the classes basically ran nose to tail, with the two fast groups around 1:50 seconds and the not-quite-so-fast production-based cars about 10 seconds slower around the 2:00 minute mark. This parade started getting mixed up only when the faster groups advanced at about 10 seconds a lap and finally caught the slower cars, as they were bound to do. That was about the only time the actual difference in car performance and driver ability showed. Passing events either happened smoothly or not.
In the first half-hour of the race, Sebastian Saavedra in a Ligier LMP2 tried to do an inside pass on Frank Montecalvo's GTLM Ferrari, lost grip and spun. The Ferrari "tripped" over the front of the Ligier, which was going backwards at the time, and launched itself, finishing on its roof. Fortunately neither driver was hurt, but the event ruined the Ferrari and delayed the prototype, which had to stop to have a new nose fitted. The LMP2 car was easily lapping at 8 to 10 seconds per lap faster than the Ferrari, suggesting that even with balance of performance driver judgment honed by experience is still a huge factor in the outcome of a race.
The fourth and final lesson? The television coverage of a race like Sebring is now very sophisticated and probably shows more than a person could see standing by a fence, but the sounds and smells encountered in person make it worth the trip.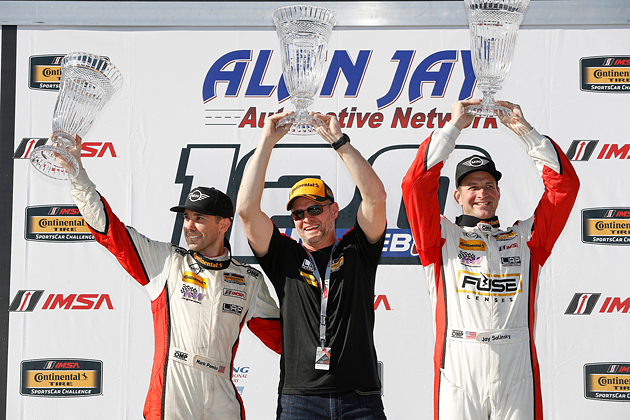 Co-drivers Mark Pombo and Jared Salinsky on the podium.
Photo by Michael L. Levitt, courtesy IMSA

MINI Thrills in the Conti
by Bruce Vild


SEBRING, Fla. — The Continental Tire SportsCar Challenge came to Sebring International Raceway on Friday, March 16th, as the Alan Jay Automotive Network 120, but most people just called it the Conti. If you wanted to see British cars — not just British engines, electronic gear and drivers — this was the IMSA place to be.

Grand Sport (GS) cars dominated the field at Sebring as they did at Daytona, with 27 entered in that class against six in the new Touring Car (TCR) group and five in Street Tuner (ST), with Murillo Racing's Porsche Cayman, which finished 3rd in ST at Daytona, not present.

The MINI JCW Team fielded all three of their cars in ST, facing Bodymotion's #21 Porsche Cayman and BimmerWorld Racing's #81 BMW 328i. The interest in GS centered on Automatic Racing's two Aston Martin Vantages, #09 and #99, and two McLaren GT4s, Motorsports in Action's #69 and Compass Racing's #76.

Driver Nate Norenberg and the #37 car grabbed the ST pole for MINI JCW with a lap time of 2:23.941 (about 94mph). Joining him on the front row would be teammate Mike LaMarra in the #73 MINI, and starting 3rd would be BimmerWorld Racing's #81 BMW 328i.

Motorsports in Action's Corey Fergus qualified 4th in GS with #69, with Compass Racing's #76 in 5th, and Automatic Racing's #99 in 19th and #09 in 21st. Touring Car entrants were all Audi RS3s save for one lone VW Golf GTI, with the #77 Audi, also from Compass Racing, on the pole.

Race day for the MINIs was a good day that was almost a great day. Much to the amusement of fans and commentators, brothers Mark and Mat Pombo, #52 and #73 respectively, found themselves playing follow the leader in 1st and 2nd position late in the race, right down to the final straightaway. Mark finished ahead without any serious (or foolish) challenge from Mat, with only 0.276 seconds separating them. It was the first 1-2 MINI sweep since Watkins Glen last year, when it was Mat who finished 1st with Mark behind.

For a while it looked as though the sweep would be 1-2-3, with the #37 car fighting off a challenge from Bodymotion's Jason Rabe in the #21 Porsche. It was quite a fight. Rabe started his stint in 4th place but quickly moved up to 3rd, then was passed by #37 to drop back to 4th. With 22 minutes to go he passed #37, but the MINI passed him again four minutes later. The two cars swapped places four more times, with the Porsche finally getting the upper hand with just two minutes left, and holding on to it till the finish.

Two out of three's not bad.

Meanwhile, though Motorsports in Action had come to Sebring with the highest expectations, the team would leave disappointed. Fergus started the #69 McLaren in the second row and worked his way to 1st before handing the car over to co-driver Jesse Lazare. Lazare started his stint a few positions down, took the opportunity to refuel when a caution flag came out, and re-entered the race with his eyes on the podium.

But then a BMW M4 collided with the McLaren, running Lazare off the track. He recovered and came back out at the rear of the pack, only to end his race moments later when the car's right rear wheel came apart, a casualty of the accident. Car #69 would finish 31st overall, 21st in class.

Faring better with their McLaren were Compass Racing's Paul Holton and Matt Plumb, who had what the team called "a solid finish" for #76 in 7th place, good enough for championship points.

Automatic Racing saw their two cars advancing a couple of positions from the start, with Al Carter and Steve Phillips bringing #99 home in 15th place and Conor Flynn and Ramin Abdolvahabi taking #09 to 16th.

The Conti's next race is at Mid-Ohio in May.

[From team reports and IMSA sources.]